Welcome to this month's wrap of what I've been reading and watching lately.
There really is no end to quality entertainment and literature we have access to.
Every month I'm amazed by the incredible writing – both novels and TV script writing – going on not to mention the breadth of subjects, settings and topics on offer.
It really is Next Level.
So, with the cooler days and some seriously wet weather of late, I've enjoyed nights in watching TV and slow mornings reading in bed, especially over the long weekends we spent in Bright and Inverloch lately.
Funnily enough, like the weather, the subjects I've been immersed in have been on the dark side of late: bullying, parenting, murder, depression, death, terrorism and crime to name but a few. Yes it's been heavy.
Thankfully, there's been also been a very high level of suspense and intrigue, which has kept me turning those pages and uploading those eps, one after the other. GRIPPING. Maybe I need a lighter month next month. Any recommendations?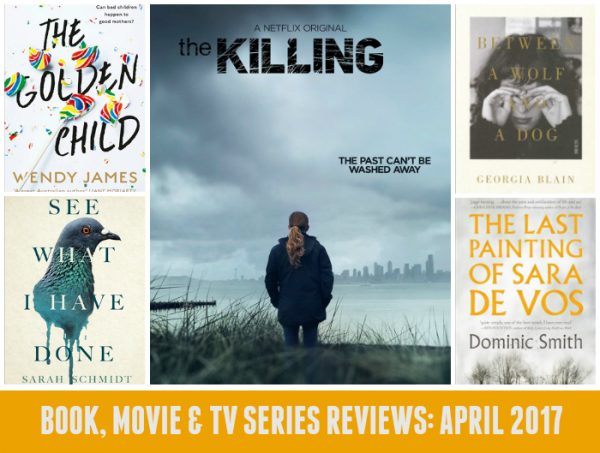 BOOKS
The Last Painting of Sarah de Vos by Dominic Smith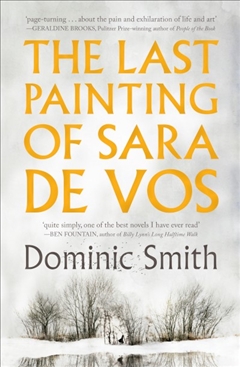 I've been looking at this book for months and was very happy to finally get my hands on a copy. I was keen to read it not only because of it's excellent reviews but also because of comparisons with the excellent Goldfinch by Donna Tartt – a favourite of mine from a couple of years ago. Art, intrigue and interesting characters? That's a bit tick from me.
Like Elizabeth Gilbert's sublime The Signature of All Things and Hannah Kent's books, I found the historical details and the obvious research into the specific topics (here, painting, forgery and restoration techniques along with Dutch women painters of the Golden Age) to be absolutely fascinating. I love the richness of this type of detail and I reckon it takes a very high level of skill to write an interesting and engaging narrative with the richness of detail that permeates this book.
In Sara De Vos, the novel begins with three separate stories that converge cleverly without it being predictable or even clear where things could possibly end up. I found each story line interesting in and of itself and was happy that each chapter was long enough so we could get to know each character, their motivations and background.
In summary, I found this to be an easy to read novel with plenty of fascinating historical detail, interesting characters and a cleverly layered plot. My only criticism was that it lacked pace a bit in the middle and some of the plot elements were not tied up as neatly as I would have liked – but I like to know All The Details. It's not in the league of The Goldfinch for me, but I wouldn't hesitate to recommend it though, especially to anyone who loves historical fiction or art.
VERDICT: ****
The Golden Child by Wendy James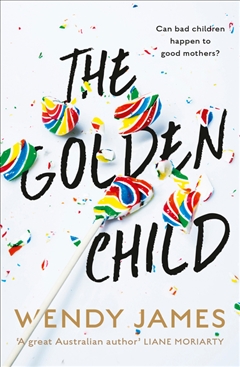 I underestimated this book – I thought it would be run of the mill popular fiction, a shadow of what it actually was.
I was very happy to find that this is a well written and edited story. It has plenty of pace, is extremely topical in that it explores the question: Can good mothers have bad children? The children in question are twelve year old girls, one of whom is the victim of bullying. The mothers are friends, the consequences extremely serious and the fallout is significant.
I won't go in to the plot in any more detail – no spoilers here – but I can say that I liked how various characters – most notably the two grandmothers – provide an interesting range of views on the causes of a child's poor behaviour. There's certainly plenty to discuss here and ripper of a read. Everyone in my book club who read it thoroughly enjoyed it.
VERDICT: **** A fantastic book for book clubs as it would make for excellent discussion. Also a great holiday read.
See What I Have Done by Sarah Schmidt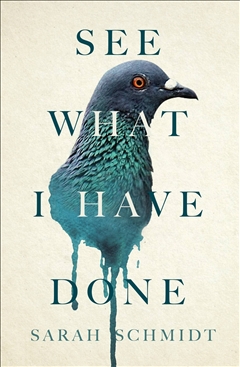 I do love historical fiction slash crime, and I was intrigued with the premise of See What I Have Done. Did Lizzie Borden, 32 years old and still living at home, murder her father and step mother with an axe – a crime she was infamously tried and acquitted of in 1892 – and what led to this brutal attack? These questions are what author Sara Schmidt attempts to answer in this speculative historical fiction based on a real event.
No surprises then that I was anticipating a Burial Rites-esque novel and while there were some minor similarities, I never empathised or really understood the characters in this novel to the extent that I did with the ill fated Agnes Magnusdottir.
I can't fault the writing though – this book was well written. When I ponder my indifference, perhaps it's simply a case of not caring enough about the central characters to be invested in their fortunes. I'm not sure.
It was an interesting enough read though and I did want to know what happened, but I didn't love it.
VERDICT: **
Between a Wolf and a Dog by Georgia Blain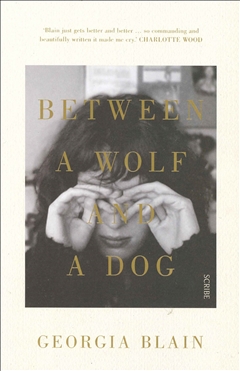 Told over the course of one wet day in Sydney, Between A Wolf and a Dog tells the story of Hillary, a film-maker whose husband, the well known artist Maurie has died; her estranged adult daughters – family therapist Ester and some time musician April; and Ester's estranged husband Lawrence. It's essentially an exploration of their relationships and family dynamics which I really enjoyed but I would have liked to read more about Ester and less about Lawrence.
This is a page turner though and I really enjoyed so much of this book but I confess I was left with a feeling of wanting.
I wanted more detail (I wanted to hear more about family therapist Ester's clients and her reflections) and more of the story. In particular, I felt the story ended too early, leaving the reader to speculate about what happened next. I suspect this is a clever literary device but I felt a little frustrated. Enough said but do come back and tell me what you thought when you read it.
VERDICT: *** Well written and raises some interesting questions about life, family, forgiveness.
TV SERIES
On free to air, I've really enjoyed the final few – forever – episodes of Series 3 of Broadchurch. Sob. It's hard to imagine life without the fabulous DI Hardy and Ellie. If you're a big fan of Olivia Coleman's Ellie like I am though, do watch The Night Manager (you can read my review here) as she is fabulous in that as well.
The last five eps of Season 6 of Homeland have been excellent too, with high levels of suspense and intrigue. The ability of the Homeland writers to find new story lines for the lead characters and how they weave the plot together, in new settings has been seriously impressive. There is absolutely nothing predictable about this show – all bets are off as you know a main character could die – and it always leaves me wondering how they manage to write such topical, eerily believable and, dare I say it, almost prophetic story lines. Such a great show. The season finale – airing next week – looks to be a cracker too.
I've yet to watch Seven Types of Ambiguity but it's on my catch up list. I've heard it's very good.
Over on Pay TV, I really enjoyed the last episodes of Big Little Lies. All five leading women were top notch with Nicole Kidman totally believable as Celeste. I'd highly recommend this series.
I've caught up with the last few eps of Season 1 of Riverdale – the mystery of Jason Blossom's death is still not resolved but Archie-kins and the gang are still entertaining with their teenage angst, scheming and secrets.
In between all of the above, we've totally smashed Seasons 1 and 2 of The Killing. I couldn't locate the Danish version, so we've been watching the U.S. version, which is set in Seattle.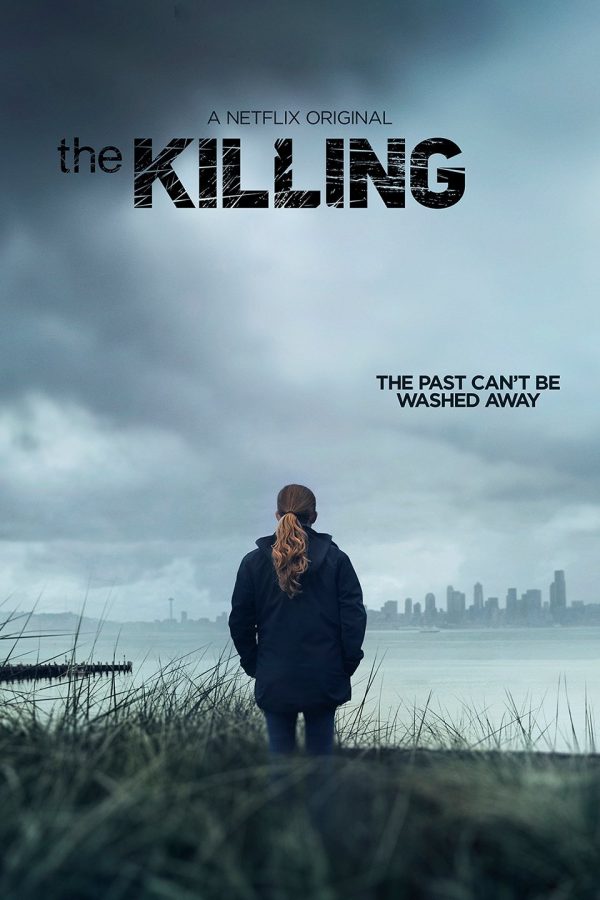 The Killing has consumed us.
This moody, dark and suspenseful police-murder-mystery is set in one of the rainiest places on earth and gives The Fall's Belfast a run for it's money in the Most Depressing Location stakes. Like Homeland, the central characters are flawed and struggling with their own, ever present demons making this compelling series as much about them than the murder they are investigating. Both the lead characters – Sarah Linden and Steven Holder – are excellent and the acting here is first rate. Some of the characters in Seasons 1 & 2 annoyed me by the end (I'm looking at you Mitch) but it's a fresh cast for the most part for Season 3 except for the leads of course.
This is a serious and dark series so definitely not a light option but if you're looking for a gritty, compelling police series, you'll love it.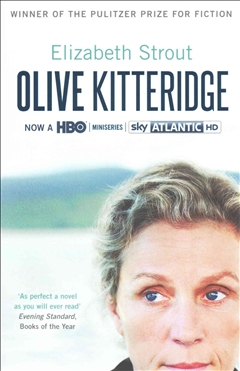 I also managed to pick up a copy of the HBO Series Olive Kitteridge on DVD (four 1 hour episodes, $16 at JBHiFi). The series was not only excellent but faithful to the Pulizter Prize winning book it was adapted from. I'd highly recommend it if you loved the book as much as I did.
Next up I'm planning to watch Season 3 of The Fall, more of The Killing and I'm also interested to check out the new Netflix series Thirteen Reasons Why – anyone else watched that? Season 5 of House of Cards airs on Netflix at the end of May too, so I'll be interested to see the latest Clare and Frank shenanigans, no doubt inspired by recent political events in the U.S!
FLICKS
I finally saw Jasper Jones, having read the book last month. It was a faithful adaptation and a well crafted coming of age movie. The star of the show was definitely Toni Colette as Charlie's mother. I also loved the endearing Geoffrey Lu.
I also saw Boss Baby with the kids which I didn't love it all – was it just me or did the plot make zero sense?
This post contains some affiliate links. You don't pay any extra and I earn a small commission. Read more in my Disclosure Policy here.
So over to you, what have you been reading and watching this month? What's next on your list? DO TELL!