It's been a mixed bag around here this month.
I've read in fits and starts, started and lost interest in Netflix series and finally found my podcast mojo.
The times could be a changin'!
One thing that has been consistent across everything though, is my fascination with people and their stories. I will never tire of hearing stories about ordinary people and their extraordinary lives.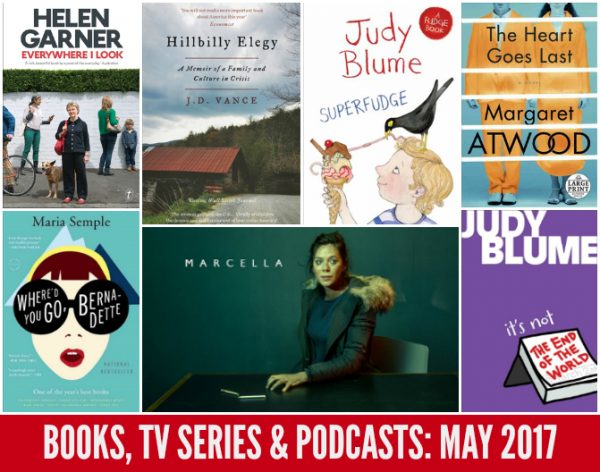 1. Where'd You Go Bernadette by Maria Semple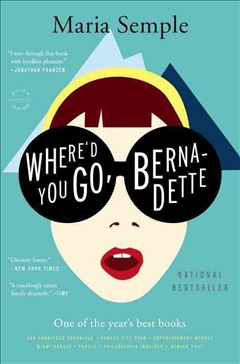 I really enjoyed Where'd You Go Bernadette.
It's essentially the story of a daughter and her mother – Bernadette – who absconds from the family home. But questions remain – who is Bernadette and where did she go?
From there, the story takes unpredictable turns and keeps you turning those pages. And, despite some of the serious themes, overall this is a very light hearted, witty and funny book. Told in a series of emails, letters and other documents strung together by an intermittent narrative, it often had me laughing out load.
There is a lot to love about this book and it's one of those rare books that manages to balance humour with substance.  While it's completely different subject matter wise, in this sense, it reminded me of some of the Marian Keyes' books I read many years ago.
I'd definitely recommend it. I'm going to look up more of Maria Semple's books too.
VERDICT: ****
2. Superfudge & It's Not The End of The World by Judy Blume
Later in the year, for book club, we're spending a month reading some of our favourite Judy Blume books from our childhood. You can imagine how stoked I was then to pick up a great selection from our school fete for 50c a pop.
This month I read Superfudge and It's Not the End of the World. I was reading them not only for nostalgic reasons but also to see how they'd translate to the kids of today as I'd love to see my avid reader, Mr 10, experience the fabulousness of Judy Blume books.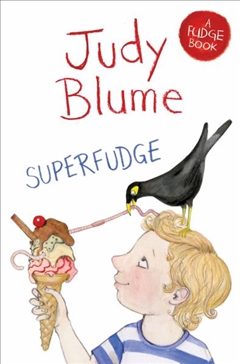 Superfudge was an absolute ripper. If you recall, it's written from the perspective of older brother Peter – in fifth grade – about his younger brother, Superfudge, his parents and new baby sister. While it's entertaining and funny – I'm looking at you Farley Drexel meets Ratface – it also deals with some common feelings and experiences around family, friendships and change in an honest, age appropriate and non-patronising way.
My only reservation in recommending this book is that it firmly outs Santa Claus. So if you're kids are still believers, perhaps put this one off, as this book will confirm any of their suspicions.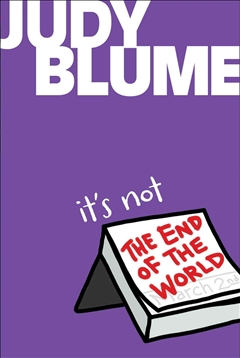 It's Not The End of The World is the story of middle child Karen, whose parents separate during the course of the book. Karen is devastated by their separation and all the changes it brings and the book follows her attempts to make sense of it all. At one stage, she even tries to engineer them falling back in love.
This is a really insightful and well observed novel that explores a lot of the feelings, worries and conversations that often happen in the context of family breakdown. Again, I was so impressed with how well Judy Blume navigated this territory while still keeping things age appropriate and easy to read. While it's definitely a book for older readers, by virtue of the subject matter, it's also a really sensitive and at times even funny book about a common experience.
3. The Heart Goes Last by Margaret Atwood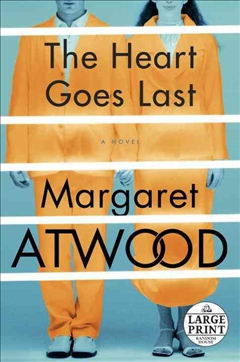 Margaret Atwood is Next Level in my book as far as authors go, if you'll pardon the pub. Her writing is razor sharp and so brilliant, I feel my IQ increasing the minute I read one of her books!
Like many of her previous novels, The Heart Goes Last is set in an uncertain future and centres on two ordinary people, Stan and Charmaine, underemployed and homeless – they're living out of Stan's car. In desperation, they sign up to live at Positron, a gated community experiment in the U.S. which solves the social problems of crime, homelessness and unemployment by creating a city where it's citizens rotate between being inmates one month and then citizens, with Positron provided homes and jobs, the next. At first they can't believe their good fortune, but over time, this simple "solution" is revealed to be more sinister than it first appears.
It's sounds odd but Margaret Atwood carefully and skilfully builds the story and somehow manages to make a social comment without being heavy handed or preachy. In fact, I saw some of the more disturbing elements of the story – which seemed outrageous when I read it – in the news this week. Atwood somehow manages to be prophetic without being hysterical.
Overall, I found this to be an easy to read novel which kept me guessing and turning those pages. Once I was inside Positron too, I couldn't wait to see how things panned out. I really enjoyed this book.
VERDICT: ****
4. Everywhere I Look by Helen Garner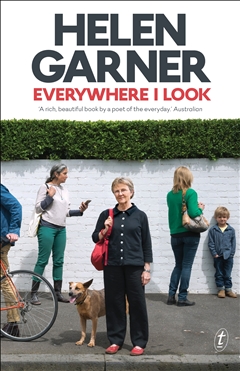 I changed things up from fiction and children's literature with this non fiction book by Melbourne writer Helen Garner.
In a nutshell, I absolutely loved this collection of short stories, diary entries and essays and while I couldn't put it down, I still tried to savour every word.
There was SO much I enjoyed about this book – the variety of writing styles from essays to interviews, diary entries and reports – as well as the range of topics, which covered the infamous to the ordinary and from the literary to popular culture and the banal.
I especially loved her chapters on Raymond Gaita, author of the brilliant Romulus, My Father, and later, the hilarious piece on how she watched the back catalogue of Russell Crowe movies back to back on the sofa with a packet of bullets. The chapter on her mother was also very moving and poignant but I equally enjoyed the parts where she wrote about her dog, neighbourhood cafe, friends and grandchildren. Her observations of the seemingly insignificant but nevertheless meaningful parts of ordinary life also resonated with me deeply.
This really is a great book to dip in and out of and a rare treasure. I adore my home town and in this book, Helen Garner captured so much about what I love about it. I just can't rave enough about it.
VERDICT: *****
5. Hillbilly Elegy by J.D. Vance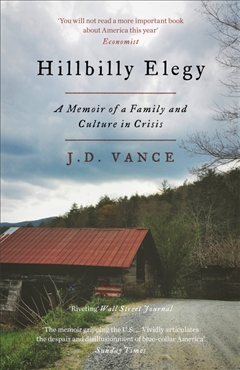 Don't let the cover of this memoir put you off. With claims mentioning Trump and Brexit on my copy, I can see how the ordinary punter would bypass this book but I implore, in fact I beg you to reconsider. This really is such a brilliant memoir and is fascinating, easy to read and for me, unputdownable.
The reason it has caught the political peeps' interest is because this memoir tells the story of little J.D. Vance, who, in his own words is, a "hillbilly, white trash" (the equivalent term in Australia might be "rednecks"). His community are poor – many of them, the working poor – a subset of White America. Historically this group voted for the Democrats but over the years, many have swung to the opposite side of the political spectrum. This phenomenon, some would say, goes a long way to explain the election of Trump.
That said this is not a political text at all. It's a story, a very well told memoir, which charts the impact of poverty on the hill people of the Appalachian mountain range  – as experienced by the author – and how little J.D. Vance managed to overcome the violence, transience, poverty and addiction of his family and community to become a marine and then a graduate of Yale Law School.
The characters are larger than life, well drawn and frankly, the most fierce, violent and scary folks you'd ever want to meet – his grandma, Mamaaw, for example is terrifying – but somehow loveable and deeply honourable all the same. I have found it absolutely fascinating and insightful and I would highly recommend it, especially for book clubs as you'll want to talk about this one, I guarantee it.
VERICT: *****
TV Series
We knocked off the last season and a bit of The Killing (the U.S. version) a few weeks ago and have been in mourning ever since. I think it will be a long time before I enjoy anything on this level again. Sigh.
We then watched Marcella on Netflix (1 series), which was another gritty UK crime/police series in the vein of Luther and River, the common element being the dysfunctional central character who is also a cop. It kept us guessing though and was well made but again, a lack of feeling about Marcella herself affected my overall enjoyment of this series.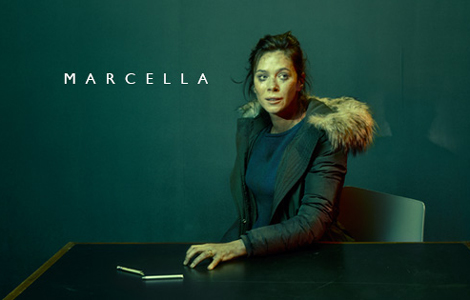 We also tried Billions and Designated Survivor – we watched the first two eps of both – but I'm not feeling the love. While the two leads in Billions are great – especially the fabulous Paul Giamatti and it's always good to catch up with Brody- I wasn't engaged enough to care what happens next.
As for Designated Survivor, I could not take Keifer Sutherland seriously and found the whole thing a bit far fetched, cheesey and uninspiring. You know when it's so obvious people are acting because it's all a bit ridiculous? That. But am I being too harsh? Should we persist? Is this just my The Killing hangover speaking?
We instead decided to go back to familiar territory and have started watching Season 5 of House of Cards. I can't say I remembered where we were up to (I'd recommend watching the last couple of eps of Season 5 beforehand) but it was good to see Frank, Clare and Tom (love him) back in action again. There's more Frank talking to camera in this series so far than I recall to. Not sure how I feel about that.
It was also hilarious but weird to see Holder from The Killing looking all clean cut in his Season 4 role as Frank Underwood's Republican opposition candidate. So bizarre! I can't say I really know what's going on yet but I'll give it a good crack this weekend. Failing that, there's always Wikipedia!
Podcasts
As I mentioned in last week's Fave Things post, I've finally begun listening to podcasts. So far, I've been enjoying Conversations with Richard Fidler on ABC Radio, all of which are recorded interviews with ordinary people who have fascinating stories. This week I especially enjoyed his interview with Bill Hayes, who moved to New York at age 48 and fell in love with the brilliant Oliver Sachs. I'd highly recommend it.
I've also started the U.S. crime series Serial. I can see how addictive this will become and can't wait to hear more. I've already knocked over 9 episodes this week. Hashtag Obsessed.
This post contains some affiliate links. You don't pay any extra and I earn a small commission. Read more in my Disclosure Policy here.
So over to you, what have you been reading, watching and listening to lately? Anything you'd recommend?