I was caught out this week.
My two oldest boys came home from school on the first day of term to tell me they needed their school hats.  In terms 1 & 4 the rule at school is no hat no play.
I managed to locate their school hats in a dark corner of the laundry, dusted them off and sent them on their way yesterday, all ready for play time.
It reminded me of a reader request I received the week before from SnS reader Libby:
"Hi V, How are you? Just wondering if you know where I can pick up some stylish sun smart hats? Pref legionnaires for Mr 4-almost-5 and wide brim for Miss 3-with-a-largish-head. Thank you!"
I'd replied to Libby to check out Country Road and Seed Heritage, where in years gone by, I've found great bucket style hats for my preschoolers, all of whom have had ginormous heads.
I then had a further look afield to see what was available in children's hats this Spring/Summer. If you need to buy a hat for your little peep/s, this is a good time to get on to it. There is loads available at this time of year and it's interesting to see the trends in women's and men's head wear trickling down to our junior stylers.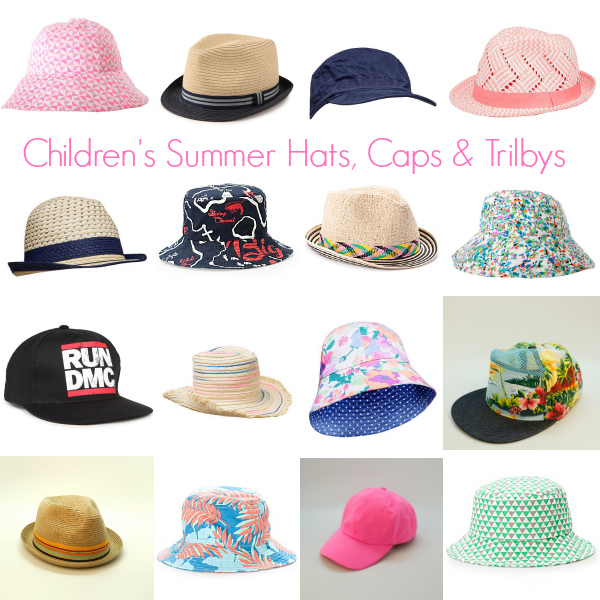 In terms of what's currently available, there are generally three styles: the bucket hat, the cap and the trilby.
For sun protection, it's hard to go past the bucket hat or wide brimmed legionnaire style hat. Toddlers and preschoolers are generally happy enough to wear these styles and it's a bonus if they come with a strap.  Our local school and kinder, like many others, offer a legionnaire style hat as part of the uniform.
I've found though, that once my boys hit school, bucket hat refusal began and they preferred to wear a cap or a trilby. They don't offer as much protection unfortunately but it's better than nothing, they look pretty cool and my boys are happy to wear them. In fact, they love to wear their trilbys to match Mr SnS in his authentic Panama.
Below are a selection of new season girls' hats, caps and trilbys.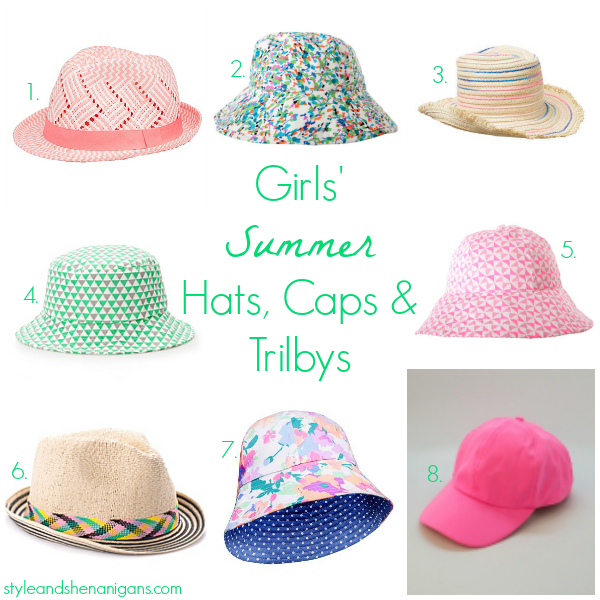 1. Aztec Trilby, $29.95 from Witchery Kids; 2. Lily sunhat, $34.95 from Acorn Kids; 3. Swirl Cowboy Hat, $29.95 from Seed Heritage; 4. Triangles Bucket Hat, $29.95 from Country Road; 5. Olivia Reversible Sunhat, $34.95 from Acorn Kids; 6. Stripe Brim Trilby, $34.95 from Country Road; 7. Girls Floral Sun Hat, $29.95 from Seed Heritage; 8. Sports Lux Cap in Hot Pink, $14.95 from Pavement.
And let's hear it for the boys ….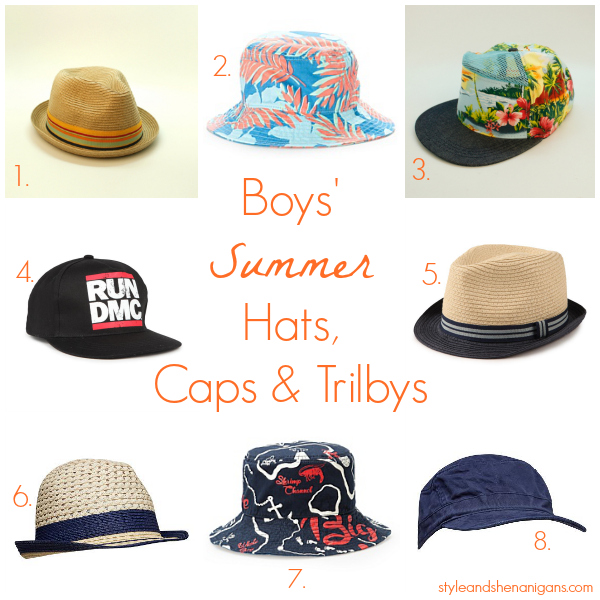 1. Trilby Classic Hat, $19.95 from Pavement; 2. Fern Bucket Hat, $29.95 from Country Road; 3. Surf Cap, $14.95 from Pavement; 4. Rock Star Cap, $12.95 from Cotton On; 5. Trilby Hat, $12.95 from Cotton On; 6. Stripe Trim Fedora, $29.95 from Seed Heritage; 7. Map Bucket Hat, $29.95 from Country Road; 8. Basic Canvas Cap, $29.95 from Seed Heritage.
The styles above are probably most suitable size wise for children under 12. For older children/tweens, check out the teen boy and teen girl ranges at Seed Heritage.
Have you encountered hat refusal? What style of head wear do you/your kids prefer? Have you found any caps, hats and trilbys in your travels? Do share!