Welcome to this week's instalment of Every day Style @ Shenanigans Central.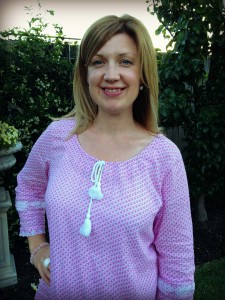 I was feeling a bit pink on Saturday. You know, those days when a colour speaks to you and reflects how you feel? It was a mild Melbourne day, not particularly warm at 19 degrees but practically a heat wave considering the week that was. I wanted to crack out something fun and summery (hence the summer tunic and sandals) but was realistic so brought it together with white jeans and a white singlet/vest underneath the tunic.
I think pink is a hopeful colour and I am hoping for more sunshine, more days to play outside and more opportunities to get the washing done!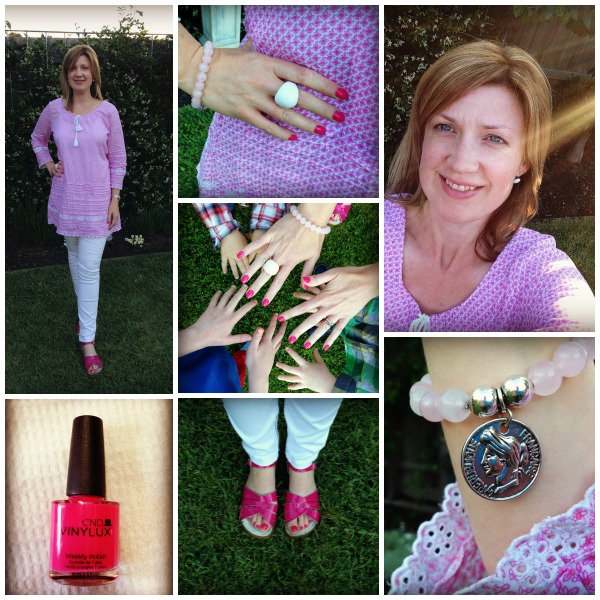 What am I wearing?
I am wearing a tunic by One Season which I recently picked up at one of my favourite local stores, Fudge. You can see more of the One Season collection and visit their online store here.
I am wearing a pair of white Country Road skinny jeans bought last summer. Check this out for a similar version this year.
It took me 37 years to buy my first pair of white jeans. Can anyone else relate? I confess that I always thought they were the domain of much slimmer girls. I got over myself last year and took the plunge, thinking that they would be a good basic for the warmer weather and a change from months of wearing denim and black jeans. I am pleased to say they have been a great investment although, as you would expect, within five minutes of our pizza dinner I had a lovely little hand print on my jeans. I guess I should count my blessings – I was lucky to last over 10 hours without incident. A second day of anyone wearing white jeans in our household would constitute a miracle!
On my feet I am wearing my most hard working Fuchsia Salt Water Sandals. I have previously professed my undying love for SWS and have advice about where to buy them from here.
In the accessories department, I am wearing my white Polka Luka resin ring, white drop earrings from Fudge and a bracelet from the Acorn Nursery gift shop. I could write a whole post about how much I love a lovely silver coin jangling from a bracelet or pendant.
I had my nails done this week for an event and I am loving this colour – CND Vinylux Weekly Polish's Pink Bikini. This colour is not as bright as my last offering but will work back well with all the green, blue and pink in my spring/summer wardrobe.
There is usually not much point in getting my nails done. I have used Shellac before which has lasted well but damaged my nails. My fab beautician Betty has started using CND Vinylux Weekly Polish which lasts well even with all the demands of keeping three boys sorted. Unlike Shellac, I can also take it off with nail polish remover. Four days after they were done, they are only now starting to have a few little chips at the edges but they will easily last me another few days.
What was I up to that day?
It was a busy Saturday with swimming lessons for the kids, lunch with a friend, a trip to the hairdresser and an early dinner with the family. In between all this I wrapped a few gifts, cleaned and tidied the house and did multiple loads of washing after a very wet week.
Why did it work?
I love pink but often wear it more as an accent colour, even though I love it and am always on the look out for it. The pink and white combo felt fresh, feminine and summery but comfortable thanks to a loose tunic top and flats.
This outfit was appropriate for our day's activities which included going out for lunch and a family dinner so I didn't need to change all day although I must say I was a little toasty wearing jeans at the swimming pool.
On that note, the lady from whom I ordered my morning coffee and my son's swimming teacher (my friend & SnS reader Raquel) both complimented me on my top. Two compliments before 11am is a nice way to start the day!
Do you like to wear pink? Are you a fan of white jeans? What on earth is the perfect outfit for the swimming pool if you are not swimming?
Thank you for your comments! I really love to hear what you think.