I'm having a bit of a fan girl moment today.
Why?
Well, it's a bit of a thrill to feature Kate Heppell, one third of super cool lifestyle brand Kip & Co. today.
I'm a big fan of Kip & Co. and the philosophy which underpins their designs – their collections are inspired by the everyday and the out of the way – life's big moments and its sunny days, laughter, adventure and the next sip of champagne.
Sounds more than fabulous to me.
Anyhoo, I recently met Kip & Co. founders Kate and Alex at the launch of their collaboration with Adairs. I was really impressed by both of them – Kate and Alex are both lovely and super easy to chat with.
And did I mention their fabulous bedlinen and towels? At the Adairs store in Richmond, we were treated to a sneaky peek of their new summer range, which I instantly fell in love with.
As you can see below, it is modern, full of great pops of colour and loads of fun prints.
Kip & Co.'s collaboration with Adairs includes adult and children's bedlinen, cushions and towels. You can check out the full range at Adairs in store or online.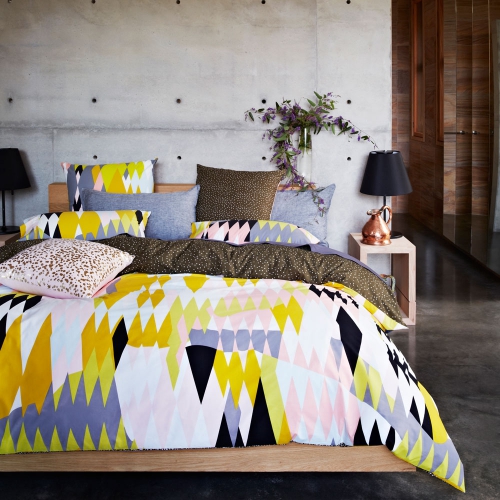 ABOVE: Kip & Co Croc Quilt Cover Set from Adairs
I was also thrilled to be able to choose my very own Kip & Co. gift – a quilt cover and co-ordinating pillow cases. I chose the Matchsticks print quilt cover, pillow cases and Euro with co-ordinating Croc print pillow cases, below, which I just had to pair with the cushion to end all cushions which I bought on the night. It's also in the pic above. I can't find it online but head into your local Adairs store stat and add some subtle bling to your summer sofa or bed.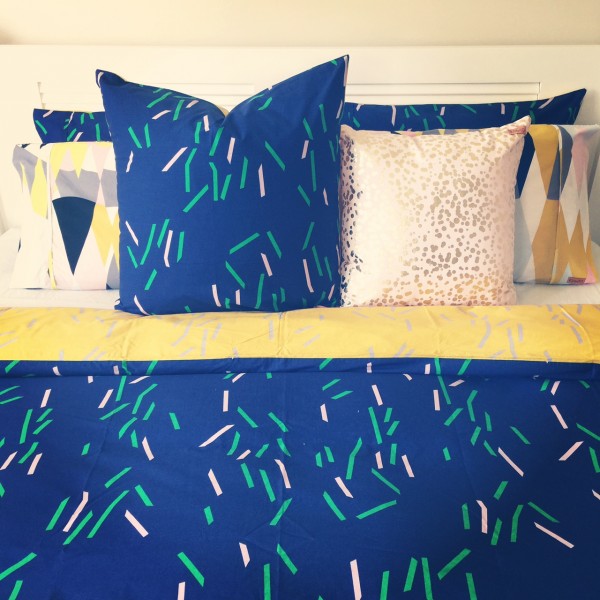 As often happens at such do's, we got talking about family, creative pursuits, my cushion addiction and love of soft furnishings in general and our mutual love of colour and bedlinen. I asked Kate a little about her background, how she goes about it and please tell me more! She graciously agreed to be interviewed so here we are today.
A big thank you to Kate for her time and for providing these fantastic images (photo credits below).
How did Kip & Co. begin? How did you meet Alex and Hayley? 
Hayley is my big sister (middle, in the photo below), Alex a bestie from uni days (right in the photo below) and the idea was born a good 3-4 years back now as we toyed with a couple of concepts – all eager to work together and try our hand at something new.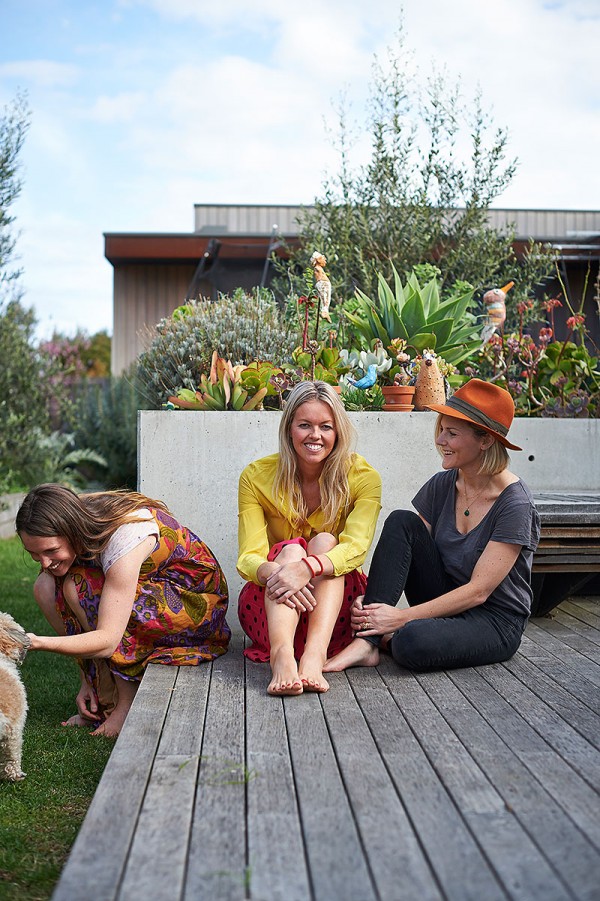 Can you tell us a bit about yourself? Where did you grow up and live now? What were you up to before you began Kip & Co.? Who is in your family?
Hayley and I were born and raised in the Dandenong ranges. We attended school out in Berwick at St Margaret's and after our folks passed away when I was 15 we moved inner city with our brothers.  I went to Melbourne Uni where I studied a double degree in Commerce and Arts.
After Uni, I married my husband Malcolm, did a bit of travel (not enough), worked as an accountant for a couple of years, opened a health food store/organic grocer/yoga studio in Hawthorn with Hayley (my sis who I have Kip with) which we owned for 4 years before selling it, worked as the business manager of Melbourne fashion label Obus for 2 years, had a bub … all in roughly that order.
Fast forward – then 2 years ago, at age 30 we launched Kip & Co.  I live between Point Lonsdale and Hawthorn with my hubby and little fella.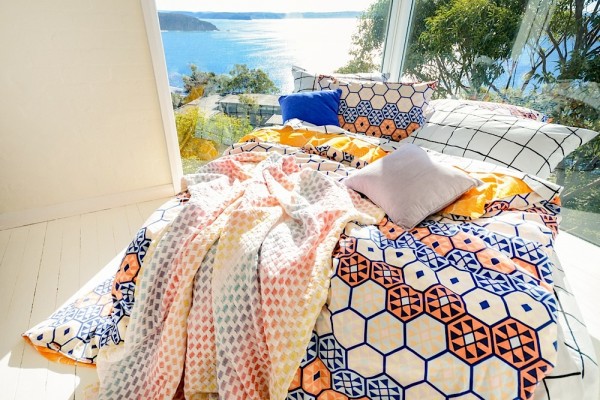 What was your previous "day job"? 
For 2 years before Zig I worked as the business manager of Melbourne fashion label Obus.  The learning curve was steep and the fun was endless.  It was a really incredible two years working alongside Kylie Zerbst as she manufactured 100% of Obus product in Melbourne – a challenge but I feel passionately about Aussie made (despite not being able to do it with our own linen) so I thoroughly enjoyed this experience and really admired the labels ongoing pursuit with it.
How long did it take between the idea to begin Kip & Co. until you sold your first products?
It must have been close to 2 years I'd say.  A good year before we put anything into production, 6 months later we had some samples and probably 6 again after that that a little pile of boxes was delivered.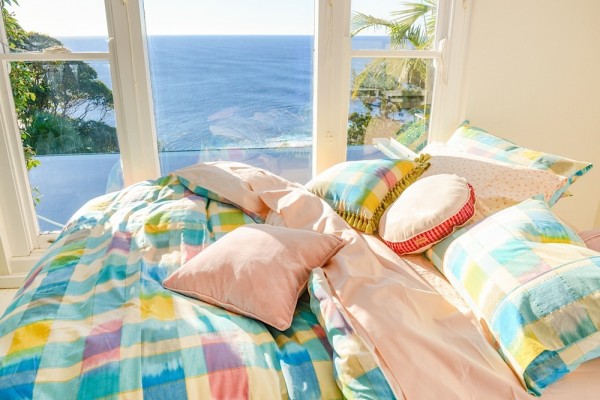 Has there been a "I can't believe this is happening" moment for you? We'd love to hear about it!
I think the biggest thrill for us all has been working with the amazing brands that we have collaborated with, including Desert Designs, Obus, Mister Zimi, Munster, Adairs and it's early days but we have a few VERY exciting things in the pipeworks.
We have learnt so much from these businesses and the creatives behind them and this is always interesting, exciting and I guess a bit humbling to us.  It was a focus for us from the beginning that we wanted to enjoy this ride with our friends, family and other people we admired – so that is what we have been trying for since with every facet of our business (from design to stylists to collab partners).  It has been a really cool ride.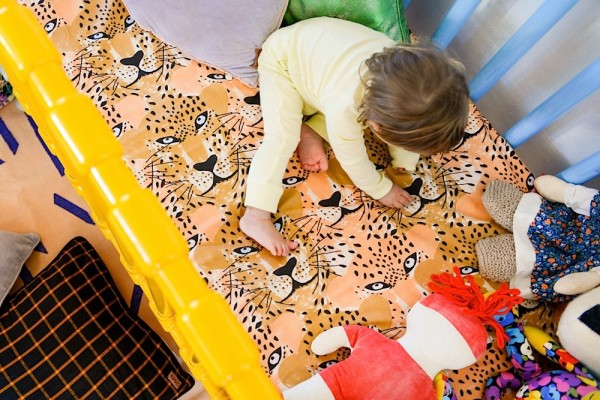 Where do you find inspo style wise for your designs?
We are blessed to be 3 women who have amazing inspiring families and friends that are a constant source of inspo.  We then all love travel, art, fashion and having all grown up in Melbourne I would certainly say the vibrancy of Melbourne is a constant source of inspiration for us all.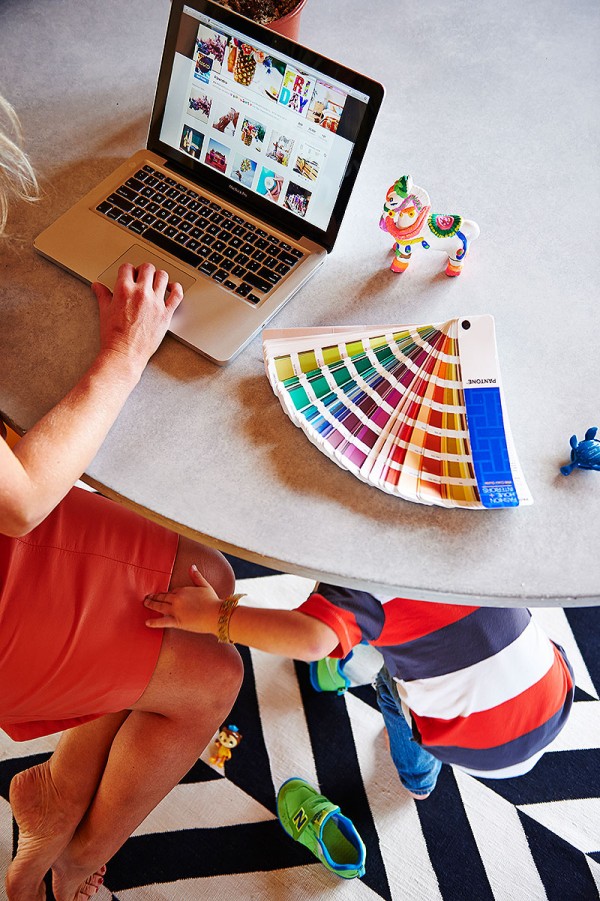 How do you choose which colours to feature in your collections?
We are always partial to a little peach and grey but beyond that it changes with the seasons.  One minute we are loving pastels and muted hues and the next we are designing a blanket that is 100% hot pink and red.  There is colour inspiration for us nearly everywhere we look.  We are all obsessed with a splash of colour.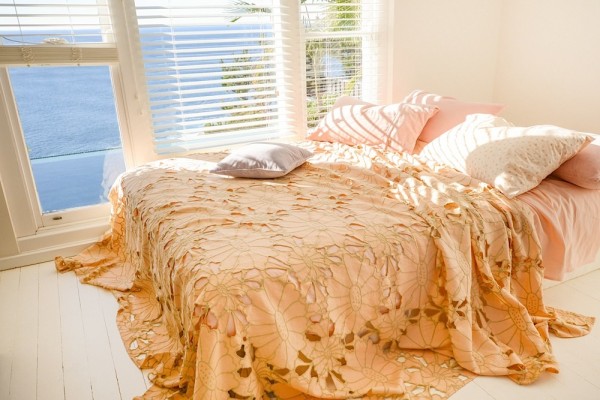 How did your collaboration with Adairs come about?
Adairs made contact one day suggesting a collab and we jumped at it of course.  It has been an incredibly exciting opportunity for us and a real chance to learn from an industry leader.  Foremost for us, this venture will hopefully help our brand awareness and if even just 1 or 2 people that had never heard of us, now have a Kip splash to their room well it has been a success for us.
What's your dream for Kip & Co.?
Quite honestly, we are never sure.  Personally I just want to keep the fun times coming and just enjoy every minute with Hayley and Alex and all the gorgeous girls that work with us.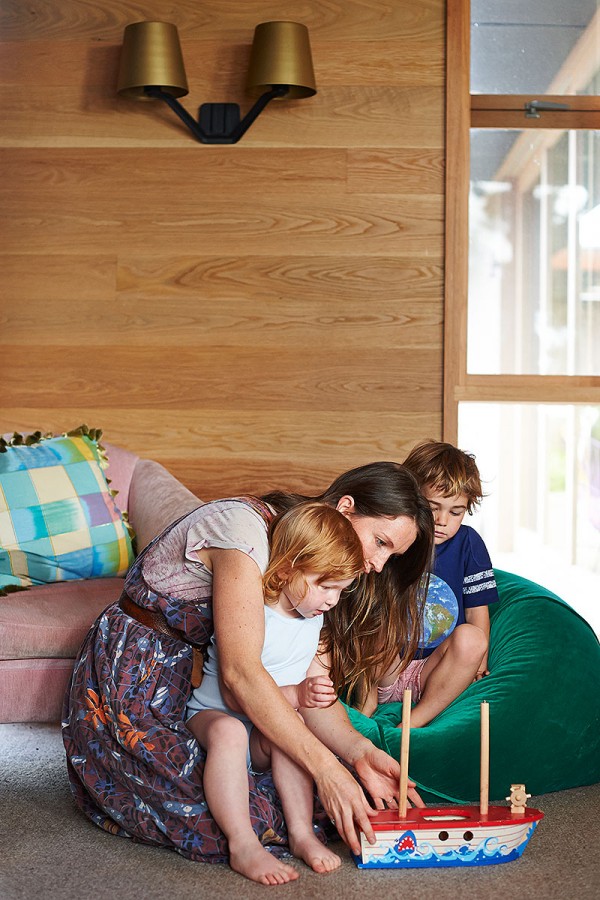 How do you balance style and family life/your shenanigans?
It's really tricky but with the ebbs and flows of life we each contribute what we can, knowing it all goes in swings and roundabouts. Having said that we all work really hard (and often at nights when we should be snuggled up with our hubbies) but somehow I think we all keep a pretty sweet balance and never compromise our families, particularly the little peeps.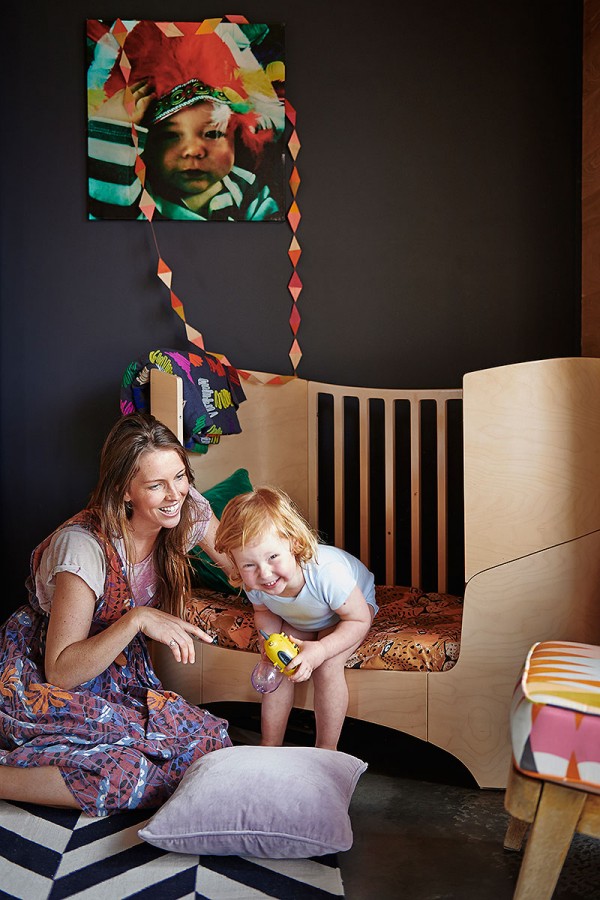 What can SnS readers expect from future collections?
Lots of exciting and fun stuff – all of which is probably a bit underwraps right now – but I can say sleepwear is on its way!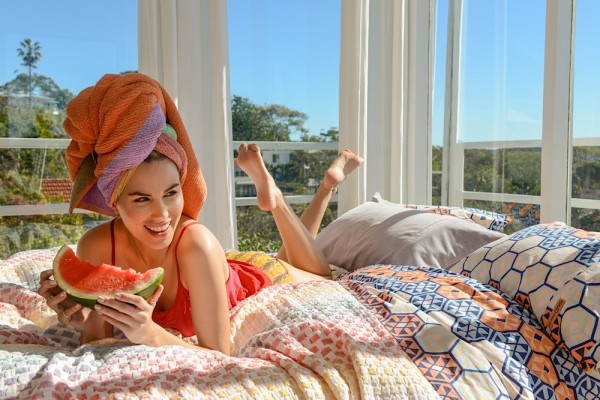 What are your top five places to visit, shop or eat at in Melbourne?
In no particular order I love Obus for clothes, Third Drawer Down for beautiful home wares and super cool presents for all ages, Cubby House Canteen (the little cafe on the side of Union Park in Armadale) for ripper snacks beside a (fenced) park, the Collingwood Children's Farm for endless weekday adventures with the littlies, and Admiral Cheng-Ho in Collingwood for the most delicious paleo lunches.
Where can SnS readers buy Kip & Co. products and keep up to date with what's going on in Kip & Co. land?
web :  http://kipandco.net.au/
instagram :  http://instagram.com/kipandco/
facebook :  https://www.facebook.com/kipandco
pinterest :  http://www.pinterest.com/kipandco/
and our amazing stockists of course : http://kipandco.net.au/stockists/
Photo Credits: The first photo is by Armelle Habib; the second photo was taken by me and the remaining photos were taken by Tim Swallow (bedlinen) and Nickole Ramsay (all photos of Kate, Alex & Hayley and kids).
Are you a fan of Kip & Co.? Are you obsessed with bed linen and gold foil cushions? If you were designing a range of bed linen what colours would you DEF include?