There are many challenges about being in lockdown for months on end, and for this farshun-lover, not being able to go in store and try on new season clothing is up there.
Especially when a new season of Mister Zimi drops.
Pre CoVid, I would visit my nearest Mister Zimi store on launch day, check out all the prints in real life and try on pretty much everything to get a sense of what fitted and suited me.
In these visits, I'd make a couple of purchases and then wait for a sale, because I could buy confidently, knowing my size in the current range and what suits me already.
Shopping online during CoVid has been tricky for all of us as we've had to try things on at home and often pay for returns. I've had to do this too, particularly when a new collection launches, as it's often the case that popular sizes and styles sell out quickly.
I hope that by sharing what I can about my intel and experience with Mister Zimi's three most recent collections, I can save you some return postage and the heartache of buying something that doesn't fit or suit.
Before I launch in, let me tell you a bit about me.
About Me
I've been a Zimi fan girl for many years, ever since I discovered the label in Bali back in 2014.
Size wise, I'm tall and curvy. I'm 5'9″/175cm tall and, prior to CoVid, I would have said I was a 12-14 in Zimi, depending on the style. Now, I'd say I'm a solid 14 unless it is a super oversized fit. I'm curvy with a 14DD/E bust (105cm) and having had three children and too many carbs of late, I'm not as svelte as I once was. 2020 has been a total killer on that front too.
In terms of the styles I generally wear, in previous collections, I've tended to gravitate to midi dresses.
My favourite styles have been the Lily dress (a high low hem, midi length sleeveless dress). I also got on board the Saskia train early on but have found this style has changed slightly with each collection and is not working for me now as much as it once did. Below I'm wearing the first ever Saskia dress in the popular Antibes print from back in Summer '18/19.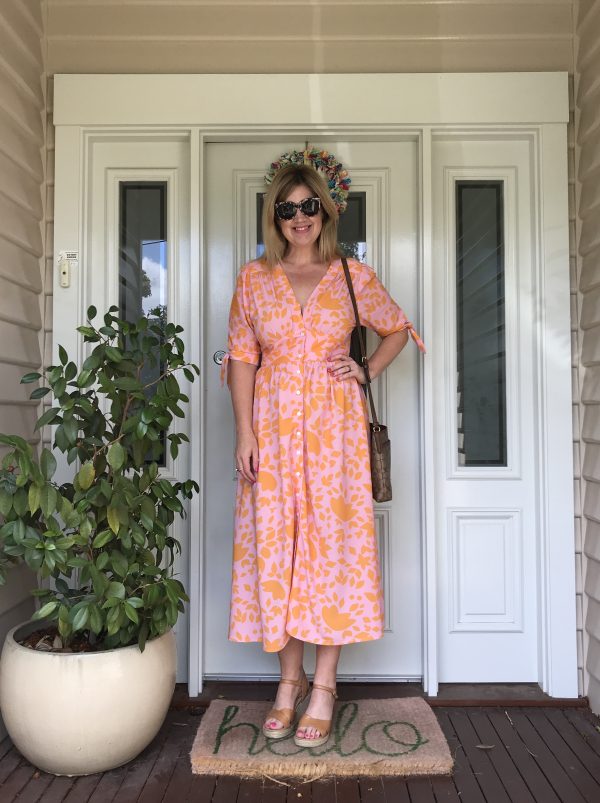 I have a few Summer Tina dresses (a shorter style, relaxed fit, sleeveless shift) which are great for hot days but they are definitely on the short side for me so I always size up to a 14 for length. One of my favourite styles is the swing dress, which I haven't seen for a few years.
In the jumpsuit department, I find the most flattering style on me is the Effie jumpsuit, which has a wrap top and a wide leg. I'm wearing it below in the 'bloom' print from Autumn 2019.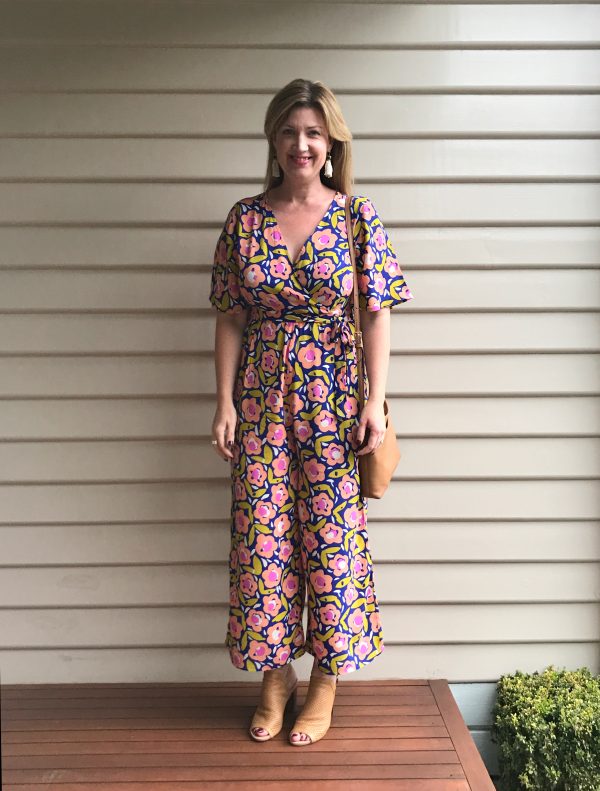 Kokomo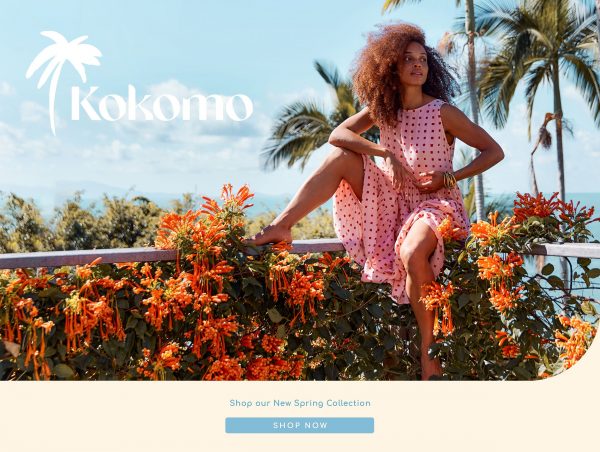 I love this most recent collection and for the first time this year, everything I've ordered online suits and fits well – I don't want to return anything. So far I've bought both the Celeste and Daisy tops and two of the mid length dress styles – the Olivia Midi and the Winifred.
I only received my purchases this week and, thanks to lockdown and a week of rain, I have literally had nowhere to go in these fine Spring threads. To give you an idea of the fit though, I've included a detailed description below and enlisted Mr SnS one cold rainy arvo to take a few snaps for me. Please excuse the lockdown hair and general lack of personal grooming – I did my best and it's been a long four months in that department! Full disclosure – I may have also used some friendly filters in the edit room.
1. Daisy Top – this season's cut is very similar if not the same as the most recent collections. If you're not familiar with it, the Daisy top is a drapey, relaxed t-shirt style top with a high/low hem. Many people find it oversized and size down in it. I could possibly size down in this from a 14 to a 12 in the chest but not so much the arms, so I am sticking with the size 14.
At the time of writing, this style is almost completely sold out in all prints, but it's well worth signing up for an email in case of a re-stock.
STYLE TIP: This is a fab, versatile top to wear with jeans/pants or shorts but can easily slot in to a work wardrobe, either tucked into a pencil skirt or worn under a blazer or suit.
2. Celeste Top – this new season style is basically a relaxed cami with a frill detail and a high low hem.  Like Daisy, it's a versatile piece that can also be worn for work, depending on the print/fabric and how formal your workplace is. Generally speaking, I think the viscose styles are dressier.
I bought this top in two prints – Oasis and Bon Bon, which I'm wearing below.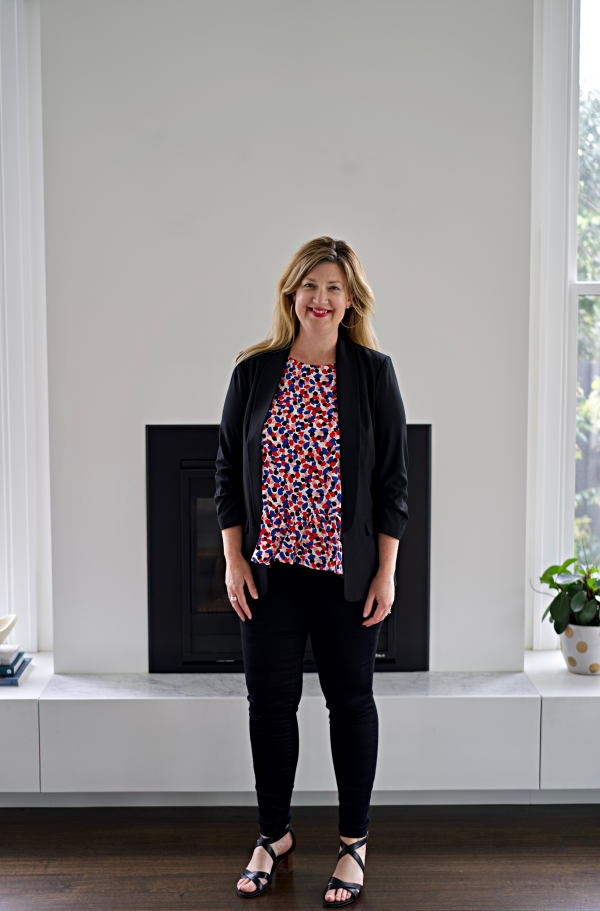 Size wise, I went with my usual 14 and it's a neater fit than the Daisy. It's not tight though. I'd say this is true to size for a relaxed but not oversized fit, but if you are smaller busted, I think you could comfortably size down.
I also detected – and measured to confirm – that there is a slight variation in sizing (of both my 14s) depending on print. The Oasis print (blue floral) was smaller – a couple of centimetres less (armpit to armpit) than the same top in the Bon Bon (spot) print.
STYLE TIP: This is a high summer winner! It would look great with shorts or over jeans with a pair of wedges. I've dressed it up with black jeans, heels and a relaxed blazer above.
3. Winifred Dress – this scoop neck, midi length style is only available in two prints and sold out in record time on launch day. I bought both prints – cobalt spot and pink stripe – to try on, thinking I'd probably return the stripe, pictured below, as it would be less flattering.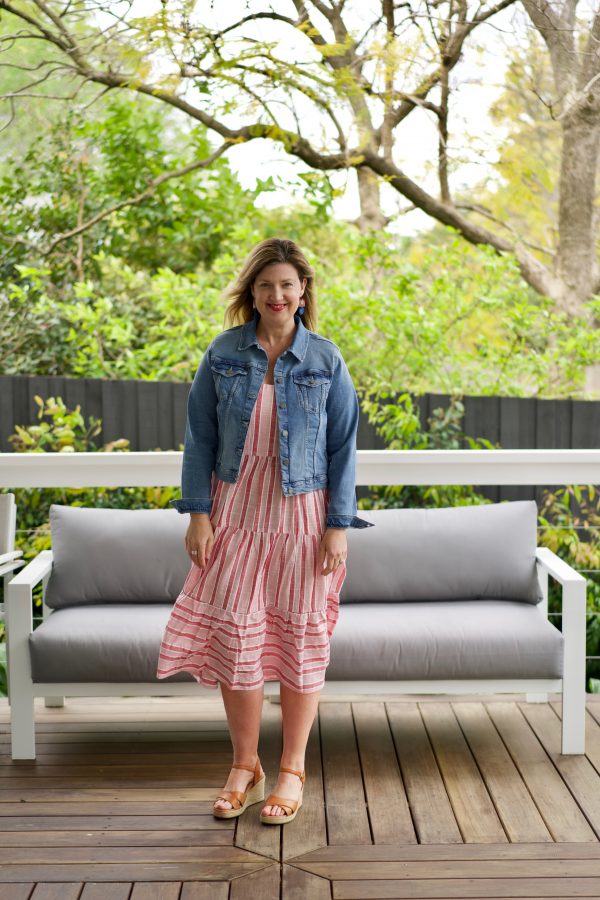 Surprisingly, I love them both and can almost justify keeping them both because they are quite different, although the fit is identical. I wasn't necessarily expecting this as the cobalt stripe is a rayon/linen blend while the pink stripe is 100% cotton.
Overall I would say Winifred is a generous cut and most people could afford to size down, although take into consideration that both fabrics have no give. The 14 in both prints/fabrics sits perfectly on me – there is no strain at all. As you can see above, the fit is relaxed but not oversized. This fit is exactly what I'm looking for in a linen dress. Again, if you are smaller busted, you could happily size down.
In terms of the scoop, it's the perfect depth too – no major cleavage issues for someone like me but not too high either. I imagine it would sit lower though on someone with a smaller bust though, so I think sizing is key for a comfortable neckline.
This dress is currently completely sold out in both prints but again, sign up for a restock so you don't miss out again.
STYLE TIP: Winifred shows a bit more flesh than her more modest sister Olivia and is very much a high Summer dress for me here in Melbs. That said, she is as versatile as her sister, and can be worn in the same ways. She does, however, have  the added bonus of being able to work back nicely with statement earrings or a necklace thanks to her scooped neckline.
4. Olivia Midi Dress – this style debuted last Summer to instant popularity thanks to its midi length, relaxed fit, and tiered lower half. It also has a tie detail at the nape. It's a style that suits most, and it's especially forgiving around the stomach, hips and thighs. In other words, the ideal post CoVid frock.
Many people find they can size down in this style as it's a relaxed style, but I do find that this latest version is pretty much true to size – I'm wearing a 14, again, because of my bust. If you have a smaller bust (say A-C cup) however, you could size down.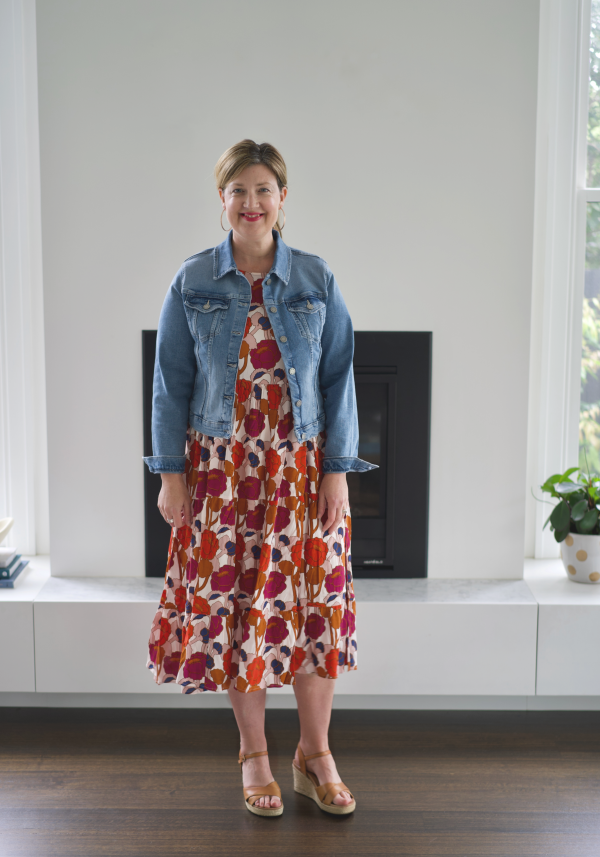 Interestingly, as with the Celeste top, I found a slight size difference in this same size dress between prints.
My Calypso print dress is slightly more generous than the same dress in the Oasis print, which is perplexing given their similarity but possibly due to different dyes. I even measured to confirm I wasn't imagining this, and the Calypso (the white floral print I'm wearing above) was a good couple of centimetres more generous in the waist and around 1 cm more generous armpit to armpit, which explains why it felt different to, and on, me.
This dress is very popular and while some prints have sold out, there are still some sizes in other prints that are still available.
STYLE TIP: Olivia dresses are versatile and easy to wear. They can be dressed down with sandals or slides or dressed up with a heel or wedge. They also look great under denim jackets or fine knits.
5. Other styles – from my reading of people's posts in buy and sell groups, I've also gleaned the following:
The Annabelle dress is a fitted style that runs small – go up at least one size;
The Olivia Mini Dress is shorter than usual – check the length measurements carefully and if you can compare to previous season's versions, be prepared for a shorter dress;
The Savannah and Abi dresses have shirring and therefore plenty of give. The Savannah, with its tie straps, is a popular option, especially for pregnant and breastfeeding Mums. I do not find shirring especially flattering on me (it seems to flatten and accentuate my considerable attributes) but a lot of people love it.
The Luella dress is a slightly more fitted style this season. I have last summer's version but going by the measurements provided, there's no way I'd take the same size this time around.
The Inka, Lola and Molly dresses are all showstopping frocks but involve some kind of modified or no bra situation.
I haven't tried on the Charlie jumpsuit – that's next on my wishlist.
I haven't read any intel yet about the skirts but I'm keen to hear. No one is buying or selling them that I've seen so I'd take  that as a sign that people are getting the sizing right when ordering.
Bloom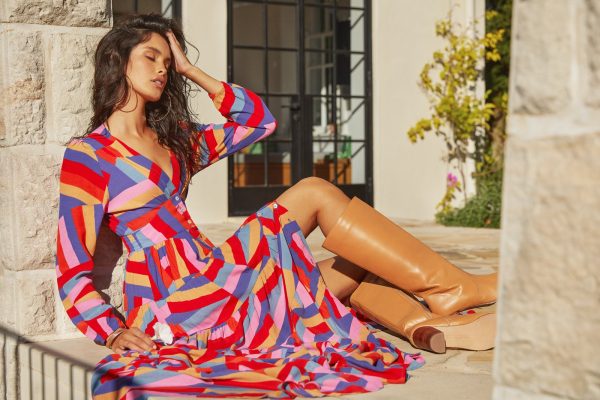 I absolutely loved 'Bloom ' – Mister Zimi's Winter range with its gorgeous floral prints and bold colour.
I am desperate to wear what I've bought but have not had any occasion or reason to in lockdown.I did buy several pieces in this range, all in size 14, including:
1. Daisy Top – a wardrobe staple and perfect for trans-seasonal dressing. The black based florals work especially well under blazers, suits or more casually, under knits and cardys.
2. Louise Top – Frustratingly, I found this long sleeved style fit differently in different prints. I returned this style in Petunia but kept the Posey in size 14 which fitted much better as it was a slightly more generous fit in the arm which I need.
3. Winter Olivia Midi – I loved this new style and adored it in the Harlequin print. I found it a comfortable but not overly generous fit in size 14. Again, if you have a smaller bust, you could quite possibly size down though.
4. Arabella Mini Dress – I wouldn't normally gravitate to a mini dress but the black based prints made me entertain the notion. I have several Arabella dresses (they are one of my favourite Zimi styles), so I thought I could possibly pull off the mini version with tights if it was long enough. Again, I bought this dress in both the Posey and Petunia prints in size 14 but found the Posey print slightly more generous and comfortable size wise, so I returned the Petunia.
5. Nina Jumpsuit – I love a jumpsuit and this style really appealed to me. I thought the Petunia print would work best on me in this style (the busier the print, the better) however I tried – and returned – both the 14 and 16 in this style. They both fitted, but I decided the style was not as flattering on me as the dresses or the Effie jumpsuit, so I would pass this time around. Size wise, I would say it is true to size, and that pre CoVid, the 14 would have fitted me perfectly.
It's not currently available on the website but pieces are always floating around in buy and sell groups on Facebook and what is left will also no doubt be included in a sale category on the Mister Zimi website at some stage.
Casa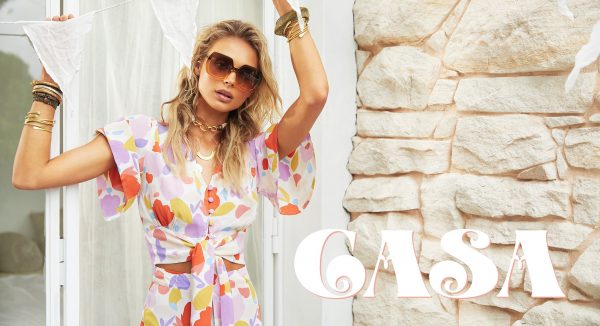 Mister Zimi's 2020 Autumn range 'Casa' was a ripper and they were so many prints and styles I loved in this collection. I had a few opportunities to wear my new purchases in between lockdowns, as you can see below. Everything I purchased is size 14.
1. Gypsy Top – I love this longer length, relaxed fit top which is perfect for us tall girls and works perfectly with jeans and boots. I'm wearing this style in the Tulip print below.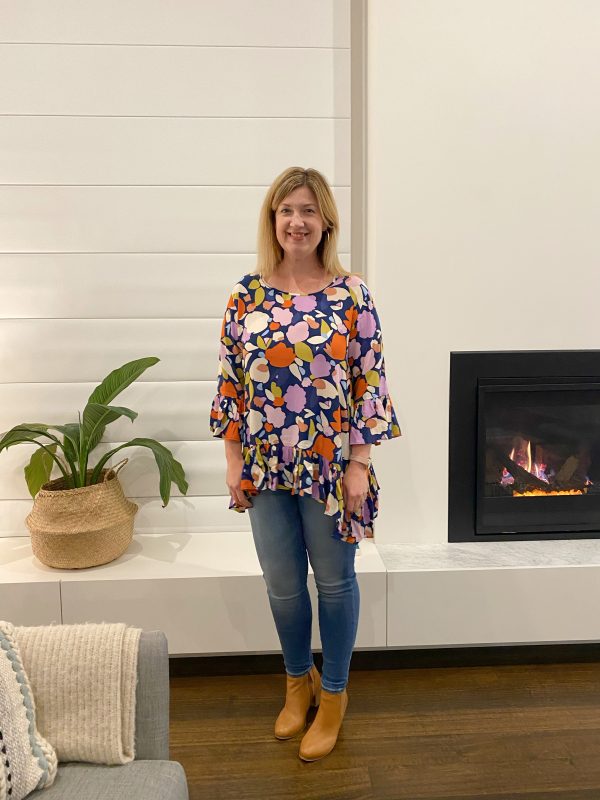 2. Daisy Top – as I've already stated above, this is such a great style that can be easily dressed up or down. Below I'm wearing the Daisy top in the Peony print under a Zimi knit (I have three colours in this style – they work perfectly over Daisy tops too).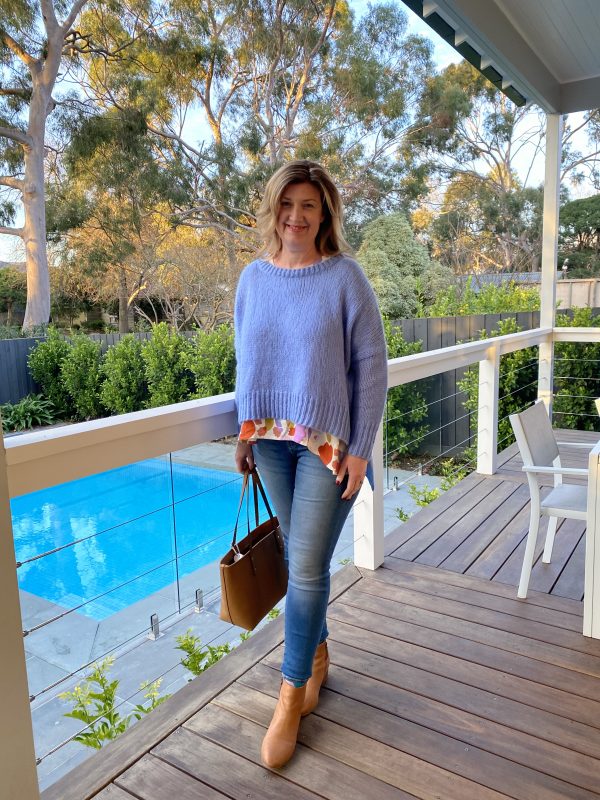 3. Phoebe Shirt – I've never bought a shirt from Zimi before I bought Phoebe in size 14 but now I'm a convert. I LOVE this relaxed style and it's tab sleeves. Obsessed with this red leopard print too. I also bought an Ivy dress in this fab print.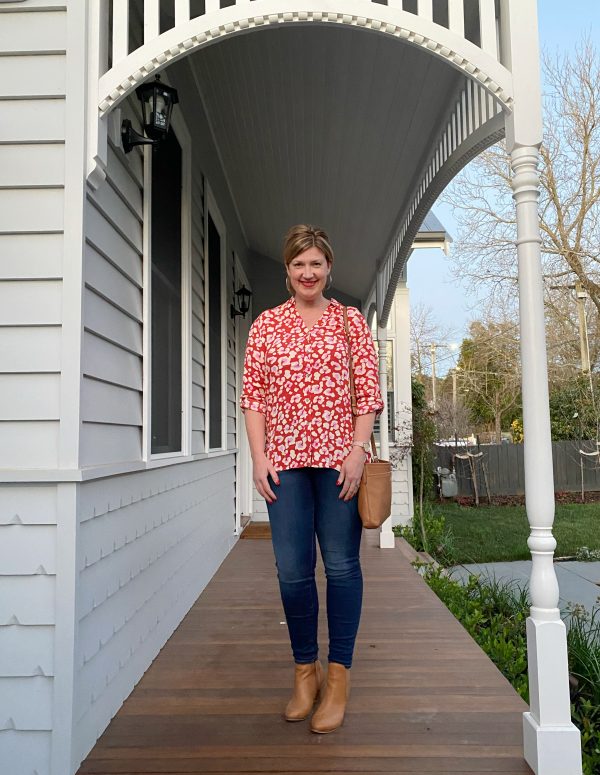 4. Ivy Dress – this was my favourite style of the whole 'Casa' range. This dress is a very oversized fit but again I went for my usual 14 in it because I wanted the length and a super relaxed fit. Many Zimi lovers went down one, and sometimes two sizes in this style.
5. Alice Skirt – I bought this skirt in my usual size 14 and it was absolutely tiny. Miniscule. Not just because of CoVid either. I thought it would be fine given the fully elasticised waist but I'd say the size 14 was more like a size 10. I didn't keep it.
Again, the 'Casa' collection is not currently available on the website but pieces are always floating around in buy and sell groups on Facebook and what is left will also no doubt be included in a sale category on the Mister Zimi website at some stage.
Looking for more?
You can see my previous Zimi reviews post here – it's a couple of years old but it gives you some intel on popular styles and fit.
You can follow me on Instagram where I regularly post my outfit photos and other fashion and interesting tidbits.
I've had great success in selling some of my preloved Zimi online during lockdown. For all my tips and intel, head to my post How to Sell Clothes Online and How I Made  Over $5000 in 3 Months.
Looking for new season styling ideas? Check out my latest fashion post in which I've styled the new season Charlie Jumpsuit here.
Want to PIN this for later?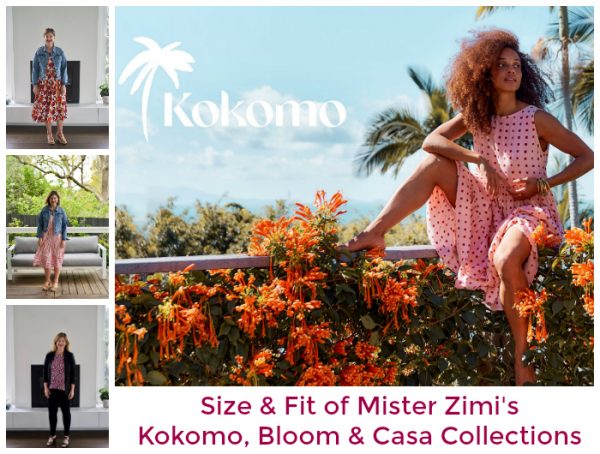 So over to you – are you a Zimi fangirl? Can you add any sizing intel to what I've shared above? Thoughts on the above collections?