I love the city of Melbourne.
I've lived in Melbourne my whole life and worked in the city for the last 12 years.
I love exploring it's lane ways, secret bars and preserved arcades.
I love it's character, unexpected surprises and it's energy. Not to mention the food, shopping and churches.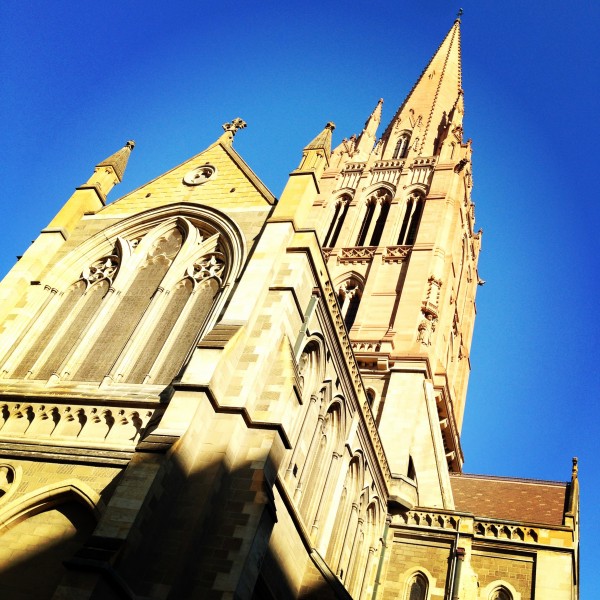 So when Mr SnS and I were looking for a quick 24 hour getaway for our wedding anniversary, the city was the obvious destination.
It was a short time away in one sense.
But long enough to have a break from our day to day life at Shenanigans Central.
We started by booking a night at The Adelphi Hotel, a fabulous little boutique hotel in Flinders Lane, best known for it's rooftop pool and it's hip bar Om Nom, which I found out subsequently, does a fabulous high tea which you can read about here.
We checked in on Saturday arvo, did a quick tour of the pool and bar, dumped our stuff and hit the city.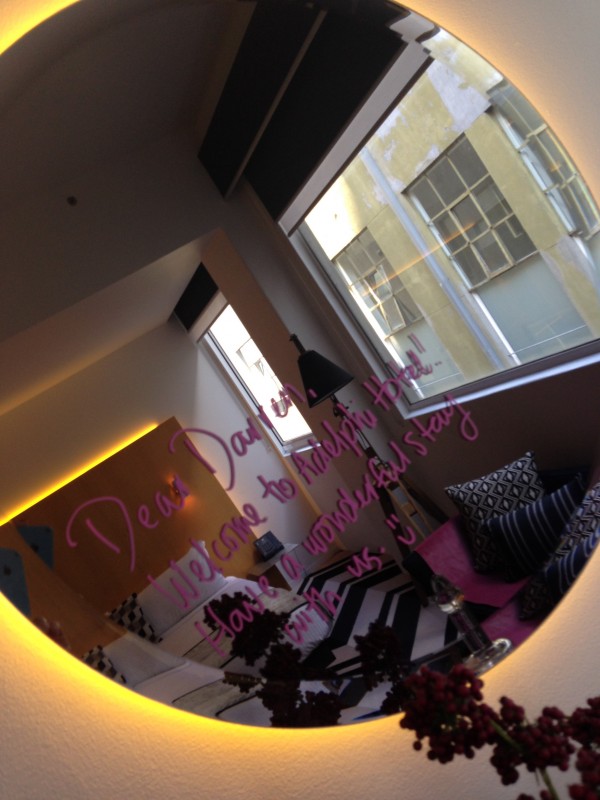 First on our list was a meander through our favourite lane ways and arcades.
We wandered down Flinders Lane to Centre Place (my fave of all Melbourne's lane ways), where we sat outside and enjoyed a late lunch of wine, eggplant chips and some bruschetta.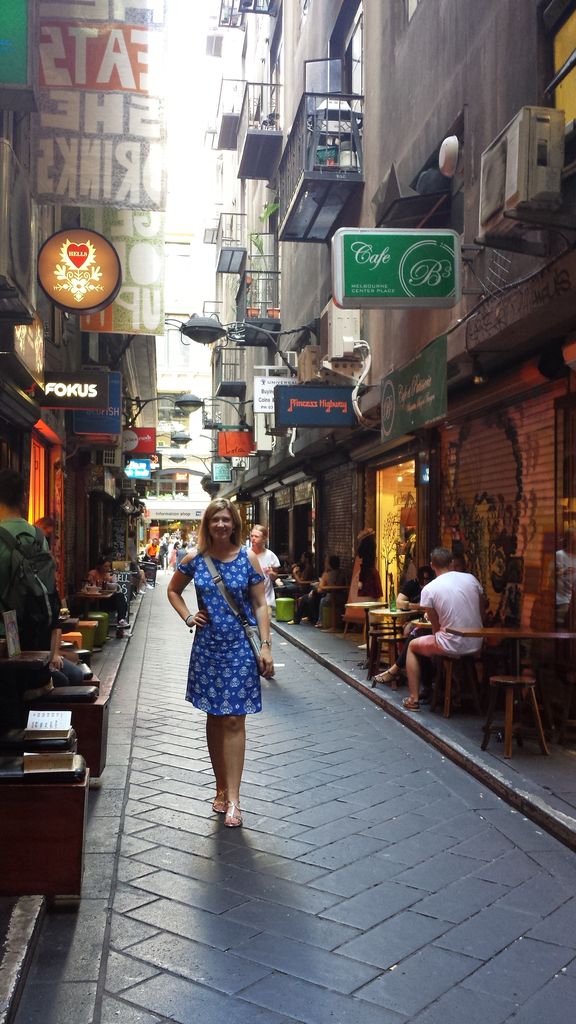 From there we crossed Collins Street to the beautiful Block Arcade. There I found the divine Gewurzhaus (where Mimco used to be) which sells spices and all sorts of home goodies including the divine Ben Elke lunch bags. I also did a little stocking up on the Easter Bunny's behalf at Haigh's.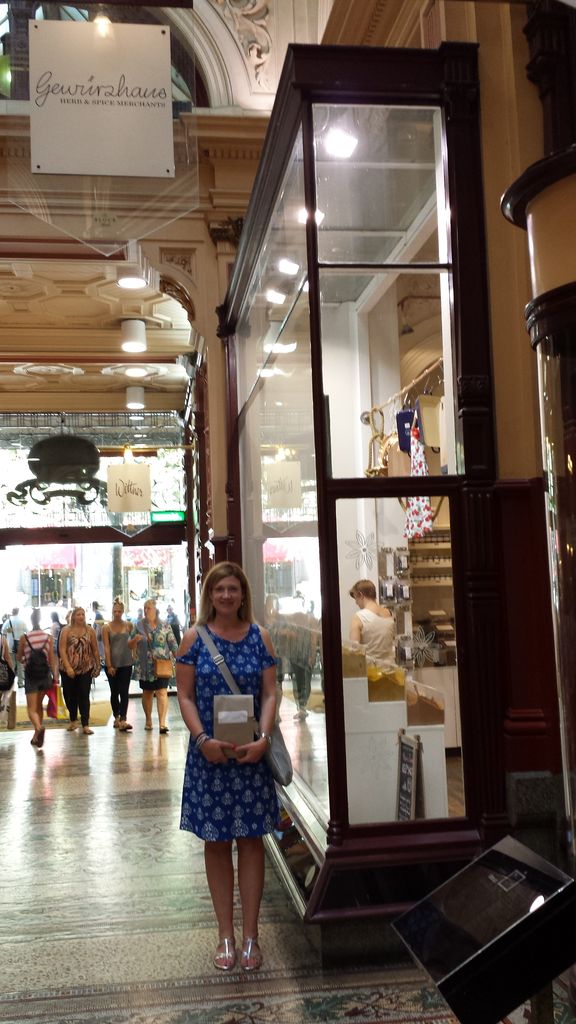 A wander through Block Arcade took us to Little Collins Street and then onto Royal Arcade where we checked out the famous Babushka shop (I was looking for a Star Wars Babushka for the boys but no luck). Then we back tracked again through more lane ways to the Hotel.
By the time we returned to the Hotel, we had earned our welcome drink, so we sat on the swing in Om Nom and toasted all the great things, including our decision to take some time out for ourselves.
Below are some snippets of The Adelphi. I liked that it was a small, relaxed and fun hotel. The staff were pleasant, helpful and accommodating.
There was clearly an emphasis on appealing to the senses too – we were given several sweet treats during our stay including the welcome snacks. Hello fairy floss!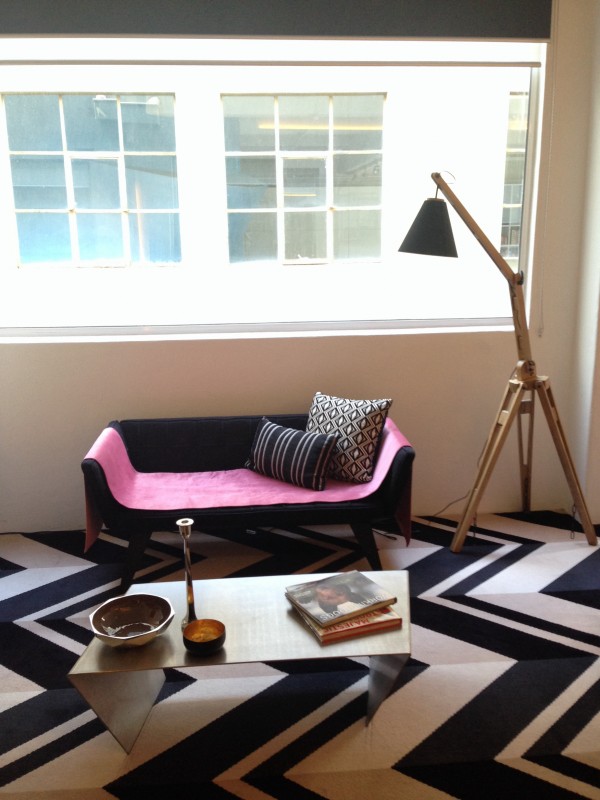 Our room (we stayed in the Comfy King room)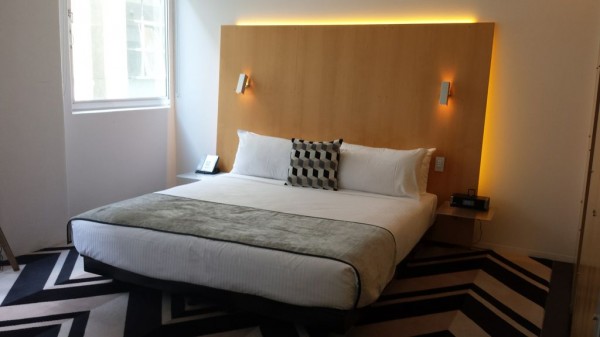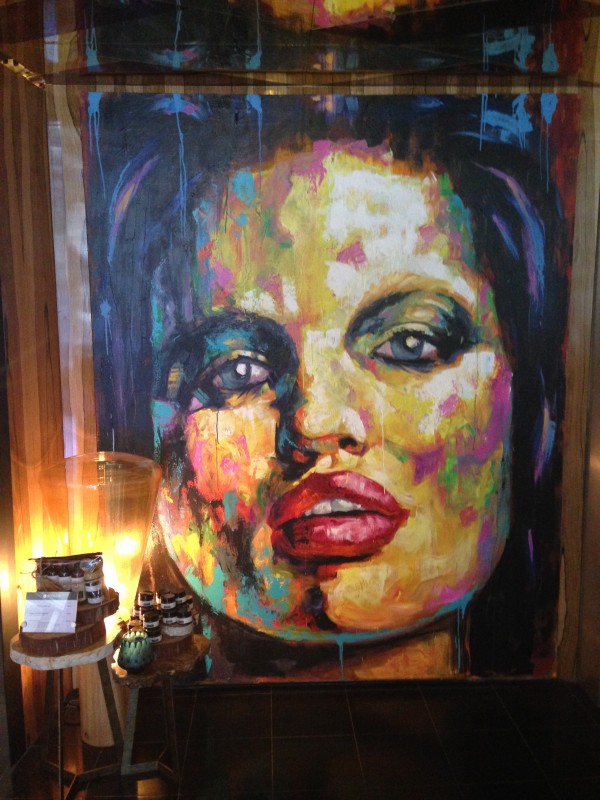 The artwork in the foyer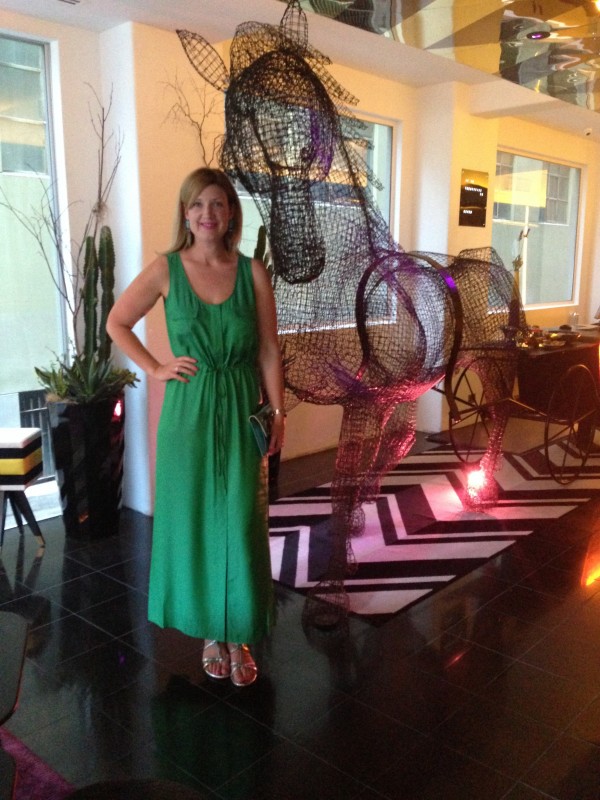 I loved this wire horse sculpture, whose carriage served as the reception desk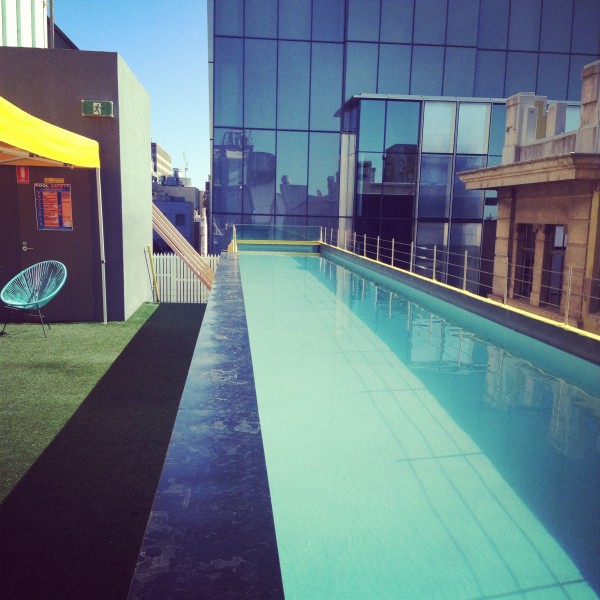 The rooftop pool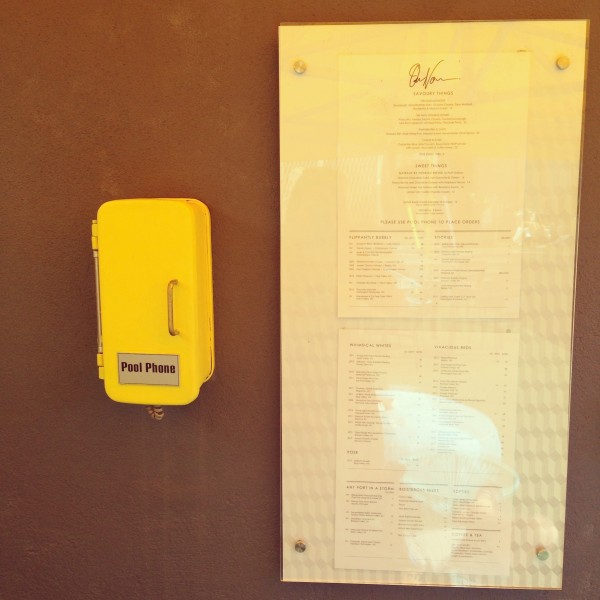 In case of a munchies/cocktail emergency, just call the pool phone!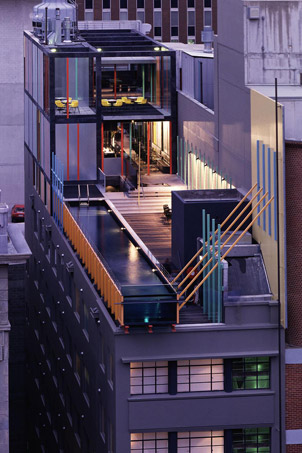 View of the rooftop pool at night (Image Credit: The Adelphi Hotel's website).
For dinner on Saturday night, we walked the short block to the uber popular Chin Chin at 6.45pm only to be told the "waiting list" had just closed and would be re-opened in 45 mins.
Yes, that's right, this would mean waiting for 45 mins to begin "officially" waiting. (Don't get me started on places that won't accept bookings). Great offer and all, but we canned that idea pronto and wandered further up and across town to Bar Lourinha in Little Collins St, a Spanish bar I have been meaning to visit for, well, 5 years or so.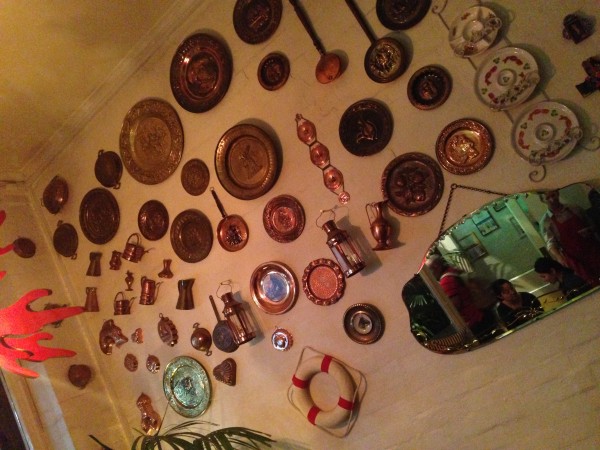 Bar Lourinha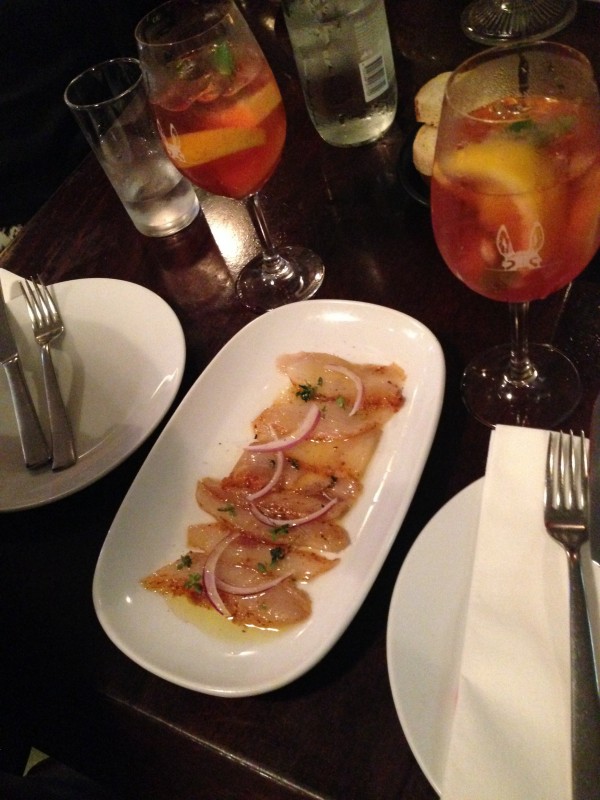 It was worth the wait. We asked the waiter to suggest some dishes and he directed us to the kingfish, pancetta and lemon oil (above) which is so popular, he told us, that it has remained on their menu since opening.
It was something else and that is from someone new to the whole raw fish dining experience. We also enjoyed our croquettes, pickled cauliflower and slow cooked goat and washed it down with a couple of pink lemonade (their take Sangria) cocktails. Happy anniversary indeed!
To finish off, we had the churros (fab) and the orange crema which was, frankly, unbelievable. It was an orange creme caramel but that description does not do it any justice whatsoever.
When we returned to our hotel, after another stop at a nearby rooftop bar, we found our room had been turned down and a little something had been left – a pair of ear plugs and a couple of sublime salted caramel macaroons. So, some good news and some bad news.
It was a bit noisy over night with all the revellers on the street but years of cumulative fatigue ensured I slept like the dead regardless.
The next morning we enjoyed a delicious breakfast (you can see the menu here) and sadly bid our happy stay goodbye. Until next year!
Have you stayed somewhere fabulous lately? What's your favourite city to visit? In Australia or o/s?
Image Credits: all photos taken by Mr SnS or I except the attributed photo.