I've said it before and I'll say it again: We really are spoilt for choice when it comes to eating out here in Melbourne.
There are always great new places popping up or opening their doors in a new neighbourhood; great chefs embarking on new projects as well as old favourites just improving with age.
In the last few months, I've literally eaten around the world as I've eaten around town – from Mexican through Mediterranean with a visit to the suburbs and a Vegan experience thrown in for good measure.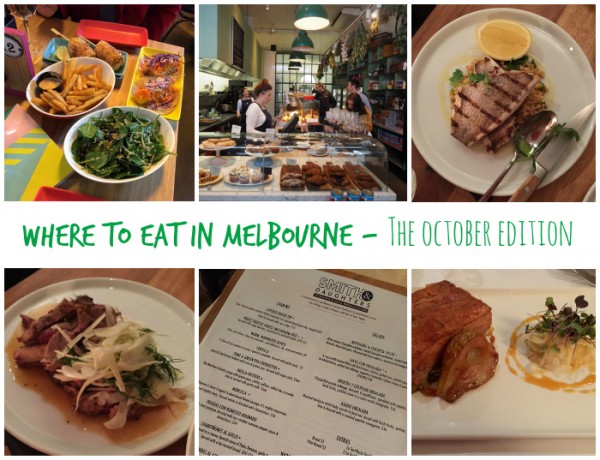 1. Fonda Mexican – City, Richmond, Windsor & Hawthorn
I'm a relative newcomer to Mexican food.
After actively avoiding Taco Bill through the '80s and '90s, it was Motel Mexicola in Bali that finally turned me to the South side. Their mojitos might have helped too.
When I heard the word that Mexican street food had come to the 'burbs, I was happy to check it out and see if the sour cream nightmares of Mexican meals past could be eradicated once and for all.
I've visited two Fonda haunts now and had great meals at both: Richmond which is located just before the busy intersection of Church and Swan Streets; and more recently, I've paid a visit to their newest incarnation on Glenferrie Rd, Hawthorn.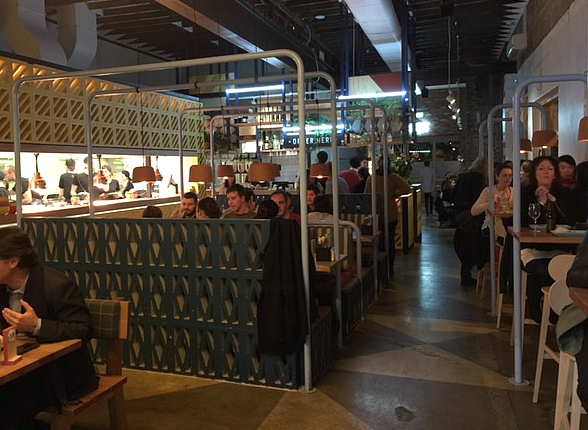 This is a busy, fun and relaxed spot with a modern quirky fit out and a buzzing vibe. It's a great spot for a mid week bite on the way home or way out. Given you can't make a booking (unless you are in group of ten), it's best to go early or arrive with a relaxed mindset – you may need to wait a while.
When I visited mid week with girlfriends, we've arrived just after 6pm and easily secured a table, ordered our shared plates at the counter and sat down for a natter over some seriously good nosh.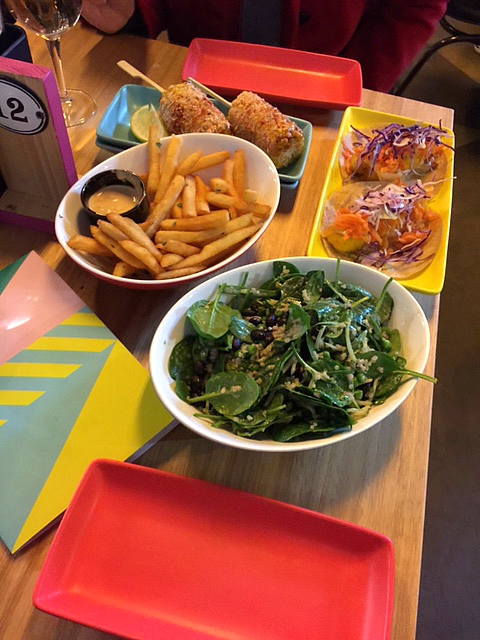 My favourite dishes include the corn, the fish tacos (both pictured above) and the quesadillas. Check out their full menu here.
I'm planning to return with another family of five for an early dinner given we'll be a party of ten and will be able to book.
Perfect for – a quick mid week dinner in Hawthorn before catching a flick at the nearby Lido cinema.
2. Casa Ciuccio – Fitzroy
At the Nicholson St end of Gertrude St, this quiet, unobtrusive bistro which literally translates to "Donkey House", is as understated and cool as Gertrude St herself.
You'll find everything you need here too – next door is a neighbourhood bottle shop, deli and Casa Cantina, open until 7pm six nights a week. Then, come evening time, head to Casa Ciuccio for some delicious share plates.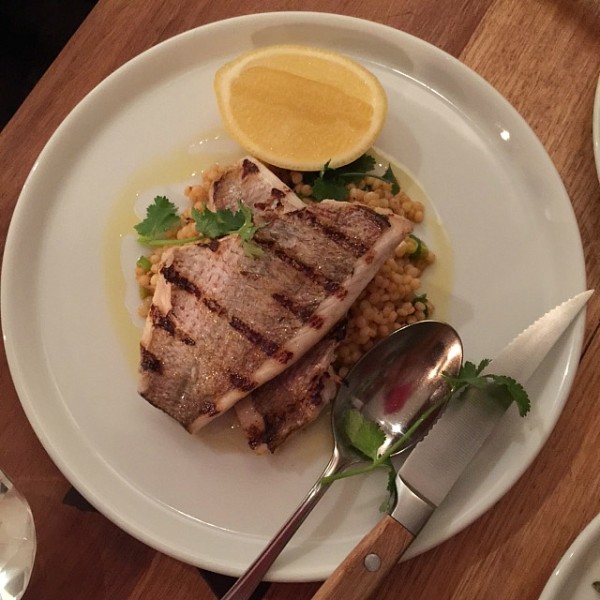 I had a lovely meal here one Friday night in this smart casual dining room, with it's exposed bricks, greenery and quirky Spanish touches.
The menu largely consists of Mediterranean style tapas.
We started with the marinated olives and a delicious salted cod croqueta each. We over ordered for our next course with two mains and two vegetable dishes – the coal pit roast lamb shoulder with yoghurt and fennel (below); the snapper special which was served with herbs and Israeli cous cous (above); spice roasted cauliflower, sour cherries and pistachio; and the heirloom beets, smoked labne and sesame.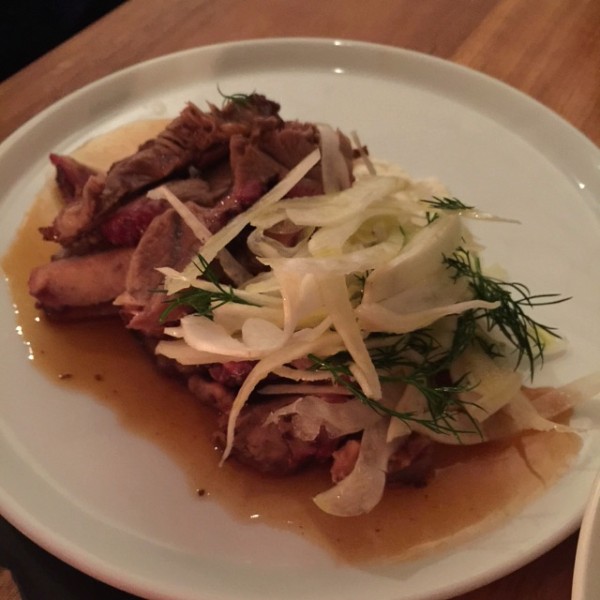 It was a lot of food for two adults unfortunately leaving no room for dessert but it was absolutely moorish without being too rich or heavy.
This great food was served by relaxed hosts and even though we had a two hour booking for 7pm, we didn't leave until after 10pm. This is an honest, unpretentious place and perfect for a date night or an intimate dinner with friends.
Check out their full menu here.
Perfect for – date night or dinner with a small group of friends.
3. Smith St Alimentari Eatery and Foodstore – Collingwood
Taking up two shop fronts in busy Smith Street, the Smith St Alimentari is a hub of activity.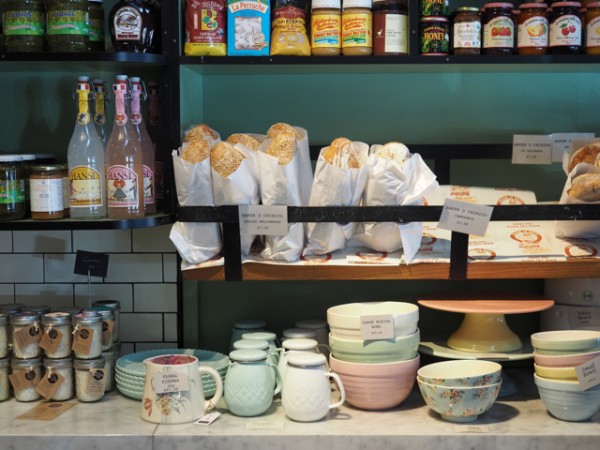 If it rings a bell, it is the sister of the long established and much loved Brunswick St Alimentari nearby.
You can order a coffee, bread, gourmet treats and home wares from the foodstore, below, or join the queue to sit down in the industrial accented dining room slash eatery for breakfast or lunch.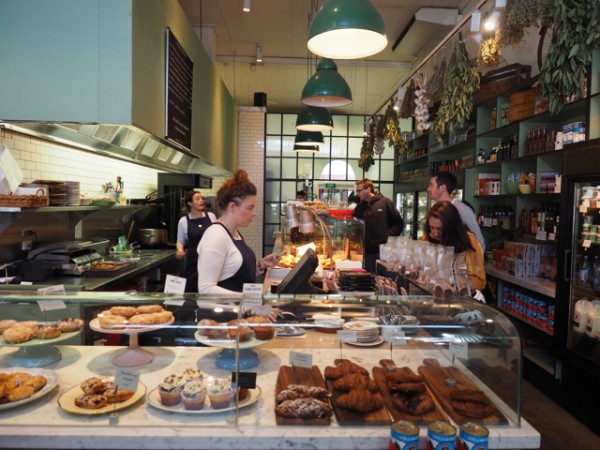 I visited on a Saturday for lunch and it was bustling.
After queueing for a short time, I enjoyed a delicious homemade soup and toast at the bar in the vintage accented dining room with it's industrial pendants, subway tiles, painted woodwork, oversized greenery and retro fresco.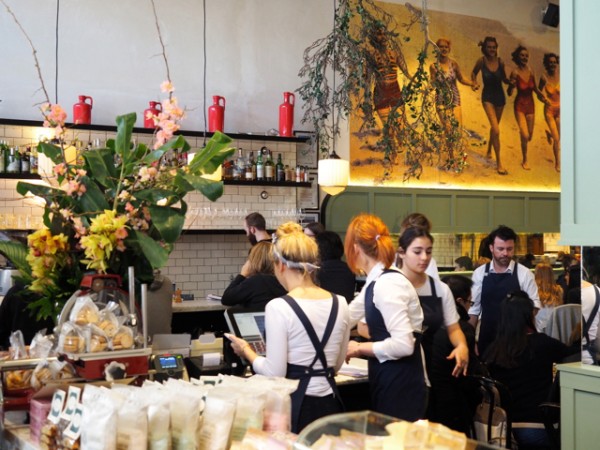 The service is friendly and relaxed although the food took a while to come out the day I visited.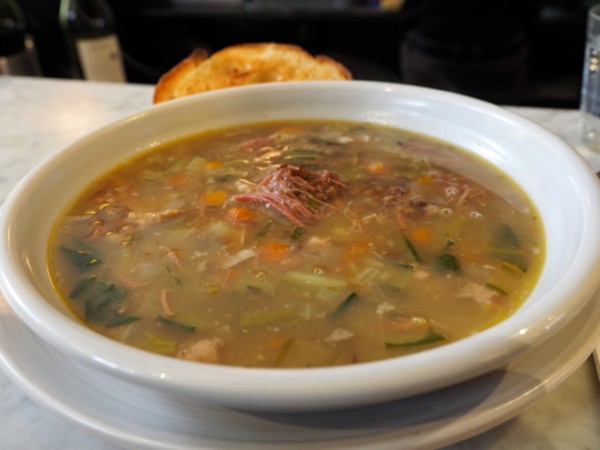 I could see a rustic looking courtyard out the back and I made a mental note to return with some girlfriends for a cheeky weekday brunch.
This is a super cool spot but it's a day only affair at present. Hopefully that may change in future.
Perfect for – a cheeky mid week lunch with the girls.
4. Templestowe Living Room – Templestowe
The Living Room is known to be one of the better places to eat out for a fancy dinner in the eastern 'burbs. I ate there many moons ago and enjoyed it, but it had been years in between visits.
I'm not sure why.
I visited one Friday night with five girlfriends. The dining room was full and the vibe relaxed but buzzing. My girlfriends and I shared some delicious olives and dips to start before we went on to the main event.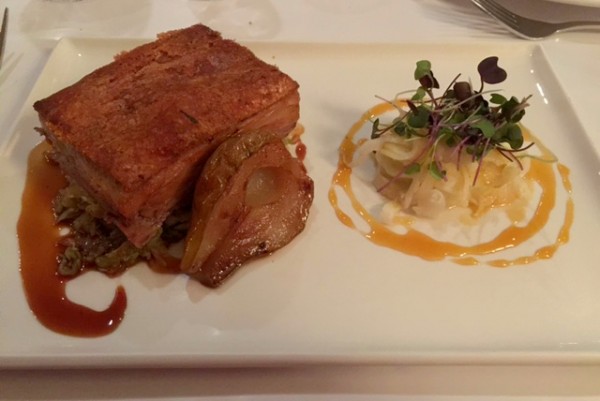 I had the pork belly which was delicious and substantial. Everyone rated their meal highly.
We managed to share a few desserts too which hit the spot too.
This is a great finer dining option not just for those who can't be bothered heading into the city – it's a destination in and of itself and perfect for an intimate dinner with friends or a date night. It's open 7 days a week for lunch and dinner and you can check out the full menu here.
Perfect for – a birthday dinner or some overdue fine dining.
5. Smith & Daughters – Fitzroy
I'd heard great things about Smith & Daughters from my pal Veggie Mama (who is def in the know when it comes to these things) and a girlfriend who'd taken her vegetarian niece out for dinner one night. The hot tip? Don't go past the mushrooms.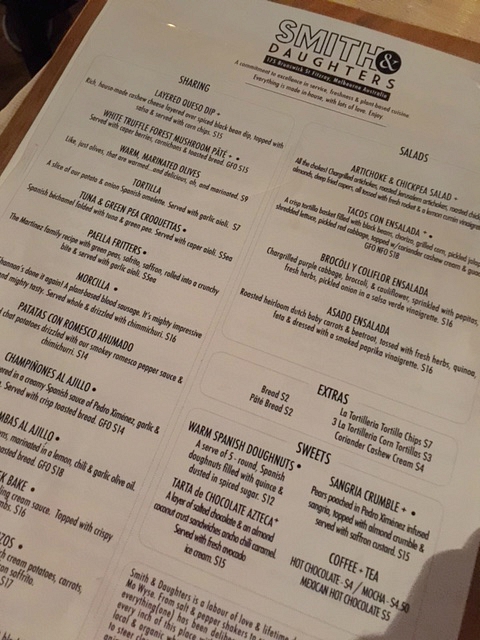 I made a booking one wet and cold Melbourne night and met a girlfriend for our designated 90 minute booking. Thankfully, it was a relatively quiet night and we stayed for hours although the service was super efficient and the food arrived very quickly.
We ordered the warm marinated olives; queso layered dip; "prawns", below, which were in fact a very prawn-y looking root vegetable marinated in garlic, chilli and herbs; button mushrooms marinated in garlic, smoked paprika and Pedro Ximenez; and a vegetable tagine.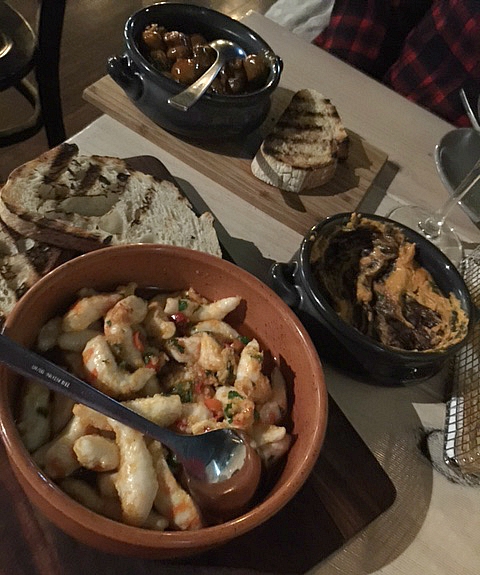 It was all very tasty although there was a lot of rich food, despite the vegetarian factor. The standout for me were the very unusual faux prawns and the dreamy, creamy mushrooms. The bread was also particularly moorish.
The dining room itself was cool with neon signage, plenty of greenery and white tiles. The only gripe I had was that our table was unnervingly close to our neighbours and the front door was left open for prolonged periods on a very cold night and we were sitting right near the door.
I'd like to return during the day when a 90 minute sitting is unlikely to make us feel rushed.
Perfect for – a midweek dinner with a girlfriend.
Have you visited any of these place? Or discovered some place new and fab you'd recommend? Old favourites welcomed too!