Every time we visit the Mornington Peninsula, we make sure we set aside a morning or afternoon to head across to Flinders.
It's about a half drive across the Peninsula from Rye/Blairgowrie/Rosebud on the bay side, but you will pass the Boneo Maze & Mini Golf and other attractions en route if you want to make a day of it.
If you've not been before, Flinders is a small historic town on the Mornington Peninsula at the point at which Western Port meets Bass Strait. There isn't much there but what is there is pretty fabulous and definitely worth a visit. I love Flinders for its mix of coast meets country.
Our usual routine is to head straight to the fantastic park on the main street (on the corner of Cook & Norman Streets – below) where there is plenty of room to run around and lots of things to keep older children occupied. While Mr SnS and the kids are sorted, I do a short circuit of the town, stopping at a few gorgeous little shops before meeting back for morning tea at a cafe or heading down to the Hotel for an early dinner.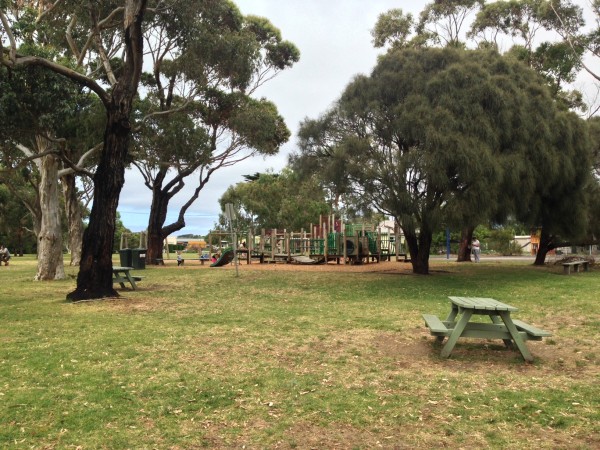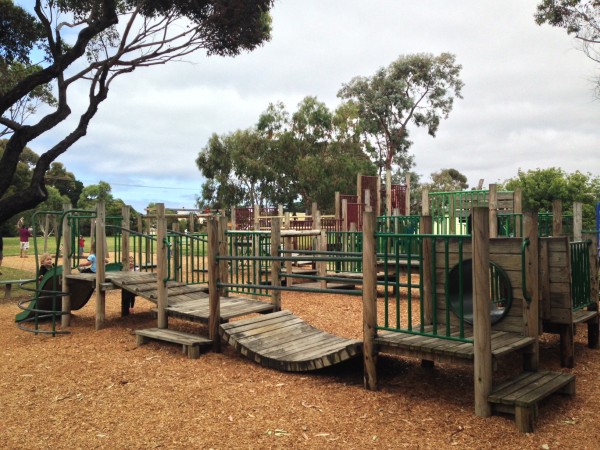 1. Tree 1
A couple of doors down from the park, towards the roundabout, is the gorgeous Tree 1 (below). The artistic window display below, with the pencil installation and vintage yellow styling give you a hint of what lies inside.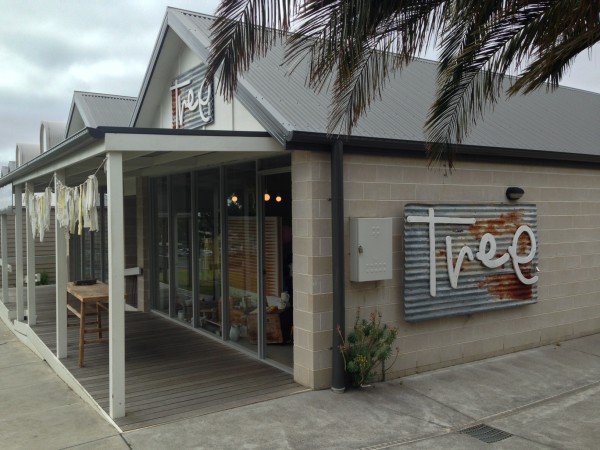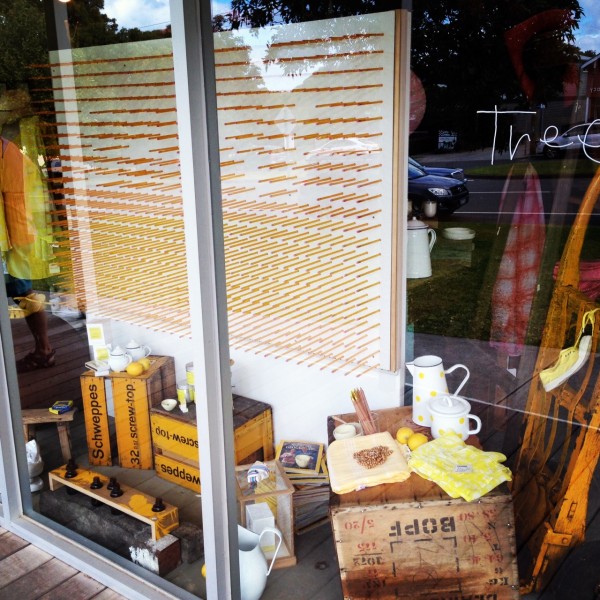 This is a beautiful shop where the products are grouped by colour and browsing is almost more of a sensory experience than a retail one.
You'll find beautiful home wares and enamel ware, Panama hats, Bensimmon plimsolls, Elk Accessories jewellery, shoes and clothing and gorgeous garlands and decorations.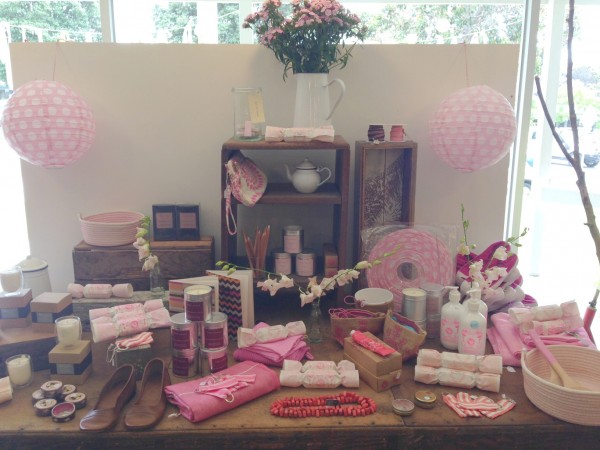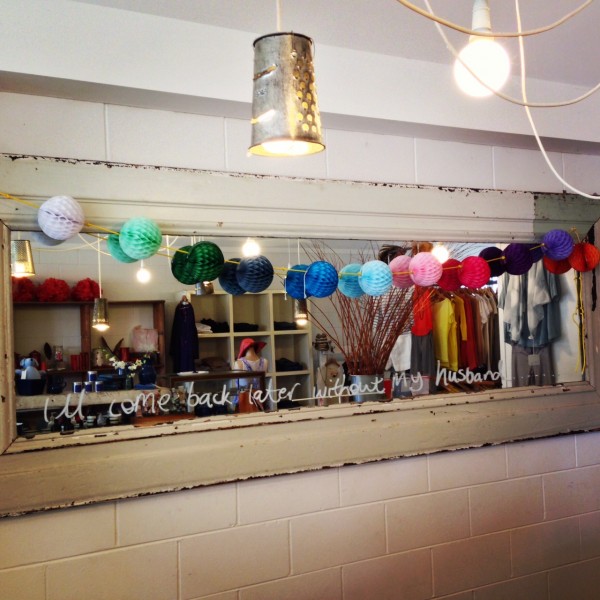 2. Villakulla
A couple of doors down from Tree 1 at 39 Cook St is Villakulla, pictured below. (Villakula don't appear to have any online presence).
It's the first time I have been into Villakulla and it won't be the last. I found a lovely collection of contemporary home wares here including Pony Rider cushions, bunting and removable de-cals and a great selection of vintage posters of Victorian coastal towns. I also spied some lovely jewellery including the fabulous Keep Resin.
This is the sort of place that makes you want to pop by the real estate agent's on the way out and pick up a little shack to decorate!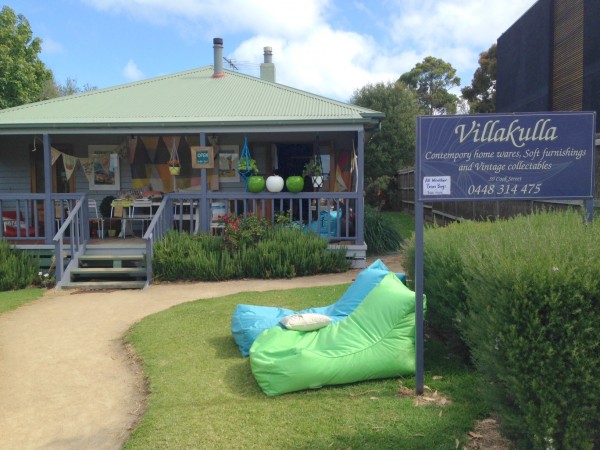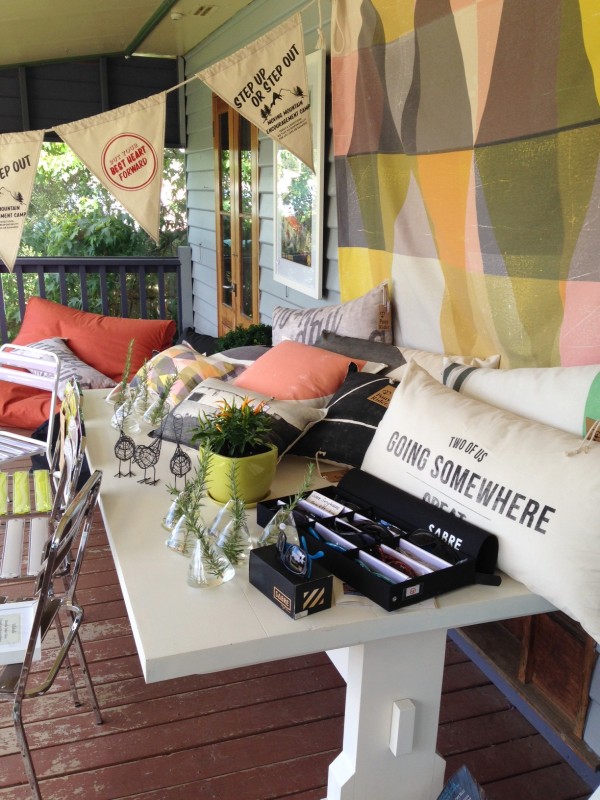 3. 4M
Almost directly across the road from Villakulla is the fabulous 4M (below) which is a great shop packed to the rafters with modern designer furnishings and home wares. Brands include Alessi, Cumulus Living, Curio & Curio, Paul Smith and Pantone.
This is the coastal version of their city store (they relocated from Prahran to Elwood last year).
You can find them on Facebook or visit their online store.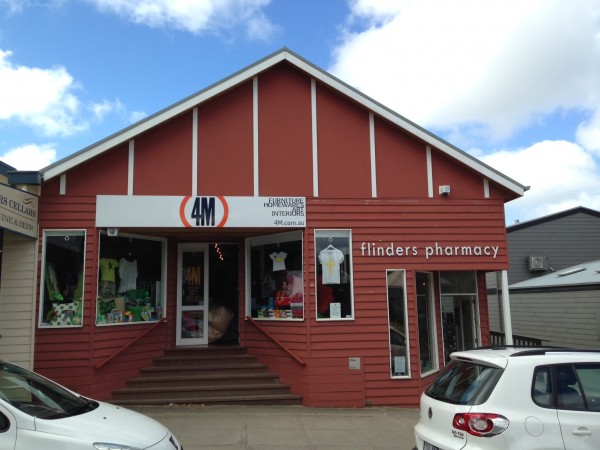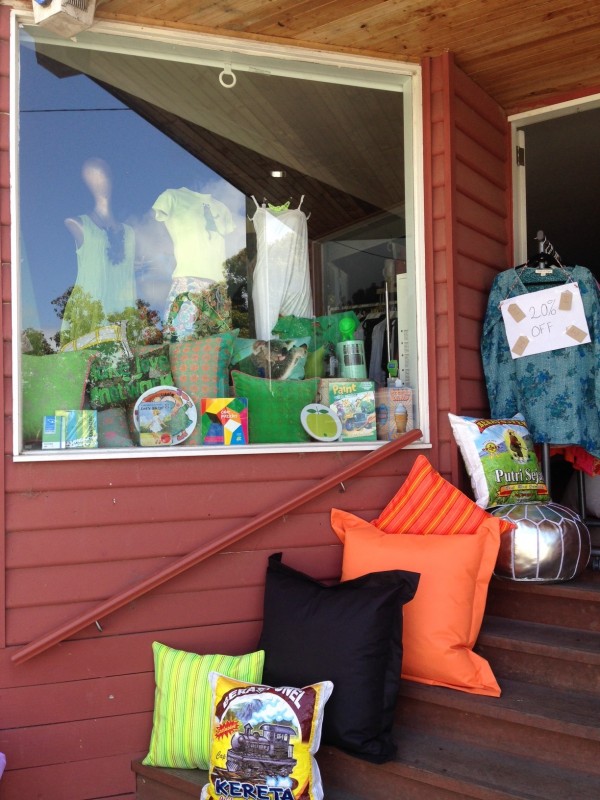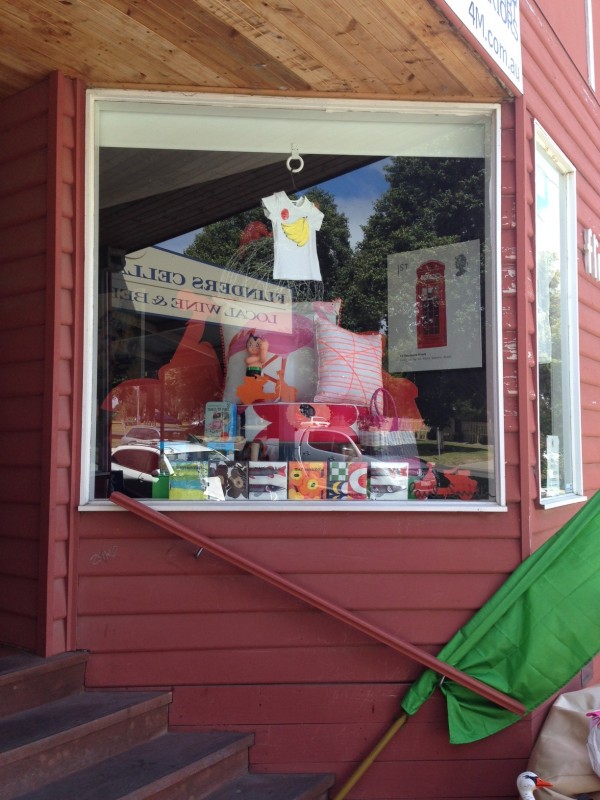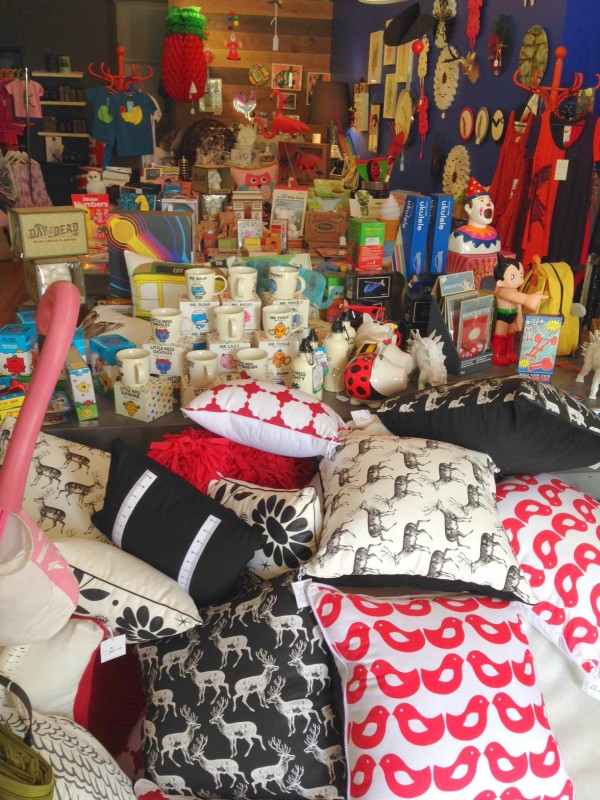 4. Where to Eat 
There are lots of great places to stop for a bite in Flinders. There are a couple of lovely cafes for coffees, milkshakes and snacks. We used to always pop in to the Flinders Village Cafe (a couple of doors down from the park) for milkshakes and scones, however this was damaged by fire last year. The locals tell us it will re-open in February.
This time around, we had morning tea at Pier Provedore (picture below). There were lots of delicious homemade goodies here and reasonable prices. To give you an idea, our morning tea which consisted of a drink (coffees, apples juices, a small milkshake) and a baked goodie for everyone (home made chocolate chip cookies for the kids, a muffin and a slice of banana cake for me and Mr SnS) came to the princely sum of $25 which is pretty good going in my book.
Outside, there are tables, a patch of grass for the kids to play on, a few books and some toys including Woody and Buzz. The kids didn't want to leave!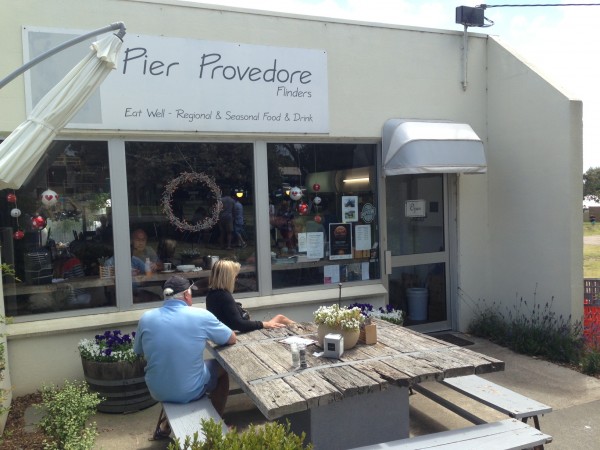 The day we visited Flinders  in the late afternoon, planning to stay on for dinner, we hot footed it to The Deck at the Flinders Hotel (Terminus is their fine dining room). It is a well appointed modern bistro with a large outdoor seating area and a small playground.
We had booked for 5.30pm and snagged a table inside near the window overlooking the playground. When we arrived however, it was a mild night so we sat outside next to the playground instead. We were told that bookings aren't taken for the outside tables.
My husband ordered the steak and I ordered the confit duck (below) with wild rice and quinoa.  Both were delicious. For the children, there were five options on the kids menu. One of our boys had spagetti bolognese. The other two had the minute steak, beans and buttered spagetti which was a hit and a bit of change from the usual offerings.
Our salad of beetroot and carrot and the chips with aioli were also fabulous.
It wasn't an inexpensive exercise too by the time we had a glass of wine each but there aren't many inexpensive meals out these days for a family of 5. You can see the full menu here.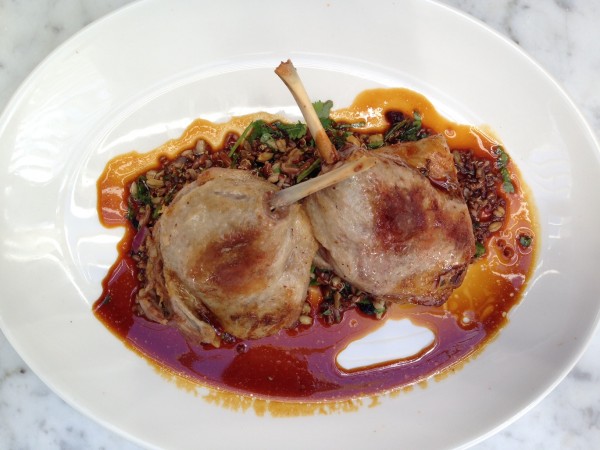 5. Other Things to Do
In town, you will find a couple of galleries and art studios where you can purchase local art and crafts.
Last time we stayed in Flinders over a long weekend, we took the short drive to the Cape Schanck Lighthouse. You can visit the outbuildings and do a tour. We went on a very windy day and nearly got blown off into Bass Strait.
I am not a golfer but I have walked along the boundary of the Flinders Golf Club which has spectacular views overlooking the ocean.
The beach at Flinders is not fabulous for kids. Our friends who holiday on this side of the Peninsula tell us the best swimming beach along this stretch can be found at nearby Shoreham.
On the way back to Melbourne, you will find the Merricks General Store which is a  great coffee and lunch stop. Or wine tasting destination. Your choice!
If you have time, plan a decent stop at the Tyabb Packing House where you'll find a huge warehouse of antiques and collectibles.
Have you been to Flinders before? What would you recommend? Any stops on the way to or fro?
Thank you for your comments. I love to hear from you!