How are you going with your new year's resolutions?
Did you, like many of us, resolve to be more organised in 2014 and to find a way to stay on top of the never ending admin of life?
I think it's important that the administrative CEO of the household has a space or a nook to store all the paperwork that life generates. This is a hard working space that needs to be practical and efficient.
For a while there I was very fortunate to have my own study before baby #3 came along and bumped me from the room.
After that, I used the dining table for a couple of years. Then, last year, once I emerged from baby-land, I finally had the head space and time to create a designated space in our living area to store my administrative bits and bobs. I have shared photos of my study nook here.
If you are looking for a bit of inspiration for how to create a work space, shooj up your existing one or just a pop of colour to refresh your tech wardrobe, you have come to the right place.
Below, I have put together a collection of practical and good looking desk and tech accessories to get you on track for the new year.
STUDY NOOK
Below is a selection of inexpensive but colourful products from IKEA, Typo and Tiny Me – three places where you will always find great, stylish and affordable bits and pieces for your study nook. You will also find great stationery and gifts for children there too.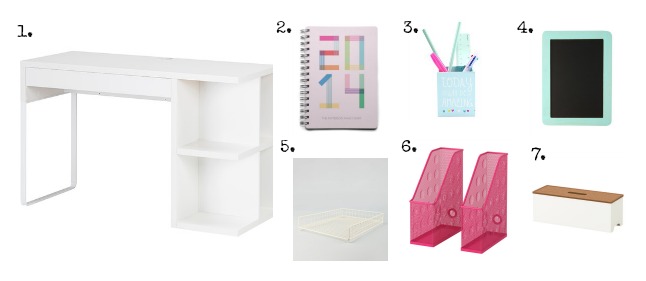 1. Micke desk with integrated storage; $129 from IKEA; 2. Personalised diaries, from $29.95 from Tiny Me; 3. Desk Mate, $9.95 from Typo; 4. A4 Chalkboard in Frankie Blue, $9.95 from Typo; 5. Old Wire Desk Tray $14.95 from Typo; 6. Dokument Magazine files (2), $12.99 from IKEA; 7. Kvissle, Cable Management Box, $9.99 from IKEA.
2. TECH COLOUR POP
Once you've got the basics covered, maybe its time for a new year pop of colour for your gadgets. These products will protect your tech essentials, look fabulous and make them easier to locate. Better still, two of them are on sale. Winner!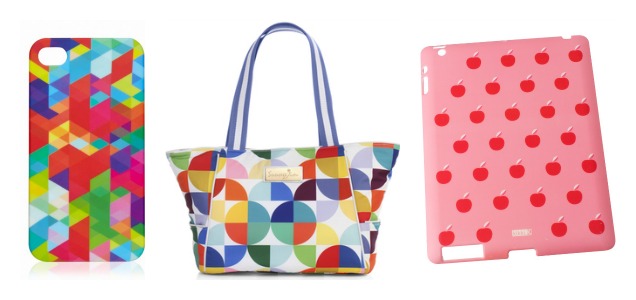 FROM LEFT TO RIGHT: Digital Phone Print Case, $4.95 (on sale) from Sportsgirl;  Luxe Tote in Copacabana Circles, $59.95 from Down That Little Lane; and iPad Hard Case: Cute, $12.48 (on sale) from Kikki K.
3. WISH LIST
And finally, if I had more space and needed more stationery, I would not hesitate to add these beauties to my online cart: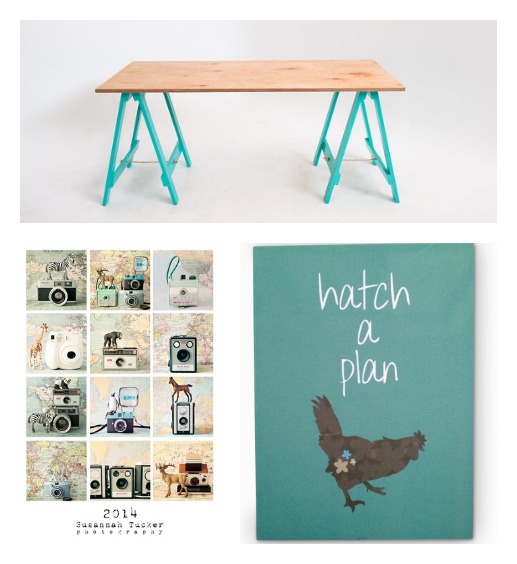 TOP: Handmade Trestle table/desk, $410 from Seven Hands High; BOTTOM LEFT: Quirky Cameras 2014 Calendar, $15.20 (on sale) from Down That Little Lane; BOTTOM RIGHT: Hatch a Plan Notebook by Anrol Designs, $5.95 from Hard to Find.
Do you have a designated office space or study nook? Where do you stash all your admin? What of the above takes your fancy? 
Thank you for your comments. I love to hear from you!