We've had a teensy preview of Spring around these parts this week with a couple of mild, sunny days.
While outer layers are still necessary, particularly for the school drop off or morning commute, it's been nice to be able to reach for some lighter layers for a change.
Being the optimist I am – and you need to be, to get through the cold Melbourne winter – I bought this fab bomber jacket recently, hoping against hope that I'd find an opportunity to wear it soon.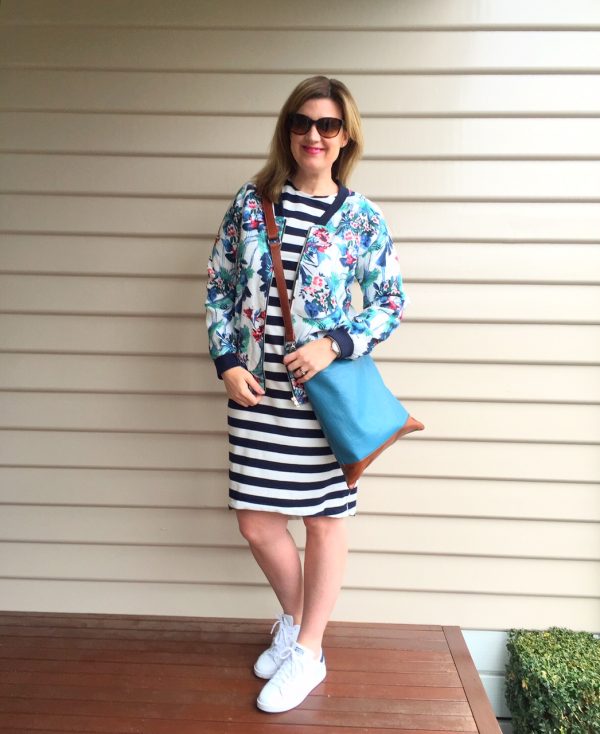 Above, I'm wearing the Tropical Bomber Jacket, $79.95 from Dotti in size 12, (only size 10 is still available online but check in store and you might have more luck), over Striped Midi dress from Bohemian Traders (I'm wearing a Medium), bag from Elk Accessories (a 40th birthday gift) and Stan Smith Adidas trainers from The Iconic.
It's my first foray into bomber jackets but it seemed like the perfect style for me – the floral working back nicely with my many stripes and checks.
It was also refreshing to find a well priced jacket, which got me thinking and then researching, about other well priced options.
Here is the fruit of my enquiries …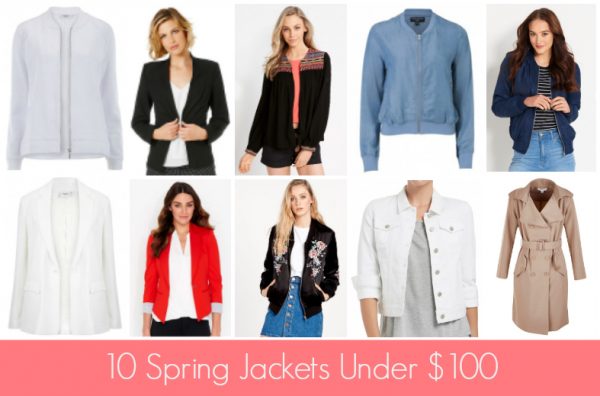 TOP ROW, LEFT TO RIGHT: Celeste Textured Bomber Jacket, $29.99 from Jeanswest;
Edge to Edge Blazer, $49 from Target (also available in cobalt blue);
Tribal Traveller Embroidered Jacket, $59.99 from Dotti;
Phoenix Bomber Jacket, $79.99 from Forever New;
Bomber Jacket, $79.95 from Dotti (also available in 3 other colours).
BOTTOM ROW, LEFT TO RIGHT: Laguna Blazer, $89.99 from Jeanswest;
Poppy Ponte Jacket, $99.95 from Portmans (also available in navy);
Brooklyn Floral Bomber, $99.95 from Glassons;
White Denim Jacket, $99.95 from Sussan;
Classic Trench, $99.95 (on sale) from Birdsnest (also available in black).
As you can see, the bomber jacket is big news this Spring with plenty of colours, styles and prints to choose from.
Of these, dusty and blush pinks are one of Spring's most popular styles and there are plenty of options at a reasonable price point.
If you're happy to spend a little bit more, check out this dusty pink Bomber Jacket from Forever New. There's a jacquard version in pink too.
If you're looking for a work friendly option to tide you over til summer, you'll be pleased to see several options in the blazer department with some colour in the mix, which is always good to see. Both Portmans and Birdsnest have excellent options under $100, as you can see above.
White jackets are trending too, from casual styles through to relaxed blazers. Paired with a simple tee and jeans, this is a relaxed, modern look.
To check out a range of styles, check out Dotti and Glassons. Both consistently produce on trend pieces at budget friendly prices. I've been particularly impressed by the range at Dotti recently. They have a great range of prints and styles from boho, like the tribal traveller jacket above, through to sporty looks.
Likewise, Glassons do classic styles through to statement pieces like this statement floral bomber above. I'd wear this with a striped tee and black distressed skinnies or a striped dress.
If your budget extends further, there are some lovely linen styles in store at Sussan and some beautiful tailored pieces at Trenery.
This post contains some affiliate links. You don't pay any extra and I earn a small commission. Read more in my Disclosure Policy here.
Is it warm enough where you are to wear a lighter jacket? What's your pick of those above?