I'm delighted to welcome the fabulous Gillian Moody from Champagne Cartel who is guest posting today. A Napoleon trained make-up artist who has styled, art directed and produced numerous fashion, editorial and corporate photographic shoots over the last 15 years, Gill knows all there is to know about make up and beauty products. She's also all sorts of fun and loves a boogie and a champs with the girls including, of course, her Champagne Cartel bestie Carolyn Tate. So of course I'm thrilled that  Gill is sharing all her expert intel about the best beauty products in your supermarket today. Over to you Gill!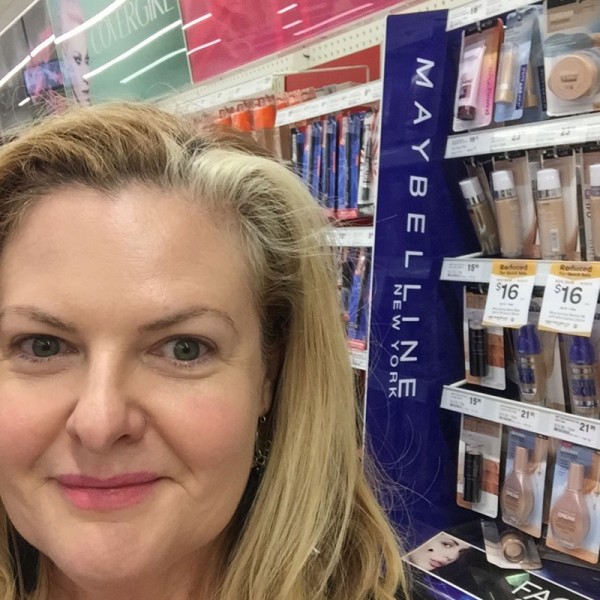 How do you feel about the supermarket?
I don't actually mind it, which is actually something I find slightly shameful to admit. It's not really cool to like grocery shopping is it? Plus it's such a waste of time all that trolleying around and loading and unloading bags. Which is why I mostly outsource mine to the internet these days.
But on those occasions where I feel I can safely squander an hour in my local supermarket, I can't help but to be drawn to the beauty aisle. It's gaudy, eye-poking, impulse-buying shelves call to me. My trolley and I just seem to drift down there like a yacht into the Bermuda Triangle.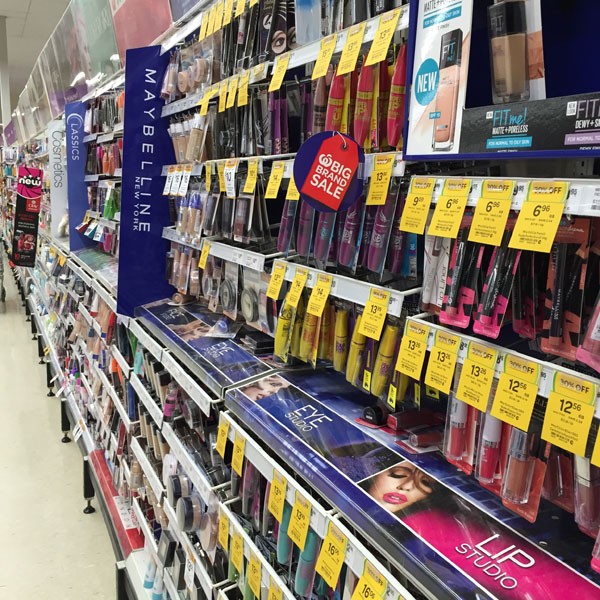 But there are some rather excellent beauty finds in the supermarket. Over the years I have experimented with a bunch of different products and these days there are some things I honestly wouldn't buy anywhere else.
So without further ado, here are my top ten best supermarket beauty buys: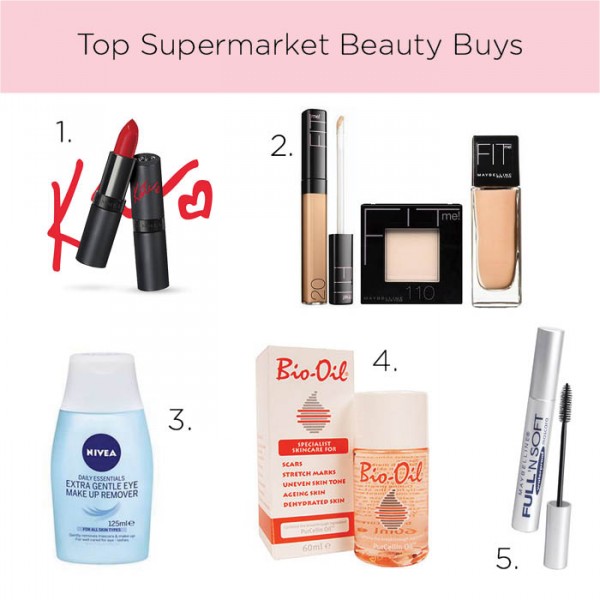 1. Rimmel by Kate Moss Matt Lipstick
I can't tell you how much I LOVELOVELOVE these lippies. They come in the most fantastic colours, they stay on really well and are cheap as chips. My favourite at the moment is #34 which is a pretty, lolly pink. Perfect for Spring!
2. Maybelline Fit Me Foundation & Concealor
These are pretty spectacular as far as supermarket foundation products go. I often find that cheap foundation is thick and not refined. The Fit Me range is a light, non-drying formulation which provides great coverage and doesn't dry the skin out. I use #120 in the foundation which seems to be a good colour for a pale to medium, neutral skintone (ie classic ivory).
3. Nivea Extra Gentle Eye Makeup Remover
I've been using this product for about 19 years I reckon. It seems to work well for me on all kinds of eye makeup, including liquid eyeliner. But it doesn't feel harsh at all.
4. Bio Oil
I used this product all through my pregnancies and I didn't end up with a single stretch mark. Friends have also used it for scarring and said it works really well. Bio Oil seems to absorb really well into the skin and doesn't leave a greasy layer. And it smells pretty nice too!
5. Maybelline Full 'n Soft Waterproof Mascara
This is one of those classic products that has been on the market for a long time but for some reason flys a bit under the radar. It's actually a really good, no-fuss product. It's got a small, easy to handle brush and the mascara coats well and doesn't clump. It's not a super heavy coating but it is good for daytime use, although saying that, applying two or three coats will definitely give you gorgeous thick lashes. For those on a budget, you can't go past this product.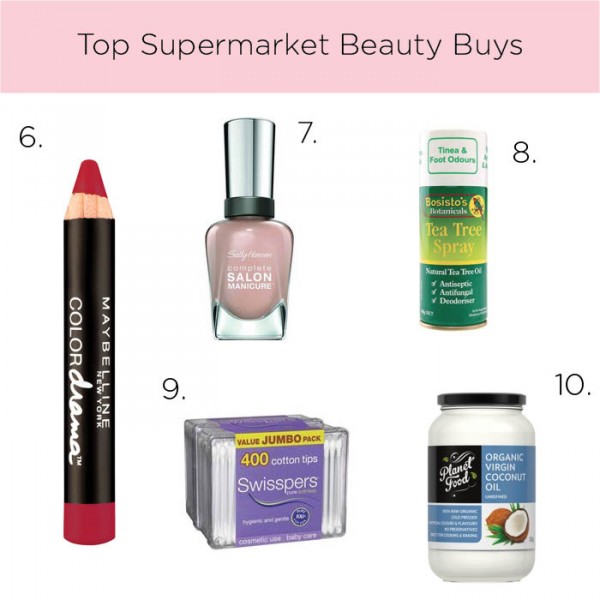 6. Maybelline Colour Drama Lip Crayon
I have been raving about the very beautiful Nars Velvet Matte Lip Pencils for some time, so I was thrilled to see Maybelline release this well priced version. As the name suggests, Colour Drama is very much a crayon, so it's certainly not a moisturising product! And I think it is more 'cakey' than the Nars pencil. But it is very easy to apply and gives gorgeous rich colour so I'm happy, considering you pay almost $30 less for this one!
7. Sally Hansen Nail Products
Although there are a bunch of uber fashionable nail varnishes on the market, Sally Hansen is able to continue to compete as the brand still has a product offering that actually works. I love her 'hard as nails' products such as the top coat and the Xtreme products. But even the simple nail polishes are great. At the moment I am loving this very classy 'Café Au Lait' colour, great for everyday wear and a colour that will match any outfit.
8. Bosisto Tea Tree Spray
If you haven't gotten onto the Bosisto sprays then get thee to the supermarket my friend! The tea tree spray is a great antiseptic, perfect for wiping down surfaces, dabbing on blemishes or cold sores, spraying in your trainers or cleaning the posts on your earrings. I also use the eucalyptus one which is great for spritzing around the bathroom and disguising boy stench.
9. Swisspers Cotton Tips
I honestly freak out when I don't have cotton tips around. I'm a complete makeup freak and I use these little puppies to tidy up my makeup mistakes, such as smoothing the edges of the lips after I speed-apply my lipstick, smudging eyeliner, and blending my eyeshadow.
10. Coconut Oil
Wow, I love coconut oil. It's antifungal and antibacterial, it smells pretty good and basically is an all-star non-expensive beauty product. My favourite ways to use coconut oil are: as a lip balm, for shaving my legs, to slather my body as moisturiser, as a body scrub when mixed with salt, and applied as a hair mask.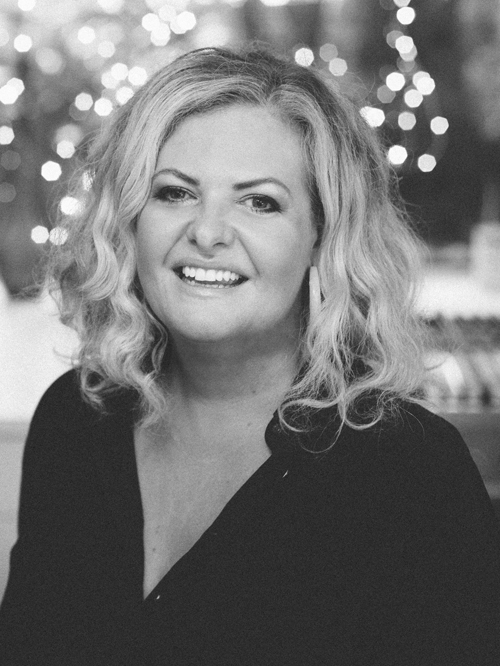 Gillian Moody runs group makeup and skincare workshops and individual coaching for women of all ages at themakeupcartel.com. She is a Napoleon trained make-up artist who has styled, art directed and produced numerous fashion, editorial and corporate photographic shoots over the last 15 years. She is absolutely passionate about style, make-up, fashion and beauty. She loves to share her knowledge on how to look good and feel great through the blog champagnecartel.com that she writes with her business partner Carolyn Tate. 
Do you buy beauty products at the supermarket? What's your favourite buy?