Representations of animals in decor have been trending for some time.  I remember a terrifying macrame owl my parents had in our kitchen when I was little. Gosh it was awful. Thankfully, it was eventually removed when my siblings and I were too afraid to walk into the kitchen alone! For a while there, animal motifs in decor were restricted to children's bedspreads (think busy zoo motifs) and lunch boxes. Now there are so many interesting and cool designs, it is hard to know where to start.
I confess that I am a little bit partial to animals in my decor. I have been through a prolonged "bird" stage, and managed to amass ceramic birds, decorative silver birds, a Douglas & Hope bird plate (which is on my kitchen wall), a vintage birdcage and for a while there, every card I received had a bird on it. I still love birds but have since branched out to deer – they are my current favourite.  Below, I have curated a selection of gorgeous home wares that I hope you will love and that might inspire you or provide you with a gift idea. There is something for everyone – adults and children alike. I would love to hear what you think.
1. Cushions


I love these cushions made by Green Envy and available from Down that Little Lane. They are made from recycled woollen blankets. How cosy are they? The contrast of the red print on the check in the stag cushion is so striking. It would look gorgeous in a boy's bedroom or on the sofa. The bunny one looks so soft and warm and would be perfect in a little girl's bedroom. They are $55.
2. Night Light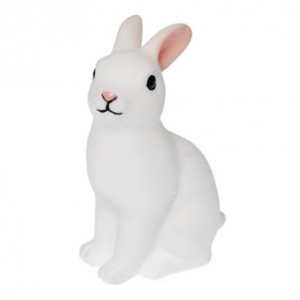 If you use a night light in your children's rooms, it is ideal to find one that fits in with the decor of the room. I love this night light from Lark. It looks great and is good value at $17.95.
3. Wall Art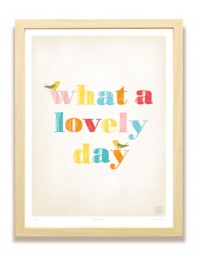 What a happy message and lovely bright colours. This cheerful print is available in several sizes from Printspace. It would look lovely in a kitchen/living area, hallway or girl's bedroom. From $30 at Printspace.
4. Animal Nesting Dolls

I think these are adorable and would make a fun addition to a child's bookshelf. My children have a couple of sets of nesting dolls and they love taking them apart and putting them back together. I would be very happy to give these as a welcome gift for a new born or to a young child for his/her birthday. They are $30 from Down that Little Lane.
5. Plate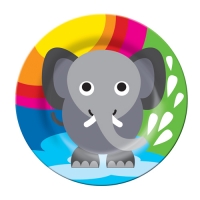 I am a massive fan of French Bull and their bright, colourful melamine dining and serving ware. They always have a great children's range with co-ordinating cups, plates, and bowls. Being melamine they are not only great for children but for picnics and outdoor entertaining. This plate is part of the Jungle range – there are also monkeys, giraffes and lions. This plate is $11.95 and is available from Shop Until.
6.  Doorstop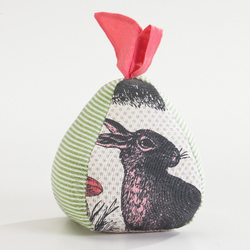 I have collected door stops for years. I have one in each of the children's bedrooms, the front and back doors and the door between the hallway and the kitchen/living area. I think they are a nice touch and practical as I am worried about little fingers getting caught in closing doors not to mention my phobia about being locked out of the house with the children inside. This Mozi doorstop would look gorgeous in a living area or in a girl's bedroom and I do love rabbits! They are $24.95 from Mozi.
7. Doona/Duvet Cover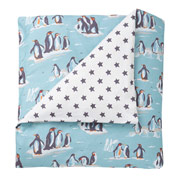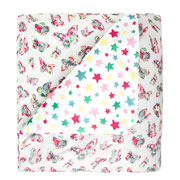 I have been a fan of the UK's Cath Kidston for a long time now, particularly her gorgeous children's range. I love the penguin/stars design for the boys, it is something different but so tasteful in that delightful English way. The girl's single duvet set is currently sold out, but it would be worth checking the site from time to time. These duvet covers are part of the new autumn range and are 45 Pound Sterling each (approximately $78).When buying from the UK, it is important to factor in the fluctuating exchange rate and international postage, but still, this doona cover set is less expensive than some local products.
8. Wall Art/Sculpture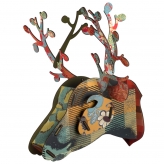 This designer deer head is made from pressed board. It comes flat packed and is easily assembled. I am a fan of 3D art on walls (high enough so they are out of the children's reach), and not being inclined to taxidermy, this is a happy compromise. They come in three sizes and various colour ways from $40 from The Happiness Place.
9. Door Mat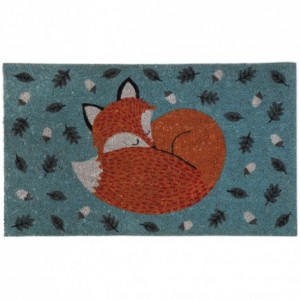 I am always on the look out for a great door mat and this is a bit of fun. That fox looks so cosy, what a lovely welcome to a home. It costs $45 from Lark.
10. Cushion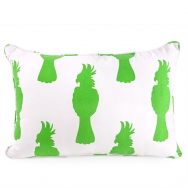 As confessed earlier, I love birds in decor and this cockatoo cushion evokes a Noosa vibe for me. That is a look I would like for my bedroom or sofa. This cushion is heavily reduced on sale at the moment at $19.95 from The Brown Trading Co. While stocks last.
What is your "animal" of choice?