My three children are all born within three weeks of one another, making the three weeks between the middle of June and start of July a very busy period of time for me every year.
As a result, I need to be very organised and am often planning their birthday celebrations or booking venues (if we are outsourcing) up to 6 months in advance. This was particularly so when I was heavily pregnant or had a newborn in tow during party season.
Having little ones, it is not always logistically possible to search the shops for invitations and party ware. It is much easier to do it at home or at night when they are all asleep. I admit that I enjoy the styling element of throwing a birthday party and the part I love the most is planning the theme around a gorgeous invitation. Over the years we have covered a lot of themes: circus, cowboys, trains, cars, jungle, space & rockets, robots, bowling and Lego.
As a result, I have searched many an online party shop for a lovely invitation and co-ordinating party ware upon which to base the whole look of the party. I then like to match the invite and a few special party items with party ware left over from the year before and colourful melamine/plastic plates and serving ware I have collected over the years.
Here are some of my favourite online party shops: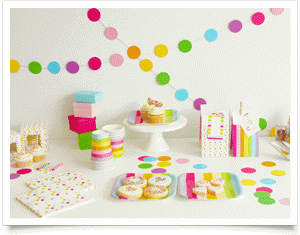 If you only check out one site, have a look at The Party Parlour, my one stop shop. They have a fantastic range of birthday invitations including Sambellina (their new Rainbow range, pictured above, is now available), Paper Candy, Alannah Rose and Katy Jane to name a few. They also have tableware, party bags, lollies, ribbons and twine, games, the list goes on. They also have lots of fantastic styling ideas to give you some inspiration if you need it. They also have Easter, Christmas, Halloween ranges so they can cover any event you might have, all year round.
Illume Design have a great range of invitations and co-ordinating party products. In terms of themes,  for girls there are ballerinas, fairy garden, lady beetles, birds, ice-cream, owls and pink Noah's ark invitations.  For boys there are cars, owls, blue Noah's ark, blue birds, circus and dinosaurs. All the themes come with co-ordinating tags, tableware and cupcake wrappers. I am already trying to decide between the dinosaurs and cars for Master 2's 3rd birthday next year!
This is a huge online party shop full of everything you could imagine for parties from invitations to pinatas and an extensive personalised range. They cater for all sorts of parties (not just kids), they are always having sales and have a huge range, so it's a good place to begin or end your party shopping.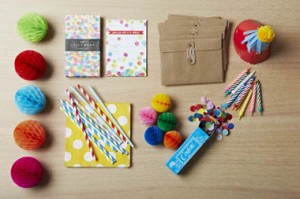 If you have a vintage sensibility, the party range at Poppies for Grace might be right up your alley. They have a small but lovely range of invitations and matching lolly bags. Their themes include ice creams, confetti and dinosaurs. Check out their sale section too – there are some great discontinued styles on sale. They have recently launched their party in a box range (pictured above) for $79.95 if you want to buy everything you need in one hit.
5. Paper Eskimo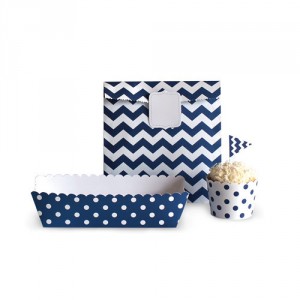 Paper Eskimo is available at various stores and online shops, but if you would like to access the full range, check out their online store. They have a huge range of products including invitations, paper straws, cupcake wrappers and toppers, styling tags, wooden cutlery and their new classroom cupcake and decor kits (the new decor kit is pictured above).
Other great places to find party paraphenalia are Party & Co, Lark and your local Big W, Spotlight, The Reject Shop or $2 Shop.
Where do you find great party supplies and invitations?