Let's face it. Fashion post kids is a different ball game. Even if you are fortunate/work hard enough to go back to your pre pregnancy weight, chances are your body will have changed and things aren't quite what and where they used to be!
BK (before kids), I could wear pretty much whatever was in fashion. Some season's offerings suited me better than others, but what I wore was largely determined by what was available at my favourite retailers. This was also in the olden days before most of the big retailers had online stores. Shopping was a pursuit that I enjoyed on Saturdays, on the way home from work (when I worked in the city every day) and the occasional Friday night before or after work drinks.
BK, I spent most of my week working in Court or in the office and tailored suits, shirts and dresses with kitten heels were my wardrobe staples. I shopped at Cue, Witchery and Country Road. Comfort meant wearing a trouser suit and mid heels instead of a skirt, hosiery and stilettos. My casual wardrobe was modest and dominated by dresses which I wore all summer long to engagement parties, weddings and birthday dinners. Ah, it feels like a lifetime ago.
Fast forward to seven years and three babies later, and my approach to style has evolved considerably. Now, my approach includes a lot of colour, comfort and accessories galore and my days are spent pounding the pavement, pushing a pram, doing pick ups and drop offs and running after three busy boys. How did my approach evolve?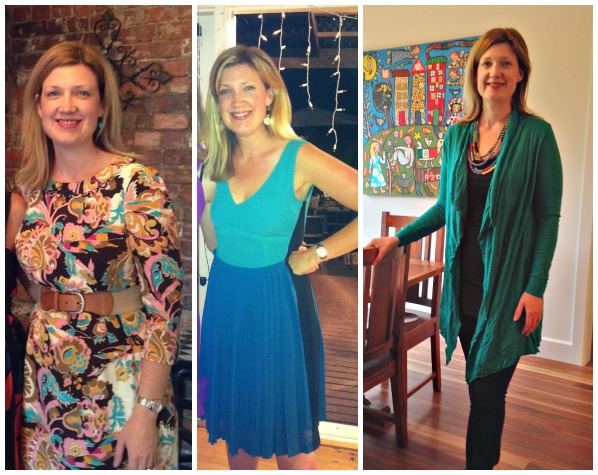 1. I accepted my "new body" and what suits it
After each baby my body changed and then changed again when I stopped breastfeeding. It took a while to get my head around this but I will take my three miracles over a perfect body any day (ok, most days). I remember after my first son was born thinking fondly of my long departed flat stomach and wondering why all of a sudden skinny jeans were everywhere as soon as I had developed a muffin top!
Dresses became a great solution for summer. For dresses, tulip shapes do not do me any favours but anything with a fitted bodice and flared skirt is always a winner. The dress above, middle, is an example of this shape.
I also discovered that, with a DD/E cup bust,  not all necklines flatter me but a scoop neckline generally does. Spagetti straps were also off the list along with strapless numbers until I found an excellent and supportive strapless bra.
After years of wearing two piece bathers, I decided a quality one piece with underwire support was non negotiable.
Over winter, I searched for tunic length tops and knits to wear over my skinny jeans for increased coverage and comfort. I searched for and found higher waisted jeans and jeggings from Witchery and Gap and was on my way. The outfit above, on the right, captures this look.
In general, I discovered that I needed to accentuate my waist to detract from other regions and so I went straight to anything with a peplum or waisted belt for my return to work wardrobe. Therefore the boxy knits and tops of the last few seasons (particularly at Country Road & Seed Heritage) have been unflattering for me and I have steered clear of them. If a dress has a loose shift cut, I wear a belt to cinch it in. That is what I have done with the dress in the photo, above left.
I have also realised that because my arms are not my greatest feature, anything with a cap sleeve or t-shirt sleeve accentuates them. I look much better wearing something sleeveless or with sleeves that finish at the elbow.
For dresses and skirts, knee length is always a winner and anything with a full skirt or A-line is best although a pencil skirt with a defined waist is fine too.
I found that once I worked out what suited me, shopping became a relatively streamlined experience as I can mentally eliminate everything that doesn't suit me, leaving me to focus the small amount of time I have to work through the styles that I know will work. Over time, I found  shops that suited my shape. For me, shops that offer the best selection of shapes that flatter me are Veronika Maine, Metalicus, Zara and Birdsnest (because of their great dress selection).
Despite knowing all this, I sometimes break my "rules" because at the end of the day, I just want to wear what I want when I feel like it. However, when I have a special event or am considering a more expensive purchase, I think carefully about what really suits me and what is worth investing in.
TIP: Be realistic about your strengths and play to them. If you have great legs, wear shorter dresses. If you have toned arms, wear strapless, sleeveless or asymmetrical tops and dresses. If you have a relatively small waist or an hourglass figure, wear a belt and cinch it in. Be kind to yourself about any imperfections and do your best to draw attention away from them. Finally, just because it is in fashion, doesn't mean it will suit you or you should wear it.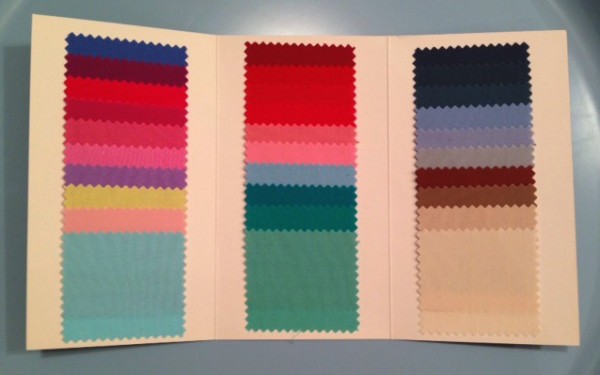 2. Work out your Colours
I have always been reasonably confident about what colours suit me but I also used to wear any colour I liked, whether it suited me or not. I used to wear a lot of black in winter and black shoes/boots/suits were the anchors of my whole wardrobe.
Nearly two years ago, a small group of friends and I had our "colours done" with our friend and stylist Amalia. It was a revelation. Above is the swatch with "my colours".
The take home messages for me were:
– Black does not suit me. This was a biggie. I should opt for charcoal grey, navy or neutrals instead.
– Of the four colour "seasons", "summer" colours suit me the best. Therefore blues, bluey-greens, turquoise, pinks, pinky-reds and purples suite me the best with creams, taupes, greys and navy as "base" or neutral colours.
– Hair, eye and skin colour and tone impact upon what colours suit you. If you change your hair colour, different colours may suit you.
– Certain colours (limes, blacks) make me look washed out and tired. This is good to know when you are feeling tired as it only makes you feel worse when people tell you how tired you look!
As a result of this great advice, now when I go shopping, I can mentally exclude all the items that I know won't suit me immediately and head straight towards the colours that do. I can even take my colour swatch with me should I need it. When it came to buying an outfit for my husband's 40th last year, I felt confident buying a beautiful emerald green dress from Alannah Hill, knowing that whilst it was expensive, it was a great colour and cut for me.
Now, in winter, I wear a lot of creams, blues and greens and I have invested in quality tan/brown boots and leather handbags. When I wear black, I always wear it with an accent colour (pink, red or green) that suits me and is near my face (earrings or scarf).
TIP: Find a local stylist or do a course at your local community house to find what colours suit you. It will change your life!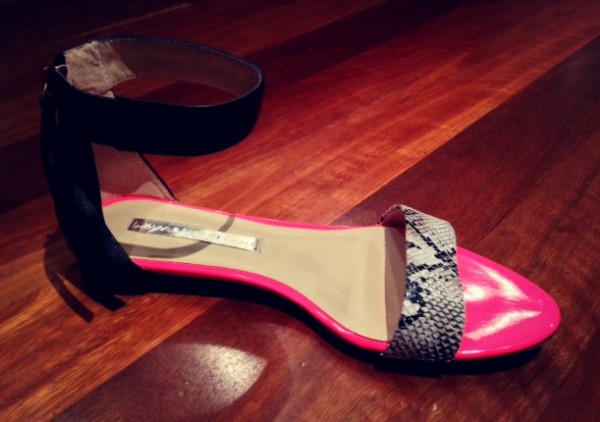 3. Find shoes that look great and are comfortable
If like me, you spend your days running around after little people, walking a lot and doing a mix of household and physical tasks, you need shoes that are comfortable. In addition to feeling comfortable, I like my shoes to look great and work with the rest of my wardrobe. Over the last ten years, I have discovered the value of coloured shoes and how they can give an outfit a real lift. I have also found that suede ballet flats are the most comfortable as they are soft and forgiving on tired, swollen feet.
In summer, I wear Salt Water Sandals, Birkenstocks and Havianas. When I dress up, I like patent or bedazzled sandals, wedges (like my fabulous new ones in the photo above) and clogs. Witchery, Gorman and Wittner all have great offerings.
In winter I wear flat boots and have recently invested in some more dressy ankle boots but these are not for day times for me. I have bought great boots from Country Road, Seed Heritage, Midas and Sambag. I also have a very colourful selection of Converse (yellow, red, pink and silver) for an instant pop of colour for a casual outfit.
In autumn and spring, I wear a lot of ballet flats and always try to have a quality pair of dressy ballet flats for dressy days or nights out. These are usually embellished with jewels, leopard print, metallics or a combination of the above. I have found great ballet flats at Country Road, Seed Heritage and Myer.
TIP: Look at your wardrobe and work out what shoes you need to be able to wear every item in your wardrobe and be on the look out for them. Work out what accents colours you often wear and will work well with existing clothes and accessories.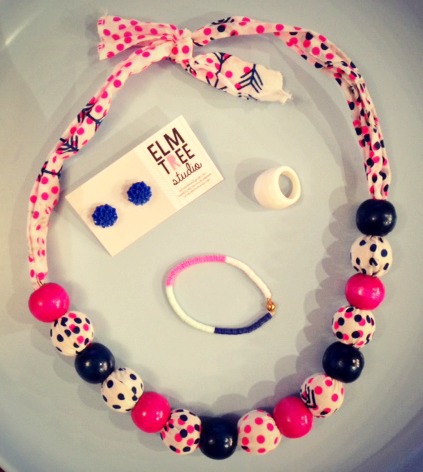 4. Discover the value of accessories
I have, over time, acquired a serious collection of scarfs, earrings, necklaces, pendants, and bags. Many of these are sourced from inexpensive shops like Diva, Glassons, Valley Girl, Sportsgirl or markets but I have also invested in some great pieces from Mimco, Tilkah and Alannah Hill. A scarf and co-ordinating jewellery can make the world of difference to a basic outfit and they can mix and match together to create endless combinations.
I find that by throwing on a couple of these things as I leave the house, I feel polished and ready to go. It also gives the impression of a well put together outfit even though it has literally taken seconds to throw together which is ideal when you are under pressure to leave the house in the morning.
TIP: Invest in colourful accessories that work with your existing wardrobe and that will add the finishing touch to any outfit.
 5. Shop in unexpected places
Sometimes we get stuck in a rut of shopping in the same places and we develop a distinctive "look". Many years ago, I shopped at Witchery so much that I was once asked if I worked there (i.e. I had such a distinctive Witchery look). I was kind of flattered but a bit mortified! This was not what I was aiming for. A more interesting, layered look is built over time and from buying different pieces from different places. This is one of the reasons why I love shopping at markets and online from overseas retailers (more on that to come in subsequent posts).
Occasionally, I go into shops I would not buy a complete outfit from to mix things up. I have bought great scarves from Valley Girl, jewellery from Miss Shop and bargain priced wool knits from Glassons. I shop everywhere from Big W to Alannah Hill and pretty much everywhere in between. This results in a less identifiable look (i.e. Country Road circa 2011) and means pieces are more versatile and can be worn from season to season. I also make a point of going to markets to find some really interesting, quirky pieces.
TIP: Next time you go to your local shopping centre, go into some different shops for a change. Look at online retailers and visit markets. You might be surprised at what you find.
How would you describe your style? Has it evolved over time? How has having children affected your "look"? How to do you put a look together?