As you know, I am fond of a Top 5 here and there.
Today's Top 5 is a little different to the usual.
It has occurred to me lately that by writing about style and taking photos of myself when I have brushed my hair and frocked up, this could lead to a false impression: that things are stylish and perfect at our place ALL THE TIME.
Sorry folks.
They are not. In fact, they are often far from it.
Sometimes, here at Shenanigans Central, it can get pretty messy, loud, frustrating, annoying, challenging and just plain hard work. And that can be a good day.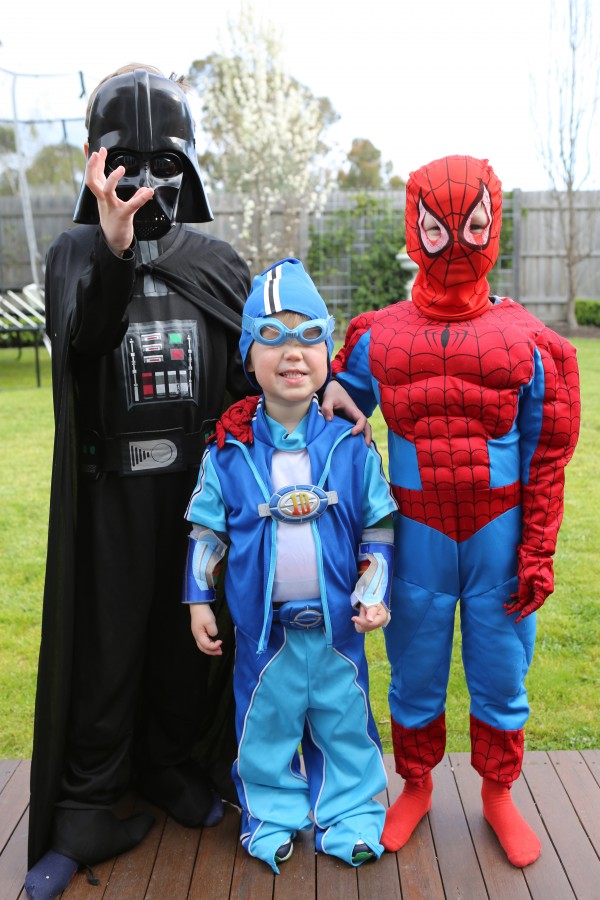 So in today's Top 5, I am regaling you with the five episodes of shenanigans (among many) that encapsulate life here at Shenanigans Central with three boys under eight.
I am not suggesting that these episodes are terrible, devastating or upsetting and I appreciate that in relative terms, I have zero to complain about.
I am also not dissing my boys, all three of whom are loved and respected within an inch of their lives.
Nevertheless,  they are just the usual, run of the mill, daily things that frankly, drive me up the wall and are good examples of our day to day shenanigans.
1. Pinocchio Issues
In the July school holidays, I thought we might have a fun morning out with friends at the local theatre group's Pinocchio pantomime.
It sounded like a good idea at the time.
On the morning of the performance however, I had a very frustrating discussion with my 5 year old who declared he would not be going to Pinocchio under ANY circumstances.
After nearly an hour of his protestations, I finally asked him, "What is your problem with Pinocchio?"
He replied, "I don't like people with long noses".
True Story.
I would like to add that I do not share his prejudice nor do I know have any idea where it came from.
He banged on about it all the way there (as I insisted that he was coming) and then proceeded to thoroughly enjoy the show. When he got home, he put the ticket in his most treasured treasure box along with all his other special things. Sigh.
2. Blood Nose Central
The other week, our eldest son received two blood noses.
The first was thanks to his younger brother who punched him in the nose and of course the blood went all over the couch two days before our photo shoot.
The second was care of our toddler who stepped on his face.
3. Toddler Antics
Our toddler's antics this year have included drawing on the couch, the wall, the floor, his face and his brothers.
He has packed frozen peas in to his eldest brother's school bag, left a banana in my sunglasses case (which I found sometime after the fact) and consistently refuses to sit in the pram.
Just normal 2 year old behaviour really.
4. Vomit
We had a great family holiday in Fiji this year. Towards the end of the 6 hour flight home, which landed close to midnight, our eldest son complained about feeling a bit funny. Thinking he was tired as he had not slept on the flight, we jollied him along and went about the business of disembarking, walking through the terminal, going through Immigration and collecting our luggage.
As we stood at the very front of the queue in Quarantine, he suddenly said, "I am going to be sick" and started to vomit. We told him to put his hands over his mouth and Mr SnS raced him to the nearest restrooms where he emptied his hands and ahem, finished the job.
They returned, we all tried to look relaxed and nonchalant and managed to make it through Quarantine. The holiday was over.
5. Kinder Photo Shoot Shenanigans
As previously documented on this blog, the Kinder fundraising photo shoot is one of those annual opportunities to get a lovely photo of all the children or the whole family.
This year, in preparation for said shoot, I organised three co-ordinating outfits for the boys (same style, different colours – very 2013 and a step up from what I was subjected to in 1979) and was all good to go.
Until the morning that is, when one of the boys stated matter of factly that he didn't like his outfit and FYI, he did not want to have his photo taken, thanks for offering.
We kept calm and carried on, making the short trip to kinder.
Sure enough, when we arrived for our allocated ten minute session, he quietly and calmly stood to one side while his brothers posed enthusiastically for the photographer. No amount of cajoling, firm words, bribery (I pulled out the big guns – a trip to Donut King post shoot) or threats changed his mind so we cut our losses and made sure we got a couple of great shots of the other two.
Sometime later, our son explained that he didn't want to have his photo taken by someone he didn't know but he was fine with Daddy taking snaps of him. So, Mr SnS took advantage of the fact that they were all still in their outfits and took some great shots at our place.
We now we have a framed A3 sized photo of two of our boys in the lounge room which is a permanent reminder of his preference!
So
In the scheme of things, we have had a great year but life with kids is full of the unexpected and the unbelievable. I often say, you can't script this stuff.
But, at the end of the day, as much as I love beautiful things, our beautiful boys are the real deal and the shenanigans are part of the package.
And as final note, just so it is clear that the kids aren't the only  culprits in the house, here is a status update I posted on Facebook last month:
"I have a public confession to make. I turned my house upside down last Friday looking for my pink and orange fascinator for Race Day and unfairly accused my 2 year old of fascinator thievery! (The week before my black fascinator had gone missing). I just saw a photo of the gorgeous Adele at a wedding in Port Douglas and realised I forgot that I gave her the fascinator to borrow a couple of weeks ago! I'll be seeking forgiveness from the boys at breaky!"
What has been your shenanigans highlight of 2013? Can you relate to any or all of the above?