Happy Friday!
How are things? What sort of a week have you had? What's been happening lately?
Me? Well, funny you should ask. It's been a busy month here at Style and Shenanigans.
And, as there are some new readers around these parts, I thought I'd give you all a virtual beverage of choice, something to nibble on and a comfy chair, and take the opportunity to say a big hello and welcome! While we are at it, I might take the opportunity to give you the heads up about what's been happening at Shenanigans Central of late.
1. Feature in Missy Confidential's Real Style Gallery
In case you missed it, earlier this week I was featured in Missy Confidential's Real Style Gallery.
I was super excited and flattered to be featured.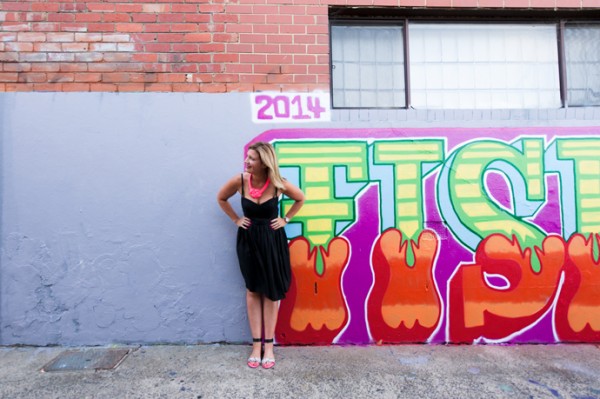 The brief was to have 8 outfits ready to go for a photo shoot at home and at another location (TBA) by my talented friend and fellow mother of 3 boys, Bek of Little Red Photography.
Coming on the "red" day of SnS Colour week, I had had a pretty big week and, I admit, I was feeling a little stressed and unprepared for the shoot.
In the lead up though, I'd managed to organise a spray tan, getting my nails done and a hair appointment on the day of the shoot, so I knew the basics were covered. All I needed to do was choose 8 outfits (just that!) and a location off site as there was NO WAY I could have my house photo shoot ready that week. (The night before, I was vacuuming the house literally minutes before my book club girls arrived for our monthly catch up).
On the morning of the shoot, I was talking to Mr SnS about where we could possibly shoot on the way home from our boys' swimming lessons. He told me that there was some great street art on the street side of one of our local cafes and an alley way nearby as well. We did a drive by and I saw the bird street art and inspiration hit – block colour was the way to go here. I might even crack out my new black dress!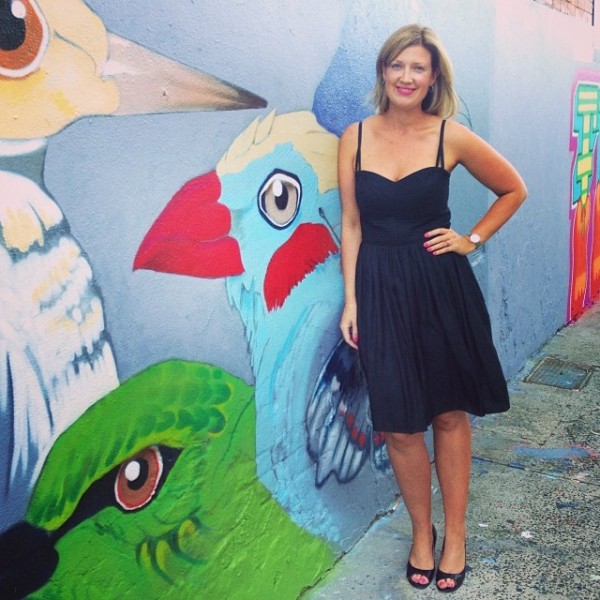 As I sat at the hairdresser's three hours before the shoot was to begin, I mentally chose my outfits – black and cobalt blue block colours and three other dresses that I thought were flattering with great colours but different to one another: my favourite floral Lazybones dress; the Witchery dress with the digital print (below) and the yellow and pink Alannah Hill dress, both of which I wore to 40th birthday parties this summer.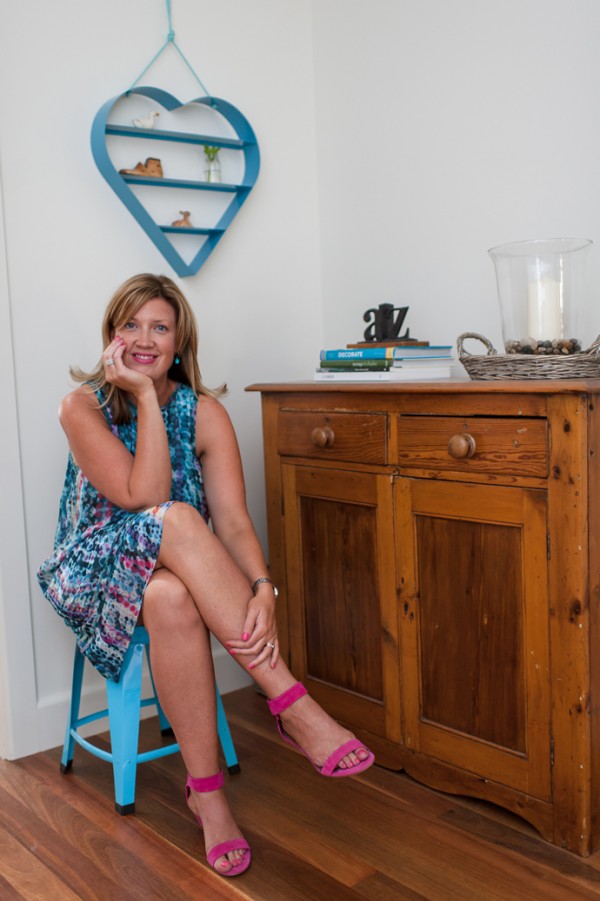 IMAGE CREDITS: Litte Red Photography
When I got home, I placed all the outfits on my bed with their co-ordinating jewellery and shoes nearby. When Bek arrived, I showed her the outfits and she considered which outfits would suit various locations. For example, she wanted to photograph the bright blue dress against the green foliage of the garden and the white garage door.
She calmed me down (I was just a teensy bit strung out) and we got to work. Three hours, six outfit changes later, a few laughs, an impromptu shoot in my friend Della & Craig's backyard, a trip to our local alleyway and we were done.
I was pretty pleased with the results and thought Bek did an amazing job. What did you think?
2. The SnS Colour Challenge
A couple of weeks ago, I ran the very first SnS Colour Challenge. You can read all about it here and here.
All in all, there were 475 posts on Instagram (#snscolour) during the 7 days of the challenge! At end of each day, a collage appeared on the SnS Facebook page – this was one of my favourites: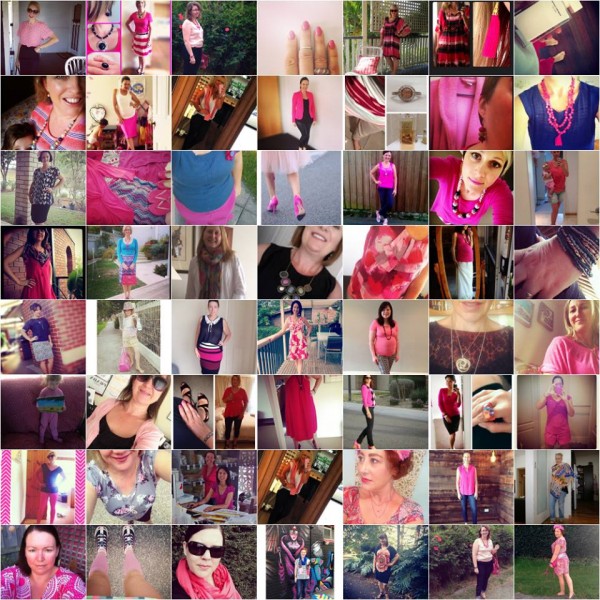 Thank you to all who joined in. It was heaps of fun and I'll be running another challenge in a little while. Stay tuned.
3. SnS Book Club
I love books and if you do too, you might want to consider reading along with the SnS Book Club. You can read all about it here.
Basically, you can read along at your own pace and at the end of each month, I'll post a discussion of the book of the month (have a look here for last month's discussion on The Rosie Project) and which you might like to read and comment upon and see what others thought of the book too. If you don't finish in time, you can always come back to the post when you are ready.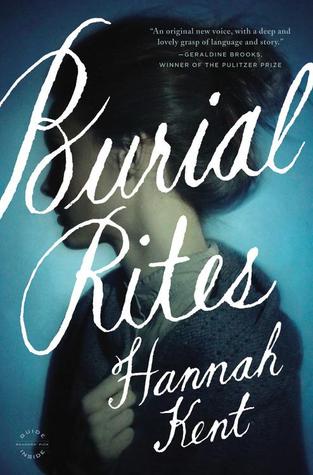 The book of the month for March is Burial Rites by Hannah Kent. It was my favourite book of 2013. To see a bit more about the author and the origins of the book, check out this fantastic episode of Australian Story. (It was while I was watching this episode that I bought the book online). I hope you enjoy it too.
4. Upcoming feature in Studio Bambini
When I began this blog a little over 6 months ago, never in my wildest dreams did I imagine that one day, I would open Studio Bambini magazine to see a feature article on me, my family and my home.
But as they say, life is often stranger than fiction because that is exactly what is about to happen.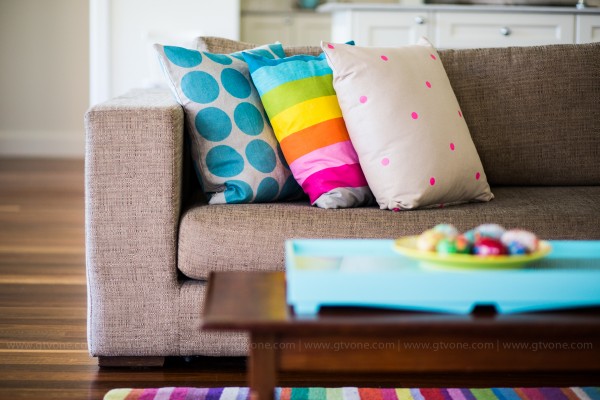 Image Credit: GTV One
To see the feature, keep your eyes peeled for the Autumn/Winter Edition of Studio Bambini which is due to hit your local newsagent on Monday, 16th March. Yes, this coming Monday!
In the meantime, to see "behind the scenes" of our shoot, head over here.
5. Instagram
I was a bit late to the IG party having only joined Instagram at the end of December but I tell you, I am hooked!
If you love photos and get frustrated by Facebook sometimes, you might want to check it out. I have met lots of great people on IG and I post there often too, so if you'd like to check me out, I'd love to see you there. You can find me on IG by clicking on the icon at the top of this page or just click here.
So that's the latest here at Shenanigans Central. I'd love to hear any of your thoughts, ideas or feedback about any or all of the above. Is there anything you'd like to see at Shenanigans Central in future?