Whether you're in lockdown right now or not, working from home is an ongoing reality for many of us.
In Melbourne recently, many of us didn't even get a chance to return to the office in between lockdowns 5 and 6.  Instead it's just been a month-long blur of WFH with a liberal dose of WTF in there for good measure.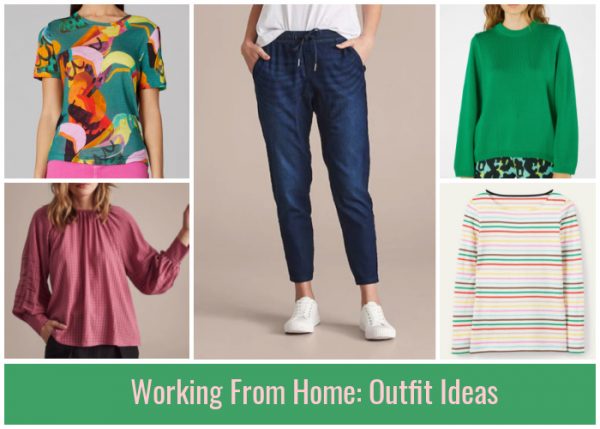 ABOVE, CLOCKWISE FROM TOP LEFT:
2can linen tee, $99 from Gorman;
Denim Joggers, $39 from Target;
Kelly Jumper, $84.50  (on sale) from Gorman
Long sleeved Breton, $65 from Boden;
Blouse, $39 from Target.
And with low office ratios and a conservative approach to returning to work more broadly, for those of us who aren't frontline essential workers, this WFH gig doesn't feel like the exception anymore – after nearly eighteen months riding the Corona Coaster, it's pretty much, pardon the pun, business as usual.
Understandably, our WFH wardrobes are generally a LOT more relaxed and chill than their onsite versions.
For me, the tailored pants/boots/heels/accessories of my current office job are but a distant memory, replaced by activewear, windcheaters, elasticised pants and a rotating selection of coloured knits and tops to demonstrate that I have actually changed my clothes in the past twenty four hours. I've got standards.
But to be perfectly frank, it's all getting a bit ho hum around here, so I've set myself a challenge to introduce some more variety into my WFH wardrobe not for anyone else's benefit but my own sanity. You too?
In pursuit of this goal, I've scoured the new season Spring drops from some of my favourite retailers to introduce some more colour and variety in my Spring WTF I mean WFH wardrobe, and I thought I'd share some of my inspo with you too. As it's still relatively cool here in Melbs,  I've included some knits and long sleeved tops/shirts as well as some fun tees to wear under cardys or on their own as the weather warms up ….
CLOCKWISE FROM TOP LEFT:
Floral tee, $89 from Nancybird;
Butt shaper skinny jeans, $49 from Target;
Maja top, $99 from ELK;
Striped Knit, $149 from Frankies;
Linen shirt, $169 from ELK.
You'll notice that I've paired all these top options with some easy wearing, budget friendly bottoms from Target which are super comfortable. I have both the joggers and the jeans and I can highly recommend both – they're perfect for everyday wear and weekends as well.
These days I'm finding that I'd rather splash my cash on tops too, as the quality and price point of my Target bottoms are en pointe.
I love that all these tops work perfectly well for relaxed weekends but are also fun, flattering and work back nicely with other neutral wardrobe basics like jeans, denim skirts and chinos and of course, everyone faves, trackies and leggings.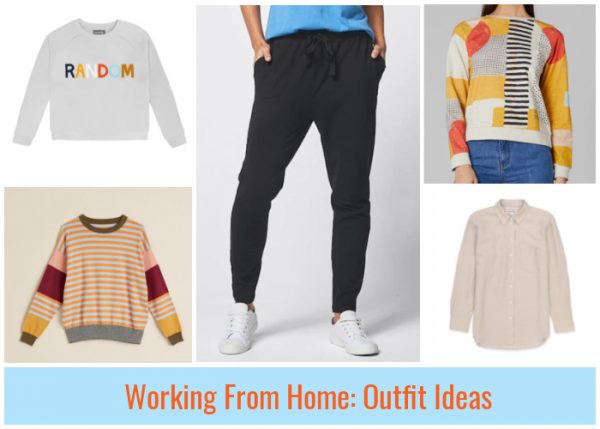 ABOVE, CLOCKWISE FROM TOP LEFT:
Random sweater, $95 from Castle & Things;
Jersey drop crotch pants, $20 from Target;
21 Days Sweater, $149 from Gorman;
Linen Shirt, $119 from Country Road;
Stripe Knit, $179 from Nancybird.
More Ideas
If you're still in the office or thinking about your return to the office/work outfits, you might find this post I wrote earlier in the year – What to Wear to Work – of interest too.
If you want to shooj up your fave tops with some fun accessories, you might like to check out this post – Where to Shop for Earrings – too.
So over to you, where have you found the WFH  wardrobe basics? Are you rotating through the same three things or have you managed to mix things up?
This post contains some affiliate links. You don't pay any extra and I earn a small commission. Read more in my Disclosure Policy here.