My eldest son plays AFL footy every Saturday morning.
We need to be there by 8.15am for an 8.45am kick off, so it's an early start to the day, let alone the weekend.
I like to watch him play by the sidelines but, occasionally, I confess I have to retreat to the car to put the heater on. Last week, I had no such luck as I was on canteen duty and busily steaming dimmies, making hot drinks and the odd hot dog for the morning. I was busy but, man, was it cold.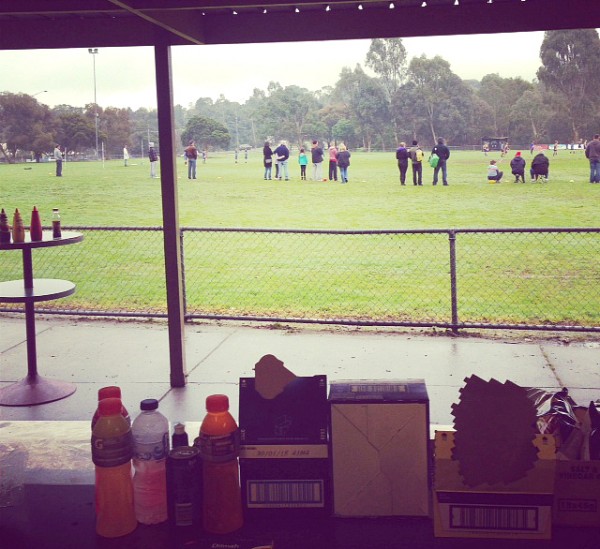 Do you spend much of your week or weekend watching your kids play sport?
If you do, are you outside, like I am, beside an oval? Or perhaps inside a breezy stadium or a slightly more comfortable studio?
I'm either at an oval for footy game/practice or in a rather chilly stadium watching my son either train or play basketball. Others I know also have regular visits to the dancing/calisthenics/ballet studio or the local dojo for karate/taekwondo (see, watching the Karate Kid in '84 eventually came in handy).
Do you ever find yourself freezing or uncomfortable by the sidelines? Do you find that you are so concerned about packing the right shoes/uniform/equipment/mouthguard for the kids not to mention snacks and water bottles for everyone that sometimes, well, you just forget about yourself?
Do you wish you had a go to outfit or some appropriate options so that you can do what you need to do, be comfortable and look half decent when running the kids around to their activities?
I do.
So I've had a crack at putting together some spectator worthy outfits for parents. The emphasis on these is comfort, layering and the capacity to mix and match these looks together for plenty of options. It's not about impressing other parents with great styling, although if you can put together an outfit that is comfy, practical and warm that looks fab, well, that's a bonus.
Footy/Soccer
I have decided that the key to being comfortable watching an outside sport in Winter is trying to wear the equivalent of a doona on your person without looking like you are wearing a doona on your person.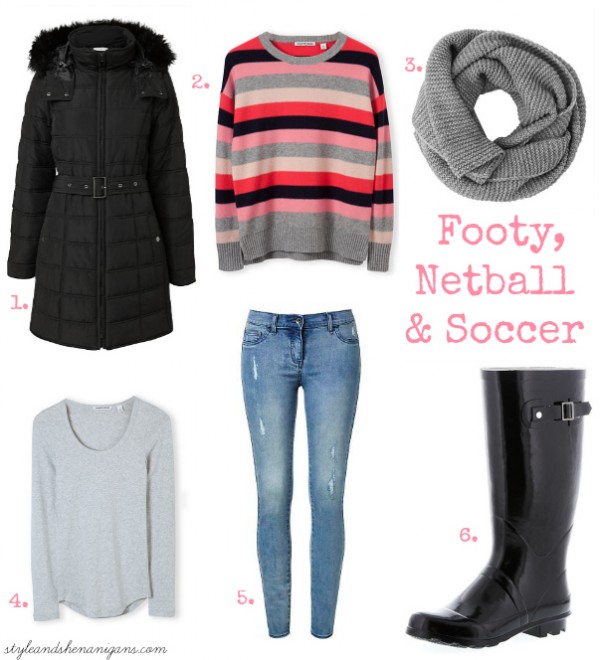 1. Longline Puffer, $199.95 from Witchery; 2. Stripe Boxy Knit, $99.95 from Country Road; 3. Chunky Knit Scarf, $39.95 from Witchery; 4. Scoop Hem T-shirt, $34.95 from Country Road; 5. Blue Wash Jean, $89.95 from Seed Heritage; 6. Down Pour Rubber Rainboot in Black, $25 from Target.
For me, this means wool, layers, long sleeved tees. I also like a hood on my jacket to protect against the cold wind or the odd sprinkle of rain.
I generally go for a turtleneck jumper or a woollen scarf or snood, both of which have been known to come halfway up my face during desperately cold days. Kind of like a parent ninja.
I've also been cracking out my gumboots so I don't get my good boots muddy or wet. I can happily jump through puddles Peppa Pig style with these babies on and they live in the garage in between times.
Basketball/Gymnastics
Breezy stadiums are always deceptive. It's easy to fall into the trap of thinking you'll be inside, so you dress accordingly.
Sadly, most stadiums are like an unexpected visit to the North Pole. And if you are like me, each week you make the same rookie mistake.

 1. Pastel Geo Scarf, $29.95 from Portmans; 2. Longline Knit in Oatmeal, $40 from Target; 3. Longline tank, $24.95 from Sussan; 4. Converse Leather Hi Tops, $119.95 from General Pants Co.; 5. Boyfriend Jeans, $89.95 from Seed Heritage; 6. Contrast Sleeve Parker, $189.95 from Seed Heritage.
I like to wear runners (for chasing toddlers or run away balls), a scarf, comfortable pants and a nice warm jacket when I'm sitting in a cold stadium on a hard bench or seat for an hour. I also always bring my iphone, notebook and diary so I can do a little admin on the side.
Ballet/Taekwondo
None of my children do an extra curricular activity in a warm cosy studio (this must change), although the lounge/waiting room at my son's piano teacher's house can be pretty toasty on a cold Winter's night.
I imagine that ballet studios and dojos would be warmer places given the kids aren't wearing much and generally the rooms are smaller and less breezy. For such an activity, I think a layered, every day outfit is the way to go, so if the heater is on (or off), you can still feel comfortable.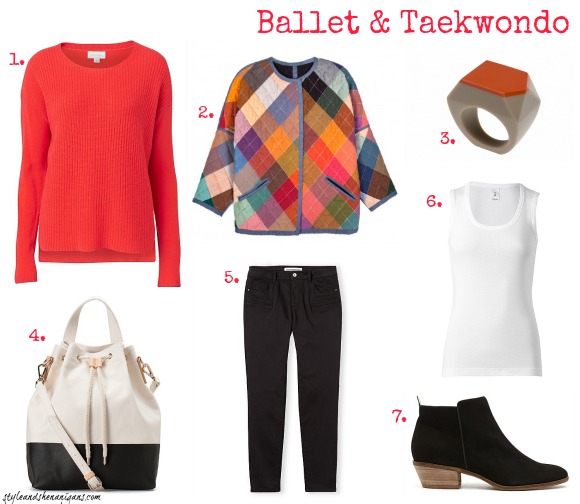 1. Rib Front Knit, $99.95 from Witchery; 2. Crimson and Clover Jacket, $289 from Gorman; 3. Two Tone Ring, $35 from Elk Accessories; 4. Canvas Shopper Bag, $99.95 from Country Road; 5. Mid Rise Crop Jean, $119.00 from Country Road; 6. Women's Essential Rib Tank, $5 from Target; 7. Nikki Boot, $199.95 from Witchery.
What extra curricular sporting or other activities do your kids do? Or do you watch much live Winter sport? Do you find it tricky to dress comfortably? What are your must have creature comforts for spectating? Is anyone else a Ralph Macchio fan?