Updated November 2015
What images spring to mind when you think "shopping in Bali"?
Bintang stubby holders?
"I heart Bali" underpants?
A t-shirt featuring our favourite friends Rhonda and Katut?
Snap. Me too.
So you can imagine my surprise when I landed in Seminyak (twice in the last year and a half, most recently in November 2015) to find more fabulous shops than you could poke a satay stick at.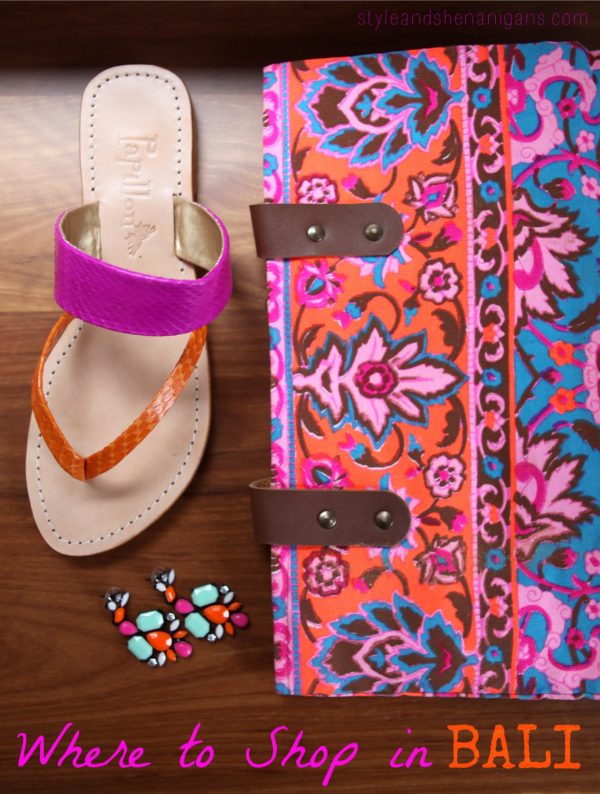 What I found was different and interesting. More often than not, what I found was also substantially less expensive than their equivalent (if there is one) in Australia.
So in this post, I'm sharing all my shopping intel. (If you'd like my intel on Bali with Kids, head over here and What to Do on a Girl's Trip to Bali here).
Just a bit of housekeeping before we start. Firstly, all of the places below are situated in Seminyak, twenty minutes from Denpasar airport. However, some have online stores or stores in a number of locations.
Also, when I'm talking prices, I have referred to the approximate equivalent in Australian dollars.
Ok. Let's do this!
Where to Shop for Women's Clothing in Bali
1. Puravida – You'll find gorgeous statement printed tops, dresses and pants, jewellery and bags at Puravida. The same prints are repeated in different styles and in different colours, so if you fall in love with a print like I did, you'll be sure to find a piece that flatters you.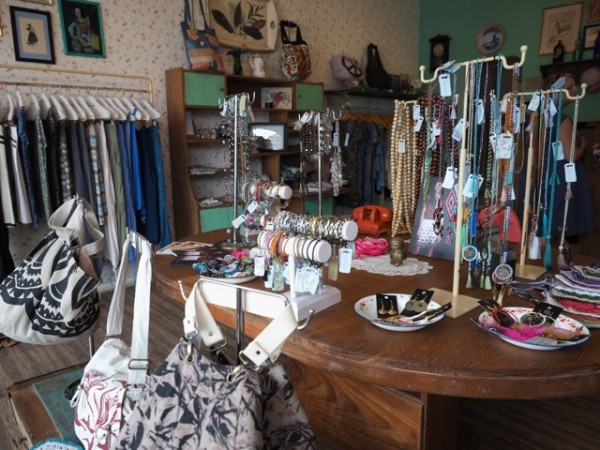 The dresses are around the $65-$70 mark and there were some excellent pieces on the sale rack as well. I loved the design of this store too – it had a kind of eco/boho/handmade vibe going on. For more info, visit Puravida here.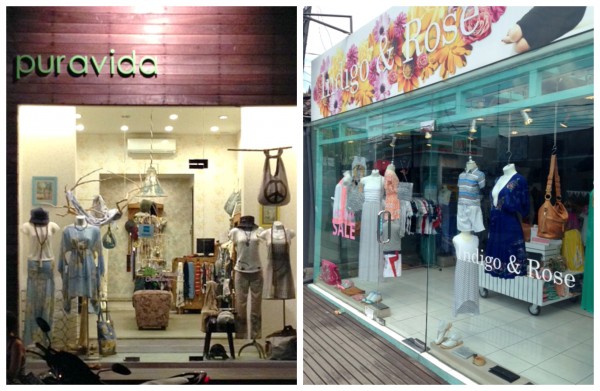 2. Indigo & Rose – This shop is full of casual, colourful dresses, shoes and accessories. I picked up a great beach dress which I wore here. Everything I saw was $50 or less and while prices are fixed,I was told a discount is offered if you buy 5 of more pieces, so go with a friend. For more info and store locations, visit Indigo and Rose here.
3. Mist – Last summer, down the coast, I coveted the very beautiful but uber expensive Mist tops, dresses and pants at the local boutique near where we stayed. There, a Mist maxi dress would set you back around $180 and tops were around the $120 mark. Needless to say I was relieved to read here that Mist is substantially less expensive in Bali. On the first day of my holiday, I bought a green and pink kaftan dress (below) for $95. It's not a bargain by any stretch but is almost half the RRP in Australia.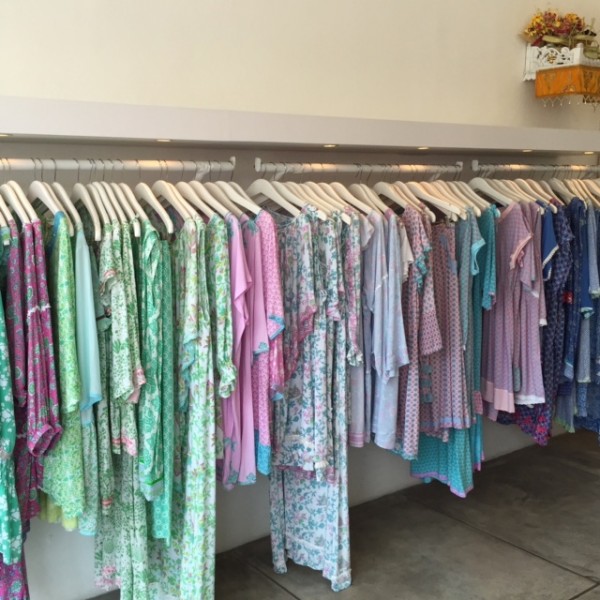 On another visit, I found several fabulous Nina Proudman worthy items on the sale rack for between $40 and $45. Other Mist stores unfortunately put their sale items in a tin container near the sales desk which makes it harder to locate a bargain, but trust me, it's worth having a look through as they are all marked down by 50%. I went to three different Mist stores in Seminyak and they all had slightly different stock. For more information, you can visit Mist here.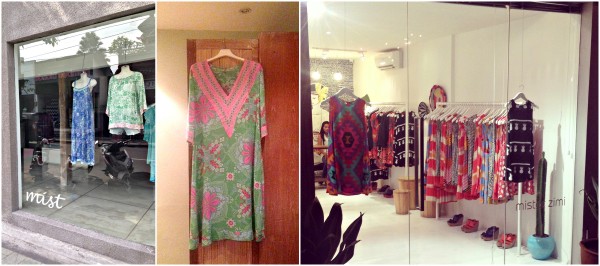 4. Mister Zimi – I had not even heard of Mister Zimi until I arrived in Bali and a few people mentioned it on my Instagram feed (apparently there is a store in Melbourne). I made a point of checking it out and found a boutique full of great prints and several different styles of clothing in each print i.e. Maxi dress, pants, shift etc.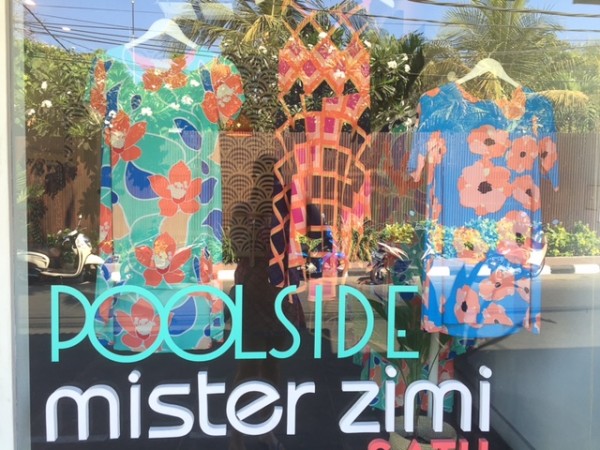 The designs were vibrant and the fabric light but flattering. Most new season pieces retailed around the $160 mark, around $30 less than you'd pay in Melbourne or online. You can visit their online store if you can't get to Bali anytime soon or you have post holiday shopping regret here.
To give you the heads up too, there are two Mister Zimi stores close to one another – you can find last season's stock (which is around 50% off) in the store opposite Motel Mexicola while the current season's stock is at Mister Zimi Poolside around the corner, a couple of doors down from Sea Circus.
5. Uma and Leopold – If you're looking for some respite from all the colour, you'll find more muted tones and understated boho styles at Uma and Leopold.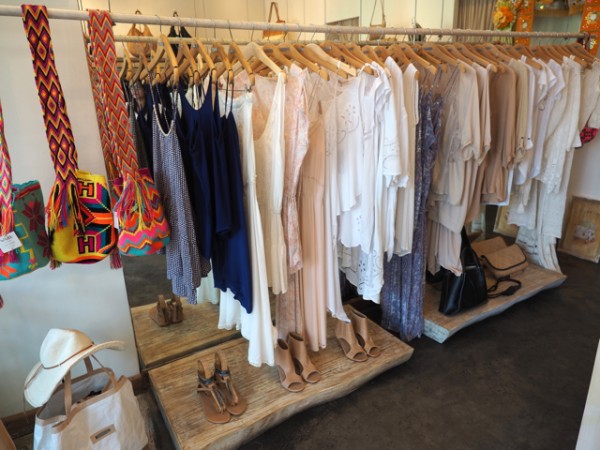 Think lace, embroidery, silks and linens with statement accessories, on trend shoes and prices more comparable to Australia. For reconnaissance or some post holiday shopping head here.
6. The Market at Seminyak Square – Several of the stalls at the Seminyak Market sold women's and girls clothing. I picked up a couple of light summer maxis for around $15 each and some cotton, kaftan dresses for around $20, including the one I am wearing in the photo below. Some have fixed prices but again, if you buy several, you can negotiate a better price.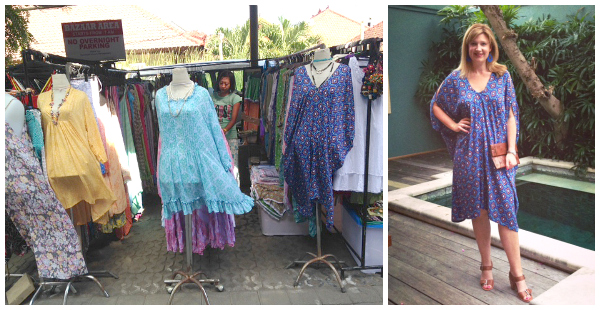 Where to Shop in Bali for Jewellery
1. Silverberry –  There are quite a few silver jewellery stores around Seminyak and they all looked pretty good to me. I went to Silverberry as several people had personally recommended it to me. While some of what was on offer was not up my alley, I did find several things that were – including the silver earrings below which were about $20.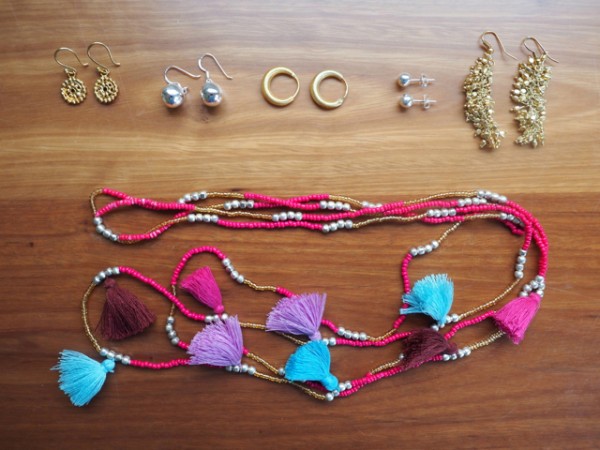 ABOVE: Gold earrings from Scandi; silver drops, gold hoops and silver studs from Silverberry; gold drops from Puravida; tassel necklace from Seminyak Square market.
For info about store locations, or for some pre holiday reconnaissance and to visit their online shop, visit Silverberry here.
2. Scandi – Located near the Bintang supermarket, Scandi is a jewellery store with tasteful and modern gold and silver jewellery around the $30 – $40 mark. I picked up a gorgeous pair of gold earrings here (pictured above).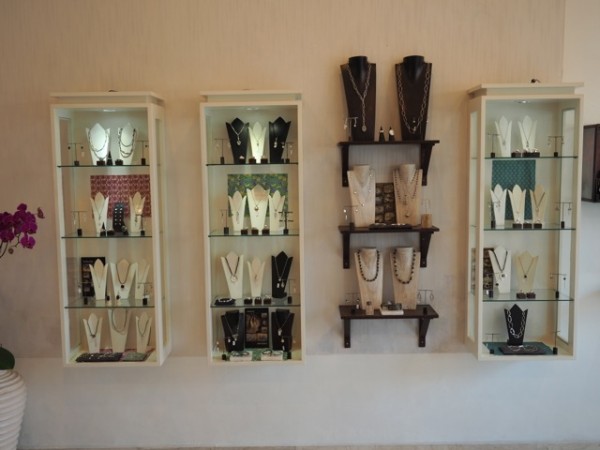 3. The market at Seminyak Square – There were a few stalls selling jewellery here. I found it was a bit hit and miss but I managed to pick up several coloured tassel necklaces for $5 a pop, when I bought several at once. Again, the more items you buy, the better the per unit price.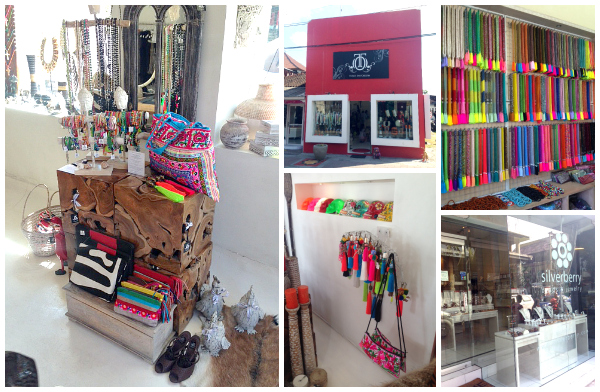 ABOVE, LEFT TO RIGHT: The three photos on the left are of Toko Emporium; the top right is of the tassel necklace wonderland that is DeVibe; bottom right is Silverberry.
I found some great jewellery at other stores that were not exclusively jewellery stores including Puravida, Mimpi Mannis, Home Store and Toko Emporium. DeVibe, (on the opposite side of the road to Bintang Supermarket, heading towards Legian) is also the place to go if you are looking for a neon tassel pendant – this place was full of them.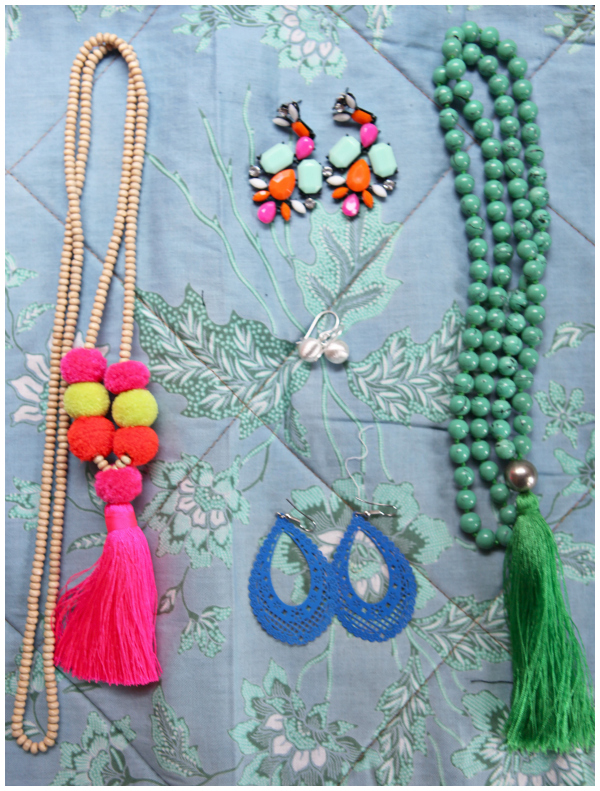 ABOVE: Tassel Necklace from The White Peacock; Statement Earrings from Home Store; Green Tassel Necklace from Seminyak Square Market; Silver earrings from Silverberry; Blue earrings from Mimpi Mannis.
Where to Shop in Bali for Bags and Clutches
1. EBiza-  This shop is a couple of doors down from The Junction cafe, opposite Seminyak Square.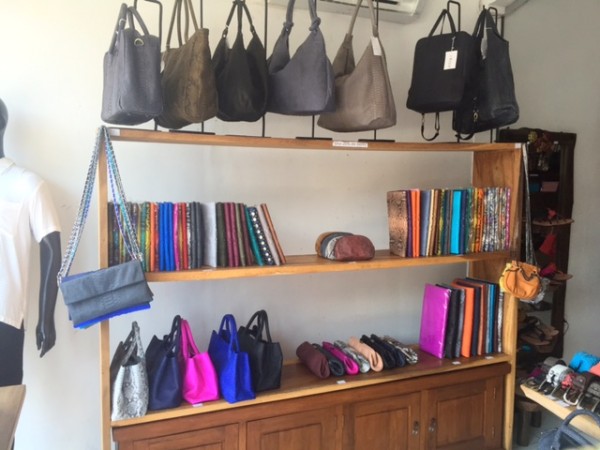 This store sells shoes and a range of leather products but it was their snakeskin clutches (including the brown one below), that I loved.
I also found the prices here were better than the markets. For example, I bought the smaller size clutch for $23 (it was marked at $30 but I was told as soon as I entered the shop there was a 20% discount).
They sell all sizes of clutches, bags and shoes in a variety of colours. I liked that I could pay by credit card in their store and save my local currency for incidentals.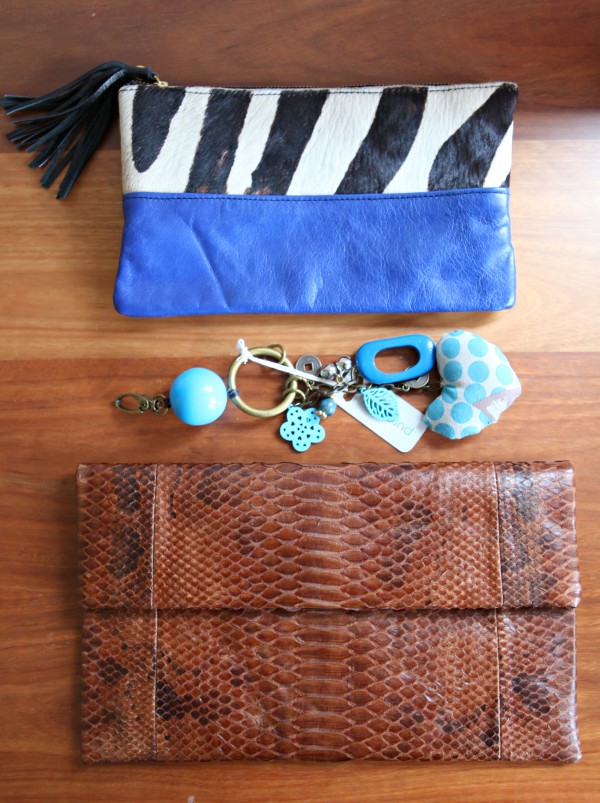 ABOVE: Coin purse from Kayu Aya Square Market; key ring from Puravida; clutch from EBiza.
2. Kayu Aya Square/Oberoi Market  – I bought the cobalt blue leather and cow hide coin purse (above) from a leather stall at this market, a short walk from Seminyak Square. I also found some fab fabric clutches. They had a lot of great stock but there were no fixed prices so be prepared to bargain.
3. The Market at Seminyak Square – I found a stall with a great range of neon patterned tote bags, clutches and larger, fabric over the shoulder bags. Again, by buying more than one, they are happy to bargain with you. I ended up buying five tote bags for $100 (birthday presents sorted). The same bags at boutiques such as Home Store had a fixed price of $45 or more.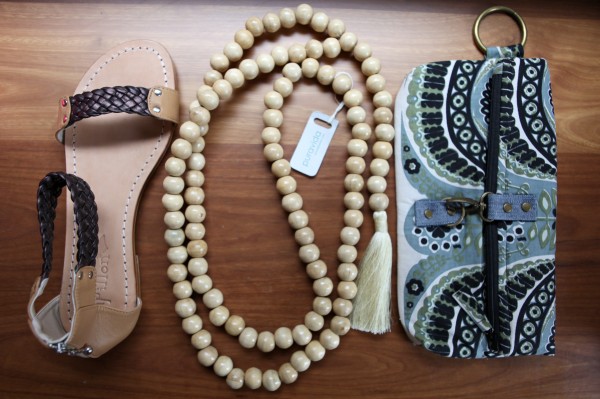 ABOVE: Sandals from Papillon; beaded necklace and clutch from Puravida.
4. Puravida – as well as clothing and wooden beads, Puravida stock a small selection of handmade bags and accessories. I picked up a couple of gorgeous fabric clutches (see above) here for $12 a pop.
5. Toko Emporium – This is a beautiful store with beautiful, handcrafted jewellery, home wares and accessories.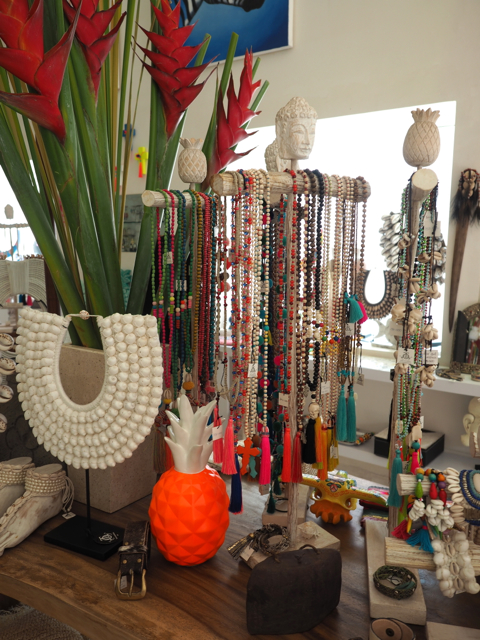 I bought the most fabulous bag here (below) made from leather and local fabrics. It was one of the most expensive stores I visited but I did pick up a great pair of pink tassel earrings for $12 (below). Check out their Facebook page here for the latest or some pre trip scouting.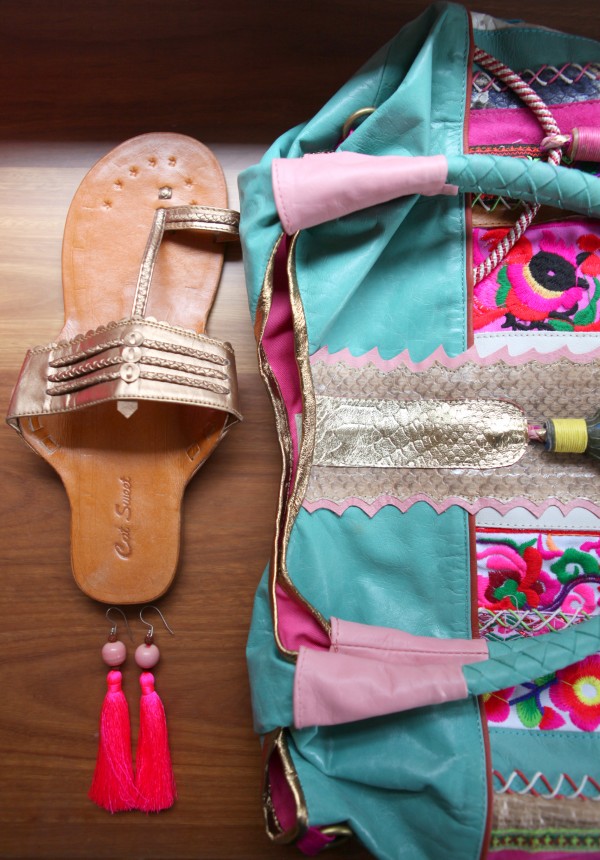 ABOVE: Sandals from Cat Sweet; pink earrings and bag from Toko Emporium.
6. Papiya – this is a barn of a place, located directly opposite the landmark Bintang supermarket.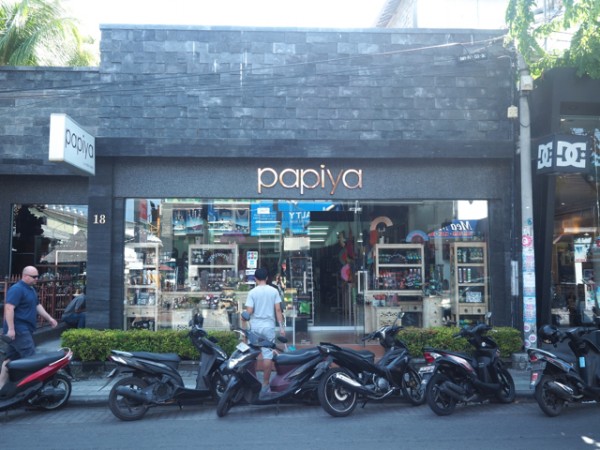 In here you'll find aisles of jewellery and loads of other accessories. It was in here on our most recent trip (in November 2015) that we spotted metallic clutches and this divine woven clutch pictured below.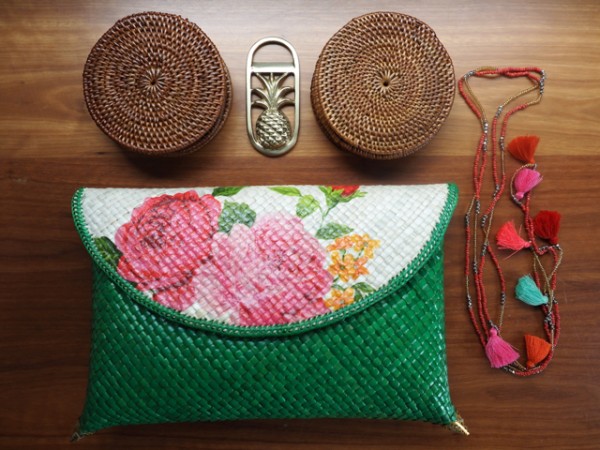 ABOVE, CLOCKWISE: Coasters from Kay Aya Square market; Pineapple bottle opener from Rose Avenue; tassel necklace from Seminyak Square market and woven clutch from Papiya.
I also found great bags at The White Peacock, Minnis Mampi (below) and another local shop, Abang. There is plenty of great stock around.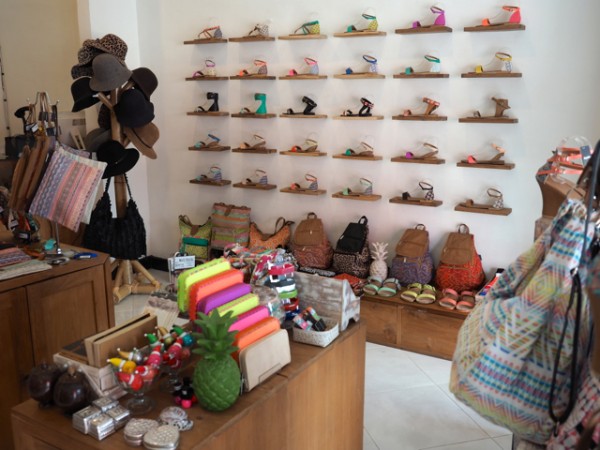 It's just a matter of having a look around and finding something that is the right colour, style and price for you.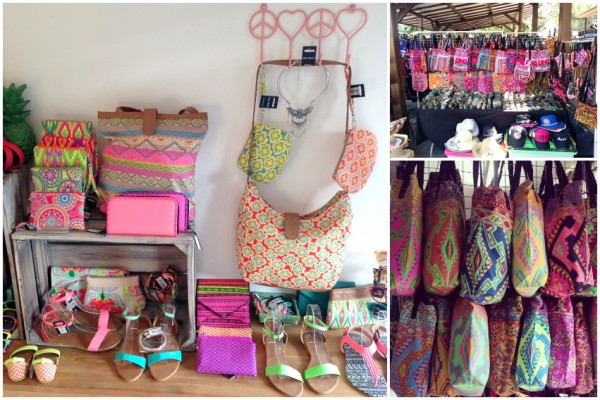 ABOVE, CLOCKWISE: Mimpi Mannis; a stall at the market at Seminyak Square; Abang.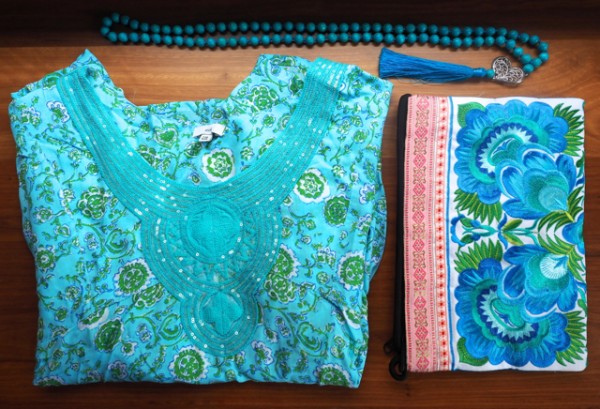 ABOVE: Pendant from Toko Emporium, Top from Mist and clutch from Kayu Aya Square market.
Where to Shop in Bali for Shoes
1. Papillon – This shop was close to our Villa, just down the road from the Bintang Supermarket, so I was able to duck in a few times. It's not a big shop but it has a good range of sandals and wedges for women as well as a girls' range. The women's shoes were all around the $60 mark. They are handmade from leather, come in some great colours and the pairs I bought were finished well, comfortable and appear to be of excellent quality.
To visit their website and for the store's exact location, visit Papillon here.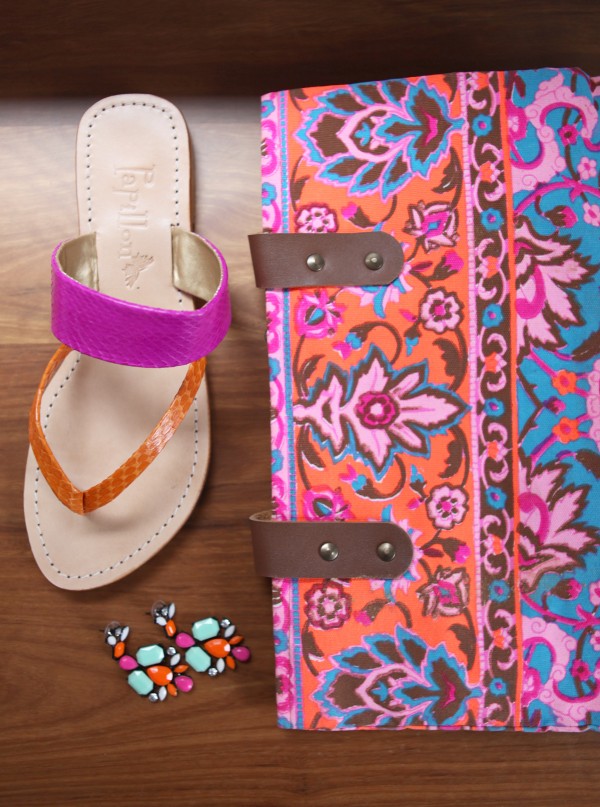 ABOVE: Sandals from Papillon; earrings from Home Store and neon tote from the market at Seminyak Square.
2. Cat Sweet – This is a small shop, a couple of doors down from Papillon. The shoes were quite a bit less expensive but I had difficulty getting my size (I'm a 40/41) in the styles I chose. I did buy a pair of bronze sandals for approx $18 though. There was lots to like here at some great prices.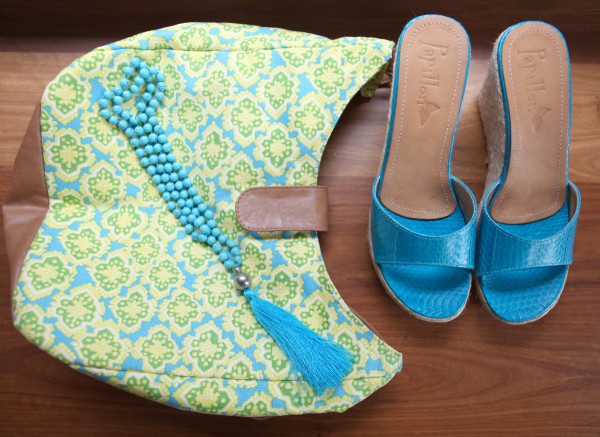 ABOVE: Bag from Minnis Mampi; tassel necklace from market at Seminyak Square; wedges from Papillon.
3. Mimpi Mannis – You'll find colourful, neon coloured woven sandals here around the $35 mark. They also have an online store and ship worldwide – hooray! I saw similar styles of sandals also at Kody & Co.
4. Beachgold – This is a lovely shop full of simple, tasteful resort wear. There was also a nice range of dressy sandals but I didn't have any luck with sizes. You can see more here.
Where to Shop in Bali for Home Wares
There are loads of great home wares in Bali. I love to fill my home with pieces from my travels and Bali did not disappoint.
Metallic decor was everywhere on our most recent trip in November 2015. I found this fab pineapple mirror at Toko Emporium (which was gifted to me), gold pineapple (I also picked up a silver one) from Kayu Aya Square market, pineapple serving ware and bottle opener from Rose Avenue.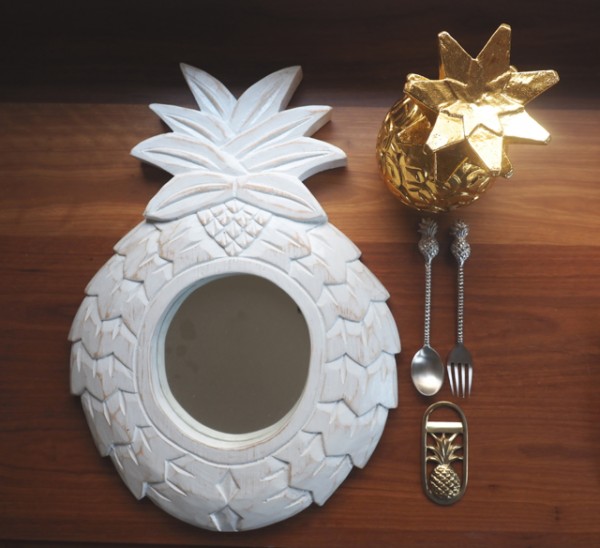 1. Rose Avenue – this is a beautiful store opposite The Corner House.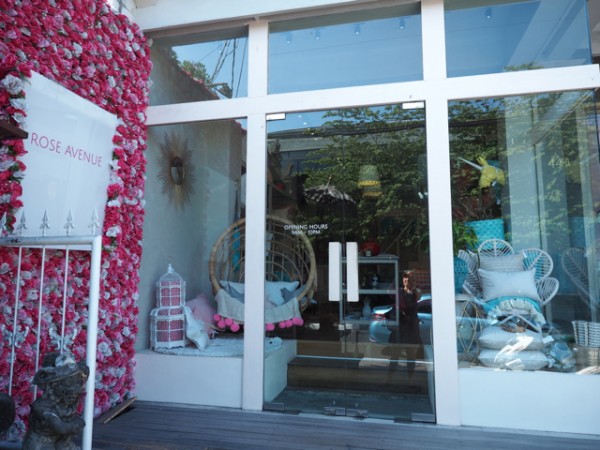 In here you'll find linen and accessories for children's bedrooms and lots of well priced decor, vases, lighting, furniture and serving ware. I couldn't go past the pineapple and palm tree serving ware below.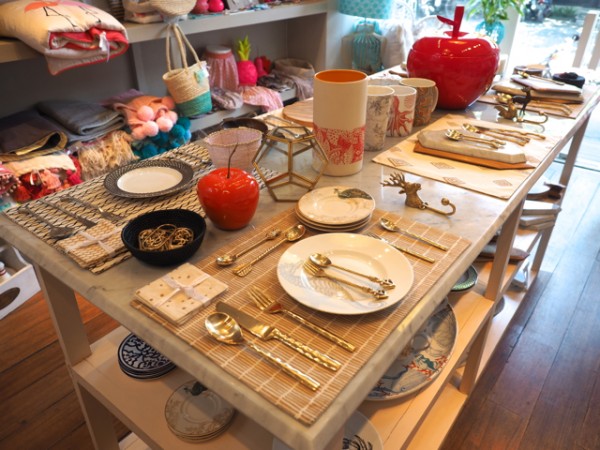 2. The White Peacock – In this store, I found cushion covers and a neon pom pom necklace for a very reasonable $9.50.
There were also lovely clothes, more home wares and a great range of fabric purses and bags. For more, visit their Facebook page.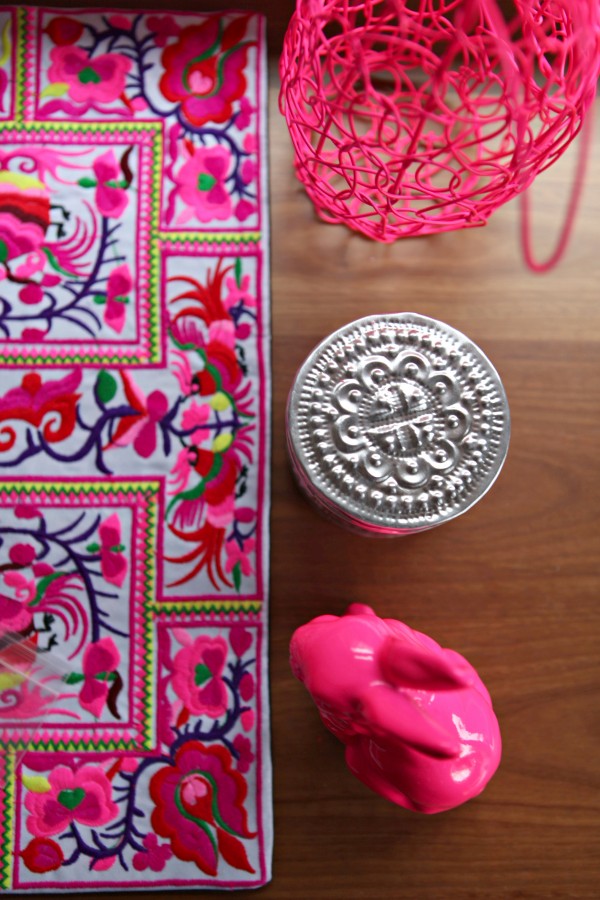 ABOVE: Cushion Covers from The White Peacock; Pineapple tea light from RBW Iron; pressed tins from local tin and handicraft store; neon rabbit from Kody & Co.
3. RBW Iron-  This shop is a wholesaler/exporter of hand made iron, candle holders and iron furniture. It's set back from the road a little, diagonally opposite Corner Store  and well worth a visit. Inside, you will find gorgeous home wares – bowls, tea light holders, furniture, decor and wire animal heads – made from neon coloured wire.
I picked up a neon pink pineapple tea light holder there (pictured above). There was so much gorgeous stuff to choose from and I would have loved to have shipped an animal head home. Super cool spot.
4. Kody & Co – This fun shop has recently moved from it's old digs (it used to be a couple of doors up from Sisterfields cafe). Now you'll find it around the corner, on the same street as Motel Mexicola.
Kody & Co. is a very hip store full of colour: bright cushions; a great range of neon pineapples, rabbits, Buddhas and dogs; artwork; wall decor and a small range of sandals. You can also pick up a selfie stick for holiday action snaps. You can visit their FB page here.
5. Home Store – This is a very cool white washed store (below, left) selling a select range of neon patterned cushions, totes, clutches, clothing and jewellery.
The cushion covers  here were around the $40 mark and the totes around $45.
I found some great earrings here, after which I walked through the store into Revolver for a coffee (there is a door into Revolver at the back of the store). You can see more here.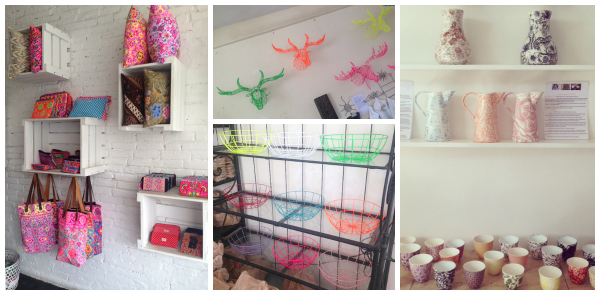 ABOVE: From left to right: Home Store; middle top & bottom RBW Iron; Samantha Robinson
6. Satunama – This is a beautiful store, a couple of doors up from Sea Circus. You'll find quirky cushions, decorative pineapples, modern light fittings and colourful tableware. You can read more here.
7. Samantha Robinson – If fine, beautiful, painted ceramics are your thing, you will love Samantha Robinson. I spied a great range of dishes, jugs, vases and the like but it was her light pendants and market umbrellas which made me want to organise international shipping on the spot. You can visit her online store here.
7. Local Handicraft Stores – there are lots of little shops dotted around the place selling everything from pressed tin to neon buddhas. They are well worth a visit and you will find that the prices are very reasonable compared to the bigger, posher stores. I made a point of visiting these shops to try and support some local traders too.
Around the corner from Corner Store, I found an unassuming shop selling a great range of pressed tin, where I picked up trays, Christmas decorations and little decorative storage tins.
Where to Shop in Bali for Children's wear
1. Jellyfish Kids – A couple of doors up from Corner Store and pictured below, Jellyfish Kids is a lovely shop full of pretty, colourful girls clothing including lots of bright accessories. I even managed to find myself a fab trilby here. You can visit their Facebook page here to see their latest.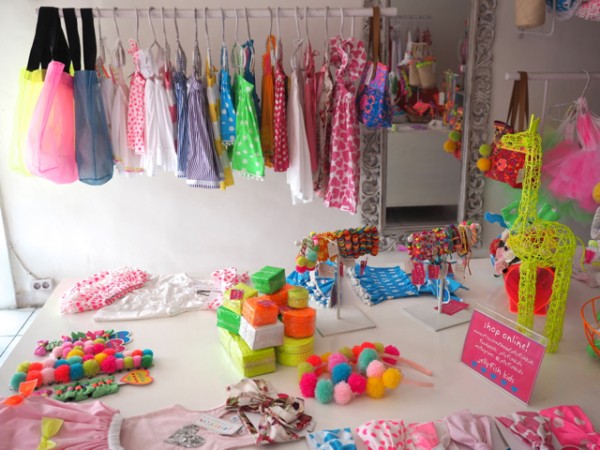 2. KidsAGoGo – This lovely but rather expensive boutique, pictured below, is full of gorgeous children's wear for babies to ten year olds.
I saw lots of great prints including neon spots on pretty dresses, hats and bathers and smart check shirts for the lads. You'll also find some great accessories including hair ties, woven bags, as well as some gorgeous bits and bobs for the nursery. It's a good place to buy a new born gift or to buy a special frock or shirt for an upcoming occasion. For more info and to check out their online store, you can visit them here.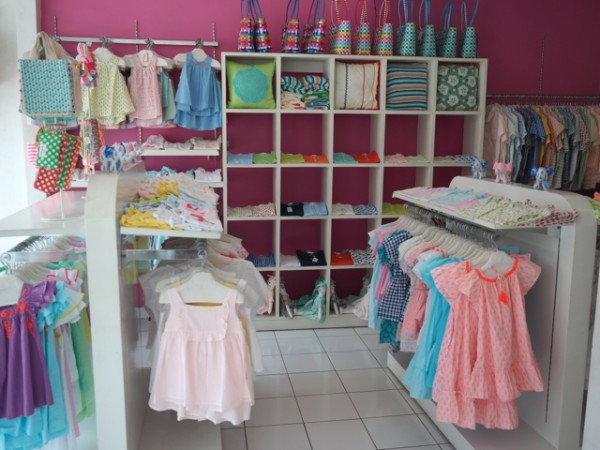 3. The Market at Seminyak Square – Several of the clothing stalls at the market stock pretty girls dresses. I bought several for my nieces which you can see here. I paid around $8-$10 per dress.
The Markets in Bali
As you see from the above, I spent a bit of time at the market in Seminyak Square. It took me a few days to find it though, as it is obscured from the road. It is just to the left as you walk through the car park entrance. I had GREAT success here although, unlike the shops above, it involved a bit of bargaining and to-ing and fro-ing. There are a couple of secure ATMs too on site too if you run out of cash.
When it came to bargaining, I tried to be fair (not paying heaps more than what I'd paid or seen advertised elsewhere), pleasant (people are just trying to make a living and look after their families) and un-begrudging. I realised I could have paid less for pretty much everything if I went in hard but really, a dollar here or there means a lot more to them than it would to Westerners like me. Everything is so much cheaper anyway so I tried to be generous and gracious at all times.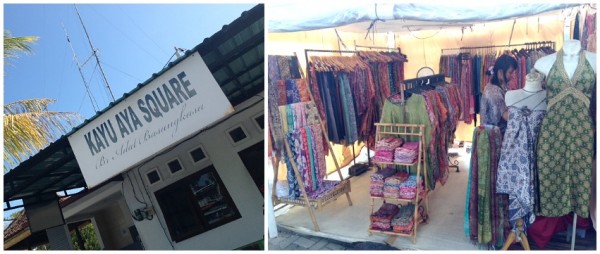 The other market that is worth visiting was at Kayu Aya Square (pictured above), a little further along the road from Seminyak Square towards Ku De Ta. There was some great stuff on offer here (dresses, silk, leather clutches, home wares, jewellery) although I found the market much quieter and the stall holders asking for considerably more than the Seminyak Square market and therefore there was more negotiating required.
Getting Your Bearings & Suggested Shopping Routes in Bali
Generally speaking, the nicest but most expensive shops are in the streets leading into and around Seminyak Square. Particularly, there are some fab shops in the walk from Sisterfields down to Motel Mexicola (Uma and Leopold is a couple of doors up, then, on the other side, House of Feathers, The White Peacock, Samantha Robinson, Kody & Co., Mister Zimi and Mist) and around the corner up to Sea Circus (another Mister Zimi Poolside and Satunama). Perhaps start with lunch or a juice at Sisterfields and finish with a mojito at Sea Circus.
If you begin at Corner Store (for breakfast, coffee or lunch), in the area immediately surrounding it, you'll find Rose Avenue, RBW Iron, Mimpi Mannis, Jellyfish Kids and Toko Emporium.
In the kilometre or so from the landmark Bintang supermarket (where we stayed on our visit in July 2014), which was near, heading towards Seminyak Square, (so turning left as you come out of the supermarket), there was plenty of great shopping including Indigo & Rose, Cat Sweet, Puravida, Papillon and further up, Mist and Bamboo Blonde.
Beginning at Bintang supermarket and walking in the opposite direction towards Legian (right as you come out of the supermarket), directly opposite you'll find Papiya. Then, in the next kilometre you'll find DeVibe on the same side of the road and crossing over again, Abang and then Silverberry before you reach the Haven Hotel.
For More Bali Info,  you can read my post on Bali with Kids here and my list of ten great places to eat and drink in Bali here.
If you're heading to Bali with the girls, check out my What to Do on a Girls Trip in Bali here.
So, what do you think? Are you as surprised as I was about the quality of shopping in Bali? If you've been to Bali lately, did you visit any of these shops and/or could you recommend any others? What would be on your shopping list?