When we are away on holidays, I love to explore the local foodie scene and find great new places to eat.  It is not exaggerating to say that my heart rejoices when I discover a fab new place, particularly places that are family friendly. When we recently visited Bright and surrounds, we really impressed with the food and cafe scene. There were plenty of great family friendly options to choose from and lots of great design and fit outs.
This is second post in my series about the beautiful Bright. Previously, I wrote about great activities to do with children in Bright and surrounds. In this post, I am covering some great places to eat out with/without children and of course, great places to shop.
Places to Eat
Coral Lee
We rated the coffee at Coral Lee on the main drag in Bright as the best coffee in town. You can find reviews of Coral Lee here. This lovely little cafe is full of retro charm from the old school yellow glassware, 70s canisters, vintage children's books through to the antique plates, lace napkins and vintage cutlery. I managed an hour of precious alone time here one day had a most sublime brunch experience – a large corn fritter with bacon, salad leaves, poached eggs and herb cream. I was transported and renewed!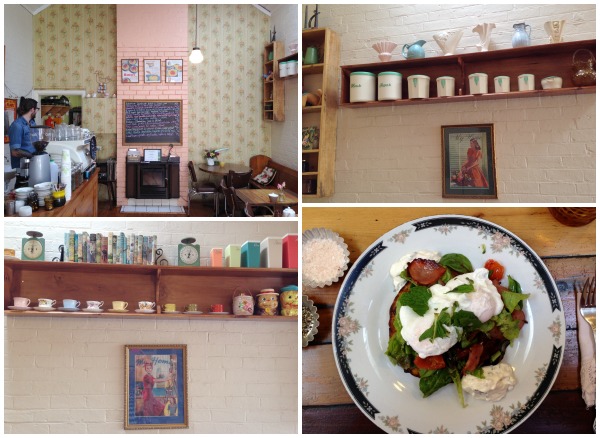 As well as the friendliness and warmth of this cafe and its obliging staff, the highlight for me was the authentic record player playing all the old hits on vinyl. I don't think I have ever enjoyed a brunch to Elton John's duet with Kiki Dee ,"Don't' go breaking my heart". Priceless. This is a lovely spot but it is a smallish place so I plan to keep it as an escape for me, not for the whole family.
Ginger Baker

Ginger Baker is a little weatherboard cafe which backs onto the Ovens river. It is an intimate place indoors, with vintage glass jar lights and industrial accents. There is a much bigger outside area overlooking the park and river. This is a perfect spot for morning coffee and the papers while the kids have space to explore. The breakfast offerings and evening tapas menu looked great too.
Blackbird Cafe & Food Store 

We met friends on a rainy day at Blackbird Cafe and Food Store for afternoon tea. While the children were occupied with enormous slices of chocolate cake, toys and a blackboard, the grown ups went about their business with delicious cups of coffee, chai and tea. We returned a few days later for a morning coffee and a delicious homemade banana and chocolate muffin and croissant, both of which were fresh and flavoursome.
The Snowline Hotel
For dinner, we visited The Snowline Hotel in Harrietville which had been highly recommended to us by our hosts and friends. This is a warm, friendly pub that takes its deer decor seriously (my kind of place on that basis alone).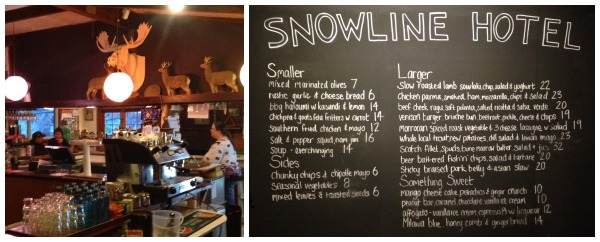 We arrived right on 6pm when the kitchen opened. We ordered at the bar and a short time later, our delicious meals were ready (I had the Pork Belly and Asian Slaw, Mr SnS had the Venison Burger – see below, middle – and the kids had the fish and chips from the children's menu). All our meals were delicious. Apparently, they make a great parma here too. We then played a couple of games of Space Invaders on the old school video game in the bar and were back in the car by 6.50pm.

Tani Eat and Drink
Another night we ate out at Tani Eat and Drink in Bright. This was a risk as this is not really a place to which I would normally take children (it is on the fine dining end of the spectrum having won the Best New Regional Restaurant in 2014 edition of The Age's Good Food Guide). Miraculously, the children behaved sufficiently for us to enjoy a round of tapas (which was their dinner) and two main courses between Mr SnS and I. While the staff were accommodating and friendly, I would be more relaxed and enjoy the experience more sans children.
Bright Berry Farms
This is a great pit stop on the way home or a nice way to spend part of a morning or afternoon. I would highly recommend the delicious pancakes with berries at Bright Berry Farm. At $11 a pop they are not inexpensive. Between our family of 5, we had 3 serves and they were absolutely delicious.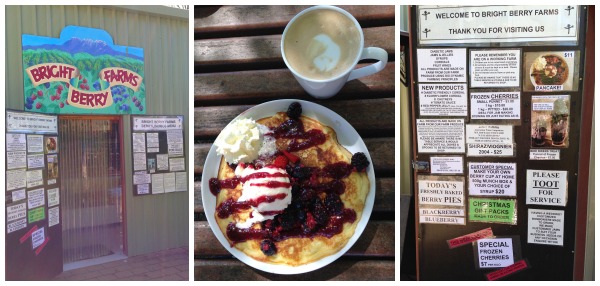 You can also stock up on frozen berries, homemade cordials and homemade fruit pies. Note that there is nowhere to sit indoors here. Inside the shop is where you order and stock up on goodies only. However, on a fine day, order pancakes or a sorbet and let the kids run around the garden (see below).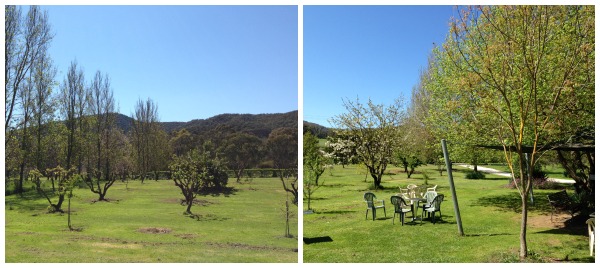 Myrtleford Butter Factory
Another great spot for a bite to eat or a takeaway coffee en route is the Myrtleford Butter Factory.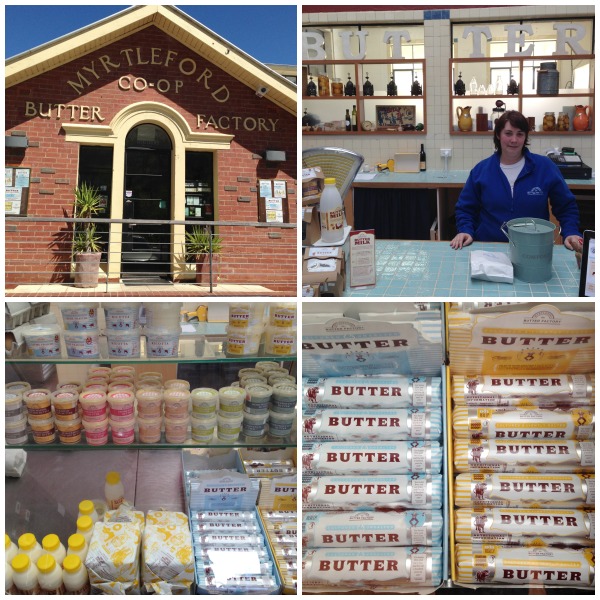 With a cosy cafe (toys provided) and a sunny deck, you can kick back and relax.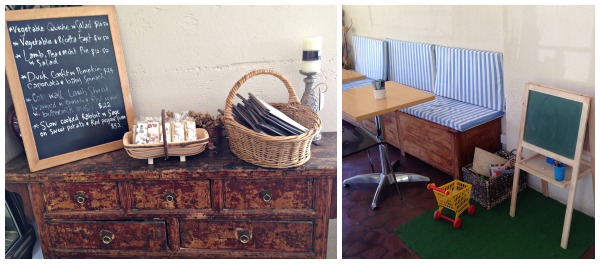 The kids can take advantage of the view into the factory from a ramp, to see how its all done, while you can browse in the shop and pick up some butter and related products, ceramics and kitchen wares like the lovely compost bin in the photo (top, above right). Don't forget to say hello to Naomi and ask her where she found those beautiful blue bench tiles. A great find!
Next Time
Next time I would like to take the kids to Food Friends Wine Cafe & Providore at the top of the main street. On the last day of our stay, I stopped by to look at their menu and saw they had a kid's lunch box which included a ham and cheese toastie, fruit and veggie sticks and a gingerbread man, all for $7. This would be the perfect spot for some special one on one time with a little person. The Spring lunch menu also looked great for the grown ups  with corn and quinoa fritters, pork and fennel burgers, salad and soup on offer.
I would also like to check out Thirteen Steps which is open for dinner from 6pm Thursday – Monday nights.
Places to Shop
This is a well serviced town with all the usual suspects – news agency, post office, banks and two supermarkets. On the retail front, there were three outstanding shops for me.
The first is the toy shop Bang, a couple of doors up from Coral Lee. This is a fantastic toy shop with a great selection of books, puzzles, educational toys, craft kits and activities and games at reasonable prices. I bought some terrific stocking fillers and Christmas gifts here. Outdoor toys like frisbees and balls can also be found here if you leave yours at home.
Across the road from Bang, is Chooks. Chooks is a clothing store that is a little on the cramped side with loads of stock, but in and amongst the racks are some great finds at reasonable prices. I found some great lightweight casual dresses for summer for under $60. The only things to remember are patience (there is only one change room) and cash (no cards accepted).
The Bright's Old Fashioned Lolly Shop is at the top of town. This is the old school variety of lolly shop and I loved it for its nostalgic value. Specialist lollies and confectionary can be found here together with bags of boiled lollies, bullets, snakes and the like. The proprietor gets into the spirit of things too, wearing ye olde clothes to boot.
Where have you eaten in Bright or surrounds? What would you recommend? Can you add to the list of great foodie spots or shops? Which cafe gets your vote for best coffee?