It's no secret around these parts that I LOVE shopping for and buying gifts for family and friends.
And as a mother of three boys aged 14, 12 and 9, it would be fair to say that I feel pretty confident when it comes to buying gifts for my sons, nephews, godson and my sons' friends.
I also love buying gifts for my nieces and friends' girls but I also appreciate where my expertise lies. So when it comes to buying gifts for girls, I'm always receptive to some up to date intel and I'm lucky enough to have some fabulous girlfriends who have as many girls as I have boys.
When I started researching this post, I went straight to these knowledgeable, thoughtful and all round awesome women – thank you Amelia, Mandy, Tenille, Charity and Louise – who have eleven daughters between them, almost all of whom are aged between 9 and 15 years of age.
They've given me so many fab ideas which I've divided and grouped into a number of categories below.
If you have a specific question about anything or are looking for a gift idea for a particular age/stage, feel free to pop it in the comments below and I'll ask one of them to come back to you. Likewise, if you're a Mum to girls, please tell us your ideas – we'd love to hear them!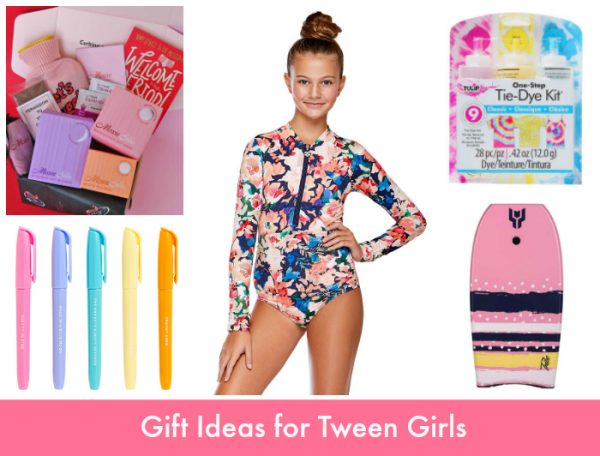 ABOVE, CLOCKWISE FROM TOP LEFT:
Welcome to Your Periods Box, $64.95 from Moxie;
Bathers, $89.99 from Sunsoaked;
Tie Die Kit, $30 from Spotlight;
Talwhali Body Board, $49.99 from Rebel;
Permanent Markers, $9.99 from Kikki K.
TECH – The word on the street is that the tech gift du jour this Christmas is this fun Instax Mini, $129 from Harvey Norman. The HP sprocket ($144) which prints photos from any source is another fun option.
Budget friendly ideas might include tech accessories such as a new phone cover, head phones or new charger.
CREATIVE – Several friends mentioned their girls love to tie dye clothes and pointed me to these Tie Dye Kits from Spotlight.
For green thumbs, a terrarium kits or one already made is another option which can be part of a bedroom makeover.
There are loads of inexpensive crafty kits at Kmart, Spotlight and The Reject Shop too.
ACTIVE – After months in lockdown, most of us are doing whatever we can to motivate the kids to stay active or find a new, fun activity to enjoy.
If you're heading to the beach this summer, what about surf lessons? Or a Tahwalhi Tribe body board from Rebel?
Old school roller skates, roller blades or skate boards are another fun, all year option although Santa might like to include wrist and elbow pads as well.
Another all year option, if they've shown interest, is horse riding lessons.
Sportswear, sports equipment like netballs and basketballs, branded socks and new trainers might also make welcome gifts.
Smaller ticket items like head bands or drink bottles are good stocking filler ideas in this vein too.
CLOTHES & ACCESSORIES – Tweens can often find a new found awareness for clothes, and no doubt you'll know what's hip amongst their peers.
My friend's ten year old has included earrings from Pandora, shorts and t-shirts on her Christmas list.
My girlfriends also suggested Peter Alexander PJs, bathers and beach gear from Boden or Next UK or Sunsoaked.
Ghanda Old School Crew sweatshirts are also on the Most Wanted List.
Things haven't changed that much in Tween Land though – Sportsgirl duffle bags are ever popular and practical for sleepovers too.
I've also given a Gorman tote and socks to my (almost) god daughter on her 13th and 14th birthdays which she loved too.
BEDROOM/HOMEWARES – Unsurprisingly, the home makeover trend has filtered down the ranks to our girls. While a full scale bedroom makeover may be achievable for some, for most a mini makeover is a more realistic option.
This might be as simple as a new doona cover, cushion, beanbag or a new desk and chair with stationery.
Check out the kids' range at Kip and Co. for cool kids and teen bedding or try Target who have a great range for kids' bedrooms which includes decor, bedding and furniture which you can shop here.
Budget friendly gift options include stationery and photo frames from Kmart, Kikki K and Typo and desk and bedroom accessories from IKEA. I'm also hearing LED lights for the bedroom are totally a thing.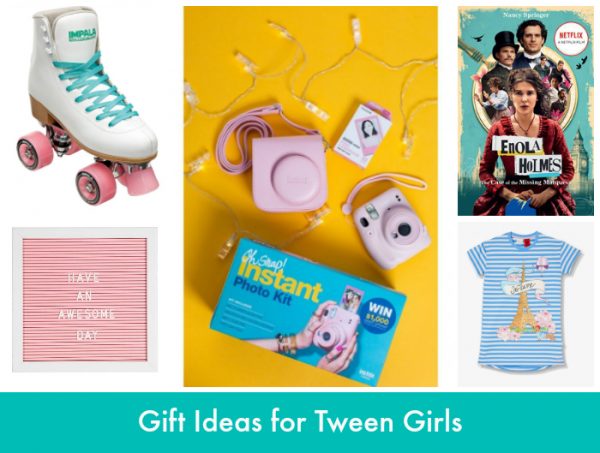 ABOVE, CLOCKWISE FROM TOP LEFT:
Impala Roller skates, $149.99 from Impala Skate;
Instax Mini, $129 from Harvey Norman;
Enola Holmes, $16.99 from Dymocks;
Nightie, $49.95 from Peter Alexander;
Memo Board, $8 from Kmart.
BOOKS – I'll always include books in any gift post I write so I asked my girlfriends specifically to tell me what their girls have requested for Christmas or what they've bought their girls this year.
One friend's fourteen year old girl has requested:
Another girlfriend with girls aged 9 and 11 had bought the following:
In the non fiction department, I recently gave my ten and seven year old nieces the Donna Hay 'From Basics to Brilliance' kids cookbook as part of their birthday gifts.
Atlases, biographies and 'fun facts' books like the Guinness World Records might also be of interest.
HEALTH & DEVELOPMENT – Tweens are navigating all sorts of physical, emotional and hormonal changes. It can be an awkward and challenging time for everyone.
Depending on your girl, she might be happy to receive a gift that acknowledges or prepares her for this new stage.
One of my girlfriends recommends products from Moxie. When I checked out the site I was so impressed by their range which included this awesome Welcome to Your Periods Box. How I would have loved to receive something like this when I turned twelve.
I've had other friends swear by Modi Bodi period undies too and they now also stock swimwear.
Simple things like body wash and body milk from The Body Shop or similar are also things your tween might enjoy.
Looking for more ideas?
Are you looking for a game to give the kids this Christmas? We love our games here at Shenanigans Central and I've listed twenty five awesome board, card and dice games in this post.
If you're searching for a new series or more book ideas for the kids, author A.L. Tait wrote a fab guest post listing Twenty Two Great New Book Series by Australian authors in this post.
You'll find my entire back catalogue of gift guides for kids – including younger boys and girls – here.
Finally, I'm in the process of writing an equivalent Gift Guide for Tween Boys. Please leave me a comment or DM me if you have any ideas.
This post contains some affiliate links. You don't pay any extra and I earn a small commission. Read more in my Disclosure Policy here.
What could you add to the list above? What are the tween girls in your life loving right now?