With three boys aged 14, 12 and 9, I've had plenty of time to do my research for today's post.
And with their varied interests and personalities, I've had to get creative over the years when it comes to buying a gift I know my boys will enjoy or use – preferably both!
But like their female counterparts, tween boys have all sorts of different interests and won't all like the same things. That said, there are often themes or types of gifts that will appeal to many tween boys.
Of my guys, for example, two are avid readers, while one is a keen illustrator. So while they all like books, they prefer different styles and subjects.
Likewise, they all play sport, but not everyone plays the same sport. As we have a pool now though, inflatables and pool gear (towels, goggles, thongs etc) are a practical present for everyone.
They each gravitate to different entertainment when it comes to screen time, from '80s movies, to Netflix and PS4 but then they're all obsessed with Star Wars, Back to the Future and all things Marvel.
And, despite their age spread and varying temperaments, they all love LEGO and drawing.
With that in mind, I've put together a whole bunch of ideas for boys with all sorts of interests and included as many budget friendly options as possible, not just for stocking filler ideas but because 2020 has been a tough year for so many people financially. I hope you find it helpful and please feel free to add any of your ideas below – we'd love to hear them!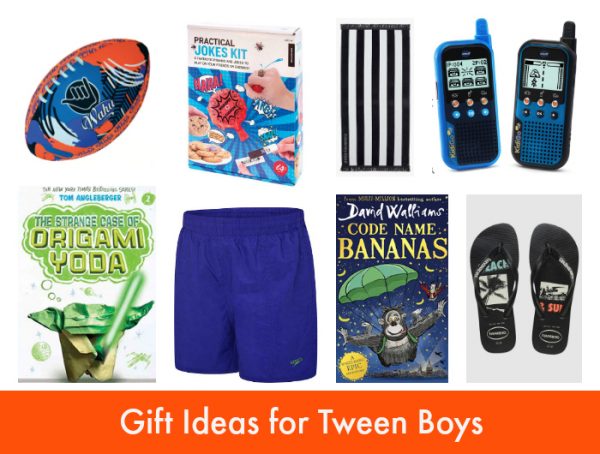 ABOVE, CLOCKWISE FROM TOP LEFT:
Beach footy, $16 from Target;
Practical Jokes Kit, $22.99 from Yellow Octopus;
Small beach towel, $49.95 from Country Road;
Walkie Talkies, $49 from Big W;
Haviana thongs, $34.99 from Surf Dive and Ski;
Code Name Bananas by David Walliams, $16.99 from Dymocks;
Watershorts, $40 from Speedo;
Origami Yoda by Tom Angleburger,$23.99 from Dymocks.
TECH – Like many tweens, my guys have asked for new phones (keep dreaming!) as well as new phone covers (more realistic).
Clock radios, iPad covers, ear phones and watches are other practical tech options. For something fun, try a karaoke machine. I bought one for one of my guys years ago and it's since been passed down to his youngest brother.
Big W have a selection of budget friendly kids tech which you can shop here.
TOYS – my younger boys still play with and request LEGO and their current faves are currently the Star Wars, Spiderman, Ninjago and City ranges. The Technic and Architecture ranges are also awesome for older boys.
There's not a lot of budget friendly LEGO available online, so I reckon your best bet is to head in store to see what's available. When I went into my local Target yesterday, it was well stocked and several ranges had 20% off.
Mr 9 is still young enough to play with old school toys and has requested walkie talkies and spy themed gear.
If your boy appreciates a novelty gift or a fun gag – mine certainly do – check out the curated selection of gifts for teen boys at Yellow Octopus. Whoopee cushions always get a laugh around here!
SPORT – Between them, my three boys play basketball, cricket and football so a new basketball, footy or other sports equipment is often an ideal present.
Meanwhile, my nephews play soccer and tennis, so I'd head down that road if I was buying for them.
This year my nine year old has asked for a new cricket bat (all his other gear is a hand-me-down or hired) and a drink holder for his bike.
Cricket, soccer or tennis balls and head bands are budget friendly sports related gifts too. Head to your local Rebel or discount department store for more inspo.
Inflatables, pool games and beach sports gear (such as a beach footy or cricket set) are great ideas if you're heading to the beach or poolside over the long holidays.
CLOTHES/ACCESSORIES – all of my guys have asked for a variety of clothes with Champion and Santa Cruz hoodies and tees topping the list and branded socks (Nike, Champion and Santa Cruz), new trainers and other sportswear are coming in hot as well.
My eldest son's list is almost all clothes. He likes Cotton On & H&M so I generally take him shopping before Christmas as he is growing so quickly and has particular tastes (like his mother!).
A new pair of togs or a rashie can be a practical gift too. Check out the great range of swimwear for boys at Speedo here.
Someone in my house always needs a new pair of thongs too, so a pair of Havianas is often under our tree.
Other budget friendly options include invisible socks, goggles, caps, underwear and pjs.
CREATIVE – I love seeing my boys being creative and try and find creative gifts to extend existing or inspire new interests.
One of my guys is obsessed with both origami and Star Wars and has asked for more books in the awesome Origami Yoda series.
Another son likes to draw and write stories, so I always include a new journal and some ink pens for him.
Moulding clay, Derwent pencils, water paints, art paper, origami paper or drawing pads are other ideas in this vein.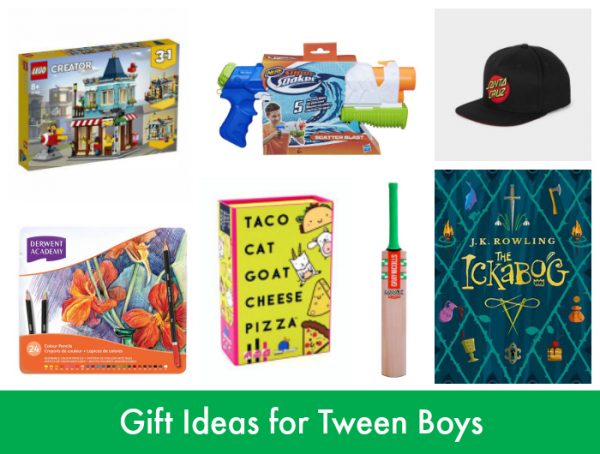 ABOVE, CLOCKWISE FROM TOP LEFT:
LEGO City, $55 from Kmart;
Nerf supersoaker, $15 from Target;
Santa Cruz cap, $29.99 from Surf Dive and Ski;
The Ickabog by J.K. Rowling, $34.99 from Dymocks;
Taco Cat Pizza, $15 from Kmart;
Cricket bat, $59.99 from Rebel;
Set of 24 Derwent Pencils, $21 from Big W.
BOOKS – with the spread of their ages and interests, my three boys all have quite different taste in books but they have all requested several books each.
Mr 9 has requested:
I've also bought him the latest Treehouse instalment – The 130 Storey Treehouse – and the new David Walliams book.
Mr 12 loves cartoons and graphic novels and has requested:
Mr 14 is an avid reader and writer and he loves thrillers, sci-fi and anything involving time travel or espionage. He has requested a number of Matthew Reilly books.
I'm also tempted to buy someone the new JK Rowling book 'Ickabog' as they have all loved Harry Potter over many years.
GAMES – I've bought several games for my guys this year and as gifts for family and friends.
I've bought Taco Pizza Cat Goat Cheese Pizza card game for my Mr 12 and my ten year old godson.
I bought Mr 9 Blokus and a movie trivia game for Mr 14 as he is obsessed with '80s movies.
I've also bought them Catan and Ticket to Ride as group presents.
My nieces are getting Cluedo and Battleship and I bought Payday for family friends.
VOUCHERS/CASH – not everyone likes giving vouchers or cash to kids and I get it. The older they become though, the more particular their tastes become and the items the want can be increasingly expensive and well beyond the budget of a family or friend Kris Kringle. I like that by using or pooling vouchers and cash, they can put the proceeds towards one bigger ticket item.
My guys will always say a resounding YES to a voucher from Rebel, Target, Big W, the Lego Shop or E.B Games.
Centre wide vouchers like Westfield vouchers can be great too but cost an extra $6 or so to buy.
Dymocks or Readings vouchers are awesome options for enthusiastic readers too.
Looking for more ideas?
If you're looking for gift ideas for tween girls, check out my Christmas Gift Ideas for Tween Girls post here (I consulted five girlfriends who have eleven tweenagers between them).
Looking for more board game ideas? We love our games here at Shenanigans Central and I've listed twenty five awesome board, card and dice games in this post.
Looking for ideas for younger boys? My nine year old put together this post – Top Ten Book Series For Kids aged 6-10 -over lockdown.
Or, check out author A.L. Tait's fab guest post listing Twenty Two Great New Book Series by Australian authors in this post.
You'll find my entire back catalogue of gift guides for kids – including younger boys and girls – here.
This post contains some affiliate links. You don't pay any extra and I earn a small commission. Read more in my Disclosure Policy here.