Can I tell you a story?
A couple of years ago, I clapped eyes on a breathtakingly gorgeous rack of clothes at my local nursery (it's a bit of a posh nursery – Acorn Nursery in fact for Melbourne locals). With approximately five minutes to spare before dashing home to breastfeed my baby, I quickly tried on the most fabulous dress in record time, bought it, went home and happily wore it all summer long.
It was one of those dresses that people always commented on – it's a bit different to the usual suspects with it's cobalt blue fern print and contrasting red piping – and it was the perfect dress for those stinking hot 40 + degree days that Melbourne is infamous for come late January. Needless to say I've had plenty of wear from this dress in the last two years.
Fast forward to my holiday to Bali earlier this year. I took the said dress with me, as it's perfect for very hot days, being breezy and cotton. I posted a pic of me wearing it on Instagram.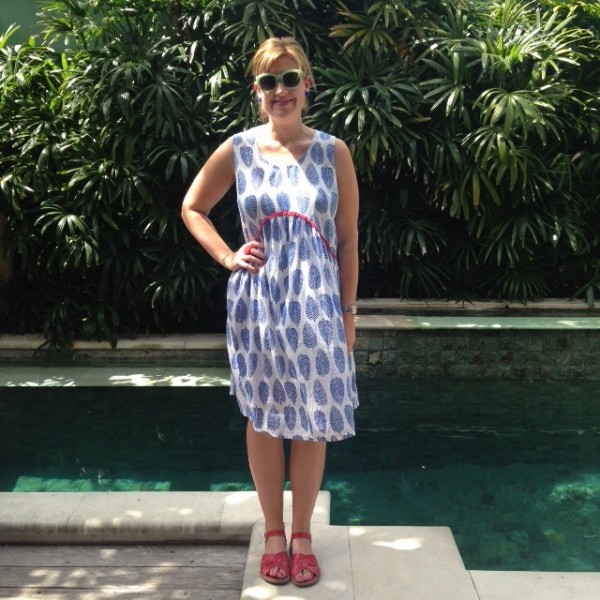 The designer, Janet, saw the photo on my Instagram feed and subsequently contacted me. We caught up for coffee when she came to Melbourne, I gushed, we bonded and she sent me four, yes four pieces of clothing from her collection: Heartfelt Designs of Noosa.*
Was I chuffed? Yes. Did I book a holiday to Tropical North Queensland so I could wear them stat? Almost – the kids and I gate crashed Mr SnS's business trip instead. The photos below are "shot on location" here in Palm Cove. I've worn all of them and they've all been ideal for the tropical climate at this time of year – beautiful warm days and cooler, breezy evenings.
The four pieces I'm wearing below capture the style of Heartfelt Designs – they are casual, fun, colourful, easy to wear and care for and most importantly, flattering. They also evoke a relaxed coastal vibe which is perfect for holidays or pretending you are on holidays when you are kid wrangling over the summer months.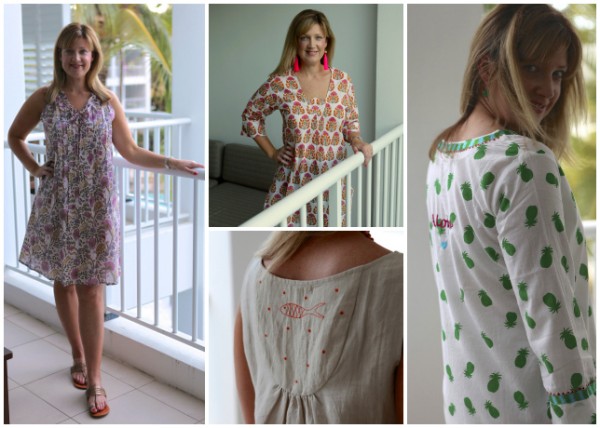 Janet loves colour (snap) and the beautiful old wood block prints used in Indian textiles. Most of the fabrics she uses are cotton voiles and some linen, all of which are natural fibres which are perfect for the Australian climate.
Personally, I also love the details of Janet's designs – two of the garments I'm wearing below have fun and unexpected detailing on the back, which brings a smile to my dial, and again, sets Heartfelt Designs apart from the pack.
Below, I'm wearing two garments from the Spring 2014 range and two fantastic sale items from last summer, which are super reasonably priced.
1. Pineapple Kurta, $125 – new season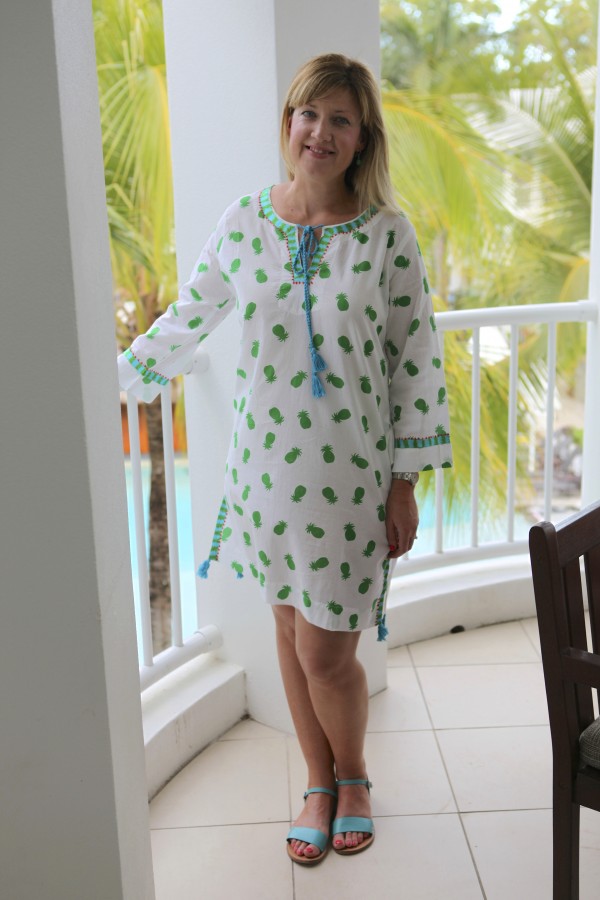 Can you tell how much I love this Pineapple Kurta?
This is a show stopper in my books.
Why? Pineapples. Tick.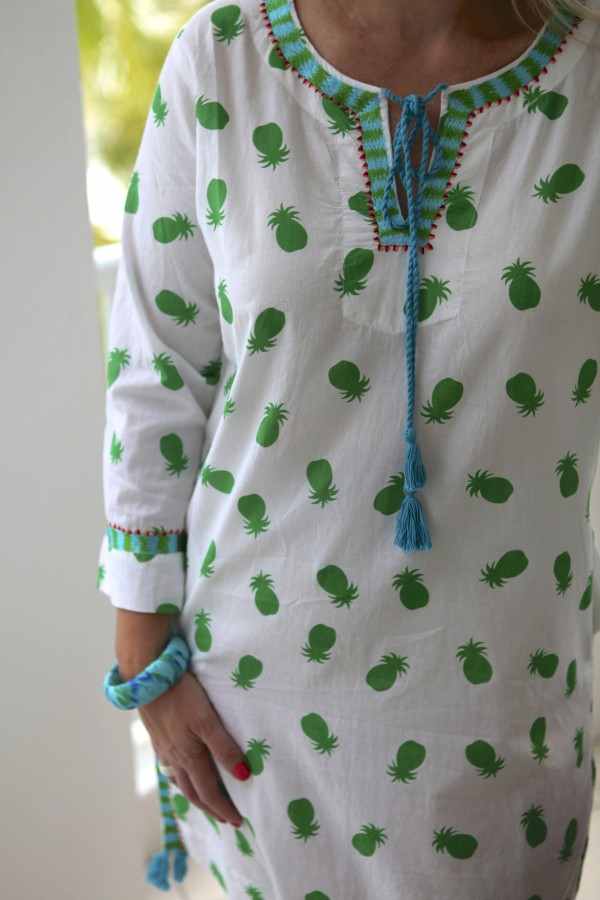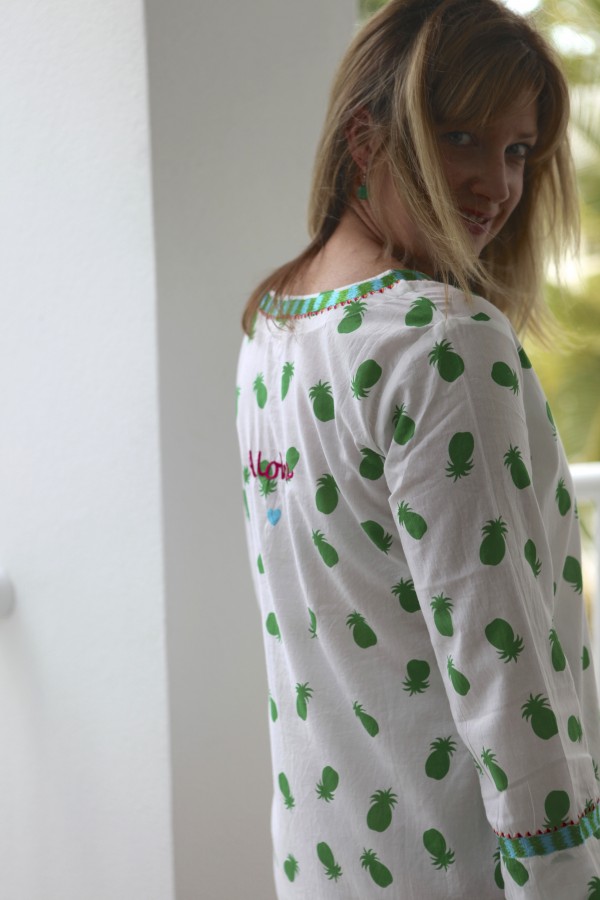 Then there are gorgeous colours (I can never go past green and aqua together) and the contrast trim of hot pink and yellow.
And I have to mention the details – the tassels at the front and on the sides, and the textural detail of the braid. Love.
Next is the shape – this tunic is a little on the short side for me to wear as a dress, but its' flattering, slightly a-line shape skims the hips and thighs (I'm wearing my usual size 12) making it suitable poolside and buffet breakfast attire for me. Winning.
Made from 100% cotton voile, the fabric breathes and is made from natural fibres. Yay.
Finally, I love the hot pink "Aloha" and aqua heart on the back. Brilliant and fun.
The gorgeous Nikki at Styling You wore this yesterday too – you can see how it looks on her here.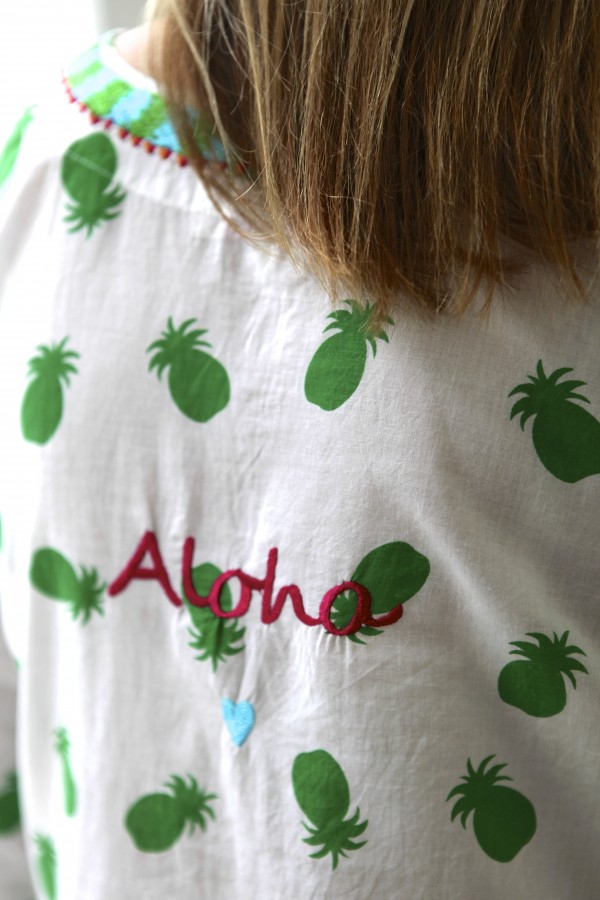 2. The Flower Dress in Multi, $115 – new season
The second piece I'm wearing is a very flattering, comfortable, easy day dress.
Made from 100% Cotton Voile, this frock is fully lined and has a simple but pretty frill at the neckline.  The details include mother of pearl buttons and a tie at the neck.
This is the sort of frock you can throw on and wear all day/weekend – it will see you from the kids' swimming lessons through to a casual lunch out with the girls and on to a family BBQ and everything in between.
Just to give you the heads up, I think the sizing here is a little on the small side. I'm wearing a large but it feels like a regular 12.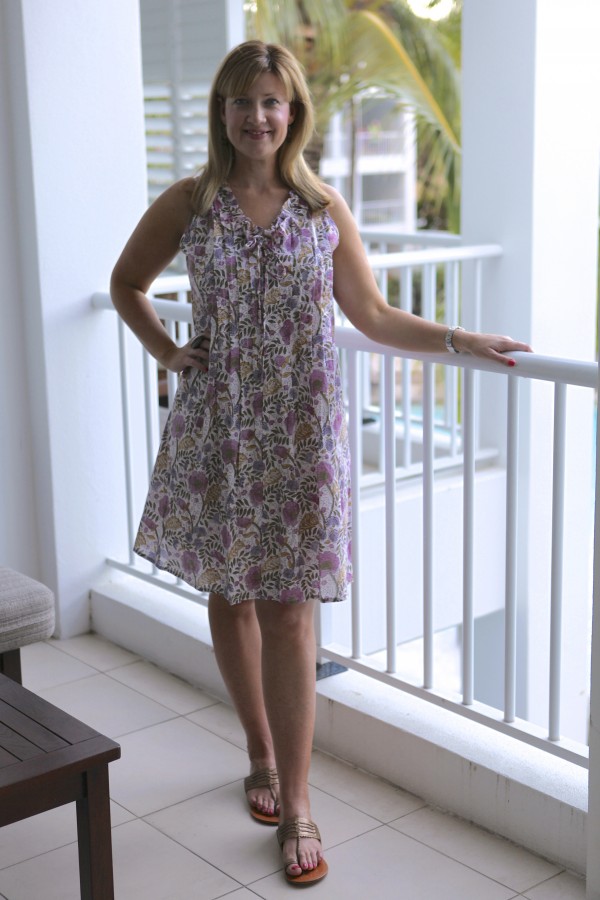 3. The Lucknow top, $40 (on sale)
Are you ready for a bargain?
This tunic length top (on me – it could be a dress if you are shorter) is a great price at $40, reduced from $99. I'm wearing a Medium and it fits comfortably.
From it's pretty wood blocked print to its flattering shape and elbow length sleeves, this is a great trans-seasonal option or perfect throw on over bathers.  Below, I've worn mine over skinny jeans and sandals and added some statement earrings.
I'm also totes loving anything pink and orange at the moment – it's one of my favourite summer colour combos.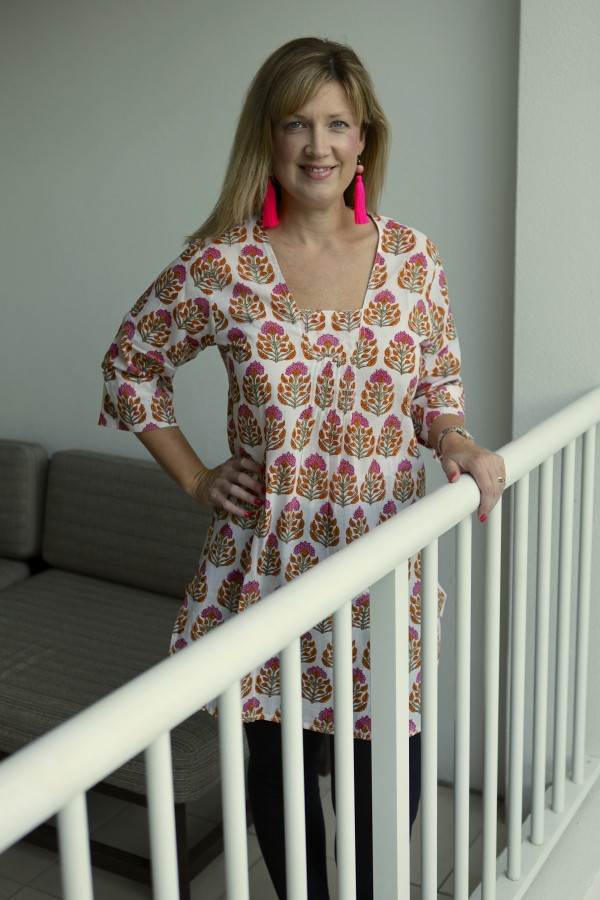 4. The Goldfish Dress, $65 (on sale)
I recently expounded my love of the linen dress (in this post) and here is another great example.
Made from 100% Linen, the Goldfish dress is simple, chic and understated.
It's one of those great wardrobe basics. Being neutral, it's the perfect base on which to go to town with great accessories. It can also be dressed up with a wedge or down with a sandal.
On the back, you'll find orange dots and a fish embroidered motif panel. Again – a simple idea on a simple dress which adds that little something more. 
Shape and size wise, this is a straighter, shift style cut. I am wearing a Medium but if you are pear shaped, it might be worth going up a size. I could have easily gone up a size in this style.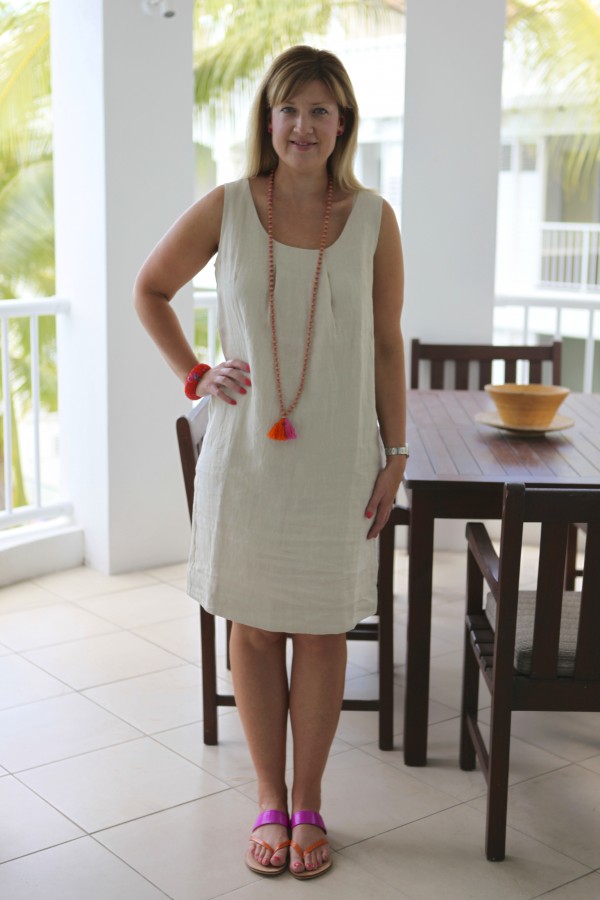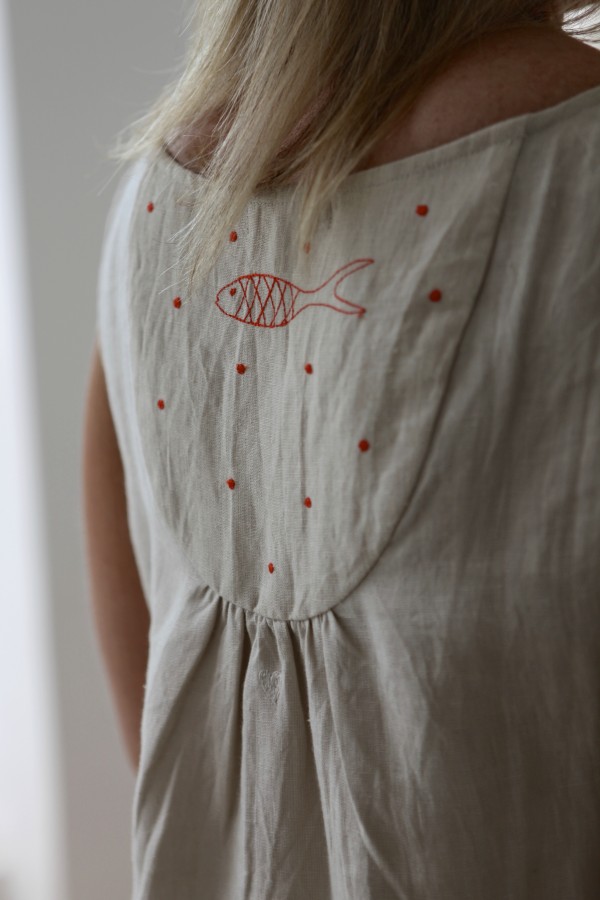 *I was kindly gifted all four items. As usual, I've honestly reviewed them here in accordance with my Disclosure Policy.
Have you heard of Heartfelt Designs before? Are you in the market for easy, breezy summer frocks? What's your fave frock of those above?