Updated April 2017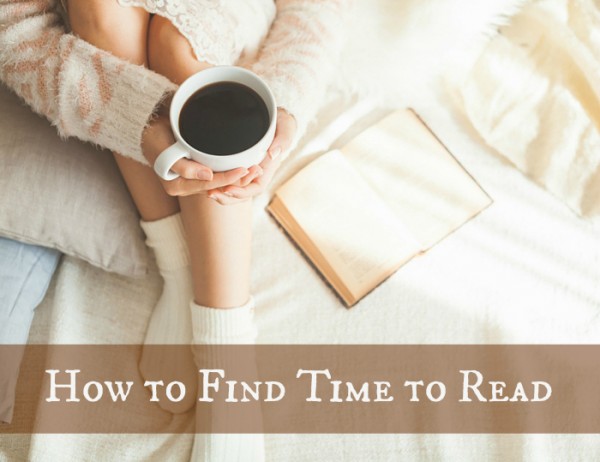 The question I'm most regularly asked would have to be, hands down,
'When do you find the time to read?'
It's true that despite having three children, running a busy household and social life and posting here three times a week, I somehow manage to knock off at least two or three books most months.
In January or when I'm on holidays, I've been known to read several more. Last Summer, I managed ten, a record for me.
But there have certainly been seasons when it comes to how much time and energy I've have to read.
I read a lot more before the kids came along (I even had a reading journal to record what'd read – to have the time!), but in the long, exhausting baby slash toddler years, the reading was lean, often low brow (Twilight, The Hunger Games and Fifty Shades anyone?) and punctuated by chapters of parenting and sleep books.
Been there?
When I've reflected on how I've managed to keep my reading mojo going through it all, I realise I've had different strategies at different times. So in today's post, I'm sharing how I find the time to read in and amongst the shenanigans of our family life. I'd love to hear how you find time to read in the comments below too.
1. Carry your book with you – When you leave your house in the morning, take your book with you.
When I used to commute to the city on the train for work, I loved that I had almost an hour each work day to read. It's easy to knock off a book when you get decent slabs of reading time.
Now I'm working from home, I take my book with me when I take my son to his piano lesson or to a doctor's appointment when I know I'll be waiting. This otherwise dead time can add up and give you an extra half an hour of reading time.
Other friends of mine love to read in the bath, in the car before school pick up or even on the loo. Whatever works for you.
2. Go to bed an hour early – This is my latest and greatest strategy.
During Winter, I was frustrated that I wasn't reading as much as I wanted to – there were no holidays or weekends away on which I had time to get stuck into something.
I couldn't see how I could fit reading in to my already busy schedule. I was tired already so I didn't want to stay up even later, reading.
Then I had an idea.
Instead of sitting on the sofa all night watching mind numbing TV, I started to go to bed by 9pm and read for an hour once or twice a week. It was a great way to wind down and it meant I was reading when I was still awake. I'd turn out the light by 10pm and still get a reasonable night's sleep. If I was really loving my book, some nights I'd crawl into bed as soon as the kids were in bed!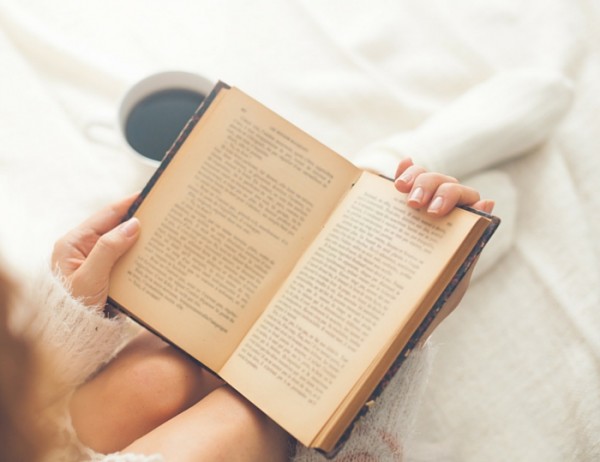 3. Have a couple of TV-free nights each week – I love Monday and Wednesday night TV, but on other nights, I can take it or leave it.
If I'm not out on Tuesday and Thursday nights, I love to go to bed early with my book and read instead. I feel somehow productive and totally absorbed while I'm relaxing and winding down. This was basically how I spent last Winter.
4. Read instead of hang out on social media – I'm all for social media (and obviously I spent a lot of time on it) but some times, it's really great to switch off from the here and now by escaping into a book.
If you spend most nights at home watching TV and surfing social media and replace just a quarter of that time with reading, I'm sure you'll be knocking off plenty of books in no time.
5. Find a book that you can't put down – I always find that if I'm really enjoying a book, I make the time to read it. I'll find fifteen minutes here and there or stay home instead of going out just to finish it.
Don't you love a book like that?
Seek recommendations from friends and family, check out my book reviews and find a book that will keep you turning those pages and you'll find your reading mojo stat.
Books I've read in one sitting lately have included The Mothers by Britt Bennett, My Name is Lucy Barton by Elizabeth Strout and most recently, the very topical and page turning The Golden Child by Wendy James.
If you're tired and just want some escapism, a teenage sci fi series like Twilight, Divergent or The Hunger Games might be a good place to start. They're not too long, easy to read and page turners. You can also see the movie if you don't end up finishing the book. Wonder by R.J. Palaccio is another easy but well worth reading option too.
Or, trying a novel by one of these best selling, popular fiction authors – Liane Moriarty, JoJo Moyes, Joanna Trollope, Marian Keyes, Maeve Binchy or Cathy Kelly – might also be a good place to start.
If you love a great mystery or historical fiction definitely check out Australian author, Kate Morton too. Crime fiction fans will love Jodi Picoult novels or the excellent local novel, The Dry by Jane Harper.
You'll also find my list of great holiday reads here too.
Literary or high brow reads are great and all (and I've read some brilliant books), but I find I have to have the time and head space to tackle them. If I've got the energy and time to concentrate, I'll read one but I'll often read something less challenging or completely different before and afterwards. It's all about light and shade after all.
6. Find a book that matches your head space – I usually read an epic every January. In fact I save an epic for January. There's no way I have the time or brain/head space to tackle one of these babies during term time but, give me a week on holidays and I'll knock it over, no probs.
I managed to knock over The Goldfinch in one week one January which was no mean feat as it is a tome. I don't think I would have gotten through it any other time. Last Summer, I knocked over A Little Life – the size of an old school phone book – in 5 days, then immediately re-read it.
Likewise, in summers past I've read Shantaram by Gregory David Roberts and The Street Sweeper by Elliot Pearlman both of which are excellent but fairly epic and best suited to times when you can really get stuck into them.
7. Join a Book Club – I find having a deadline or time frame in which I need to finish my book really helps me set aside time for reading.
The decision about what to read has already been made and it gives me an incentive to finish the book, particularly if I'm really enjoying it and don't want to hear how it ends at book club!
Read more about how to start your own book club here.
This post contains some affiliate links. You don't pay any extra and I earn a small commission. Read more in my Disclosure Policy here.
How do you find time to read? Would any of my strategies work for you?