January means a lot of things to a lot of people.
For me, it means slow mornings, no deadlines, commitments and guilt free reading. Yes, reading in the morning, during the kids' rest time and at night. I even try to sneak a book with me when we hit the beach. Ahh, so good!
Are you dipping into some summer reading? Would you like to but are not sure what to read?
Are you looking for some inspiration for your book club? Or something new and interesting to read?
In today's post, I'm sharing my book club reading lists for 2015 (you can read about how we choose our books and how my two book clubs run here) and my top picks from 2014. I'd love to hear your recommendations and ideas in the comments below too. Let's pool our collective book intel!
My Book Club Reading Lists for 2015
Book Club #1, which meets monthly has chosen the following books. As you can see, we aim to include a mix of fiction and non fiction, Australian and international authors and a variety of topics, issues and settings.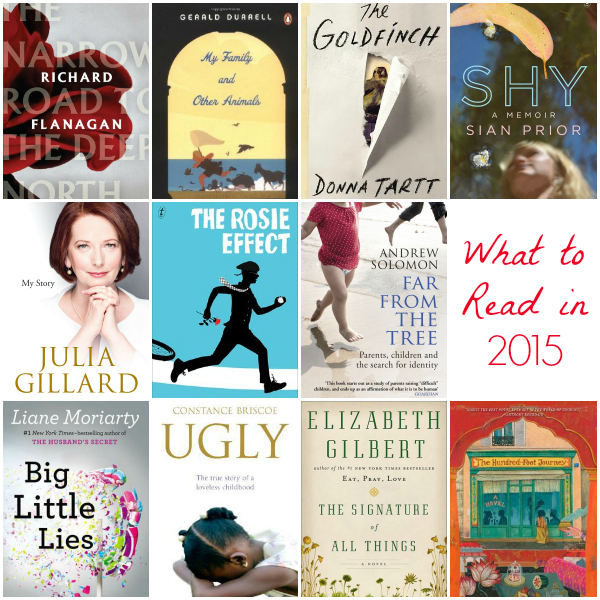 Below, I've linked to a review/summary of each book so you can get an idea if it might be a book for you.
1. The Goldfinch by Donna Tartt (fiction) which I'm reading now. The first 100 or so pages were slow going but now I can't put it down. This book seems to divide people. You can read the comments by SnS readers about it here;
2. My Story by Julia Gillard (Australian, non fiction);
3. Far From The Tree: Parents, Children and the Search for Identity by Andrew Solomon (non fiction);
4. The 100 Ft Journey by Richard C. Morais (fiction);
5. The Rosie Effect by Graeme Simsion (Australian, fiction);
6. Shy – A Memoir by Sian Prior (memoir, non fiction);
7. The Signature of All Things by Elizabeth Gilbert (fiction);
8. Big Little Lies by Lianne Moriarty (fiction);
9. Ugly by Constance Briscoe (memoir, non fiction);
My second, bi-monthly book club has chosen our first three books:
1. The Narrow Road to the Deep North by Richard Flanagan (historic fiction);
2. My Family & other Animals by Gerald Durrell; and
3. Big Little Lies by Liane Moriarty.
As you can see there is a one book in common, so that helps and I've already managed to knock off The Rosie Effect. How does your book club choose books?
Non Book Club Books on My Must Read List
I have a number of books on my bedside table that I can't wait to read. They include The Wife Drought by Annabel Crabb, The Luminaries by Eleanor Catton and Foreign Soil by Maxine Beneba Clarke, the winner of the Victorian Premier's Unpublished Manuscript Award 2013.
I'd also love to read the Divergent series and Jasper Jones by Craig Silvey, both of which have been recommended to me.
My Favourite Books of 2014
Well, overall I had a pretty decent year of reading last year, reading all but one of the books in the SnS Book Club last year. I also managed a couple of extras – Gone Girl by Gillian Flynn and Drums of Autumn by Diana Gabaldon, the fourth book in The Outlander Series.
My favourite books for 2014 were:

1. The Rosie Project which was humorous and poignant at the same time;
2. The Light Between Oceans by M.L. Stedman which is being made into a movie (you can read my review here);
3. The Tall Man (you can read my review here), an Australian non fiction book about the murder of a Palm Island local by a policeman, which was hard hitting, confronting and compelling; and
4. Gone Girl which was a page turner. Not a literary masterpiece perhaps, but intriguing all the same. You can read more of what I thought here.
An honourable mention to The Fault in Our Stars by John Green which was also excellent.
What was your favourite book of 2014? What's on your must read list for 2015? Have you read any of the books above?