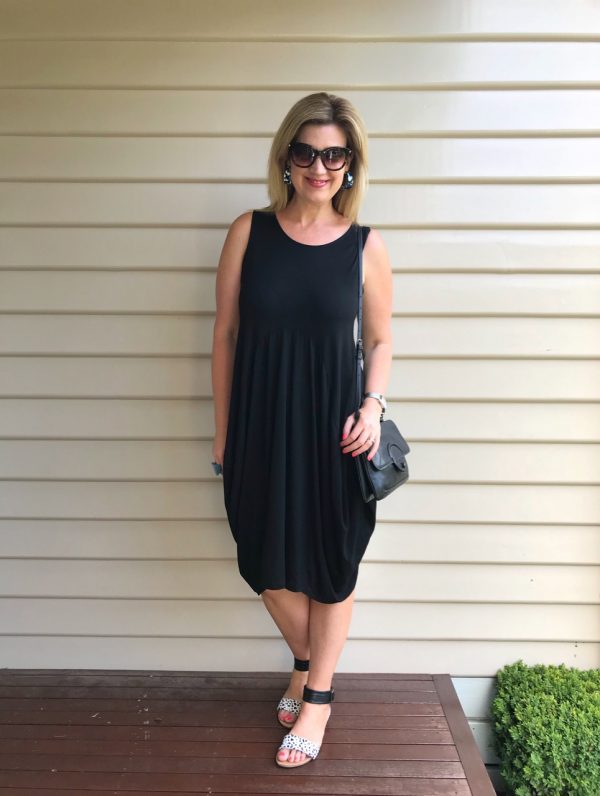 So I was out shopping with a girlfriend last week, and as we trawled from one fashion retailer to the next, she commented that what she should be looking for were those everyday dresses that she could, "you know, just throw on".
And I knew exactly what she meant.
She was on the look out for easy wearing, no brainer, lazy lady type frockery that she could throw on with confidence and the knowledge that:
She'd feel super comfortable and relaxed in it but it would also flatter her;
She could wear it with her most favourite/comfy shoes;
It'd be a no brainer to style;
It would be appropriate for whatever her day might involve.
Funnily enough, I've been on the look out for such frockery of late too given I spend most of my days at home, working and running after the kids. As the temperature rises, I'm resorting to the laziest form of dressing I know – summer frocks. I told her about this recent purchase  -the Sleeveless Tulip Dress from Birdsnest – which I promptly wore the following day …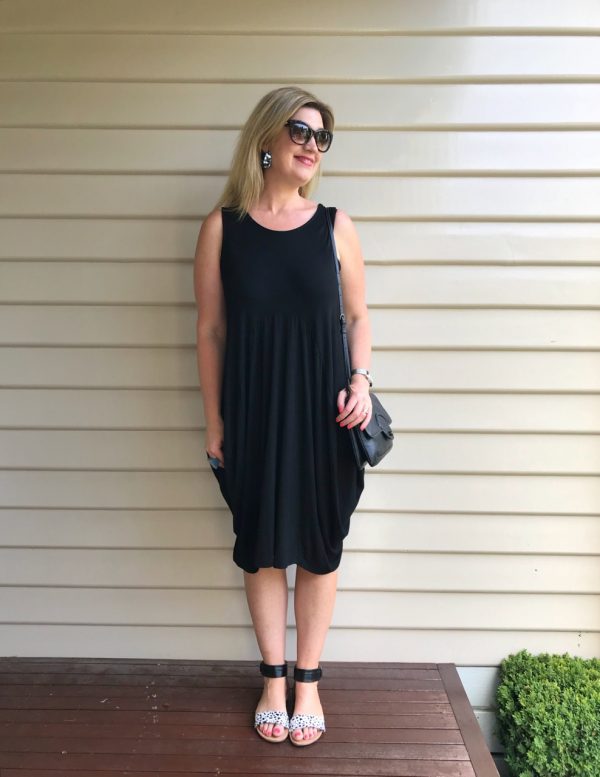 Above, I'm wearing the Sleeveless Tulip Dress, $89.95 from Birdsnest, chunky hoops, $49.95 from Gorman and MADDiE sandals, $199.95 (gifted) from Frankie 4 Footwear.
Now as many of you know, I do prefer a frock to most other wardrobe options but I tend to gravitate to more shift or a-line styles when it comes to casual frocks. This tulip shape style was a bit of an experiment for me but it has been A Revelation.
The combination of it's flattering drape and length, soft, quality jersey cotton and it's overall shape has me feeling fabulous without the fuss.
It's also perfect for disguising a bloated tummy – hello Christmas – or for those days you feel a bit well, meh.
I can literally throw it on with a comfy pair of shoes and a fun pair of earrings and I'm good to go whether I'm working from home, running errands, going to appointments, braving a pre Christmas Costco run, catching up with a girlfriend or Mum for a coffee or all of the above.
I chose the black to work back with my MADDiE sandals but you might like to know that this dress also comes in navy, black and white stripe (featured in this recent What to Wear on Casual Friday post) and black and grey stripe. For the full range, head here.
If you're after something different but in a similar vein, I've found 8 fabulous throw on dresses below, all of which are jersey, cotton or variations on the t-shirt dress. The detailing varies – cold shoulder/sleeveless and t-shirt sleeve – as do the colours and prints, but what they have in common is that you can throw them on with a pair of thongs, your favourite sandals or trainers or dress them up with an espadrille wedge.
In cooler weather, pop a denim jacket over the top for effortless trans-seasonal style.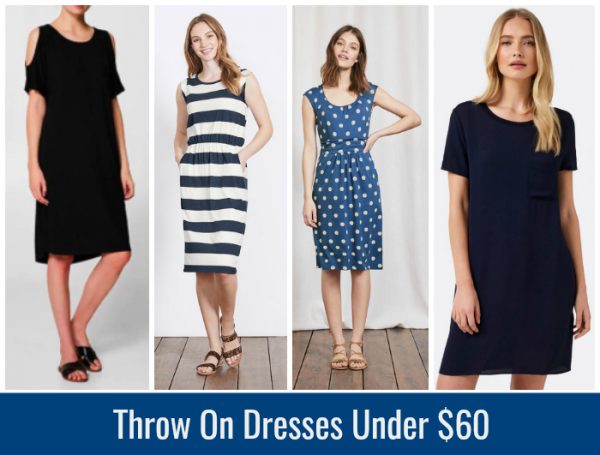 ABOVE, LEFT TO RIGHT: Cold Shoulder Jersey Dress, $20 from Target; Blackberry dress, $47.50 (on sale) from Boden; Margot Jersey Dress, $58.80 (on sale) from Boden; Vanessa T-Shirt dress, $59.99 from Forever New.
The styles below are at a higher price point but still have that easy, comfortable style going on. They're also of a decent length too, so they offer some coverage if that's a priority for you.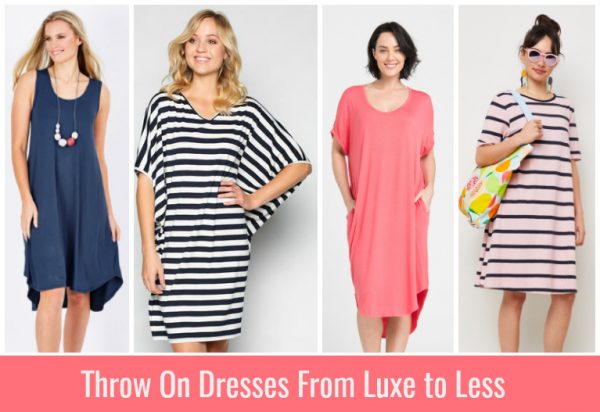 ABOVE, LEFT TO RIGHT: Sleeveless Sun Dress by Bird Keepers, $79.95 from Birdsnest; Stripe Dress by Surafina, $89.95 from Adrift; Classic Scoop Dress, $139 from Bohemian Traders; Stripe Swing Dress, $149 from Gorman.
Finally, if you're looking for some beach/resort style frocks to throw on over a pair of bathers, I'll cover those in an upcoming post but in the meantime, check out this gorge Mirimar Dress by Holiday from Birdsnest. Let's just say I may have given myself an early birthday present!
This post contains some affiliate links. You don't pay any extra and I earn a small commission. Read more in my Disclosure Policy here.
What's your favourite style of 'throw on' dress?