Bondi beach is one of the best known beaches in the world.
It's also the location for more reality TV shows than any other non-capital city I can think of.
Having visited for the first time last weekend with Mr SnS to celebrate our 15 year wedding anni, I can totally see why.
I can hand on heart say that whatever your interests or however varied those interests may be, I reckon Bondi is a destination that has something for everyone.
And there's a lot more to Bondi than it's famous beach too.
So whatever you're into – whether that's swimming, surfing, walking, art, retail therapy or you're a foodie, Bondi is Next Level.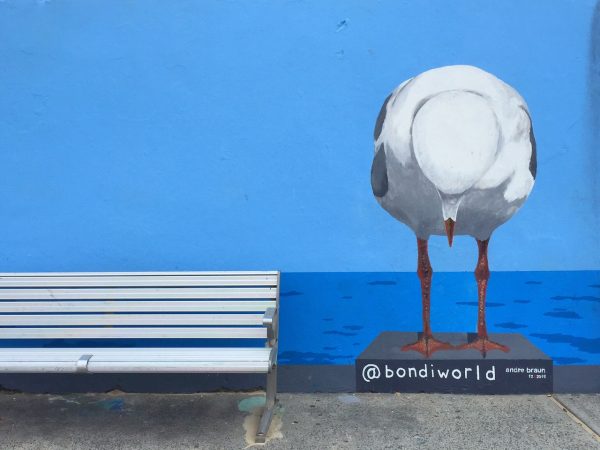 In the four or so days we spent in Bondi, we had an absolute cracker of a time, so here's our guide of what to do in Bondi should you be lucky enough to visit anytime soon …
What to Do in Bondi
1. Dinner/Drinks/Swim at Icebergs
Let's start with the obvious.
Bondi Icebergs is not just the well known fine dining restaurant Icebergs Dining Room and Bar with incredible views on the top level – it's four levels are also home to a public pool, bistro and several bars.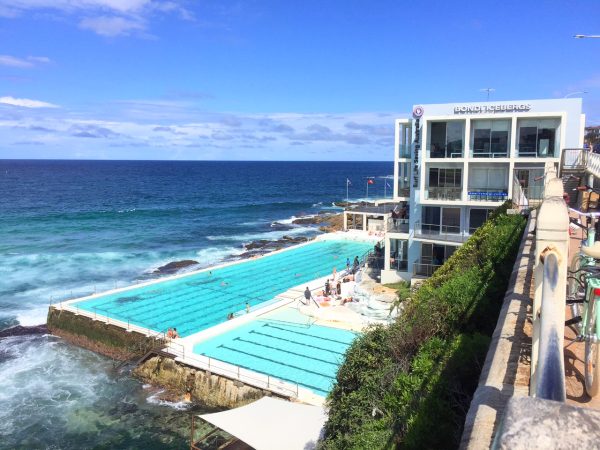 As you can see from the photo above, we arrived in Bondi on a picture perfect day so we did what most self respecting parents of children sans children would do – we hot footed it straight down to the beach and walked up to Icebergs Dining Room and Bar for a refreshing beverage with THOSE views at the bar. (There is also a terrace bar on the other side of the Dining Room).
We ate at the dining room later that night – more on that below – but in the afternoon, we were content to sit, sip and take in the views, nibble on some olives and ponder the beauty of Bondi.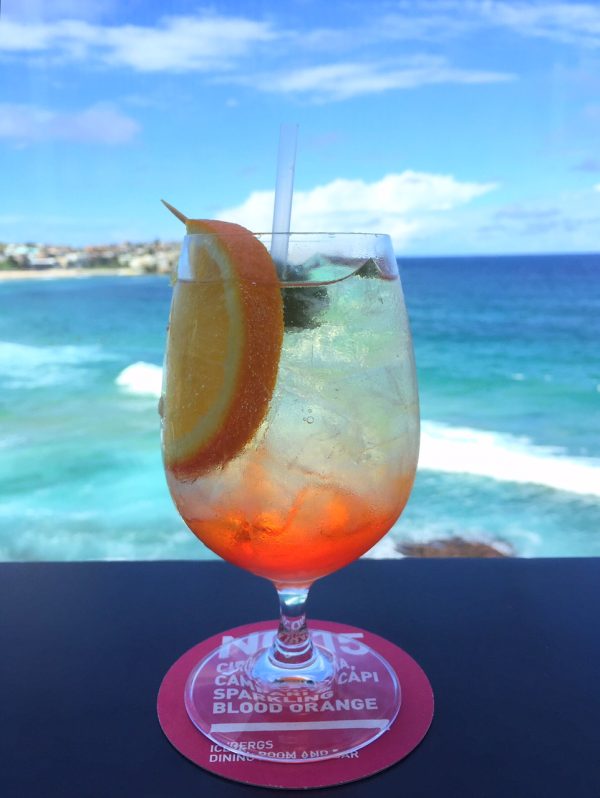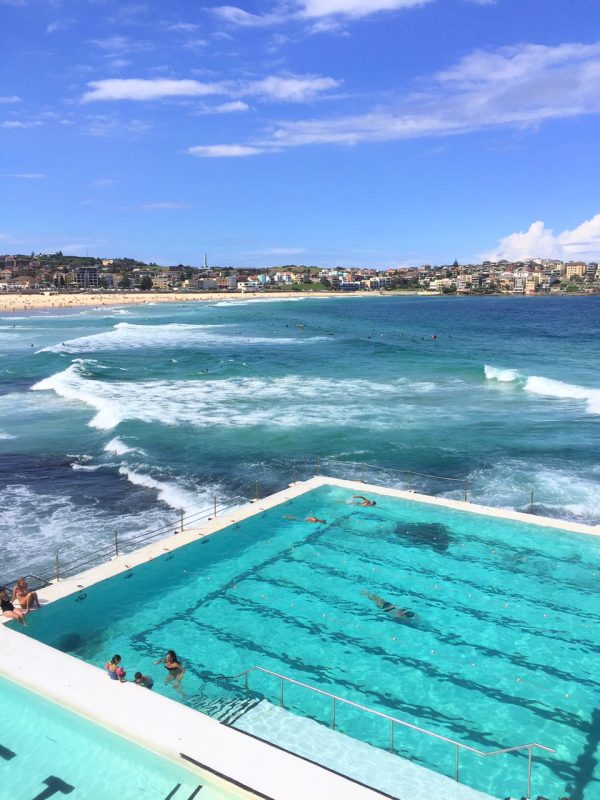 The Icebergs Club Bistro and two bars are on the floor below if you're after a more casual (and less expensive) experience but with the same views. This is where I'd head with the kids next time. For details about the casual Bistro at Icebergs Club, head here.
And of course, there's the famous Bondi Baths which are open to the public (but closed on Thursdays for cleaning) and feature a longer lap pool and a kids pool. When we visited, entry was $8.50 per adult. For more details, head here.
2. Bondi Beach 
We didn't manage a dip this time – the wind and rain on subsequent days made the sea a bit too choppy for me and I didn't want to end up on Bondi Rescue – but next time, I definitely would.
I did love watching the surfers catch waves, people swimming closer to shore and the people playing volleyball on the beach though. In fact, I think the people-watching is up there with the views …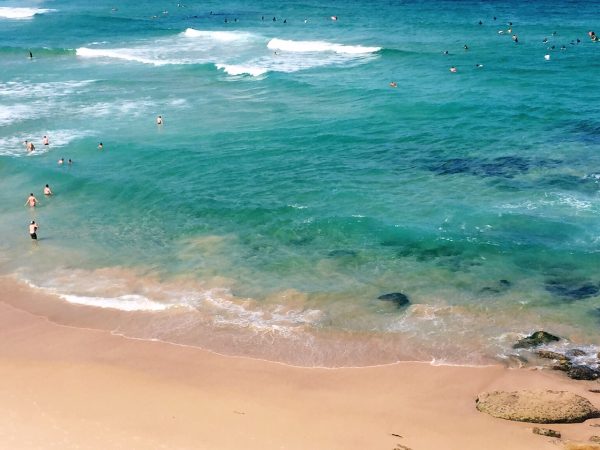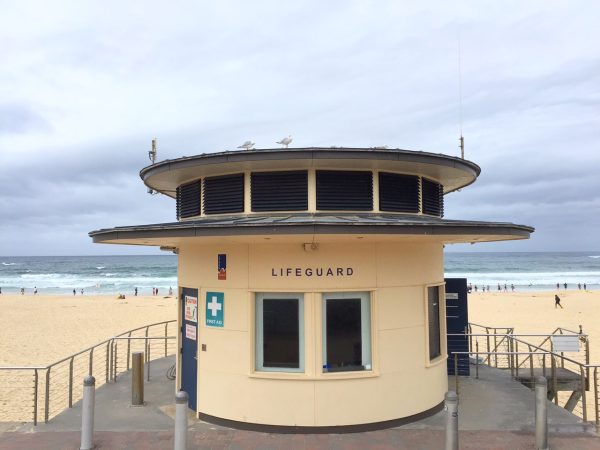 3. Do the Bondi to Coogee Coastal Walk
This coastal walk is a Must Do. We loved this eastern beaches coastal walk so much, we did it twice. It was a great way to see the coast and work off All The Food.
Beginning just behind Bondi Icebergs, you can choose how far you want to walk. We got as far as Clovelly Beach but you can head all the way to Coogee. One thing that's guaranteed though is the magnificent views.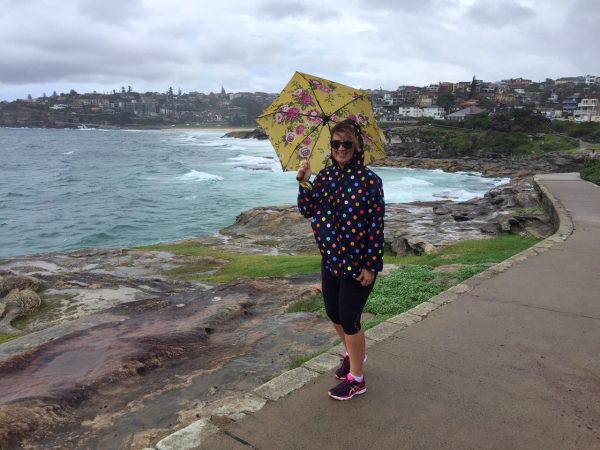 The first time, we walked from Bondi to Bronte and back, which took around 45 minutes each way and takes in some beautiful scenery, including Tamarama Beach on the way.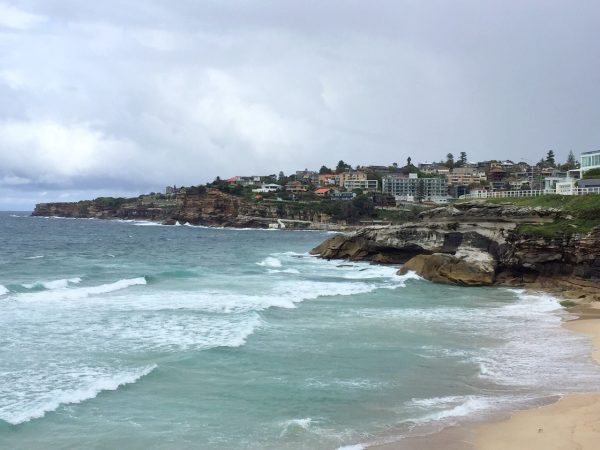 Above: Tamarama Beach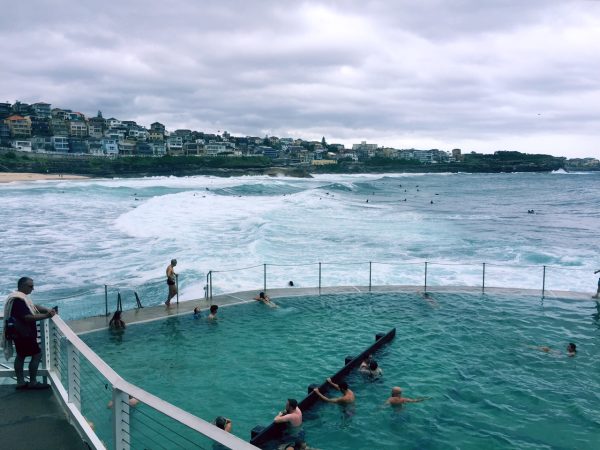 Above: Bronte Beach
In Bronte, we stopped for lunch at the lively strip of shops which is full of cafes. We opted for lunch at the Selina Cafe – more on that below.
The second time we went, we continued past Bronte, through the historic Waverley Cemetery (the boardwalk is being repaired due to storm damage) and across to Clovelly Beach. This return trip, with pauses for photos and Instagram posting – hard not to – took around two and a half hours beginning and ending at our hotel.
We noticed it was much more crowded on the weekend than the Friday, so if you have an option, opt for the weekdays if you want less people traffic.
4. Shop and Stroll down Gould St
Parallel to Campbell Parade (the main drag) is Gould Street, where you can indulge in some retail therapy in between swimming and cocktails.
We found the most concentrated section of retail was between Hall Street and Beach Road.
Here, we found local label Bondi Wash, fashion boutiques such as Jac and Jack, Free People and Tuchuzy (which stocks Bassike, Bec and Bridge, Missoni) and UASHMAMA, Aesop among many others.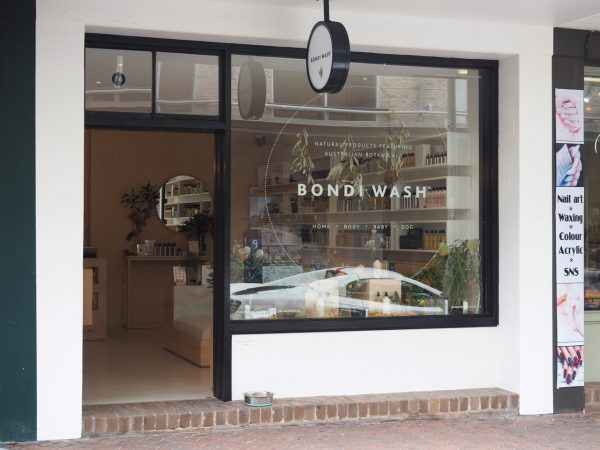 If you need some sustenance along the way, you can grab a doughnut at Doughnut Time, delicious sourdough from Sonoma or pick up a coffee from Drake Eatery (our pick). There's also the popular Earth Foodstore, the longest running organic food store in Syds.
If you continue around the corner into Hall Street, do check out home wares and gift shop Abode and, a few doors up on the hill, Nimble Activewear.
If you're happy to venture slightly further afield, you'll find Camilla opposite Harry's and MCM House Beach Club in Campbell Parade, just in front of the QT.
5. Check out the street art/murals along Bondi Beach
If you're heading to Bondi Beach, you can't miss – and shouldn't miss – the wonderful wall of murals. If you can't get a decent Insta pic here, you're not trying!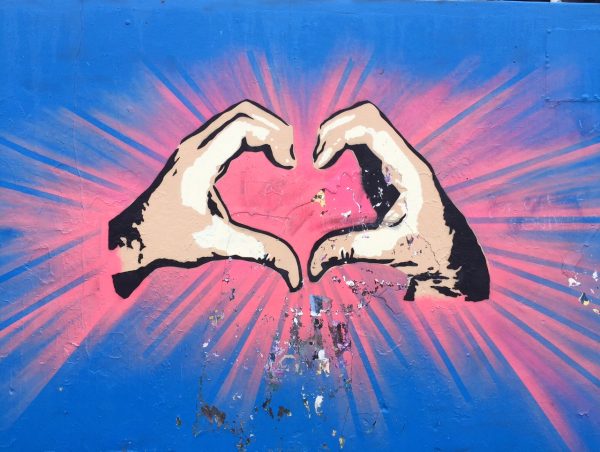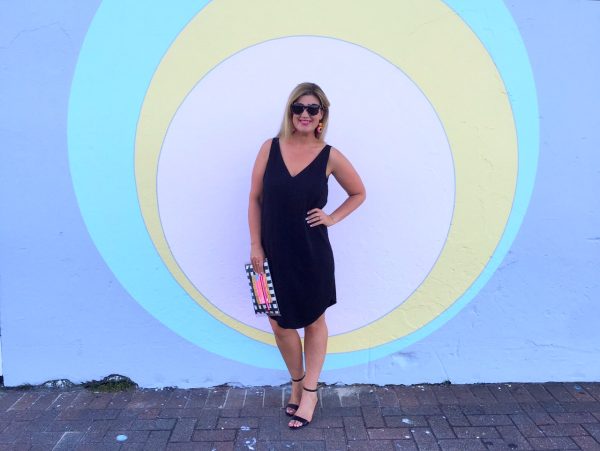 If you're travelling with kids, there's also an awesome skate park here.
6. Aqua Bumps Gallery
We stumbled across the Aquabumps gallery in Curlewis Street on the way from breakfast one morning and boy, were we glad we did.
Eugene Tan, owner and photographer, loves the ocean, surfing and photography and has been taking photos every morning at sunrise for many years.
His gallery exhibits and sells his ah-mazing photos.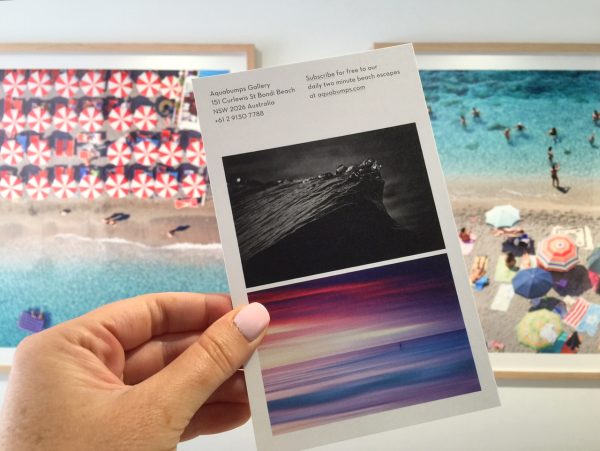 There was so much to love here and some very well priced souvenirs but for me, it was all about the aerial shots – not taken by a drone – but by Eugene himself from a helicopter.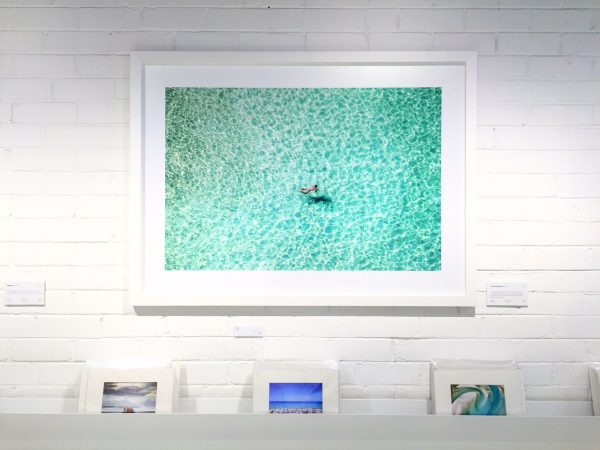 Eugene's stunning works are not only of Bondi Beach but beautiful beaches all over the world. Check out the full range here.
7. Bondi Markets
I do love a market or three, so I was very happy to discover two are held each weekend at the local Bondi Beach Public School on Campbell Parade, directly across the road from Bondi Beach (also across the road from QT Bondi).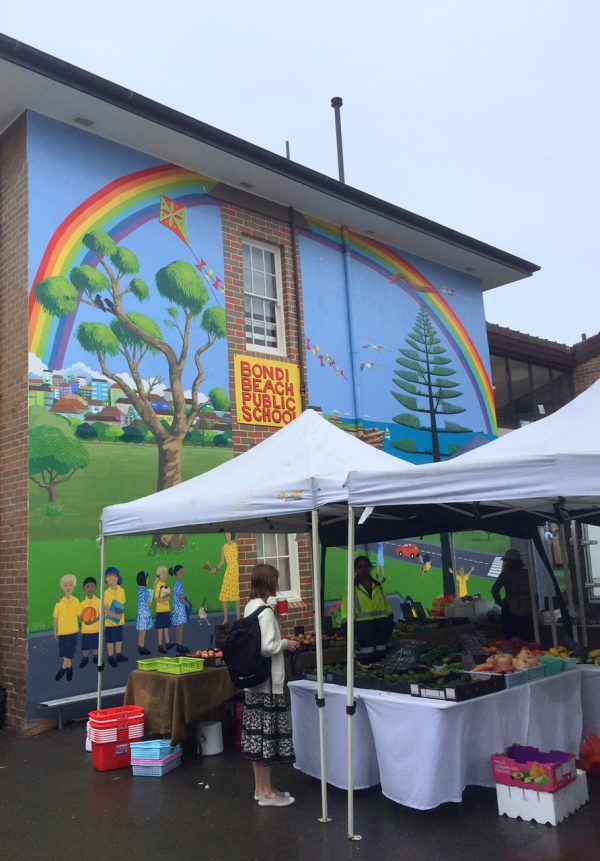 On Saturdays, it's the Farmers Market while on Sunday it's the Bondi Markets.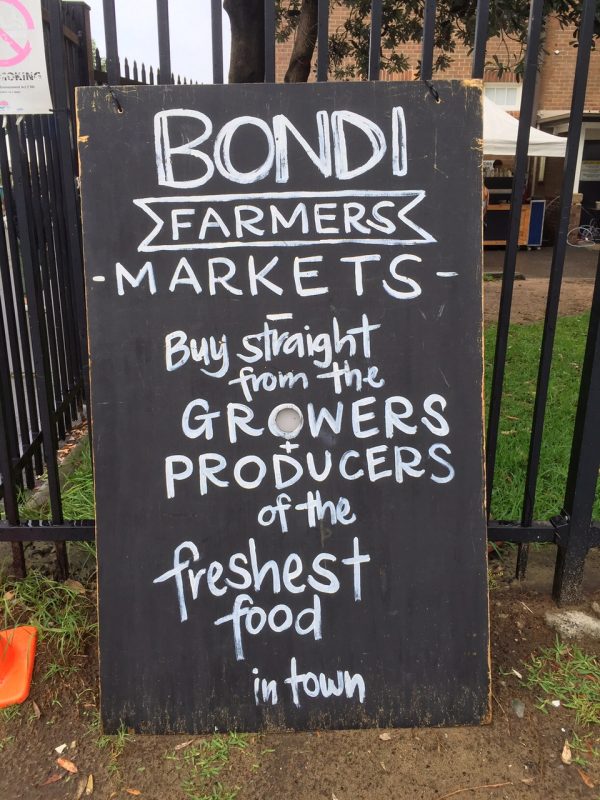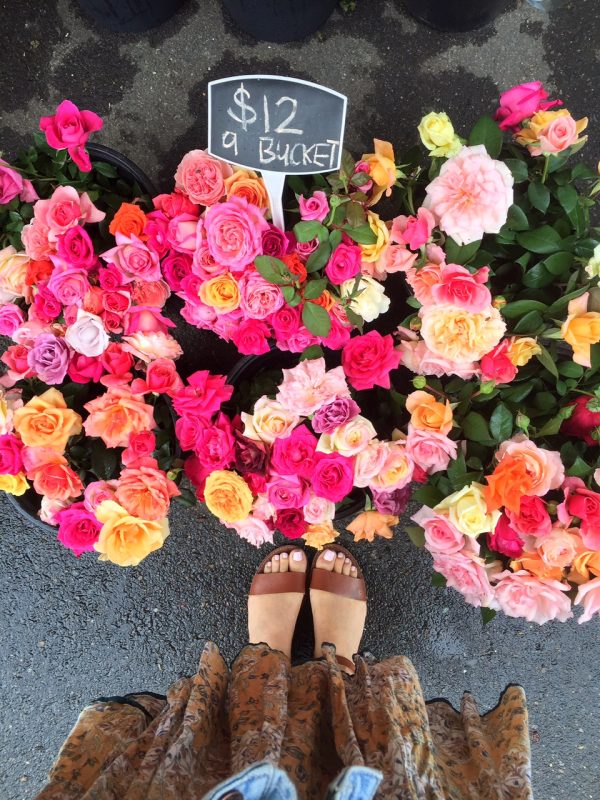 For all the details, head here.
8. DIY Reality Show Tour & Celeb Spotting
As well as the real life set of Bondi Rescue, there's Bondi Ink on Campbell Parade (it was heaving when we walked past) and you might be lucky enough to spot The Bondi Vet doing his groceries at Woolies.
Where to Eat
The food in Bondi was first rate and for me, on the same level as those spectacular views.
Many places we ate at were open for breakfast, lunch and dinner or at least two of the former, so you can choose what suits you.
Breakfast
For breakfast, there are plenty of great options.
We loved Lox Stock and Barrel Deli and Diner (a slice of New York in Bondi) in Glenayr Avenue, one of the older pockets of Bondi. The food in this forty seat diner was absolutely delicious.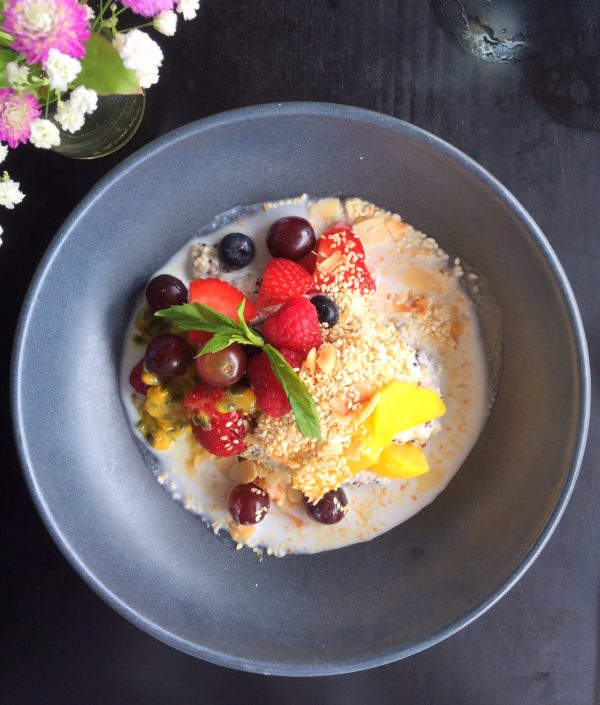 Above: my coconut and chia pudding from Lox Stock and Barrel.
Back towards the beach, we loved Harry's Bondi in Wairoa Avenue. This place was absolutely heaving on the weekend so we returned on Monday morning and walked straight in. I'd queue up to go here though if I had to. The ricotta hotcake here, pictured below, was Absolutely Off The Charts.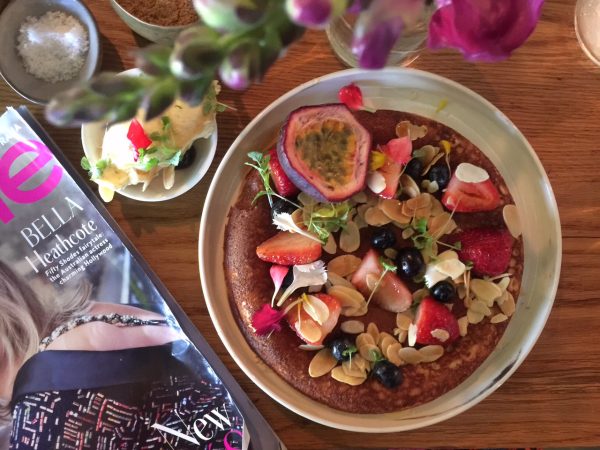 We also ate at the uber popular Porch and Parlour in North Bondi which was also very good but the crowds both inside and outside this hip cafe weren't conducive to a relaxed brunch.
We couldn't fault the food or friendly service though and the vintage fit out with a serious side of greenery was very cool too.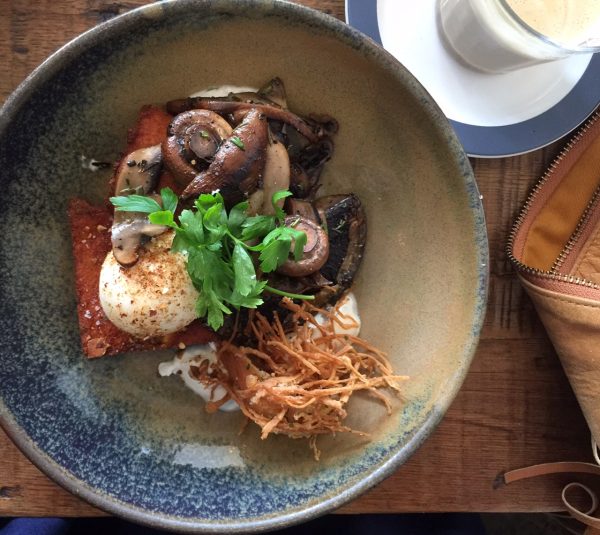 Above, The Woodsman at Porch and Parlour
Lunch
In Bronte, midway through our coastal walk, I had a delicious green bowl for lunch which hit the spot from Cafe Salina. It was right on the money.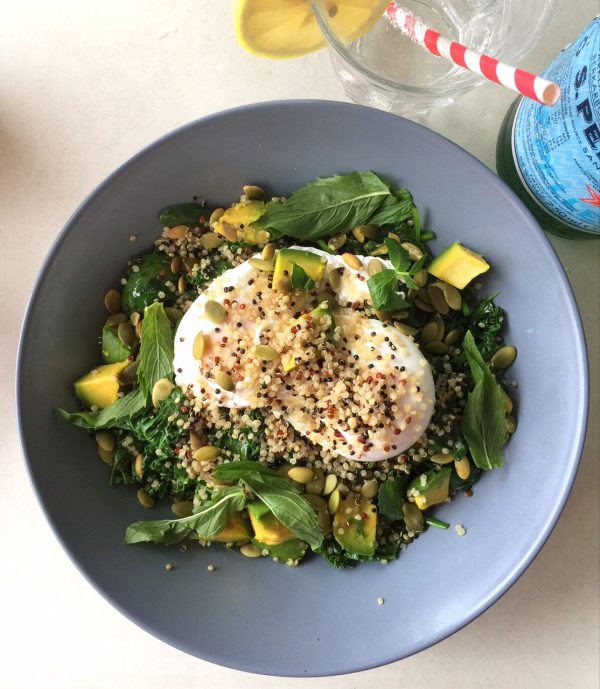 Cafe Salina, above and below.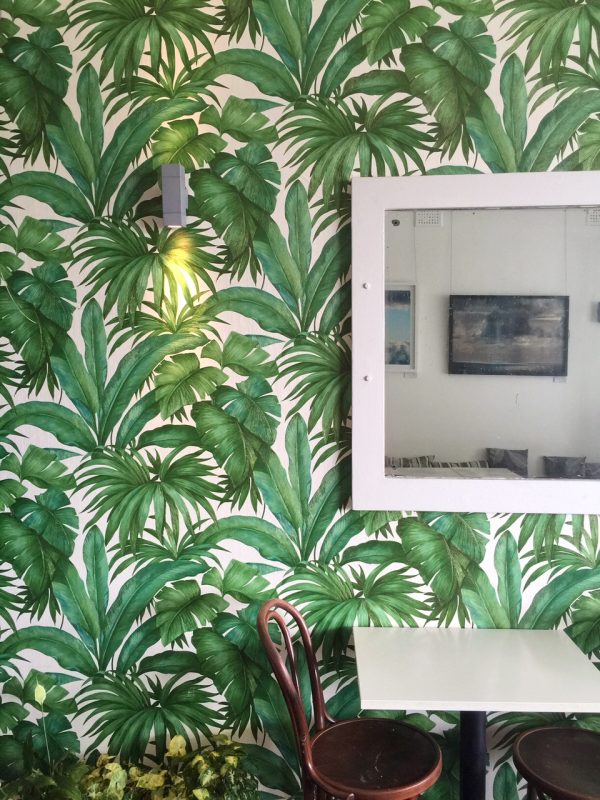 Dinner
For dinner you're spoilt for choice. We could have eaten out at great places for two weeks running but we had to narrow the field.
We really enjoyed Bondi Hardware on Hall Street (another great fitout) with it's brand new menu. The two salads were both stand outs – Jerk Chicken (served with shaved brussel sprouts, roasted cauliflower and  coriander) as was the Hardware Lamb Salad (served with Israeli Couscous, hummus, feta, pear and mint yoghurt). The $35 jugs of Rose Sangria weren't too shabby either.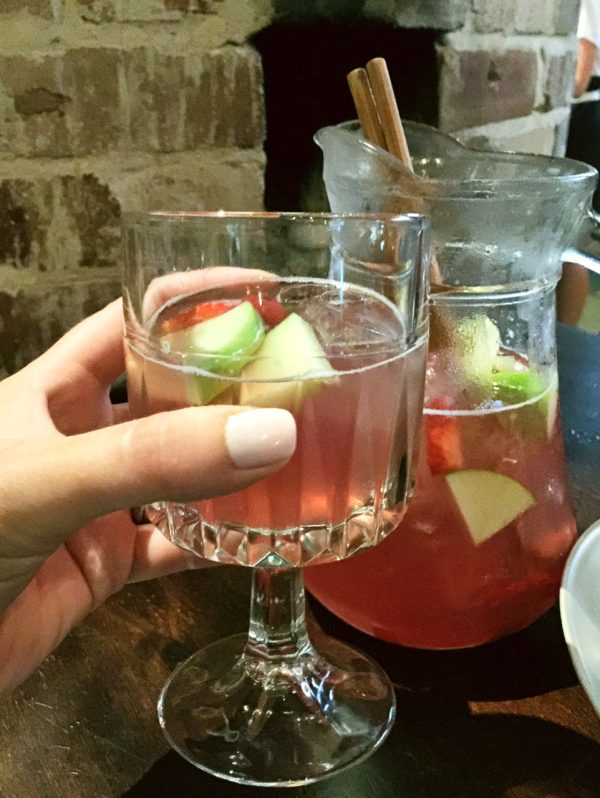 As I mentioned above, we dined in the Icebergs Dining Room and Bar on our first evening and enjoyed a beautiful meal.  The Italian inspired menu had plenty to love – I had the whole roasted snapper served with asparagus, fermented chilli butter, basil and pickled lemon which was melt in your mouth delicious as was my burrata salad, pictured below, for entree.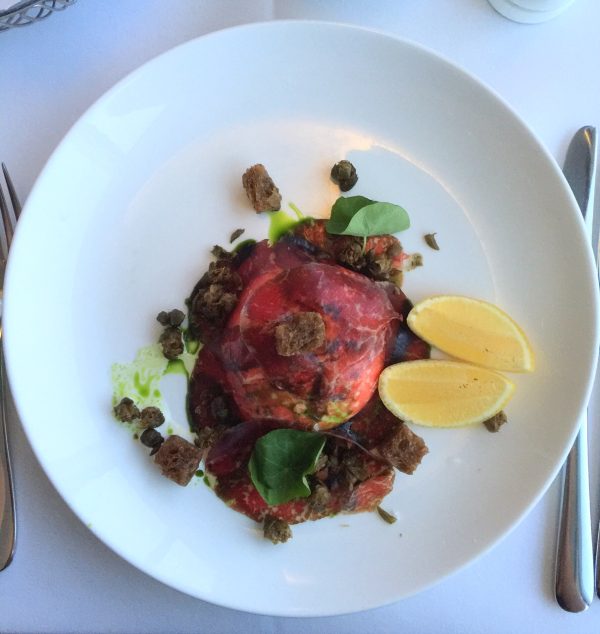 The service was relaxed and friendly but super competent, as you'd expect, by the white tunic-ed waiters who seemed straight out of a futuristic Margaret Atwood novel.
Oh here's a hot tip – if you're making a booking at Icebergs, take the daylight/sunset hours into account. By dining earlier in the evening in March, we saw the sun set. A lunch in the cooler months might be a good option too otherwise you'll miss those spectacular views at dinner.
We also dined at Bills in Hall St where we found delicious and fresh Asian flavours served simply in a relaxed coastal inspired dining room. The pork belly, pictured below, was especially delicious.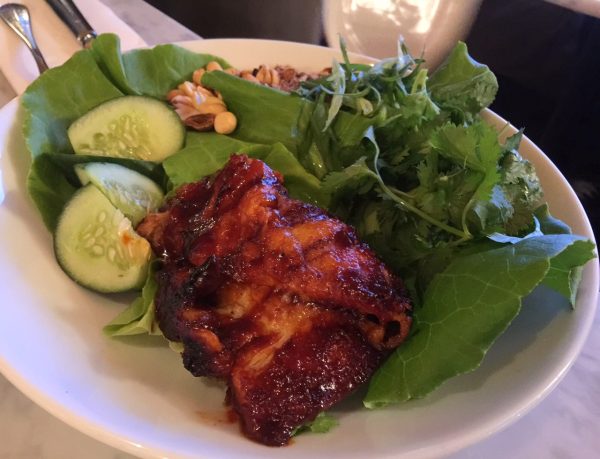 If we had more time, we would have loved to add China Diner (awesome dumplings) and A Tavola (authentic Italian) to our itinerary.
Cocktail Hour
Everywhere we ate took their cocktails seriously, but if you're after a drink with a view, you can't go past Bucket List at the Bondi Beach Pavillion. This place is situated just a few metres from the beach and is a great spot. Their Pimms O'Clock cart also caught my attention.
Bondi Hardware also had an enviable cocktail list and was obviously a popular place for drinks with the gang.
Drake Eatery, on the corner of Curlewis and Gould Streets, also do happy hour from 4-6pm where you'll find Aperol Spritzes, some wines and beers for $10 a pop. You could add nibbles as we did below …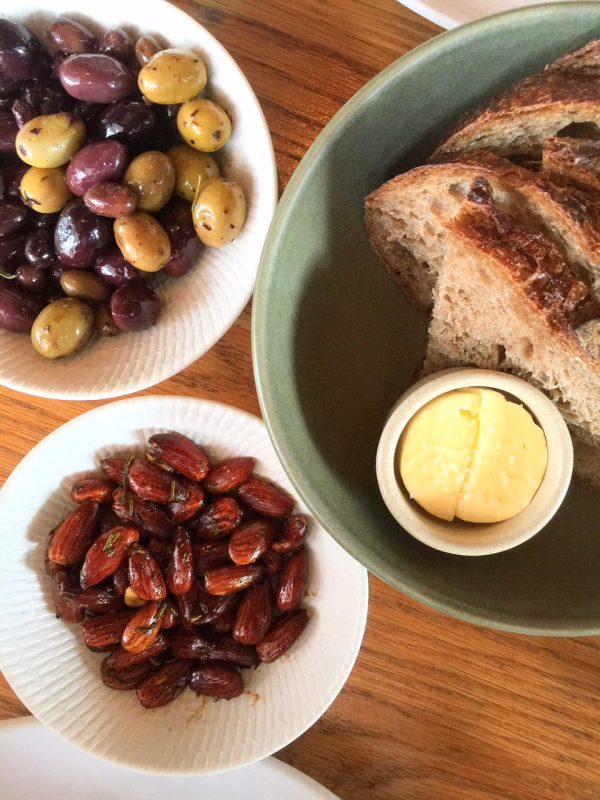 Coffee
There's great coffee to be had in Bondi but here's the thing – some cafes/coffee roasters don't serve dairy milk or refined sugar. So if like me, you take your coffee with both, you might have to be more flexible (I had a soy or house made almond/macadamia mylk latte instead) or do your homework.
To give you an example, Mr SnS popped out for takeaways one morning and instead of my usual order, he returned with a small (not large) coffee with house made almond/macadamia mylk (the only mylk on offer) with a date instead of my usual half sugar. Very amusing times! I changed my order to a soy latte after that and there were no more coffee shenanigans.
We had excellent coffee at all our breakfast destinations (Lox Stock and Barrel, Porch & Parlour and Harry's) and takeaways from Drake Eatery too.
Where to Stay
We stayed at the QT Bondi having previous stayed at both their Gold Coast and Sydney hotels which I've written about previously here and here.
The QT Bondi was very much in the same vein as it's sister hotels – well located, hip and, importantly, ticking all the comfort and design boxes.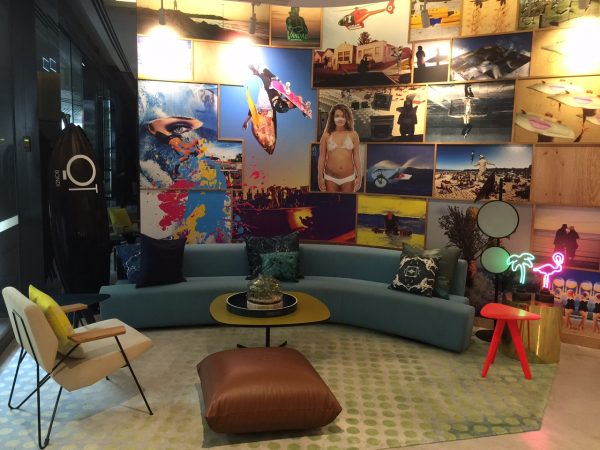 It's accommodation only though, so there was no restaurant or in room catering, gym or other hotel facilities. Given loads of great cafes are on the doorstep as well as a supermarket and bottle shop on the ground floor of the same complex, this was no biggie for us.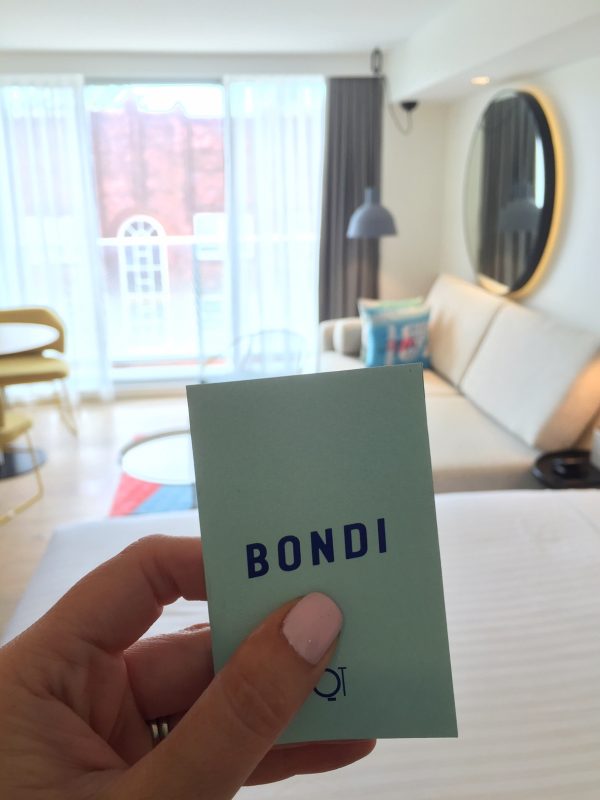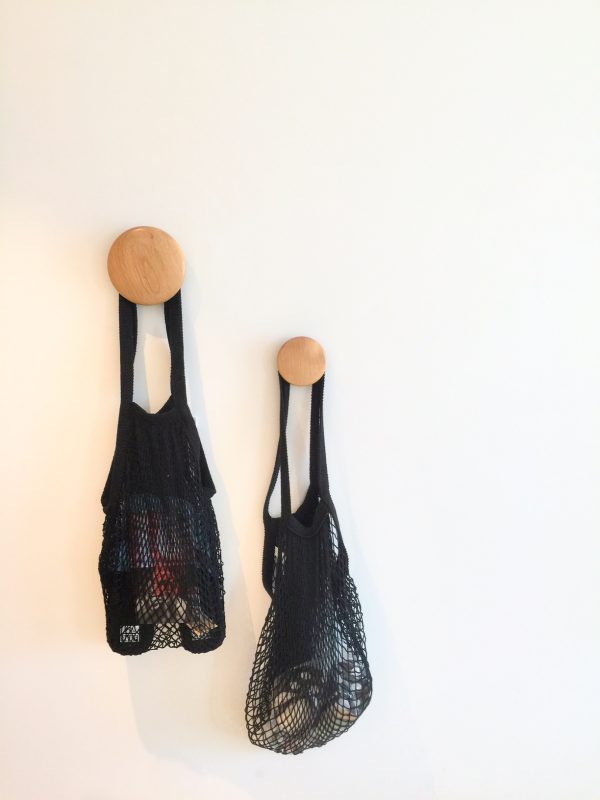 As wandered the neighbourhood, we also saw that the Hotel Bondi  was just a block up from the QT and looked well worth checking out.
Adina, on the hill next door to Bills and Messina Gelato is also in a great central location, a couple of hundred metres up Hall Street from the beach. They have 1, 2 and 3 bedroom apartments so they're a great option for families or groups.
In the Event of Wet/Extreme Weather
It rained a fair bit and was windy over the weekend we stayed and while we still got out and about, one arvo we decided to head to the flicks at Westfield Bondi Junction, about ten minutes away. This multi level shopping centre has plenty of food options, high end to mainstream shopping not to mention a HOYTS cinema complex. To get there, either catch the local bus or call an Uber (one way cost us $9).
Big thanks to my Sydney readers for their suggestions and to Sydney local Christina of Mr and Mrs Romance for her recommendations.
Have you been to Bondi lately? What could you add to the above list?