Updated June 2017
I've been fortunate to have the opportunity to go on many international and domestic flights in my lifetime.
A quick scroll through Instagram shows me that in the last three years, I've travelled to the U.S, Bali (twice) and Thailand. More locally, I've visited Hobart, Noosa, Sydney and the Gold Coast.
As a result, I've gradually honed my plane outfits so they are both comfortable and look the goods. In this post, I'm sharing both outfits I've worn for domestic and international flights as well as some principles to help make choosing your next plane outfit was easy as possible.
Let's begin with the outfits …
Here's what I wore most recently on a flight to Bali, where we left Melbourne early on a freezing (4C) Winter's morning for the warmth of Bali in June …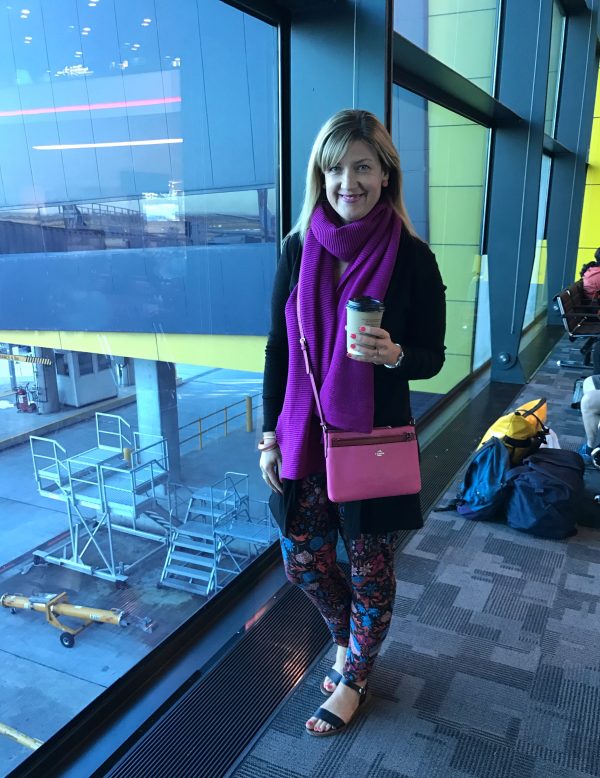 Above I'm wearing a Bonds tank under a Portmans merino cardy, soft pants from H&M, merino scarf from Elk Accessories (it was 4 degrees when we left home!) and Windsor Smith Sandals from The Iconic with a Coach messenger bag.
When we flew to Thailand last June, our flight was a bit later in the day, so I went for an easy wearing dress instead …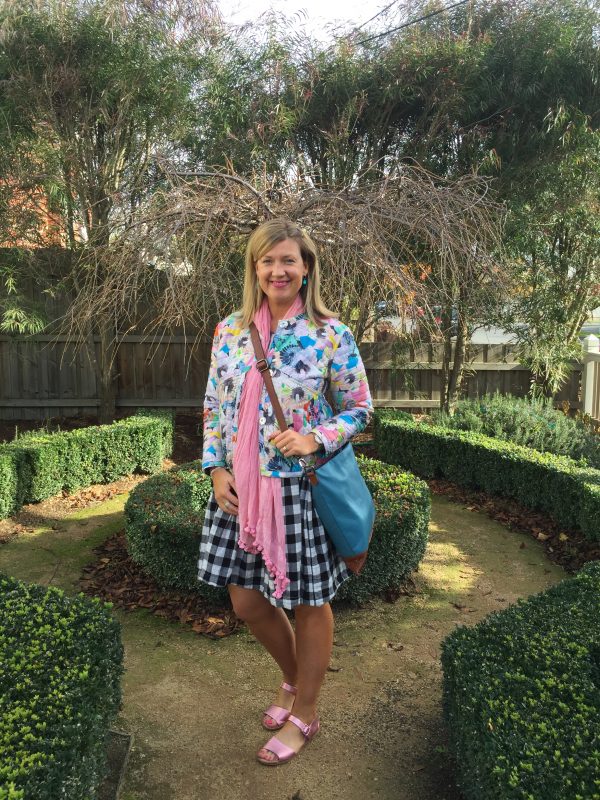 Above I'm wearing an Obus dress, sandals and jacket from Gorman, bag from Elk Accessories, scarf from Lee Garrett.
When I travelled from Melbourne to Bali in November for my Festival of Forty Girls's Trip, I opted for lighter layers …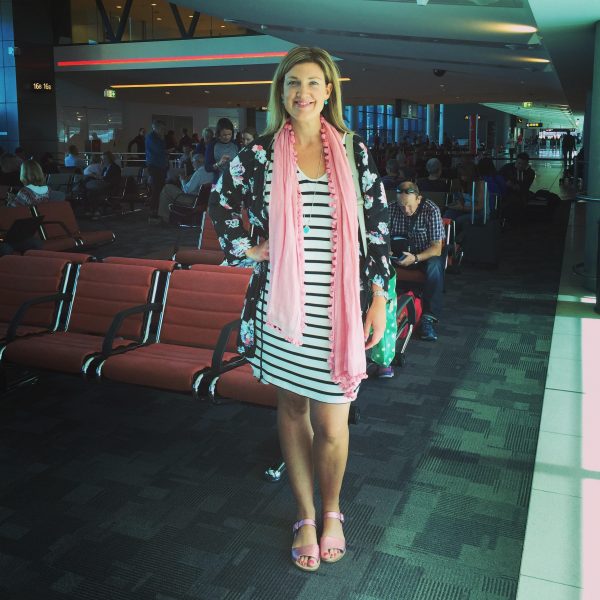 Above I'm wearing Katie Hosking dress, Gorman sandals, jacket from Ginger & Heels, scarf from lee Garrett and bag from Cath Kidston.
When we travelled to the U.S in March three years ago (Melbourne Autumn to L.A's Spring), I wore this outfit for our long haul, 14 hour flight …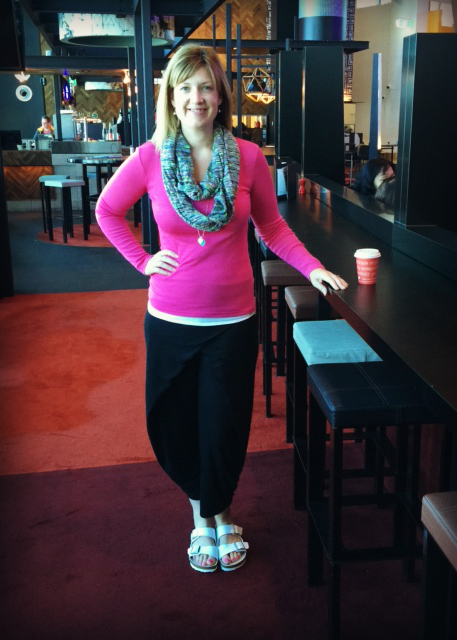 Above, I'm wearing a Glassons knit over a Seed Heritage singlet, Harem Pants from Inzag, Sportsgirl snood and Birkenstocks.
Below is the plane outfit I wore to fly from Melbourne to Noosa in September …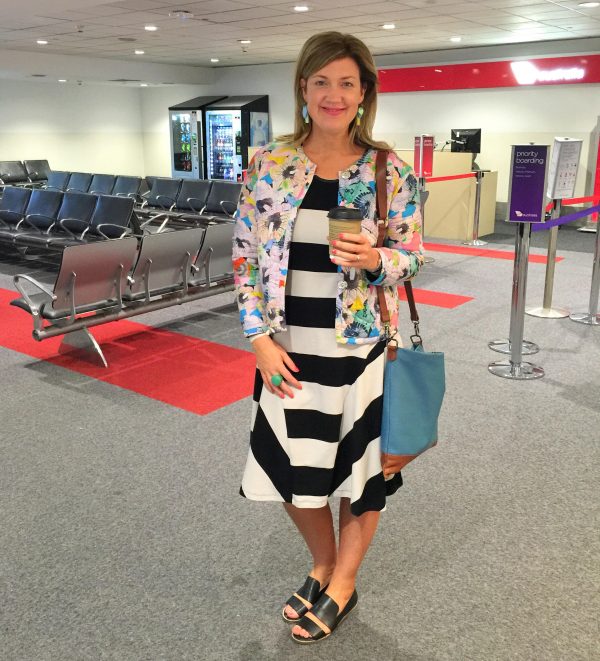 Above I'm wearing dress and jacket from Gorman with bag and flats from Elk Accessories.
Here's what I wore home from Sydney to Melbourne in March this year …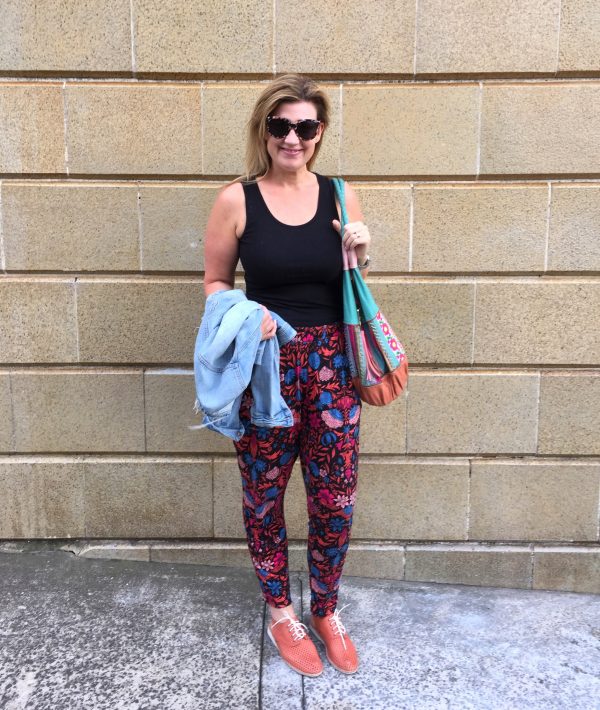 Above I'm wearing Bonds singlet with pants from H&M, denim jacket from Boden, bag from Toko Emporium, sunnies from Gorman and derbys from Rollie Nation.
Finally, I rugged up in Winter layers for my flight from Melbourne to Hobart last August …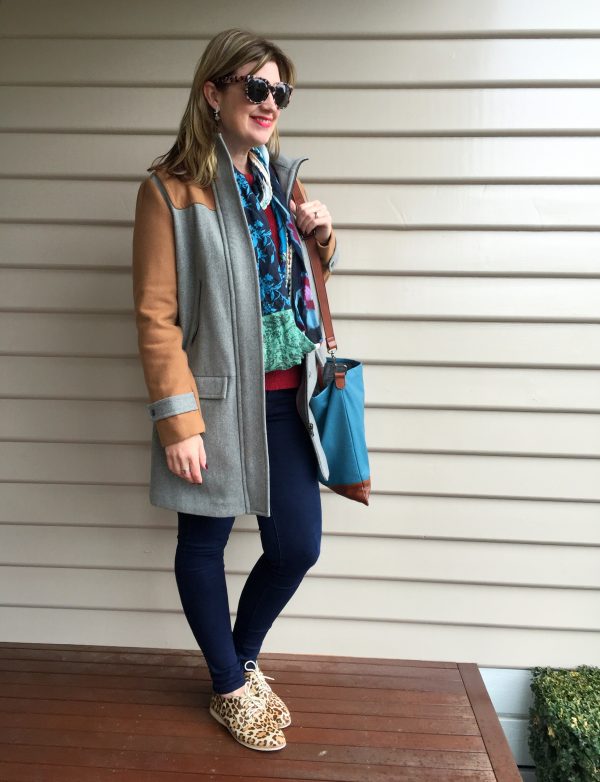 Above I'm wearing jeggings and knit from Country Road with a Boden coat, Rollie Nation derbys, scarf from Anthropologie and bag from Elk Accessories.
As you can see, there are plenty of common threads in these outfits, regardless of whether they were long haul or short domestic flights.
Surprised? Well, maybe it's because the long haul tag carries with it a sense of "extra". Sure it's extra long, extra excruciating and it's almost impossible to sleep sitting up, but in terms of what to wear, it's not terribly different to any other plane trip.
For any flight, what I wear is usually a combination of what suits the artic conditions in the plane and my eventual destination. I generally try to ignore the temperature of my origins as much as possible, putting up with the temporary discomfort. If you have similar temperatures in both places, that makes things easier again.
Tips for Planning Travel Outfits
While I dress primarily for comfort, it's also nice to look good as well as feel good. To achieve this, I usually go for:
– A soft pant of some description – I can't wear rigid jeans for long periods or anything that gathers or presses on my waist. A soft pant with a fold over top or a gently elasticised waist or a jegging is a great option.
– Another option is a comfortable pair of leggings and a loose dress. As you can see above, I often go for a loose cotton dress or stretchy jersey option for flights. I usually stowe a pair of leggings in my hand bag or luggage to wear on the plane in case I'm cold. Sometimes I also wear a long sleeved top underneath for the plane and ditch the top and leggings just before we land if we are going to hit a wall of heat as soon as we disembark, such as in Fiji or Bali;
– Layers – as I've mentioned above, layering tops is a great way to ensure you are warm enough on the flight but not boiling hot when you step off the plane;
– Wear dark colours – a flight is not the time to give that white shirt or white jeans an outing. Think dark colours and prints that will hide spills, sweat and general plane debris;
– A lightweight scarf – I find a soft cotton scarf is useful for keeping my neck warm during the flight. I also find I don't need a jacket if I'm wearing a scarf. If you're leaving in or returning to the depths of Winter, a warmer, merino scarf will help avoid the need for a coat too;
– Soft textures and fabrics that give – I generally opt for jersey, cotton or soft wool blends and steer clear from anything that is tight, tailored or has buttons.
What to Pack in Hand Luggage
In terms of my hand luggage for an overseas flight, I generally take a handbag and a small carry on case. I can often get away with just a big handbag, albeit of Mary Poppins' proportions, for a shorter, domestic flight.
In my handbag, I generally pack my passport and travel documents (in a zipped up section so they can't spill out from the bag on the plane), my wallet, phone, sunglasses, mints, a pack of tissues and a small pack of face wipes. If you take medication, you should also include that.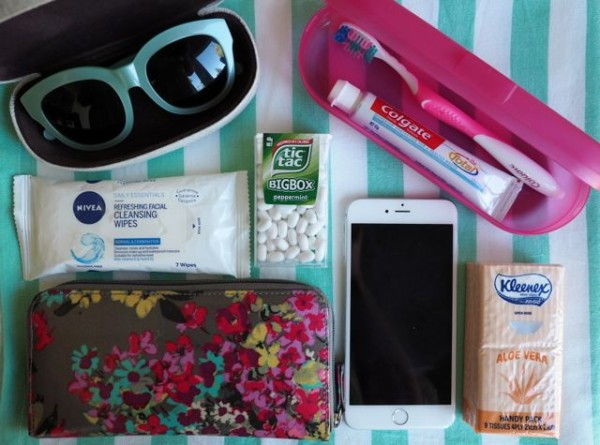 Other things to pack in either a handbag or carry on luggage, depending on their size are the following:
– my Kindle, book or a magazine which I like to have in case of delays on the ground, on the tarmac or to break up watching movies/documentaries. I also pack earphones so I can listen to already downloaded podcasts;
– my toothbrush, toothpaste and deodorant – it's nice to freshen up both for you and your neighbour;
– a fresh top to either change during the flight in case of a spill or sometimes I change just before landing so I'm wearing something fresh for the landing/luggage/customs/transfer leg of the journey which can sometimes collectively take around three hours;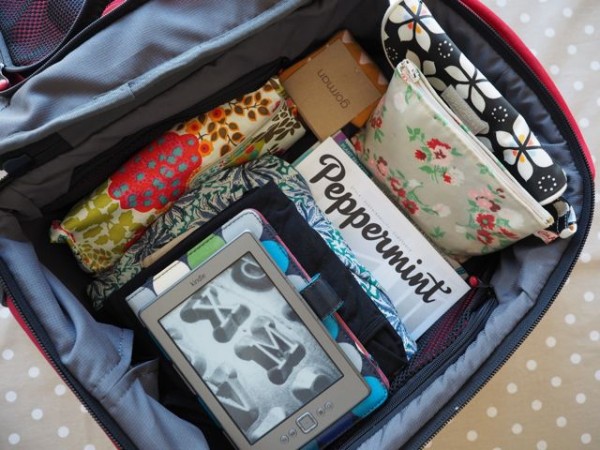 – my jewellery – I pack mine in a small cosmetic bag and keep it in my handbag. Most of my stuff is not expensive but very sentimental. It doesn't weigh much and I'd much prefer to have it with me rather than in my checked luggage;
– socks – I generally wear sandals on the plane if we're heading to tropical climes but I always pack socks. Pack these in an outside compartment (if you can access your hand luggage easily) or in your hand bag.
During our flight, mine were packed in my carry on luggage which was stowed in the overhead locker. As a result, when I actually needed them, I was sandwiched in between two sleeping children and unable to access them. I made the pragmatic decision that two sleeping children outweighed cold feet;
– in my stowed away carry on luggage, I always pack one compact but complete outfit, which may be as simple as a dress or top and shorts (including underwear) just in case my luggage gets lost or delayed. It's a great feeling to know you have at least one fresh outfit to go shopping in if you need to.
For our most recent trip to Bali, we all packed our togs in our hand luggage so we could immediately hit the pool upon our arrival (this is a good insurance policy too if checked luggage goes AWOL).
– anything expensive – I've been known to pack my hair straighteners in my hand luggage before. This time, I'm taking my new camera in my carry on as well. Other people might opt for beauty products or toiletries. Just double check the latest regulations about sizes/quantities.
Don't pack filled water bottles or drinks – they'll be confiscated at security for international flights. For Bali I'd packed a treat for the kids to enjoy on the flight – pre made Milo drinks – which were confiscated much to their disappointment!
On the way home from a holiday, if I've bought a few "souvenirs", I follow the same principles outlined above but I also wear my heaviest shoes and clothes and wear my coat (all of which I immediately stowe away), to maximise packing space and minimise the weight of my suitcase. I also load up my hand bag and hand luggage with my favourite purchases, taking the absolute minimum that I took over, to make room.
Make the most of the kids' carry on baggage allowances too. Generally speaking, each of our kids' backpacks would include a couple of snacks, textas/pens, a new book, an activity book (dot to dot/colouring/crossword/Sudoku), an iPad and headphones, their teddies and paper to draw and write on. You can find more information about how I pack their back packs in this post on what to pack for kids.
For international flights where the risk of checked luggage going AWOL is much greater, I'd also pack clothes. For example, on our trip to the U.S, in our three sons' backpacks we included a whole outfit for each of the kids, their new Kathmandu polar fleece jackets and their raincoats. This all fit in their carry on and weighed less than the maximum 7kg.
If you are heading away for a shorter holiday, my tips for packing for a weekend away might be of interest.
What do you wear on a plane? What are your must have items in your carryon luggage?