Everything is finishing up all of a sudden … can you believe it?
Although the big kids don't finish school until the 19th December in Victoria, next week heralds the end of all Mr 3's activities. And Mr 3 has several end of year soirees to look forward to: two Christmas parties next week plus another party + concert combo. He will be tuckered out on fairy bread, fruit and his cute little friends.
It could be a long week.
While the kids have been practising their Christmas Carols – and there's been lots of very earnest practising and talk of "Santa Christmas" going on at Shenanigans Central of late – I've been busy sorting some gifts for the surprisingly long list of people who we see every week and who take care of or teach our kids in some capacity.
The list includes our two older boys' classroom teachers and Mr 3's early learning teachers and occasional care carers. There's the basketball coach and the piano teacher. Then's there's our regular babysitter and a dear friend who has looked after Mr 3 once a fortnight so I could do classroom help.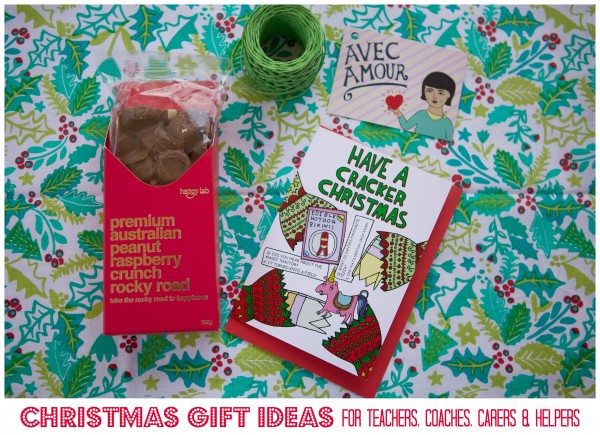 Whilst I like to give a small gift to all of these wonderful people who really are part of our village, I also try to keep things simple, useful, fun not to mention looking good. I don't try to go all out in the original stakes either. Confectionary, alcohol and simple home wares can still make thoughtful and useful gifts. I also don't spend a fortune and make the most of the November sales to find some great bits n bobs.
In this post, I've come up with some suggestions and gift ideas for teachers, coaches, carers and helpers. If you've got the time and inspo to make a home made gift, go for it. I think they are lovely and there's some fab inspo over on Pinterest if you're looking for it. If however, you're time poor, would like to buy a little something and working to a budget, I hope these ideas give you somewhere to start.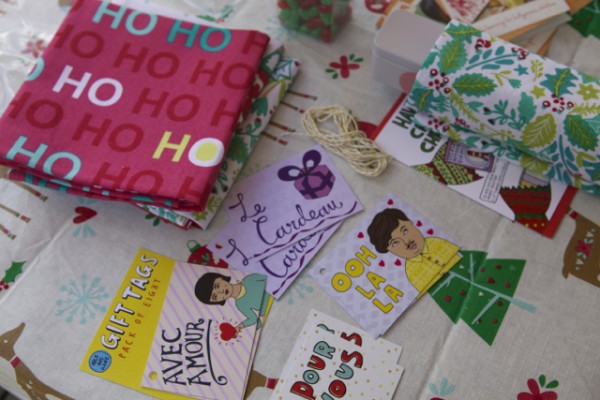 Teachers
Teachers are underpaid, over worked and deserve something fab.
At my sons' primary school, our class rep usually co-ordinates a group gift. Families that want to contribute each put in – $10 each x 20 families = $200; $20 each x 20 +$400 etc – to buy the class teacher a gift voucher for our local Westfield. The beauty of a Westfield voucher is that it is not limited to a particular store and can be used for all sorts of things.
In addition to putting in for the class gift, I like to give the teacher a small gift and a World Vision gift card (the pencils ($5) or any other education related gift) from our family – depending on the age/gender/interests of the teacher, I'd chose something along the lines of what I included in my Kris Kringle post (with a focus on stationery/organisational gifts) or a home made gift such as shortbread. This year, I've bought them some nougat/rocky road and a cool tea towel (more on why below).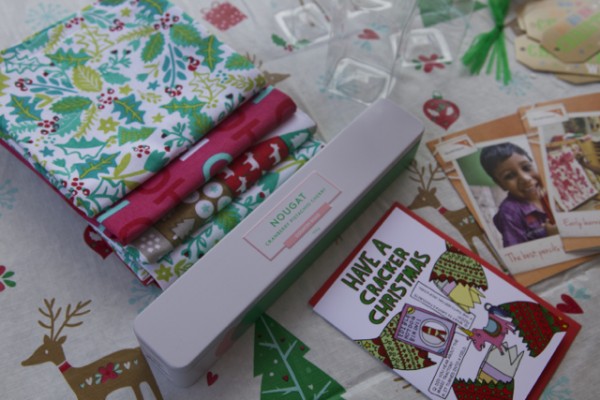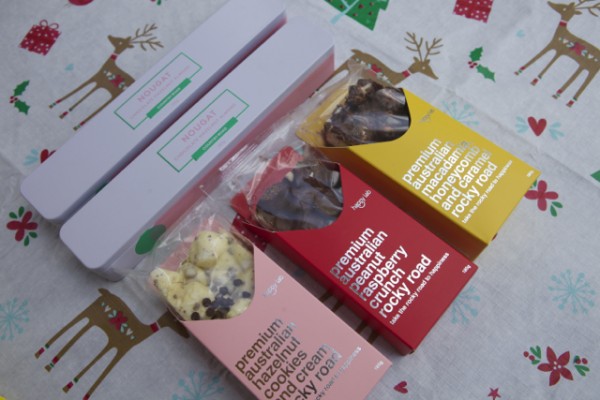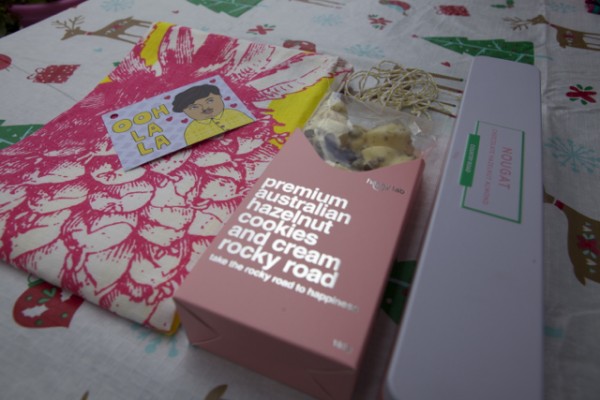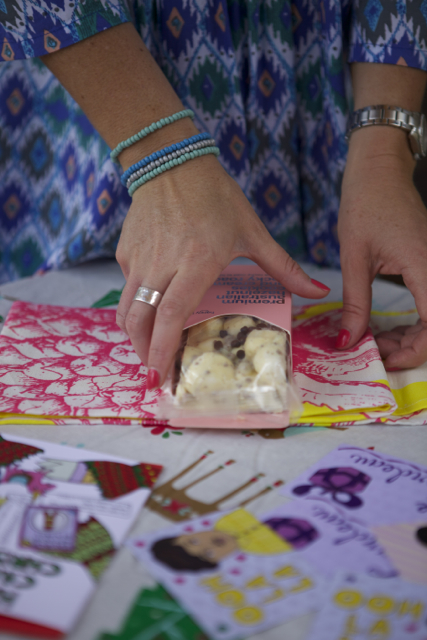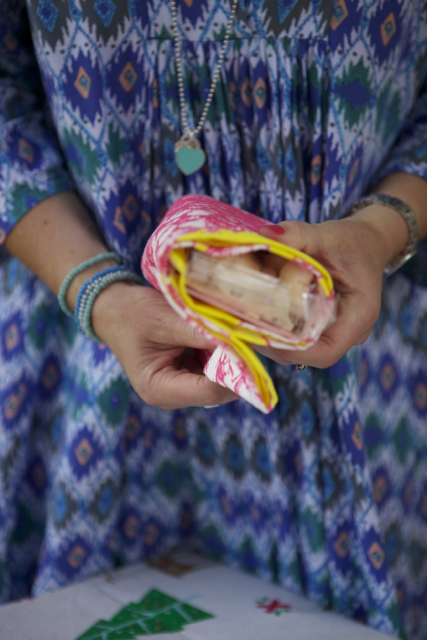 The Coach/Team Manager
Coaches deserve some recognition and thanks at Christmas time. Unlike the rest of us, they can't skip training or the odd game. They are committed, usually twice weekly, all season long.
For our son's basketball team, we've all put in $5 each to give the coach a nice bottle of red wine and the team manger a bottle of champagne – small gifts but gifts that acknowledge and thank them for all their efforts. And hopefully keep them coming back for another season!
Depending on the budget and people's willingness to contribute, a hamper or gift voucher might be another way to go.
Carers
People who care for our children occasionally or for regular smaller stints are often people who we'd like to thank and acknowledge in some small way at Christmas.
My youngest son goes to a local occasional care centre each week for three hours and is cared for by three lovely ladies who've been looking after our children for the last four years.
Again, the gift here is a gesture more than anything else.  I actually asked one of the ladies (Gab if you're local!) what she'd prefer out of chocolates, a mug or nice tea towel – not the most imaginative ideas but I don't know their personal preferences or style so I wanted to stick to something "safe". I also know some of the ladies better than others but want to give everyone the same gift.
She suggested a nice new tea towel so I popped along to Bed Bath n Table and picked up some great designs. I also had a couple I'd bought earlier from Adrift. I then wrapped them around a tin of nougat (from Country Road but available in store only) or some delicious rocky road varieties from Happy Lab, added gift tags from Able and Game and Big W with some coloured string and voila, all done!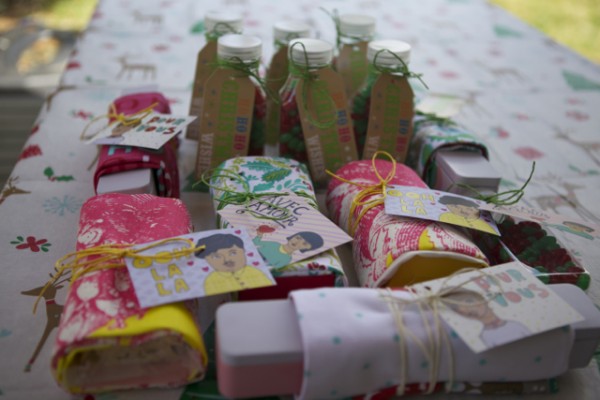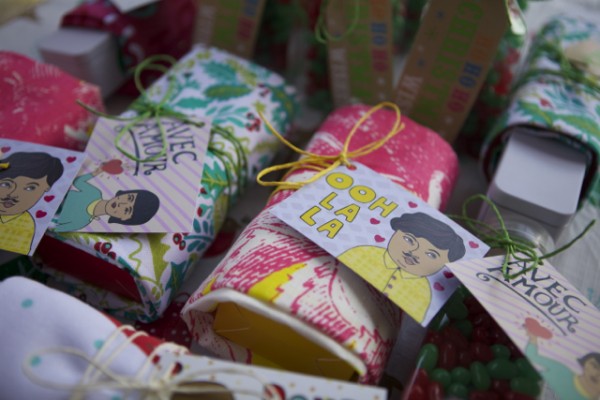 I think they came up a treat and while they aren't earth shatteringly original gifts, I hope they are useful and make people feel appreciated and respected.
I'll also be giving one of these gifts to my son's piano teacher and as a thank you to friends hosting upcoming Christmas do's.
Friends
Depending on how organised I am, I also like to give a little something to some of our friends. Last year I made some Cookies in a Jar. This year, I picked up a kilo each of red and green jelly beans from Wallies Lollies for $6.50 a pop, mixed them and put them into plastic milk bottles left over from the kids' birthdays. A gift tag and some coloured string later, they looked pretty good!
Again, this is an inexpensive but effective gift for the end of year and something that could pair with another bigger gift for Kris Kringle, work mates, family and the like.
Two kilos of jelly beans filled seven milk bottles with a bit left over.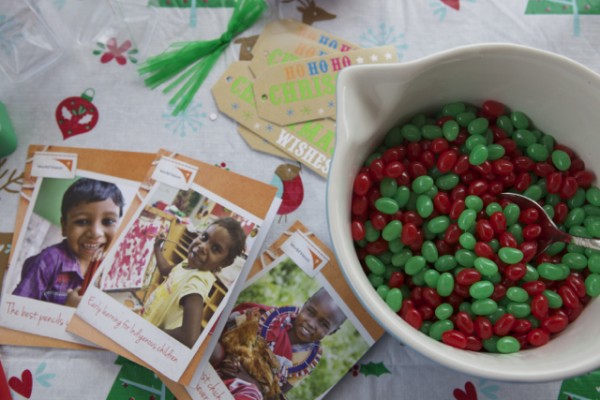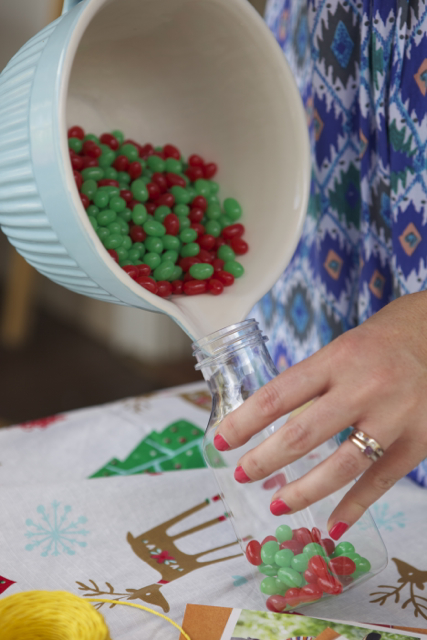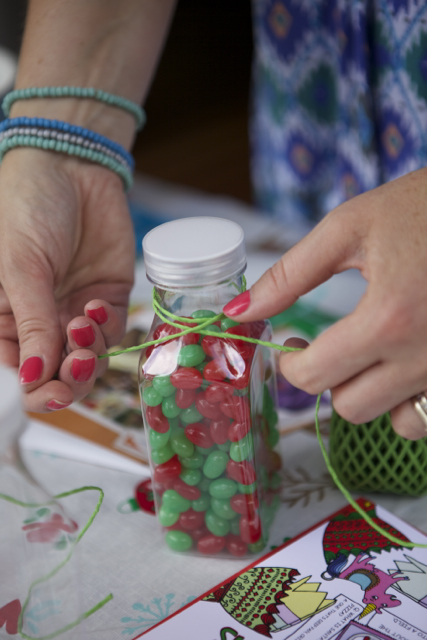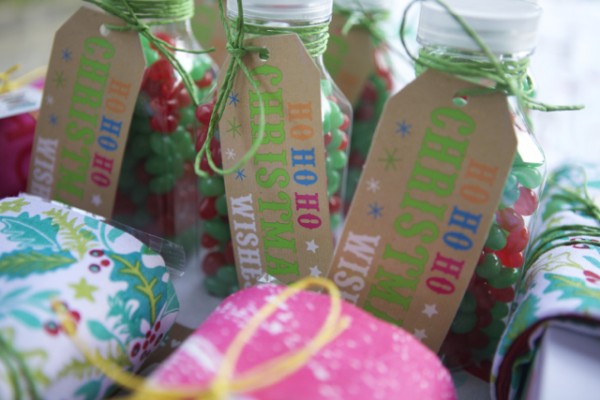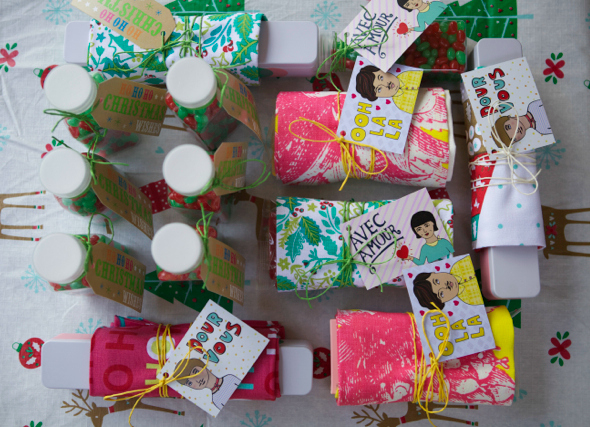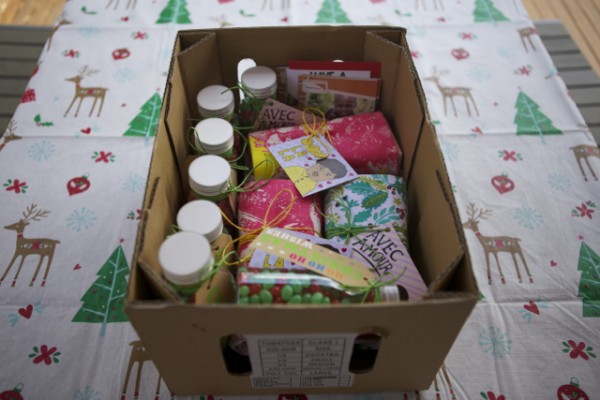 For more cool ideas check out these posts by Norlin at Bubbles Baubles and Bags, Christmas Gift Ideas for Teachers and Kimba Likes' Christmas Gifts for Teachers.
What do you give the teachers, coaches and people who look after your kids? Or people who help you throughout the year?