Today I am bringing you my very first evening edition of Every day Style at Shenanigans Central.
I have had lots of lovely evening functions of late, so thought it might be a bit different to show you what I wear "after dark".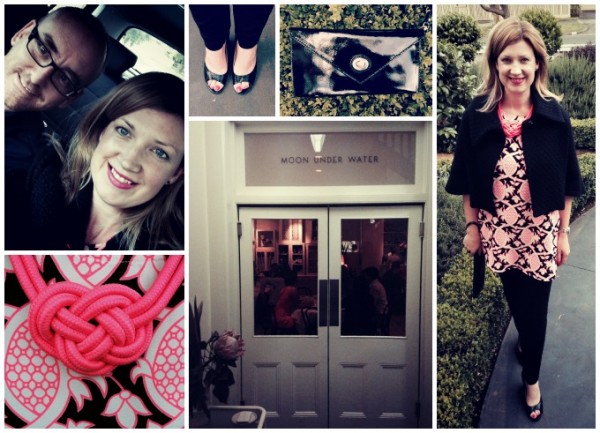 What am I wearing?
Neon first.
I am wearing a Sophia tunic top from Boo-teek. Boo-teek is one of those great little shops full of inexpensive, high street fashion with a high turnover of stock. They carry brands such as Sunny Girl, Sass and Lovely Girl. I can't see myself ever buying a complete outfit from there but I am happy to pick up an inexpensive on trend top like this every now and then.
In fact I bought this top with this neon pink necklace from Dorothy & Evelyn in mind. It's such a great statement piece which I lucked upon for a reasonable $25 from the Dorothy & Evelyn stall at the recent Finders Keepers market. I wrote about the fabulous Finders Keepers market here back in October.
My pants are Witchery ponte pants from a couple of seasons ago. They are one of those basic work horse wardrobe pieces which aren't anything special on their own, but they form the base of many a winter and trans-seasonal outfit.
This wool cropped jacket is from Alannah Hill, bought at the end of the Winter sales this year. A cropped wool jacket sounds a bit like an oxy moron (or a foxy moron according to Kath and Kim). However, this is a great piece for those cooler nights that don't warrant a full length coat but something dressier than a cardigan is in order.
On my feet are my ever faithful black snakeskin wedges from Nine West, bought 3 summers ago. They have a similar version this season which you can find here. This is a versatile shoe for both work and evenings out. I have them in a nude leather as well.
My bits and bobs are held in this black patent envelope clutch from Mimco, bought in the Stocktake Sales last December. This is a classic Mimco style and is brought back season after season in new colours. This summer you can pick it up in bright yellow.
What was I up to this day?
Mr SnS and I went out for a long overdue dinner with some dear friends to the ever gorgeous Moon Under Water @ The Builders Arms Hotel. This is a special occasion spot with a fixed menu and some gastronomic creativity. I must also mention it's beautiful decor which justifies a visit on this basis alone.
The dining highlights were the Tuna, Cuttlefish, Walnut and Sorrel entree and the main of Peppered Flat Iron, Ortiz anchovy and fennel. I loved our dessert of frozen curd, snow pea, elderflower and apple although the inclusion of cucumber in our dessert was a talking point!
You can read more about this beautiful dining room here.
Why did it work for me?
This outfit was comfortable and made a statement without trying too hard. It was a cool night and I couldn't get my head around hosiery, so pants were my go to option.
The addition of wedges was slimming although not conducive to walking long distances. Luckily, I wasn't required to walk far as it was raining and Mr SnS was chivalrous, dropping me off at the restaurant before and after dinner.
What's your ideal outfit for a date night or a night out with friends? Have you jumped on board the neon band wagon? Do you prefer pants or are you a fan of hosiery?
Thank you for your comments! I love to hear from you.