I might be a late adopter when it comes to podcasts, but 2017 saw me finally – and officially – embracing The Podcast.
(If you're new to podcasts – as I was only a few months ago – podcasts are basically an audio version of Netflix or radio on demand. They're basically people talking and can be very simple while others may be more highly produced and have musical intros or sound effects). 
It started as the odd episode here and there while I did mindless tasks like tidying, filing and cleaning the bathroom – before I got carried away with series after series after series.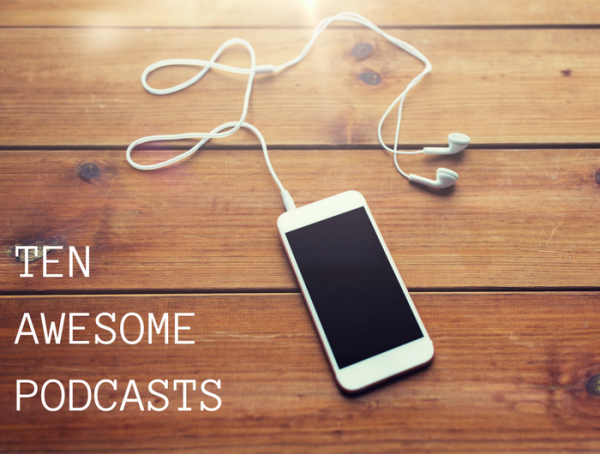 Lately, I've been listening to podcasts as I've done the grocery shopping and I've even started volunteering to do the ten minute drive to and from basketball practice to sneak in another twenty minute episode!
As with books and TV shows, there are podcasts for pretty much any subject, topic or audience but when I looked over MY favourite podcasts of the year, I saw that they all had one thing in common: stories.
Stories about ordinary people doing extraordinary things.
Ordinary people doing or surviving terrible acts.
Ordinary people honestly sharing their struggles and doubts.
Ordinary people overcoming incredible obstacles with great tenacity and often, humour.
So if those sorts of stories are up your alley, here are my top ten favourite podcasts of 2017. I'd love to hear yours in the comments below.
Oh and if you're a Podcast Newbie, you'll find a guide for how to find/listen to podcasts below as well.
1. S Town – this American documentary like series starts out as one thing and ends up where no-one expected. I won't say too much more because SPOILERS but I found this series so interesting and compelling. It made me want to sort out the kids sock drawers so I could keep listening.
2. Dirty John – this is the series I listened to from start to finish in 24 hours. Produced by the L.A. Times, this 6 part series tells one helluva true story. My mind boggled as I listened to this. The production and writing in this series is really excellent and I'd highly recommend it.
3. Conversations with Richard Fidler – I've enjoyed and listened to so many of Richard Fidler's excellent interviews this year. They really are terrific. The stand out episodes for me included the conversations with author Richard Flanagan; Love and Family and Asperger's with Tony Attwood; For Better and For Worse – Becoming My Wife's Carer; Reinventing Susan: A Study in Survival; Helen Garner at 75: still asking, what powers the human heart?; and an earlier episode from this year that left a huge impression on me – Literacy's Power to Transform – Jack Beetson's story.
Each episode is about 50 minutes and I'm always amazed by how interesting I find these interviews, which cover a diverse range of subjects and topics. I particularly enjoy Richard Fidler's interviews of writers.
4. Revisionist History with Malcolm Gladwell, Seasons 1 and 2 – Canadian Malcolm Gladwell is a super brainy dude who applies his considerable intellect and curiosity to events of history that have been misunderstood and or overlooked. Each episode is about 40 minutes and delves into one historical event or phenomenon, usually something relatively obscure but totally fascinating. As well as being so interesting, I'm always challenged and entertained.
5. No Filter with Mia Freedman – I know Mia polarises but I've really enjoyed her podcast No Filter this year. As well as having some fantastic guests, she often asks the questions I'd ask, and as a result, I find her interviews to have surprising depth. I also find them thought provoking, topical and relevant to me personally.
My favourite interviews this year include Nikki Gemmell, Kerry Anne Kennerley and her interview of Irish author Marian Keyes was especially delightful. I also found her excellent interview of relationship therapist Esther Perel absolutely compelling and recommended it to all my friends.
6. Casefile – this Australian true crime series is excellent and covers some of the worst crimes both here and overseas. What I particularly like about this series is how the police investigation is detailed and the way in which the writers are at pains to honour the victim/deceased and their families and their reticence to glorify or sensationalise the crimes and the criminals.  As a result the episodes come across as factual and respectful. The episodes range in length so take note as you're choosing as you might not be able to stop listening!
7. TRACE – I was immediately hooked in to the Melbourne crime series TRACE which investigates the unsolved murder of Melbourne mother of two Maria James in 1980. The crime itself is shocking and very disturbing but this series is respectful and very well done. As it's still an open investigation though, don't expect all the answers in the five plus a few bonus episodes. Further episodes are to be released too, as things continue to unfold.
8. Esther Perel – I could listen to Esther Perel all day. Her beautiful European accent is soothing as she skilfully helps couples work through their relationship difficulties. This is voyeuristic, fly on the wall therapy and it makes for fascinating listening.
9. Serial, Season 1 – The first season of Serial is an investigation into whether or not then teenager Adnan Sayed – who was subsequently convicted – killed his girlfriend was the first series I listened to from start to finish. It made for fascinating listening as the story unfolded and each witness and piece of evidence was analysed and various theories weighed up.
I started but didn't finish the second series – I didn't find it anywhere near as compelling as the first.
10. Ladies, We Need to Talk – Yumi Stynes heads up this female focused podcast which takes a "taboo" topic and tackles it head on. They're short, sharp and topical conversations which are perfect for when you're out for a walk or driving a short distance in the car. It's a bit sweary at times but it's refreshing to hear some subjects discussed openly in this format for the first time.
How do you actually listen to a podcast?
Everyone asks this question at some point so let me answer it for you here now.
1. If you've got an iPhone, look for the purple podcast icon on your phone. If you don't have this icon on your phone, download it from the App store. If you've got an Android phone, you'll have an equivalent app in your App store.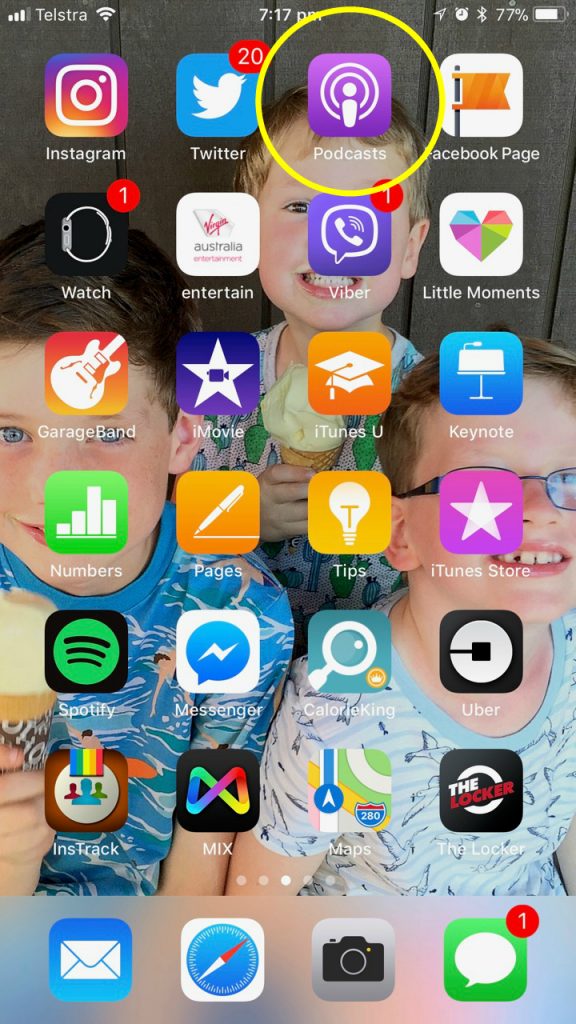 2. Type in the show you're looking for in the search or just go to Top Charts to browse what's popular right now.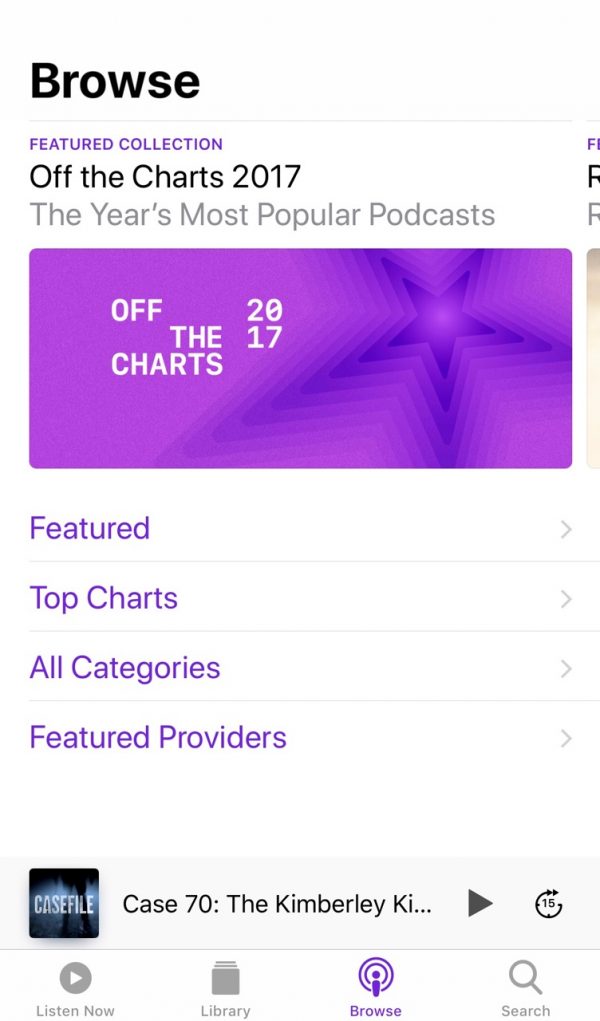 3. Find the episode you want press play to start or download – press the cloud icon to download – and listen now or later. I downloaded heaps of episodes before I flew to China to listen to later, when I didn't have WiFi.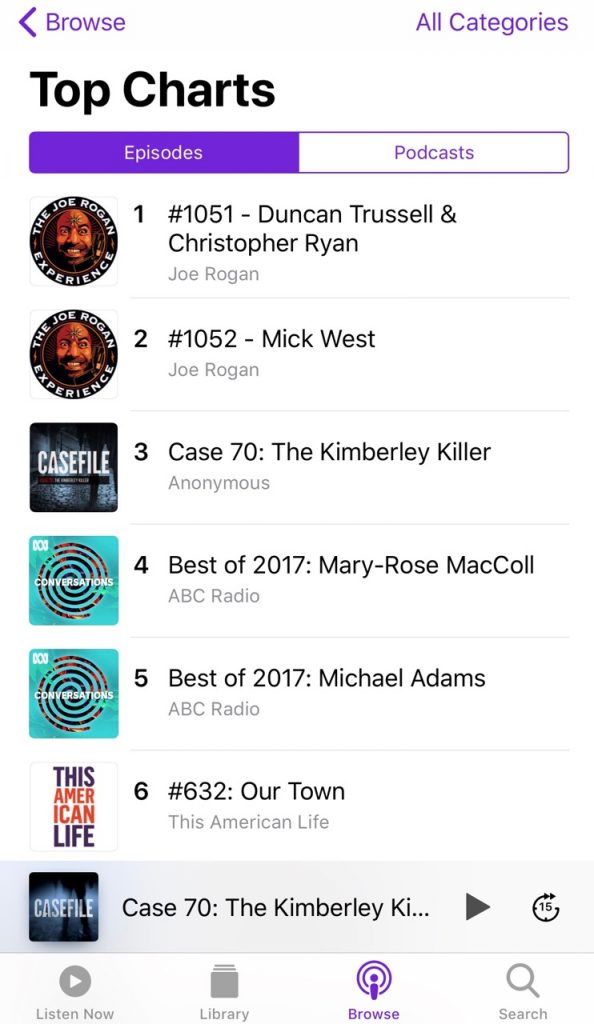 4. Listen on your iPhone using speaker, through blu-tooth in the car or use headphones.
More Ideas
Also here's a shout out to friends of mine who have awesome podcasts which may be of interest to you on different topics too:
Writer, blogger, small business owner and all round excellent person Kelly Exeter has two podcasts Let it Be with Brook AcAlary for those who are looking for less doing and more being in their lives; and Straight and Curly with Carly Smaggle which is a podcast for fellow self-improvement junkies.
The thoughtful and clever Brooke McAlary's podcast SLOW Your Home – a podcast about living slow in a fast world.
My clever husbo Mr SnS has a great podcast about blogging – check him out at Problogger here.
Finally, if books are more your thing, you can catch up with My Favourite Books of 2017 here.
If you're looking for some awesome TV series, you can catch up with My Favourite TV Series of 2017 here.
So over to you, what are your favourite podcasts? Have you listened to any of the above?