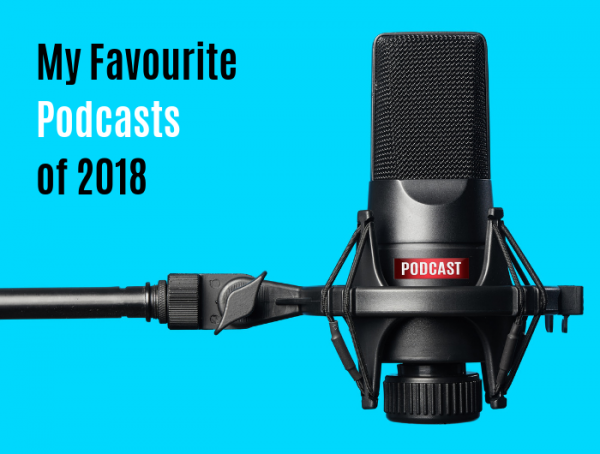 I think it's safe to say that it's been a cracker of a year in Podcast Land.
I've listened to many excellent podcasts this year – many hours of domestic admin, walking Roxy and driving to and from regional Victoria for my other work giving me extended periods to immerse myself into intriguing mysteries, fascinating stories and insightful conversations both locally and internationally.
Sometimes I've walked an extra block, sat in the car once I'd arrived at my destination or put in the ear plugs as I've done the grocery shopping, just to listen to one more episode. I'm sure many of you can relate.
I've reviewed all the podcasts I've listened to in detail over the year – you can catch up with all my reviews here – but in this post, I'm listing my top ten for the year. I've also included more suggestions under various categories.
So pick a new series, enjoy the holidays and make sure you come back and tell me what you think!
1. Slowburn Season 2 (Slate)- I absolutely loved this series which delved into Bill Clinton's presidency and near impeachment, covering in great detail the frankly almost unbelievable events leading up to and following his affair with Monica Lewinksky.
Not only did this series reveal fascinating details about this tumultuous time in US politics, it also helped me to understand how Americans see not only Bill but also Hilary Clinton, and put the most recent US election in greater context.
I also found the conversation and analysis around how Monica Lewinsky was treated at the time really interesting too, particularly when viewed from a modern #MeToo perspective.
The live bonus episodes are excellent too, particularly the final instalment.
2. The Teacher's Pet (The Australian) – Like most of Australia, I was completely captured and horrified by the story that unfolded in Hedley Thomas' enormously popular podcast into the disappearance – and possible murder – of Lynnette Dawson. After listening to the first few episodes in one hit, I waited with baited breath for each new episode to drop.
While some episodes in the middle of this series delved into pure speculation and guesswork, the majority of this podcast made for sober, compelling listening.
3. Eyes on Gilead (SBS) – I loved this debriefing podcast as much, if not more than The Handmaid's Tale itself. With insightful analysis, thoughtful commentary and brilliant interviews and behind the scenes access, listening to Eyes on Gilead this was a highlight of my week. Their interview with Aunt Lydia was one of my favourite interviews of the year. I wish all my favourite TV series had a companion podcast like this brilliant one.
4. Caliphate (New York Times) – I only just recently binge listened to this fascinating but shocking ten part series, which follows the brilliant, meticulous and sensitive journalist Rukmini Callimachi as she delves into all things ISIS.
While this series contains some seriously disturbing and violent content which made my stomach turn, I also felt like I needed to know more and this series offered first person accounts on location by a range of people, different perspectives and critical analysis of the complexities and devastation.
5. Doctor Death (Wondery) – I would recommend this ten part series to everyone except anyone facing major surgery any time soon. The story of Texan Doctor Duntsch is so bizarre and shocking, it has to be heard to be believed. This is an ongoing case too, so more updates are bound to follow.
6 & 7. Making Obama & Making Oprah (WBEZChicago)- I'm a big fan of both Obama and Oprah so I couldn't wait to listen to these well made doco series which detail the formative years of these incredibly successful and iconic Americans.
From Obama's early years as a community worker through to his political beginnings in Chicago and Oprah's humble beginnings to her sky high success, I loved how both series took us through all those critical early stages, decisions and events that paved the way to their well known future fame. There's plenty of fascinating behind the scenes intel too. Interviews with Obama and Oprah add that extra level of credibility and fullness too.
8. Trace (ABC) – this true crime podcast by ABC journalist Rachel Brown delves into the unsolved murder of single mother Maria James in Northcote in the early '80s. She details an incredibly disturbing set of circumstances and events surrounding Maria's death and a list of possible suspects. With the most recent episode advising of a significant development in the case, I hope there is still hope that this crime will be solved at long last.
9. No Filter (Mamma Mia Network)- I really enjoy Mia Freedman's interview style and her choice of interviewees this year has been excellent and varied. She really does have "candid conversations that count". The recent episodes on bereavement and with Samuel Johnson were both terrific and stayed with me long after they finished.
10.  Imagined Life (Wondery) – After so much heavy stuff – see above – I love to pop on a 45 minute episode of Imagined Life every now and then. This series focuses on the story one well known person each episode and takes the reader on an "immersive journey" into their early life and the events and people who shaped them. The best part is you don't know who the person is until the very end. It's kind of an elongated, dramatic version of "Who am I".
Other Recommendations
If you love listening to stories of people, also check out Heavyweight by Gimlet as well as erstwhile favourite Conversations (ABC).
For a light hearted discussion on books, movies and TV, I enjoy listening to Annabel Crabb and Leigh Sales' Chat 3 Looks 10.
Political nerds like me might also enjoy Slow Burn Season 1 which covers Richard Nixon and the Watergate scandal.
I've also just started The Assassination (BBC World Service) which covers in detail the events leading to the assassination of Pakistani Prime Minister Benazir Bhutto. So far so good.
For true crime, you can't go past Casefile. 
Unravel True Crime Season 2: Barrenjoey Road (ABC) was also very good.
One of the strangest stories I listened to this year was Uncover: Escape from NXVM (CBC Podcasts). 
Further Listening, Reading & Watching Suggestions
For more detailed reviews of all the podcasts listed above, you can read my monthly Book, Movie, Podcast and TV Series reviews here.
I'd also recommend My Favourite Podcasts of 2017.
For binge worthy TV Series, check out My Favourite TV Series of 2017 (this year's list will be published shortly).
If books are more your thing, you might like to check out:
So over to you – what have you enjoyed listening to in the way of podcasts this year?