In March I was lucky enough to head to Byron Bay for a lovely long weekend* with my gorgeous friend O.
And it was heavenly.
So how did I score such a trip? Well, the long weekend came about because both our husbands, who both travel overseas for work during the year, both (independently) said to us that we should take some time out, cash in a few RDOs and go somewhere fabulous. What great blokes!
Free pass sorted, O and I caught up for dinner last October and after a bit of to-ing and fro-ing, decided that Byron would be a great destination. It's a place that was high on my bucket list and we thought it was a great place to visit sans children.
We booked our accommodation, scored cheap flights and then went about the business of Christmas, summer holidays and then the return to school.
And then, before we knew it, the day in March had arrived.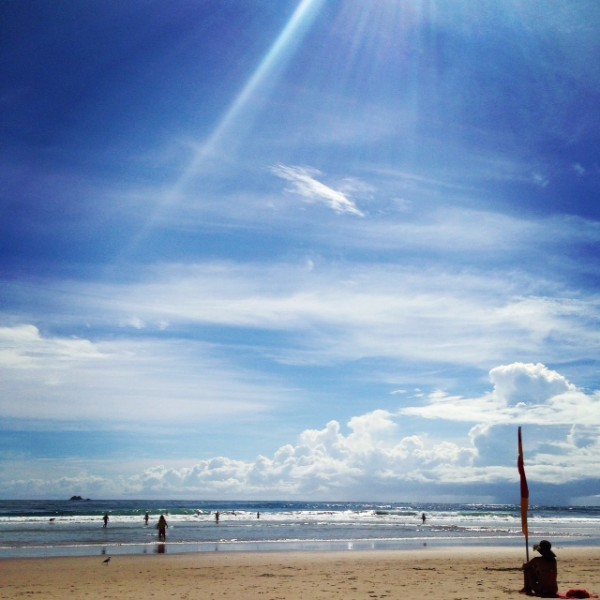 In this post, I've put together some ideas and inspiration from my recent trip. Hopefully it will be useful if you are planning a visit to Byron or looking for a great place to visit.
I would highly recommend Byron as a great destination for a girls' weekend too – its a relatively short flight from Melbourne, Sydney and Brisbane and there is loads to do and see. Funnily enough, we met several groups of women (all mothers!) on girls' weekends during our stay. Some were celebrating 40ths while others were on their annual girls' weekend. Now that's a tradition I like the sound of!
The info below will also be useful if you are travelling with your family or just stopping by en route to somewhere else. If I were to return with the kids, I'd be making a bee-line for the Caravan Park at Clark's Beach.
If you have any tips and traps to add, please leave a comment so we can pool our collective intel.
Where to Stay
We stayed at Burns at Byron, a lovely BnB close to town and very reasonably priced (we paid $144 per night each for our own rooms). It was recommended to O and I by our gorgeous mutual friend/my colleague Sarah who travels to Byron Bay for the Writer's Festival every year.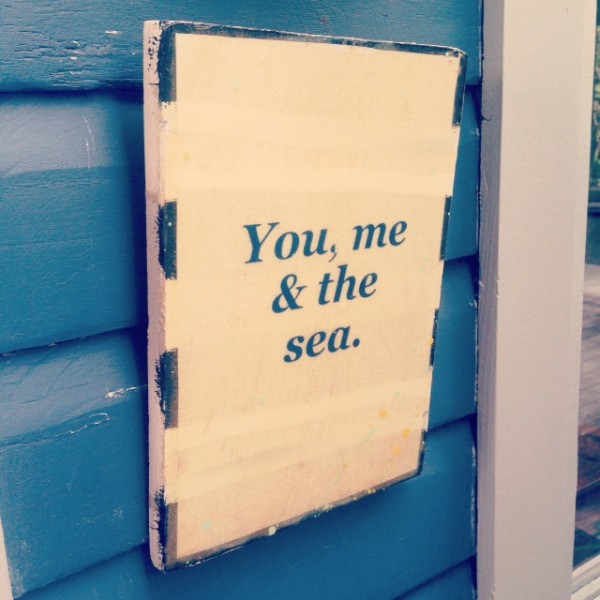 It's essentially a four bedroom house with a central hallway and a kitchen/living area out the back. Two of the bedrooms have ensuites; the other two bedrooms share a bathroom between them. My friend O and I opted for the less expensive rooms without ensuites as we knew we would have the remaining bathroom to ourselves.
While we were there, two couples were staying in the other bedrooms. We didn't see them much but it was a bit of a blast from the past to do the share house thing again. Not in a bad way but in a "remember your old life" kind of way.
The house is fitted out with a kind of tropical/Balinese theme and is comfortable and clean. My room had plenty of storage ( a wardrobe, chest of drawers and two side tables), plus a TV, a lightweight dressing gown and slippers.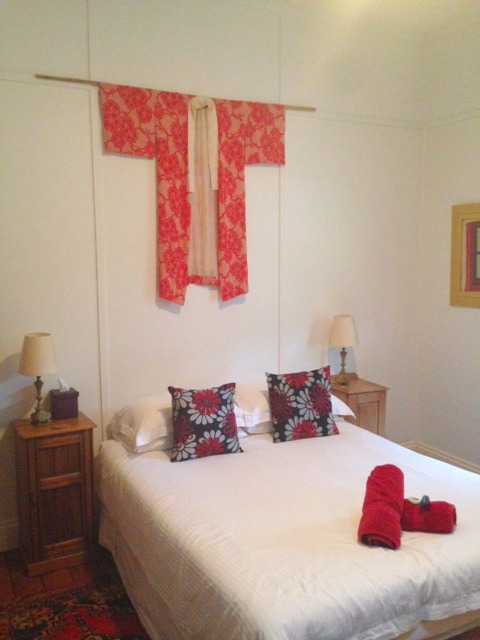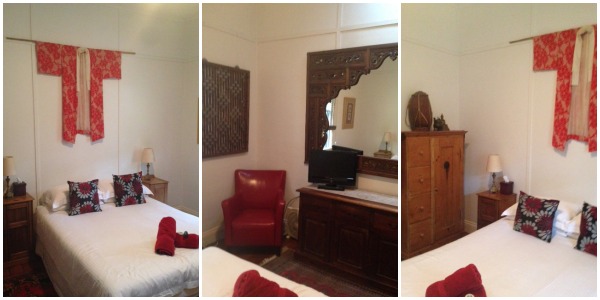 In terms of the location, it was a very short walk across an old train line to the main drag in town and a ten minute walk up the main drag to the beach. It is close to a supermarket and the Information Centre too.
Our host Hilary, a New Yorker, is lovely and helpful but leaves guests to their own devices. The house was always clean, well stocked and her simple, healthy breakfast was one of the highlights of our stay.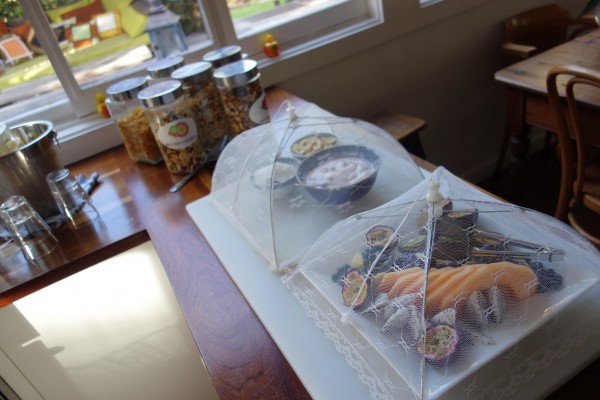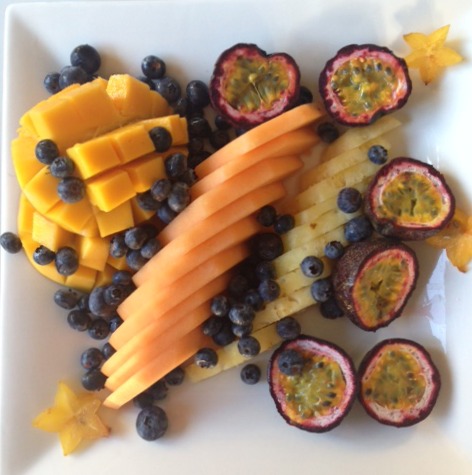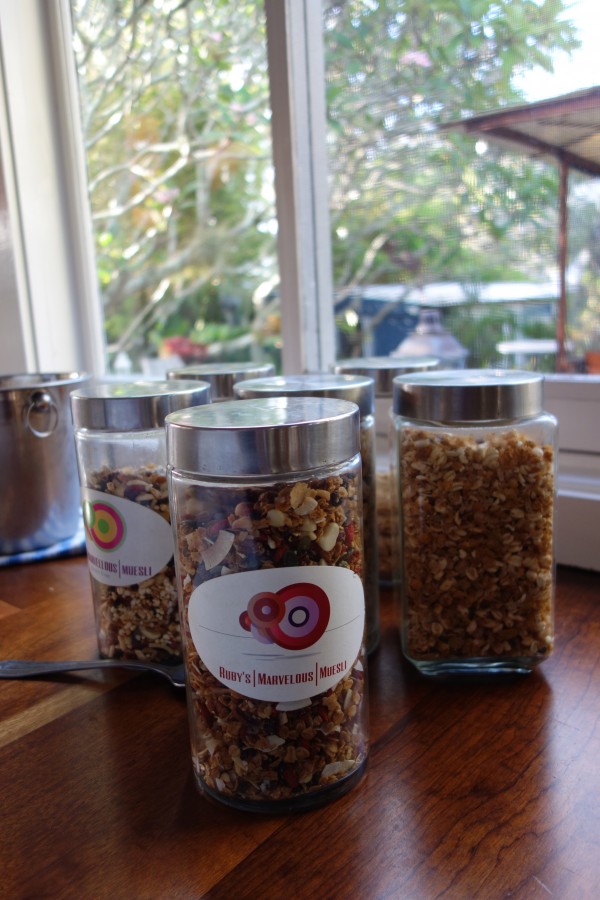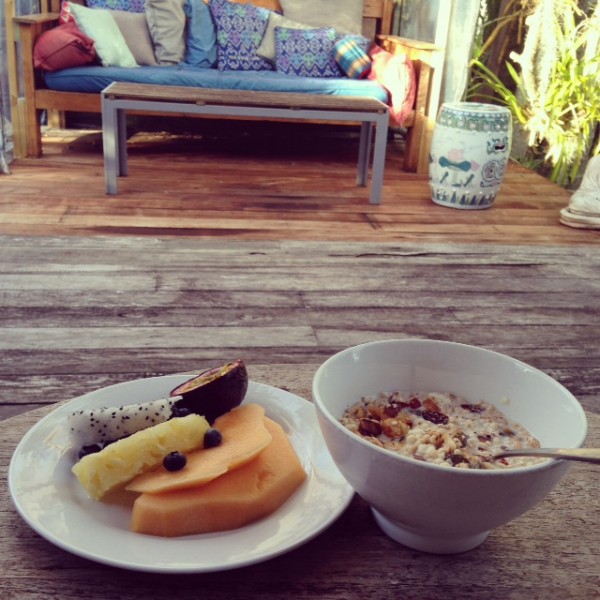 We spent many hours lying in the day beds outside, reading, chatting and enjoying a cup of tea or a Sauvy B.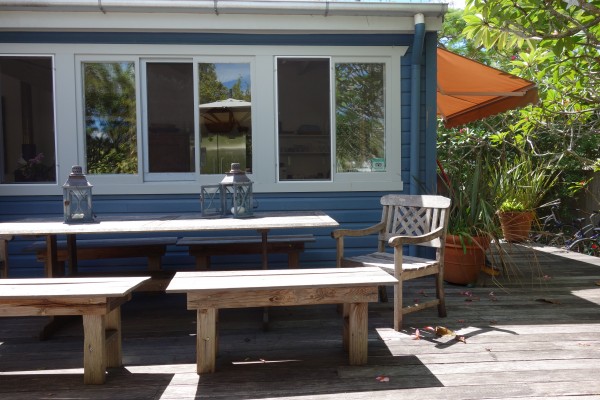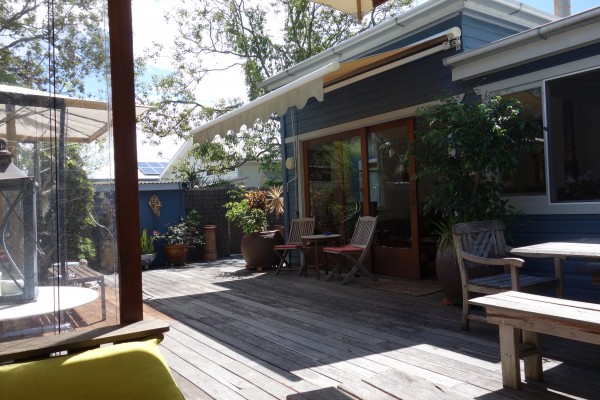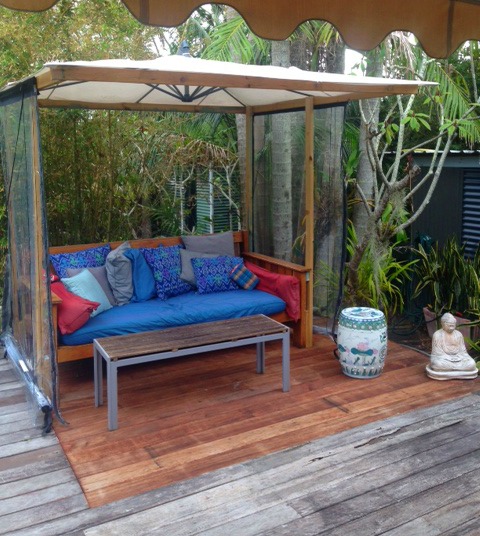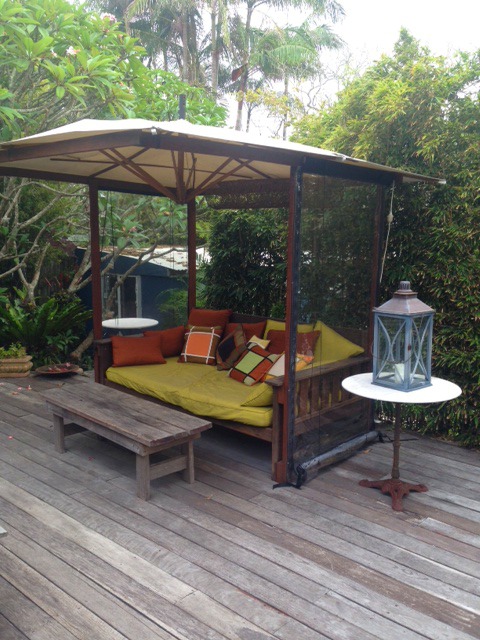 Where to Shop
The first full day we spent in Byron, O and I thought we'd head into town to have a browse. We got sidetracked, and 6 hours later, we stumbled back to our digs with plenty of shopping success. We spent ages in Sportsgirl, Tree of Life and Witchery (where I bought this dress) which was a bit odd on some levels but then we reflected how nice it was to shop without rushing, preschoolers and a deadline, so we took our time and went with it.
As well as the usual chainstores, there were plenty of gorgeous shops and boutiques. Some of our faves are included below. Put it this way, if you like to break up the beach and cocktails with a spot of shopping, you will find plenty of great options in Byron Bay.
The lovely nearby town of Bangalow was even better but more on that below.
One of our favourite spots was Morning Light (below) which stocked Boom Shankar and Sunny Girl clothing, Rare Rabbit jewellery and gorgeous, colourful hammams.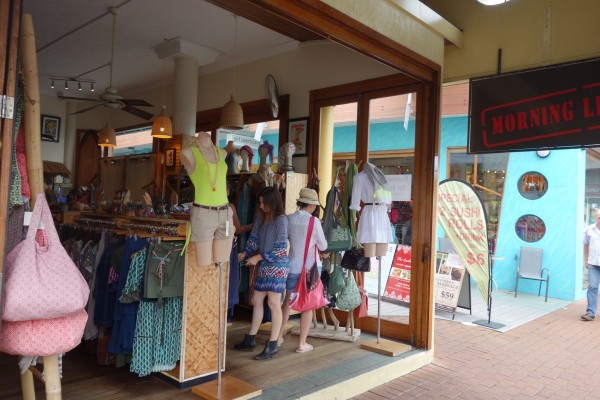 Above and Below: Morning Light (where I found the gorgeous dress I wore in this post).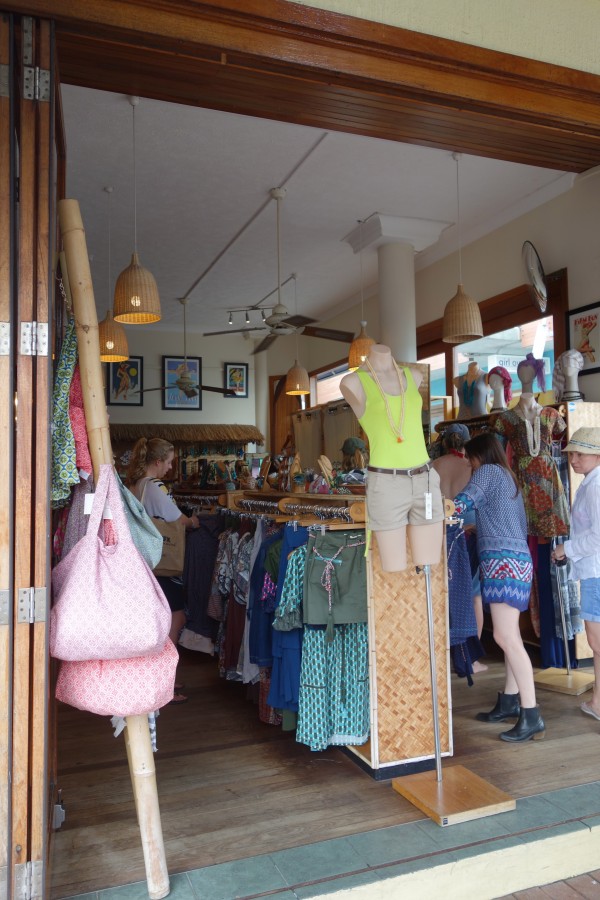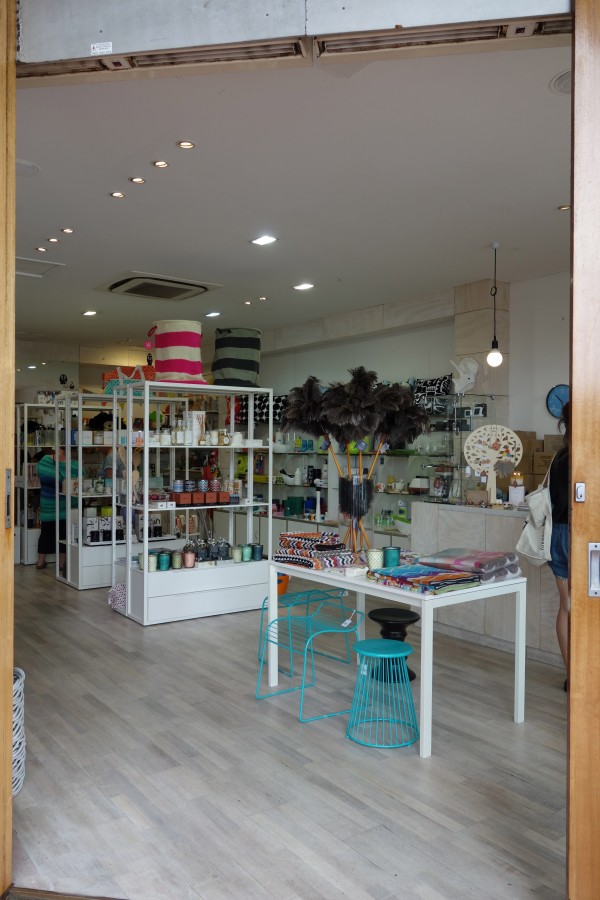 Above and below: Greenhouse Interiors which stocked Alessi, Marimekko and Missoni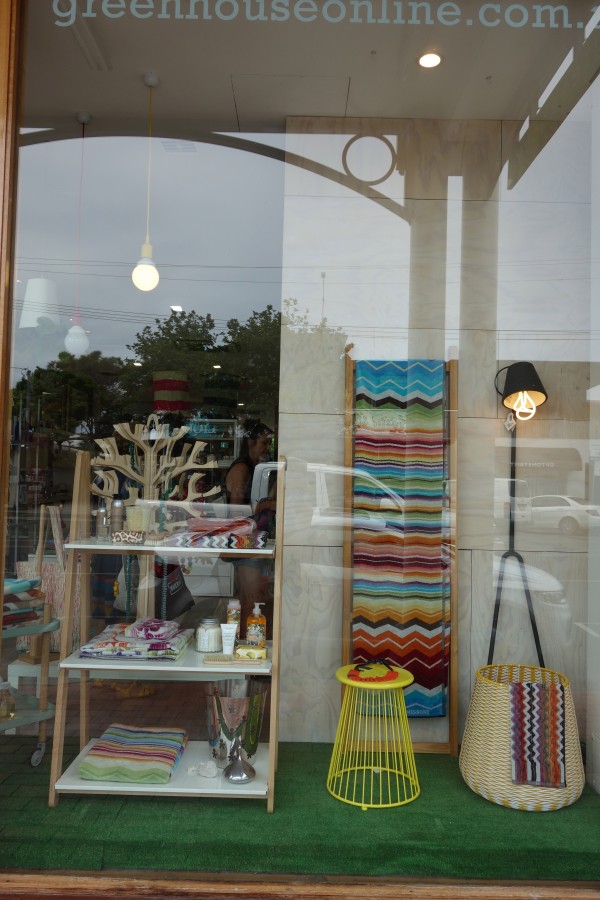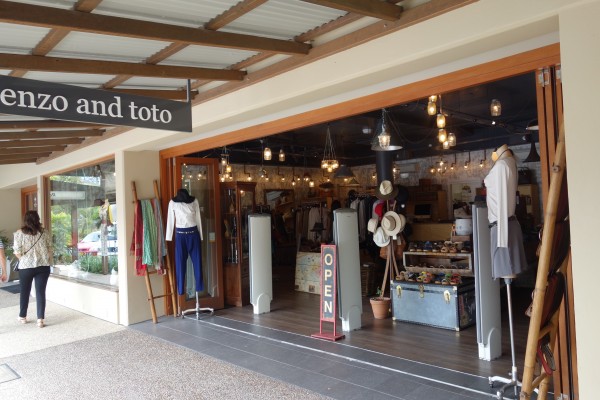 Above and Below: Enzo & Toto. Another great shop, with great brands including Nordic Fusion clogs, Walnut shoes and loads of gorgeous clothes.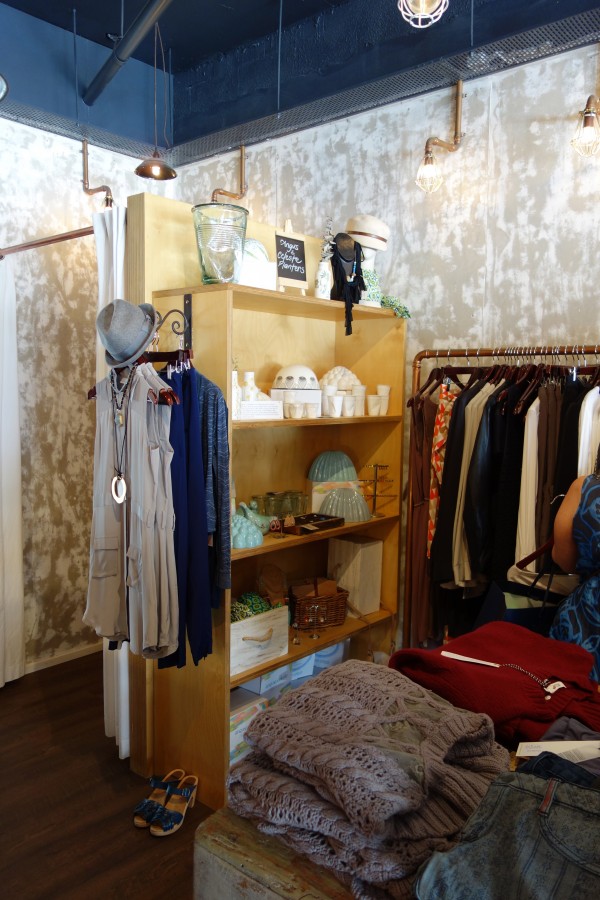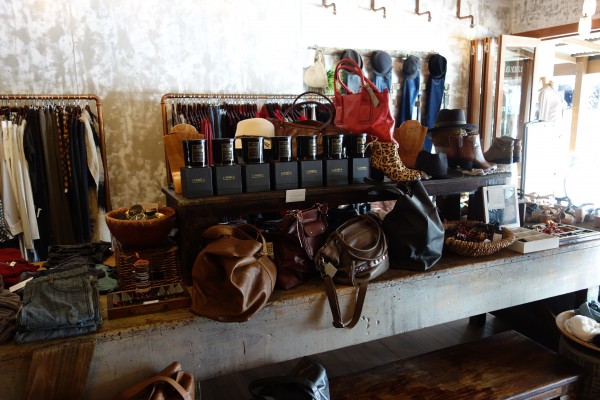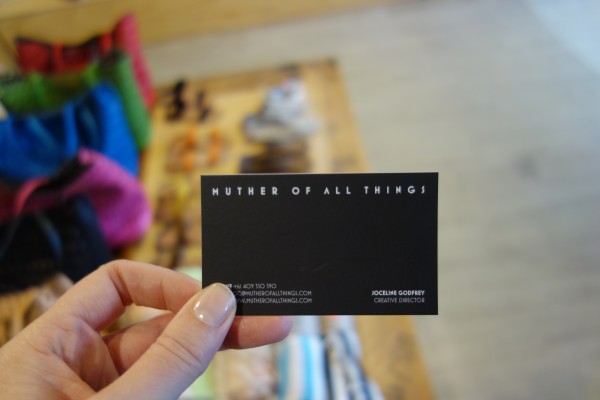 Above and Below: Muther of All Things. I really wanted those pink leopard print sandals. I don't know how I resisted them!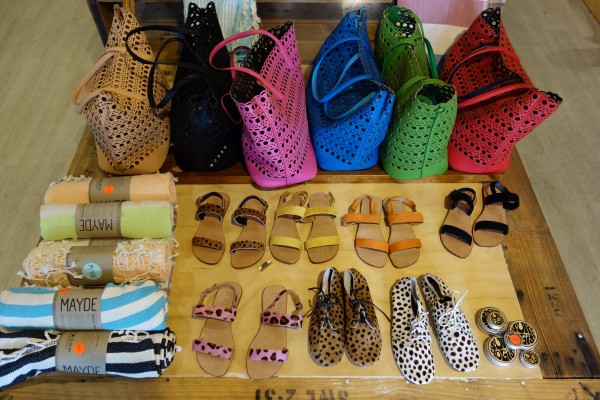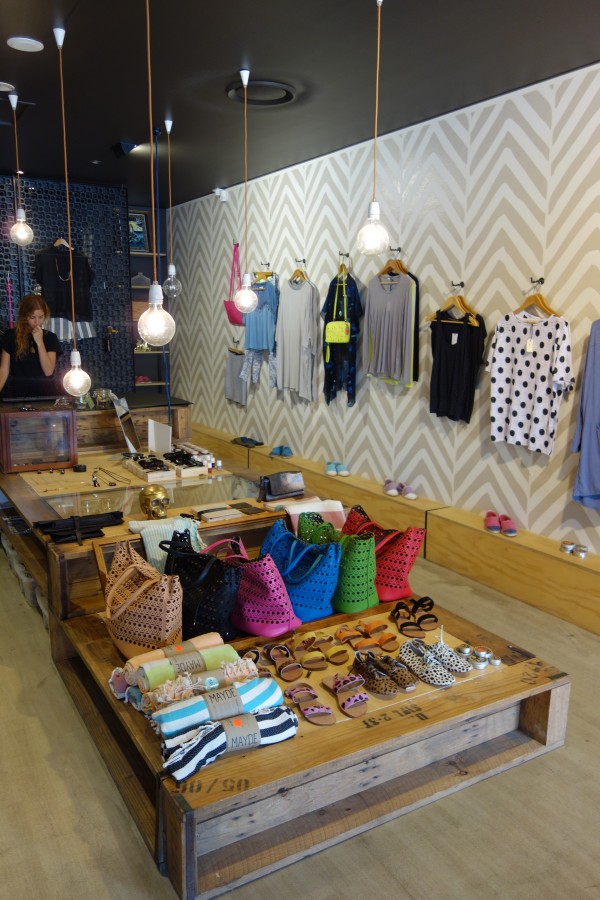 Where to Eat
We didn't really have much of an idea of where to eat in Byron Bay. Breakfast was included with our accommodation, so we only really ate out for lunch and dinner, having bought a stash of fruit and snacks at the supermarket.
We asked local shop assistants, Hilary and the Information Centre for recommendations but the places we enjoyed the most, where the ones we just tried because they looked good!
Brunch/Lunch
We rated Cafe Byron (below) for decent takeaway coffee (none of my coffees blew my socks off but this place was the best) and we also had a lovely brunch there one day. It's right near the Information centre too so it's a good place to have a coffee and pore over all the tourist info.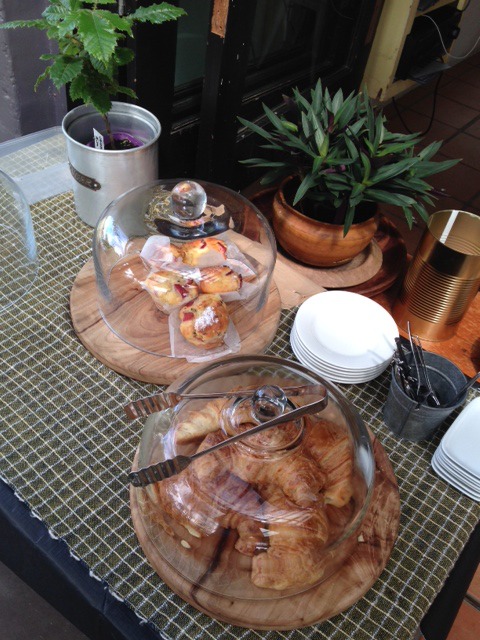 Dinner
We had some great dinners out too.
My favourite was The Balcony, an apparently well known establishment on a corner block in the middle of town. We were told it was a bit exy, but coming from Melbourne where we both eat out regularly, it didn't impress us as particularly overpriced.
We sat upstairs on the (surprise) balcony and started our dinner with a couple of lovely cocktails ($10 cocktails from 4-6pm thank you very much). When it came time to order, I couldn't go past the special: gnocchi with beetroot, ricotta and watercress. It was even more fabulous than it looks here.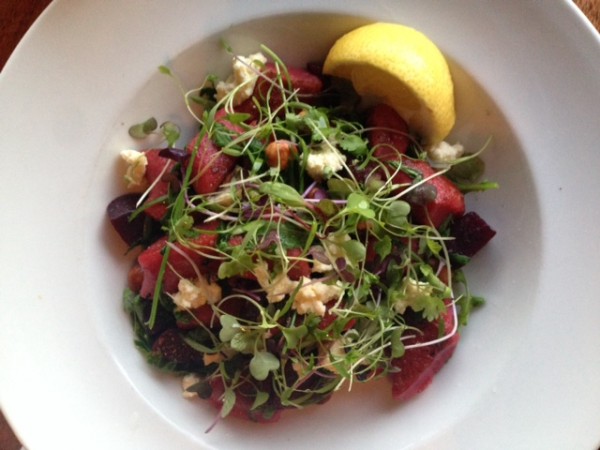 The other place we really enjoyed was The Eatery on Jonson. We chanced upon it on our final night in Byron Bay – a Sunday – the staff were friendly and a DJ was on the decks in the restaurant.
Our meal was lovely  (we both had the fish of the day – below) and it was a relaxed night out with a cool soundtrack. A perfect farewell to our time in Byron.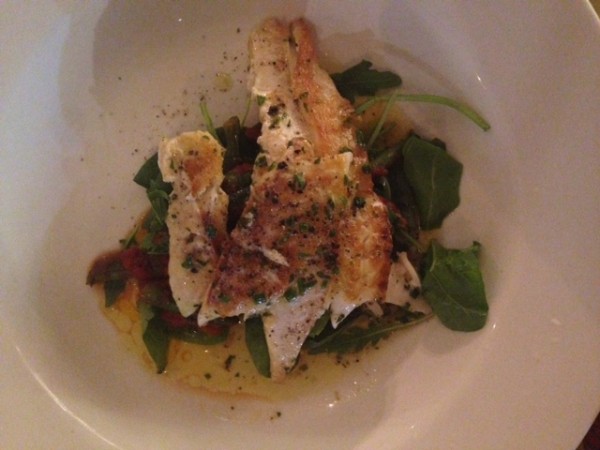 We also had dinner out one night at Cicchetti's. It is right next door to the cinema (I do love going to the flicks on holidays). It had opened the day before and still needed a bit of time to sort out the food and service side of things, but the fit out was fabulous, and with time, I think it would be worth another visit.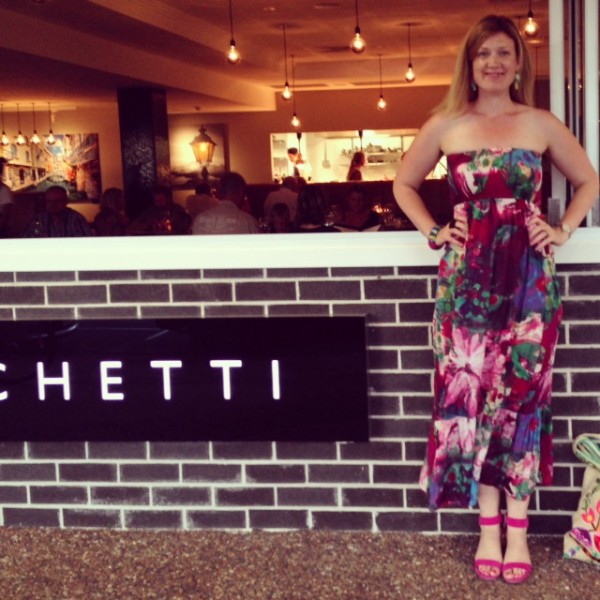 Things to Do
1. Go for a Swim/Hit the Beach
The big attraction is the beach of course. The beach at Byron Bay is long, spacious and there is plenty of it. We spent a gorgeous morning reading, swimming and just soaking up Vitamin D. I can't get over how soul soothing the beach can be.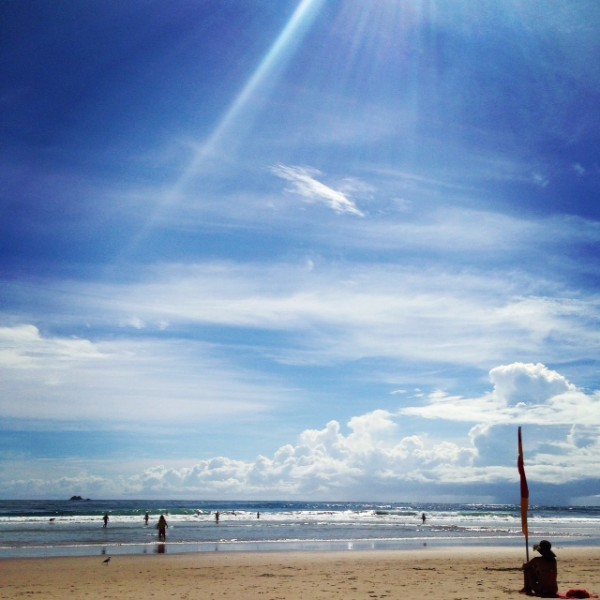 If you like to do a few laps, right next to the beach is the local swimming pool. A cafe is in between the pool and beach and we had a delicious fish burger there for lunch one day.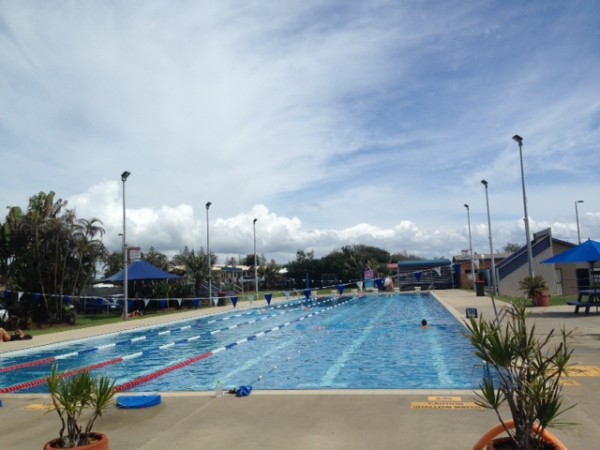 2. Walk to the Lighthouse or Cape Byron
From our accommodation, it took approximately 40 minutes to walk up to Cape Byron. We actually intended to walk to the Lighthouse  (there are directions along the way and a path to follow) but somehow, we took a wrong turn and ended up at Cape Byron which was pretty fabulous anyway. This was the Hitchcock-like view from the viewing platform: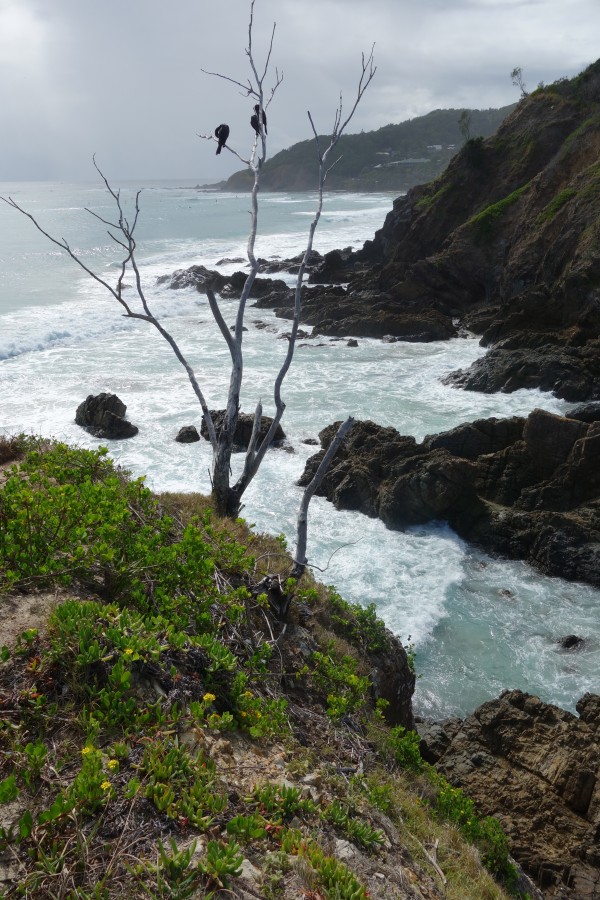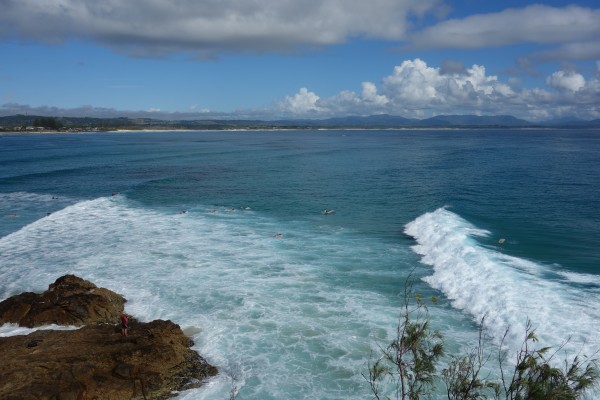 We walked back along the beach which was beautiful.
3. Day trip to Bangalow
I would highly recommend you visit the nearby town of Bangalow, a gorgeous little village a short fifteen – twenty minute drive from Byron. It is a cracker, a dream come true, a great place to visit. You get the picture.
We booked the Shuttle Bus the day before at the Information Centre (a good idea, as there are limited seats) which took us to and from Bangalow for $10 each way. We wanted to maximise our time, so we booked the 10.30am shuttle (the earliest) and returned on the 3pm service (the latest). We could have stayed even longer given we spent a couple of hours at the market to begin with. Check the shuttle times with Information Centre.
Bangalow is a quaint town with beautiful trees, historical buildings and lots of gorgeous boutique clothing and home wares shops. We didn't have time to stop and eat (we had a quick souvlaki at the market) but we saw plenty of lovely cafes in the main drag. Below is a small selection of the boutiques on the main street.
Above and Below: Wax Jambu Emporium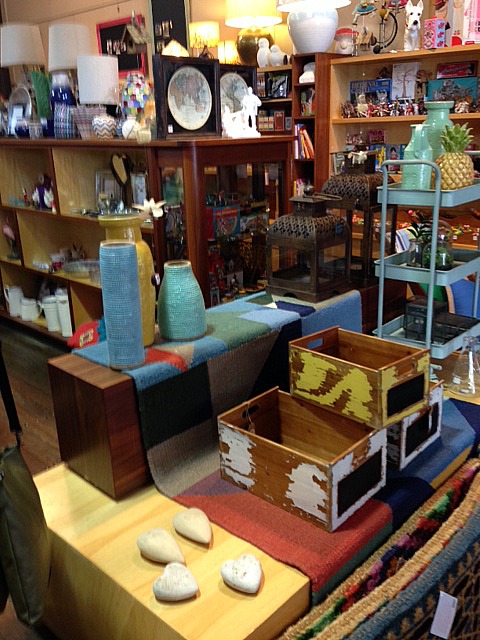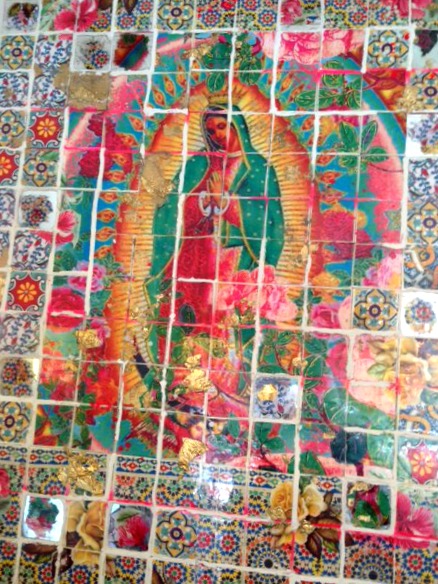 Above and Below: Brauerbirds (how divine is this mosaic which is behind the service desk?)
Above and Below: Lazybones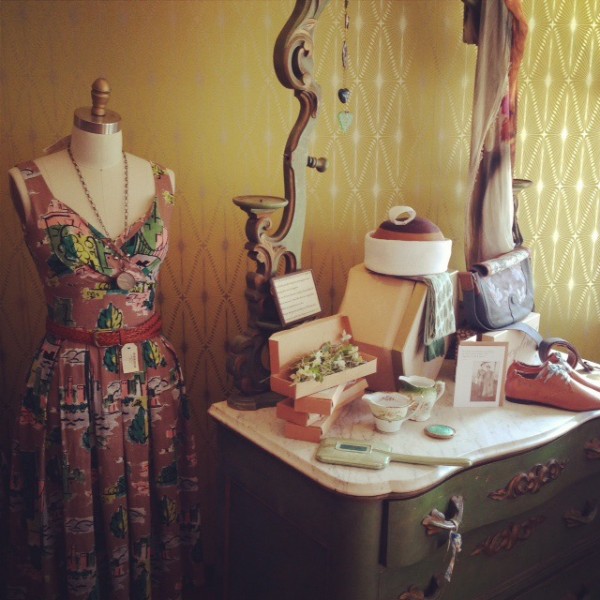 On the fourth Sunday of the month, the Bangalow market is held from 9am – 3pm. It is well worth a visit. We found lots of gorgeous stalls, including the one below: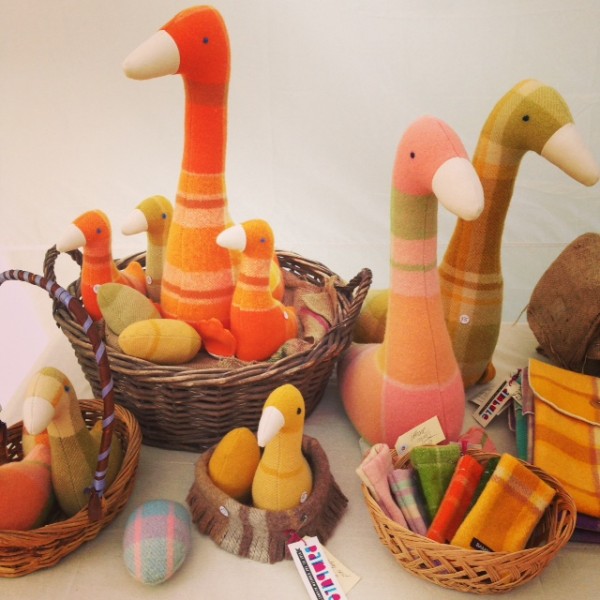 All in all, we had a very successful day at Bangalow!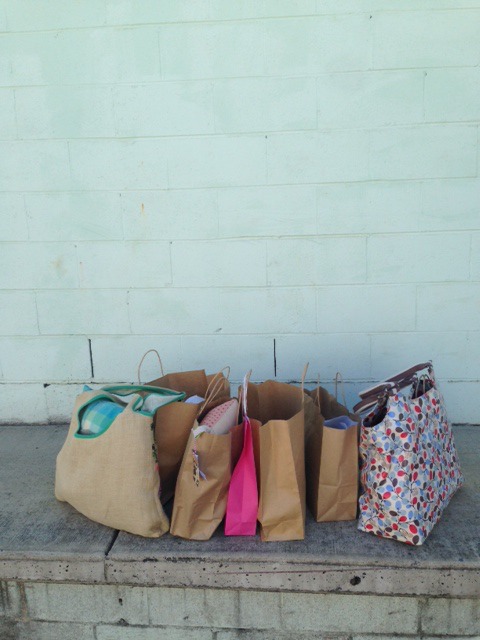 4. What to Pack
We visited Byron in late March. It was very humid and the temperatures ranged from 18 (overnight) through to 28 (during the day). For a four night stay*, I packed 8 outfits, beach essentials and 5 pairs of shoes (blue Sambag sandals, pink Salt Water sandals, pink wedges, patent black sandals and thongs). I ended up wearing nearly everything I took, as we changed before dinner each night. The most comfortable option for the heat was a loose cotton dress and a pair of sandals.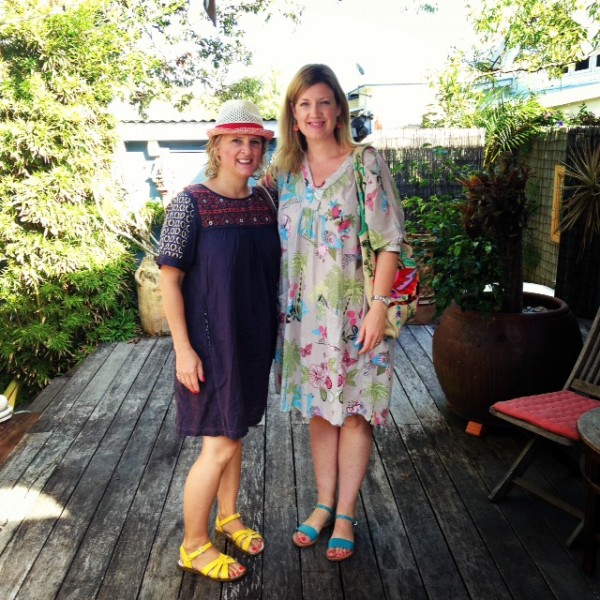 If you need some tips for packing, check out my post with tips for packing for a weekend away here.
* Our long weekend was extended another day when our flight home from Ballina was cancelled due to storms in Sydney. We were bus-ed to Coolangatta (approximately 1hr 15 mins away) the following morning and put on the next direct flight to Melbourne.
I think I would still fly in to Ballina next time but in the knowledge that flights in and out of regional airports can be subject to increased cancellations and delays.
Have you spent any time in Byron Bay, Bangalow or surrounds? Can you add any tips, traps or recommendations? Are you due for a girls' weekend?