Well, it's almost here.
All that we have been working towards, planning for. Christmas is finally here.
Tonight, we'll be heading to every Carol service in the neighbourhood and sorting out some refreshments for the Big Guy and his hardworking team, like we did last year.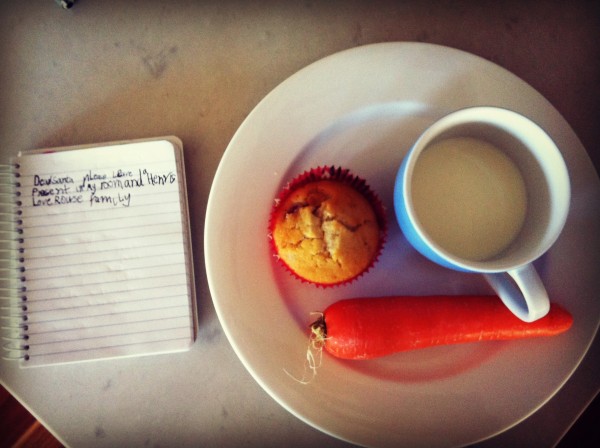 Tomorrow, I intend to have a great day, watching the boys unwrap their gifts, catching up with friends in the morning at church and then having lunch and dinner with family. I am also hoping to be relaxed about logistics and mess and to take a long moment to be grateful.
And then, once tomorrow is over, we can relax and get into the real business of holidays.
But before we do all of that, I would like to wish you all a very Happy Christmas and thank you for coming along with me on this journey of blogging this year.
I started my blog exactly 4 months ago today, on 24 August. It's been a wild ride since then interspersed with the constant wondering and writing about the things that I am interested in, that hopefully someone out there might like too.
In this time, I have written 68 posts, received 766 comments, made numerous Facebook status updates and the odd tweet here and there (not the easiest medium when you are caring for little ones at home!).  Miraculously, there are 690 "likers" on Facebook too. I am thrilled and overwhelmed by it all.
So, thank you to each and every one of you for supporting me on this journey and for engaging with the Style and Shenanigans roadshow on some level. I appreciate it more than words can convey.
I am looking forward to lots of great, new things on the blog next year (like our 2014 SnS Book Club) together with old favourites including regular Style Updates, SnS Brand Focuses and Every Day Style @ Shenanigans Central.
I'll be taking things a bit easier over the next couple of weeks as I have a few sandcastles to build and games of Monopoly to play, but I will be a regular on Facebook sending you postcards. I might also throw in the odd post or two. I'll be back in earnest in the middle of January.
So, to you and yours, have a wonderful day tomorrow, thank you for everything and I look forward to more great times together in 2014.