As I mentioned in my Favourite Books of 2020 post last week, TV really ruled supreme in 2020.
In a year like no other, with so much time spent at home and so much to contend with mentally, it was no surprise that so many of us sought escapism in TV.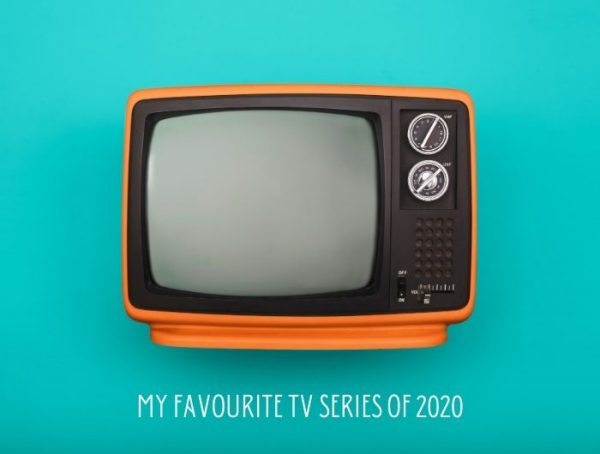 I watched truckloads more TV than usual in 2020 – thanks to two long Melbourne lockdowns – and in this post, I'm sharing my top ten favourite series of the year along with a 'What to Watch' guide depending on what you like to watch or your mood.
I have watched and would highly recommend everything listed.
In terms of streaming services, I'm fortunate to have access to several (Netflix, Apple TV and Stan) as well as the usual free to air options (ABC iView and SBS on Demand). I've found great offerings across all of these streaming services and five of my top ten are on free to air services, so whatever access you have, you'll be sure to find some winners in this lot. I've included a brief summary of each below. (If you're looking for a more detailed review, head to my monthly review posts here).
Happy viewing!
My Top Ten TV Series of 2020
1. Schitts Creek (Netflix)
2. Normal People (Stan)
3. Homeland (Netflix/SBS on Demand)
4. The Split (ABC iView)
5. Morning Wars (Apple TV)
6. Yellowstone (Netflix)
7. The Bureau (SBS on Demand)
8. Ted Lasso (Apple TV)
9. The Family Law (ABC iView)
10. The Twelve (SBS on Demand)
Often, what we enjoy will depend on our mood and what else is going on in our lives. Added to that for me, is that I also like to mix up what I watch. So while I might binge on a gritty contemporary family drama one weekend, I'd usually follow that up with a lighter or funny series or something completely different – foreign espionage or a political doco.
Sometimes, we like to watch a twenty minute episode of something funny or light to finish the night on too.
So here are my top picks, depending on what you enjoy or feel like watching.
Great Laughs & Great Feels: 
Schitts Creek (Netflix, 7 seasons) – the multi Emmy winner comedy of a wealthy family who fall on hard times and move to Schitts Creek which the father bought for the son as a joke years earlier.  I could not have survived 2020 without the laughs and warmth of the Rose family and the other citizens of Schitts Creek;
Ted Lasso (Apple TV) – a Kansas football coach moves to London to coach a premiere league team. One of the best feel good shows of the year;
The Family Law (ABC iView, 3 seasons) – I adored Benjamin Law's funny and heartfelt series about his family. I cannot articulate how much I love Benjamin and his family – this is a wonderful homegrown series;
Parks & Rec (Stan, 8 seasons) – a light hearted comedy starring Amy Poehler. It makes for easy watching in twenty minute episodes with a great cast of characters.
Excellent, compelling dramas that will have you happily bingeing and bailing on social/zoom commitments:
Normal People (Stan) – A flawless adaptation of Sally Rooney's excellent book which I binge watched in two sittings, only because I was trying to make it last longer. I then immediately re-watched it;
Morning Wars (Apple TV) – An excellent examination of the #MeToo Movement in a fictitious breakfast TV setting. Jennifer Anniston, Reese Witherspoon and Steve Carell are all at the top of their game in this brilliant and timely series;
The Split (ABC iView, 2 seasons) –  everything about this contemporary British family drama is excellent and the second series is even better than the first;
Yellowstone (Netflix, 3 seasons) – A family dynasty headed by Kevin Costner in Montana is threatened from outside and within. I am now officially obsessed with Montana, Kayce, Rip, horses and rodeos after watching this gritty drama and I'm hanging out for season 4;
The Crown (Netflix, 4 seasons) – a historical drama which follows the House of Windsor over decades and from one scandal to the next;
Bridgerton (Netflix) – it only dropped on Christmas Day but this period drama, which is a cross between Downton Abbey and the comedic debauchery of The Great, is very binge worthy;
Little Fires Everywhere (Apple TV) – another brilliant Reese Witherspoon book adaptation/produced series exploring privilege and racism in the context of two families in American suburbia;
The Queen's Gambit (Netflix) – the story of a troubled but brilliant chess player;
The Salisbury Poisonings (ABC iView) – a historical drama about the shocking poisonings in a British town.
For espionage and spy thrillers, I can heartily recommend:
Homeland (Netflix, 8 seasons) – follows the brilliant and unhinged CIA agent Carrie Mathieson. If you lost interest after the first few seasons, definitely pick it up again in season 4. It is one of my most favourite series ever;
The Bureau (SBS on Demand, 5 seasons) – We loved disappearing down the rabbit hole of 5 seasons of this tense, compelling thriller about the French secret service;
Tehran (Apple TV) – a Mossad agent finds herself in a cat and mouse game with an Irani intelligence officer in Tehran. This is a nail biting thriller;
False Flag (SBS on Demand, 2 seasons) – this series is a deep dive into Israeli intelligence and I found it gripping. I thought the first season was stronger than the second.
If you love a gritty crime/cop series, check out: 
Line of Duty (Netflix, 5 seasons) – follows the Internal Affairs Unit as they try to root out corruption in the British police force. This is one of my most favourite shows ever;
The Twelve (SBS on Demand) – two murder trials and a jury of twelve ordinary Flemish citizens all wrapped up in a whodunnit. It'll keep you guessing until the very end;
Marcella (Netflix, 3 seasons) – follows unconventional and unhinged British cop Marcella;
DNA (SBS on Demand) – a retired Danish cop can't let his last case – or his missing daughter – rest;
Des (Netflix) – a four part drama about a British serial killer starring David Tennant.
For armchair travellers, these series set in exotic locales transported me this year:
The Head (SBS on Demand) – a fast paced murder mystery set on a station in Antartica;
Babylon Berlin (Netflix, 3 seasons) – a luxe, no expense spared production which covers the events, politics and people in Berlin between the two world wars;
Indian Matchmaking (Netflix) – a sought after Indian matchmaker seeks to find life partners for her clients. The various characters, their foibles, preferences and backstories make this series compelling;
Virgin River (Netflix, 2 seasons) – a Hallmark-like, feel good but at times gritty series set in spectacular Colorado;
Emily in Paris (Netflix) – a fluffy, pleasant show to watch with amazing fashion and various spectacular French locations;
Song Exploder (Netflix, 2 seasons) – this series takes you to the song writers/musicians to analyse how they wrote and produced their hit songs. I particularly enjoyed the episodes in series 1 on R.E.M and Lin-Manuel Miranda.
If political docos are your thing, I absolutely rated:
Hillary (SBS on Demand) – a brilliant 4 episode series following Hillary Clinton through the 2016 presidential campaign and its aftermath;
The Clinton Affair (SBS on Demand) – a fascinating and thorough examination into the context, events and fallout following Bill Clinton's affair with Monica Lewinsky during his presidency.
If you enjoy stories about ordinary but amazing every day Australians, I recommend:
Ahn Do's Brush With Fame (ABC iView)
Love on the Spectrum (Netflix)
Australian Story (ABC iView)
I'd recommend the following shows to watch with tweens/older kids:
Anne with an 'E' (Netflix, 2 seasons) – a modern adaptation of Anne of Green Gables which my three boys loved;
The Babysitters Club (Netflix) – another adaptation of the book series which my younger boys enjoyed.
Also Highly Recommended
I didn't watch these TV series this year, but they are all excellent and well worth watching if you haven't checked them out already:
Game of Thrones (Foxtel)
The Handmaid's Tale (SBS on Demand)
Big Little Lies (Foxtel)
Outlander (Netflix)
The Killing (Netflix)
Narcos (the original series featuring Pablo Escobar, Netflix)
But wait, there's more …
To read my other 'best of' posts for the last couple of years, head to:
So over to you, what were your favourite TV series this year? Have you watched many or any of those listed above?