Welcome to the second post in this series on Family Holidays – Ideas, Destinations and Tips (you can catch up with the first here) in which I've asked some of my favourite ladies on the interwebs for their hot tips and traps on all things Family Travel.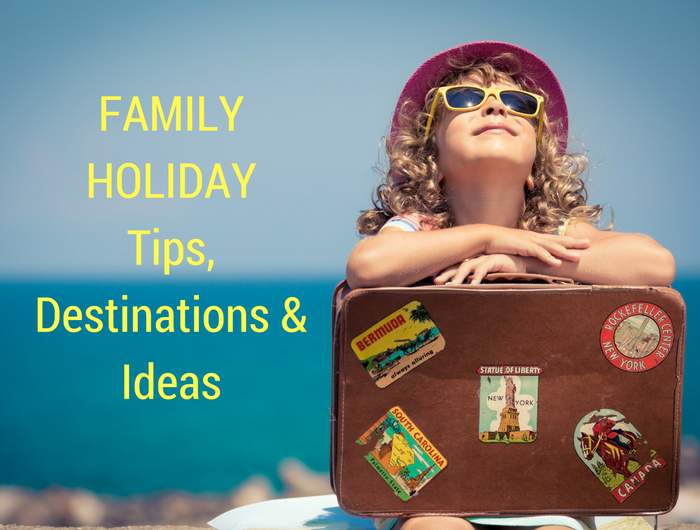 Why this series I hear you ask?
Well, for some us of us, family holidays can be a bit of a mixed bag. When they "work", they're awesome but sometimes, the thought of what to do and where to go can cause some first world overwhelm, uncertainty and anxiety.
Questions you might be asking yourself – which I've asked myself – include:
Is it really worth the hassle and the expense? Will I be able to relax or have some downtime?
Is there enough to keep the kids occupied? What's the weather like?
Where should we go and where should we stay? What would other families with kids similar ages/stages recommend?
I hear you, so in this series, we're asking some lovely ladies what's worked for their families and given you some background info so you know how these families roll and how old their kids are.
So, without further ado, this week, I've asked Kelly Exeter and Kirralee from Escape With Kids for their intel. I've answered my own questions too.
Kelly Exeter – Writer, Editor and Speaker 
Tell us a little bit about yourself and who is in your family?
There are four of us – my husband Ant, me (Kelly), Jaden (7) and Mia (3 going on 23)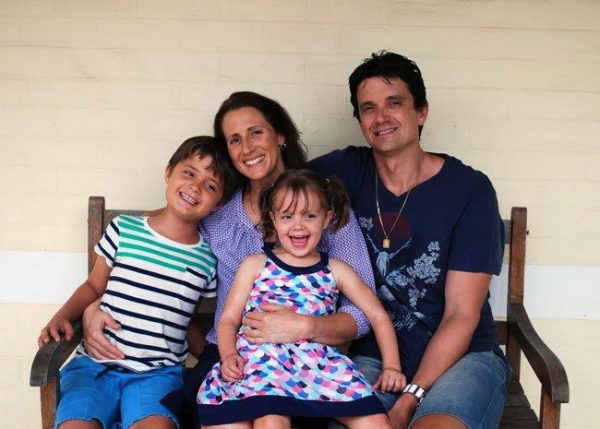 What does your family need for a good holiday?
A beach or pool, a bar and a good coffee shop. Both our kids absolutely love the water and will spend all day in there if given the chance. I do cherish good coffee (and have started drinking my coffee black to ensure I can get coffee anywhere I go!) while Ant does like to have a drink or two when on holidays.
What has been your favourite family holiday locally, in Australia and overseas (if applicable) and why?
In Australia, we love going down to Dunsborough in the South-West of WA. It's a great jumping off point to visit all the wineries, galleries, and cheese and chocolate factories in the Margaret River Region – and it's also close to beautiful beaches both in Dunsborough itself not to mention nearby Eagle Bay. Dunsborough is also great because there are plenty of holiday houses on offer and if you want to do some shopping and have a coffee – you can go into the main townsite. And if you want to stay away from people – you just stay out of town!
Outside Australia, my kids love Bali. The last time we went there we stayed at the Nusa Dua Beach Resort and hired a nanny and everyone had an amazing time. Both parents got time to relax instead of playing 'pass the parcel' trying to figure out who was supposed to be keeping an eye on the kids. And the kids just swam all day. They are dying to go back.
Has your approach to family holidays changed over time?
Not really as our kids are still young. But I suspect that even when they get older, they're still going to love swimming, swimming and swimming.
Where are you planning to go in 2017? How did you decide?
We'll definitely be heading back down to Dunsborough at some stage. July is also a fab time to go there. (The kids are admittedly pitching to go to Bali again in July and I have to admit, if Perth has another cold winter like the one we had this year – they might get their wish). And we're actually hoping to have the funds to go to France with Ant's family towards the end of the year. That's a bit of a bucket list one – to go stay in a French village and immerse ourselves there for 3 or so weeks. It'll be an amazing experience for both us and the kids.
You can follow Kelly on her blog; Facebook and Instagram.
Kirralee from Escape With Kids
1. Tell us a little bit about yourself and who is in your family?
Hi I'm Kirralee, and hubster and I have two kids, Alannah, aged 9, and Hamish, aged 7. We have lived in the beautiful northern beaches area of Sydney for 13 years now, but hubster and I grew up in Melbourne. Our hearts are pretty much split between the two.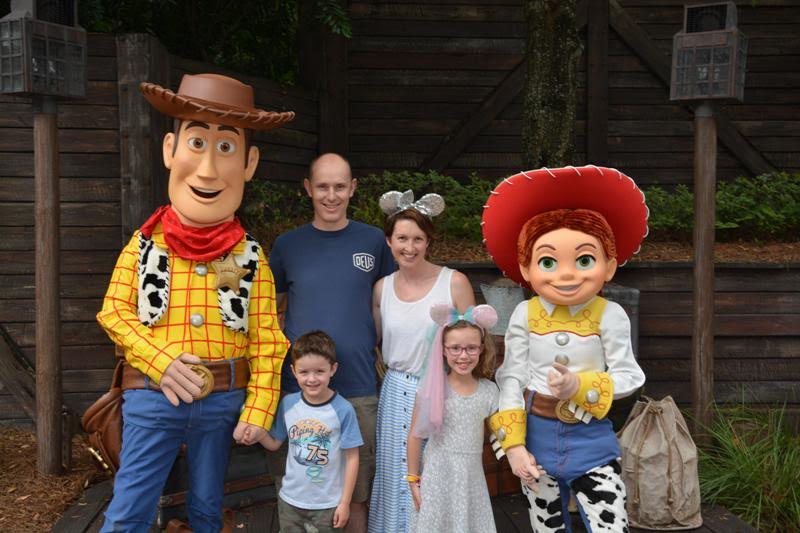 In Disney World, Orlando.
2. What does your family need for a good holiday?
Our first priority on holiday is time to relax as a family and as a couple. Life is busy and hubster works long hours, so time together not doing too much is essential for us. That often translates into warm weather holidays where the kids can swim, like Fiji and cruises. They're happy which makes it easier for us to relax.
But, as the kids are getting older we are enjoying more active holidays. We all love a theme park, so the Gold Coast and the U.S. are perfect for us.
3. What has been your favourite family holiday locally, in Australia and overseas (if applicable) and why? If you have any accommodation or specific towns/areas you've loved too, please tell! 
Locally, we love staying in caravan parks. A comfortable cabin in an activity-packed park is ideal for the kids at the moment. This year we had a particularly fabulous weekend away in Dubbo, home of the Western Plains Zoo.
Within Australia, we broke up the year with a fantastic theme park holiday on the Gold Coast in June – such an easy holiday! (You can read Kirralee's post on this holiday here).
Overseas, we love Fiji. We've been 4 times and hope to get back there again sometime. But our favourite overseas family holiday was our mega Disney trip late last year – Disney World, Wizarding World of Harry Potter, Universal, Kennedy Space Center and Legoland in Orlando, Florida, plus a Disney cruise in the Caribbean. I wish I could do that trip every year! (Kirralee's written several posts on this fab Disney trip which you can check out here).
4. Has your approach to family holidays changed over time?
We experimented with a variety of locations once the kids arrived, but most trips felt the same as home just in a different location. It wasn't until we tried Fiji that I truly felt that I had had a holiday. Thank goodness for kids clubs!
Fiji worked so well for us that we kept going back. But once Hamish reached primary school, longer plane trips and days of walking became easy, so we started venturing further afield. We now try to have a mix of exploring days and relaxing days in our trips.
5. Where are you planning to go in 2017? How did you decide?
In 2017 we're heading to Europe! It is far and away hubster and my favourite holiday location, but it wasn't until the U.S. trip went so well last year that we thought we would like to take the kids. We're aiming for an easy-as-possible "Europe Lite" trip. We are doing a Disney cruise in the Mediterranean, leaving from Barcelona and visiting Naples, Rome, Livorno and Villefranche, then spending time in Paris, London and country England (location yet to be decided – suggestions welcome!). So excited!!!
You can follow Kirralee on her blog, Facebook and Instagram.
I thought I'd answer my own questions too, so here goes …
Vanessa from Style and Shenanigans
1. Tell us a little bit about yourself and who is in your family? 
Here at Shenanigans Central there's Mr SnS and I and our three shenanigators sons, aged 10, 8 and 5.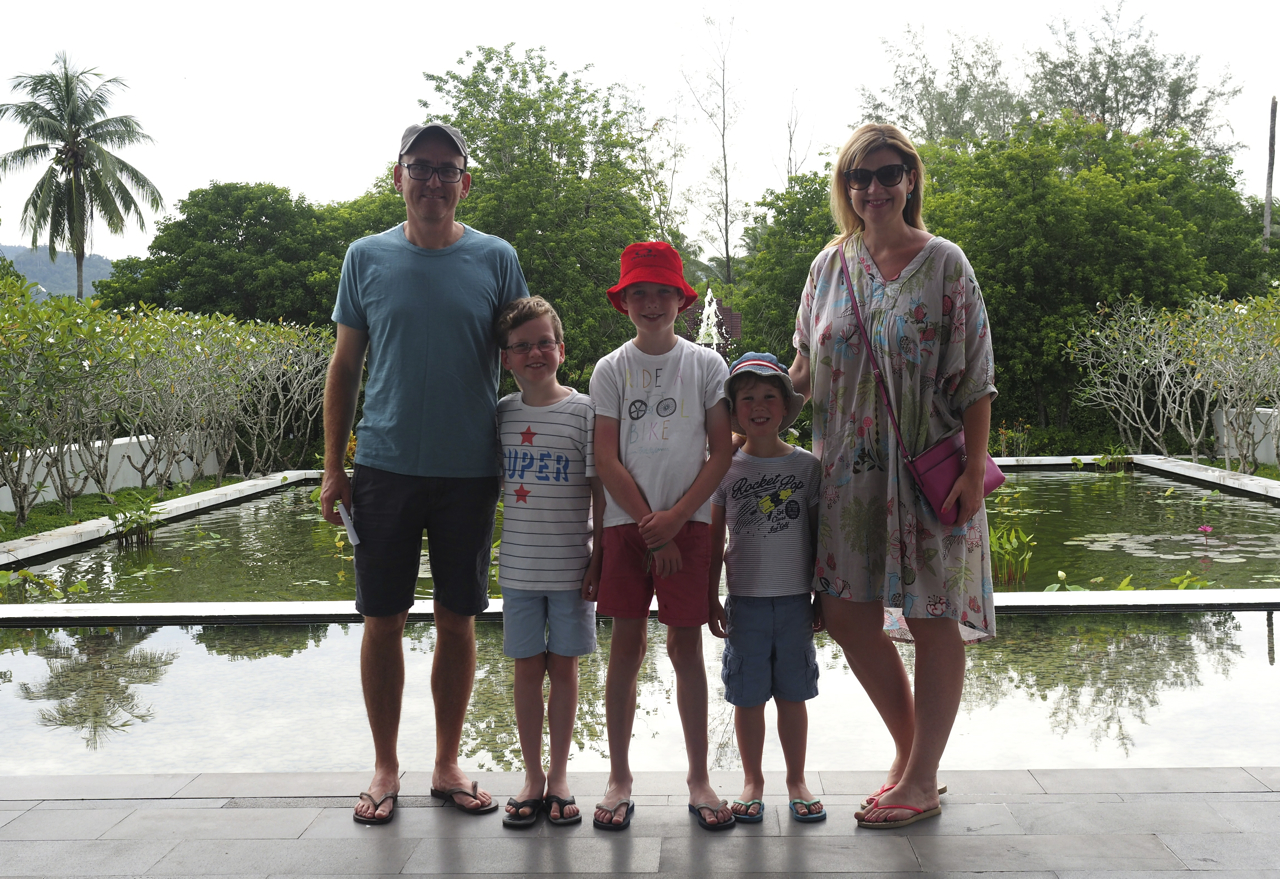 In Khaolak, Thailand earlier this year
2. What does your family need for a good holiday?
Until recently, I would have said all we need are parks, pools or beaches for us to have a great holiday. Accordingly, holidays along the coast here in Victoria over the summer have always been great (we've had great summer holidays in Inverloch, Blairgowrie and Philip Island) and in the winter, we've had a ball in tropical destinations such as Bali, Fiji and Thailand.
It was only on our recent holidays to the U.S and Tasmania that we realised the boys could manage without the pool factor, as much as all love it, and actually enjoyed walks and visiting historical sites as well.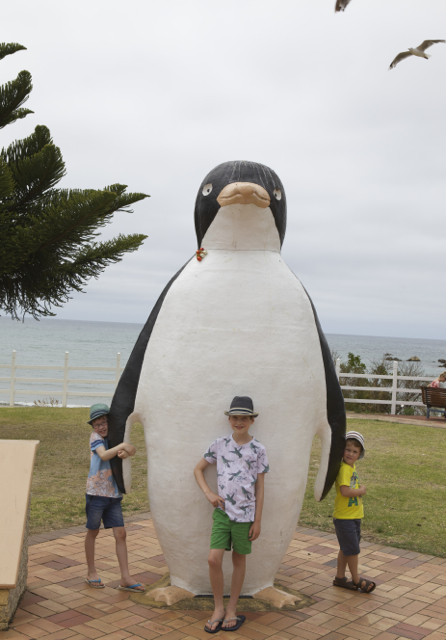 In Penguin, Tasmania last summer
I know it's not everyone's thing, but we're all mad for museums and galleries too, especially anything space/science/art related, so we try to factor that in to our holidays too. I'm actually pitching for a trip to Canberra as I'd love to take them to the Questacon.
No surprises here but I like to have a few options in the shopping/dining department close by but sometimes, too many retail options lead to less relaxation/reading for me! Mr SnS likes good coffee and food too. We're also partial to a winery and have learned to negotiate ice creams for winery stops!
3. What has been your favourite family holiday locally, in Australia and overseas (if applicable) and why? If you have any accommodation or specific towns/areas you've loved too, please tell!
I asked the boys this question and they agreed that LA (Disneyland) was their favourite, closely followed by New York City (mostly Central Park and the museums) and finally Phillip Island (our annual weekend away where we stay on a campsite in cabins with 6 other families).
My favourite holidays – because they've been super relaxing and the kids loved them too – have been Fiji, Bali and Thailand.
Our trip to the U.S. last year was a massive highlight too because nearly everything we did, we all enjoyed immensely. NYC and Disneyland were absolutely awesome fun and on all of our bucket lists. The only thing we missed was an opportunity for some beach/pool time at the end, as it was an action packed trip. If we hadn't been travelling on (and been limited to routes using our) Frequent Flyer points, I would have loved to add in a beach stop in Mexico or Hawaii.
Noosa this September was terrific and I absolutely loved our trip to Tassie earlier this year too. Both are excellent all around destinations for families.
Locally, I've loved our weekends away with friends in Ballarat/Sovereign Hill and Phillip Island earlier this year with other families and our summer holidays spent on the Victorian coast. Our trip to Bendigo in April school holidays was fantastic on all fronts too.
4. Has your approach to family holidays changed over time?
When the boys were little, we found beach holidays the easiest as they could wade in the bay beaches and play on the sand in between sleeps and feeds. We'd pay to be well located so we didn't have to worry about putting the babies and toddlers in and out of the car and one of us could go for a walk down the street while the baby/toddler slept.
Pools were more stressful and obviously we had to be much more hands on when they were little. We'd also generally eat at home though and limit the time it took to travel. This restricted how far we were prepared to travel.
Now they're older, we find we can mix things up more and include more sight seeing and eating out. That said, no matter where we go, we love to spend an afternoon or morning at a park, beach, a local gallery or museum. These are all often free or low cost activities too (for public museums/galleries) which helps too.
The boys can all swim independently now too, which has made pool holidays much more relaxing for all of us.
Our kids also love holidaying with friends and family. We've done both this year and they were definitely highlights.
Our kids love travelling on planes, don't get jetlag (so far anyhoo – fingers crossed) and are unfazed by long distance travel too, so we feel like we can venture almost anywhere from now on. I never would have thought this was possible a few years ago but our youngest, who has travelled overseas every year since he was born, has been an awesome traveller, giving us so many more options.
5. Where are you planning to go in 2017? How did you decide?
We've booked a family holiday to Bali for June and am hoping that one of us might also go with our ten year old on a school trip to China later in the year. Besides that, it'll be weekends away with friends at our usual haunts. We're also hoping we might do something special for our 15 year wedding anniversary – watch this space!
Hawaii, Europe, Japan, Vietnam, Malaysia and a return visit to the U.S. (I'd love to visit San Fran and take the kids to Washington D.C. for the Smithsonian and Spy museums) are also on the long term wish list. Locally, I'd love to return to Hobart as I'd love to go to Bruny Island, and then there's W.A., Uluru and S.A.  I'd better start saving!
For more holiday planning inspo, you might like to check out the following posts:
For where to holiday locally, I've written previously on:
So over to you – what are your favourite holiday destinations? We'd love you to share your answers to the questions above if you're willing!