Welcome to my first review post of 2018!
I hope you've had a happy and relaxed summer full of reading, watching Netflix and chilling and catching up on everything you may have missed in 2017.
As for me, I started the year strongly, knocking off 7 books – most in the first two weeks surprisingly – and then spending the last two very hot weeks back in Melbourne seeing All The Movies.
We also got sucked into the vortex of watching the Australian Open every night, so as a result, I've been missing my usual Netflix binges but I'm determined to get back on the job ASAP – if I can avoid getting sucked in to the latest reality show.
I haven't really listened to much in the way of podcasts – with the exception of a few eps of the excellent Song Exploder  as we drove around W.A. – but now the kids are back at school, I'll be back on the podcast wagon stat.
So what have I been watching and reading over January? I'm glad you asked …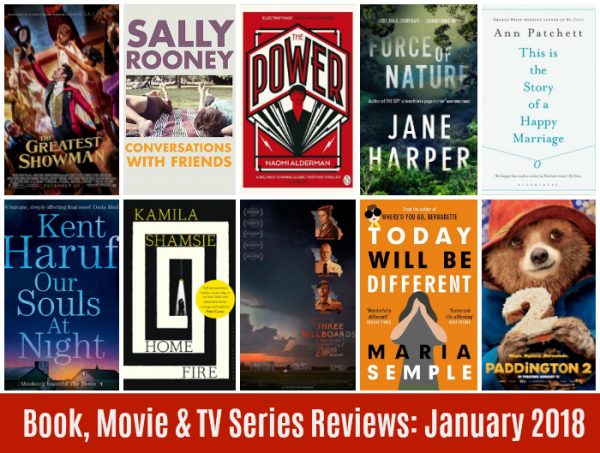 Books
1. This is the Story of a Happy Marriage by Ann Patchett
I started the year with a non fiction book – this divine and beautifully written collection of essays and short stories by the awesome American writer Ann Patchett.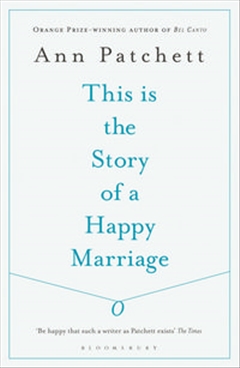 I loved that there was so much variety covered within this collection  – there are several chapters of personal reflections on topics ranging from marriage, divorce, her much loved dog and role as her grandma's carer, while some chapters are much longer and were published as feature articles. I particularly enjoyed the excellent chapters on her quest to join the LAPD and how she eventually found her happy marriage.
The two chapters covering the fall out from her non fiction book, Truth & Beauty – which incidentally I had never heard of, let alone read – were excellent and thought provoking too.
This is the Story of a Happy Marriage is a really wonderful collection of stories. I enjoyed it very much.
VERDICT: ****
You can buy it here.
2. Force of Nature by Jane Harper 
Jane Harper's The Dry exceeded all expectations and was one of the biggest novels – let alone debuts – of 2016. Her follow up was always going to be eagerly anticipated and compared with her incredibly popular and successful debut.
While The Dry's Federal Agent Aaron Falk returns in Force of Nature, the two books are set in completely different locations and cover different themes.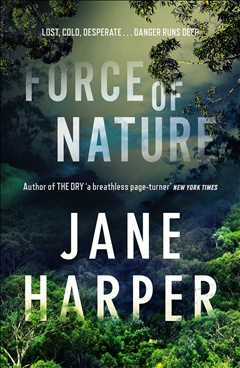 While I didn't love Force of Nature anywhere near as much as The Dry, I found Force of Nature to be an easy, page turning, suspenseful read with plenty of red herrings, rabbit holes and diversions to keep me guessing until almost the end.
It almost approached Lianne Moriarty territory for me though with the ending at the beginning, and much of the novel is spent working towards that ending, which some readers may find more appealing than others. I can't say I love this novel structure though, as I tend to spend the whole book thinking about how the plot will come together instead of enjoying the ride/writing.
Force of Nature is not literary fiction but I think it's great holiday reading with broad appeal.
VERDICT: ****
You can buy it here.
3. Our Souls at Night by Kent Haruf
I really enjoyed the lovely Our Souls at Night.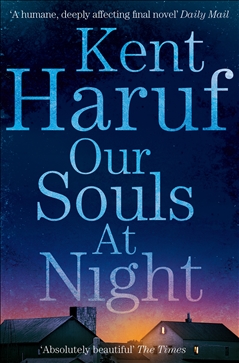 This short novel centres on two widowed and lonely elderly neighbours – Addie and Louis – and is a moving and insightful exploration of companionship, love, loneliness and family.
Addie and Louis live in a small town though, with all the small minded gossip you'd expect. Unsurprisingly, not everyone is thrilled about the elderly couple taking up spending nights together to ward off the oppressive loneliness the night brings though, and it's interesting to reflect on our expectations and understanding of older people in our community, not to mention our collective inclination to comment on the choices other people make, whether or not they concern us. I loved the dialogue in this book as Addie and Louis get to know each other and my favourite lines in the book are from Addie and Louis responding to people sticking their nose into their business.
Loneliness and the elderly don't often get a gig in literature, and I found this novel refreshing on that basis alone.
This really is a delightful read and I'd definitely recommend it. Netflix have also just released the movie adaptation – more on that below.
VERDICT: ****
You can buy it here.
4. Home Fire by Kamila Shamsie
Home Fire is an early contender for my favourite book of the year – it's early I days I know, but this searing, brilliant and contemporary novel asks SO many relevant questions about family, citizenship, politics, loyalty and betrayal, particularly in the current political climate of terrorism and fear. It's just so well done.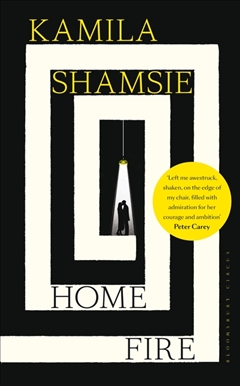 Set in current day London, Home Fire centres around two Muslim families – Isma and twins Aneeka and Parvaiz, who've been orphaned as children and are now trying to make their way in the world as adults; and the family of British MP Karamat Lone.
I think this is a novel best read without too many prior details, so I won't say too much more about the plot, but rest assured the writing is clever, searing and tightly edited with barely a superfluous word. I found it riveting but was left reeling at times, particularly by the middle chapter which was an incredible piece of writing in and of itself – it could stand alone – as could Isma's chapter at the start.
This is a Take No Prisoners book though and the stakes are very high. All I could think about as I read Home Fire was what would I do if I found myself in the position of any of the five protagonists, from whose perspective the book is written? Fascinating stuff.
Needless to say, I think this book would generate some really interesting discussions for book clubs.
VERDICT: *****
You can buy it here.
5.Conversations with Friends by Sally Rooney
Is there any greater pleasure than picking up a book you know nothing about and slowly falling into the abyss of the characters' world – with the sense of eavesdropping on a very interesting conversation – without coming up for air? That's how I felt as I read Conversations with Friends.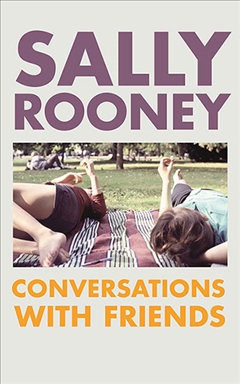 The story begins in contemporary Dublin with high school besties and former lovers Frances and Bobbi (who now perform spoken word poetry together), meeting the impressive and wealthy Melissa, a successful and wealthy photographer and essayist and her sometimes actor husband Nick.
This initial meeting sets the scene for everything that follows and I won't spoil anything by elaborating further here but what I will say though is that I found these people – particularly Frances and Nick – such interesting characters although their choices and approach may not find favour with all.
At the risk of sounding too academic, now that I've had time to distill my thoughts about this book for a couple of weeks, I think this is a post modern love story where people take an ironic and an intellectual approach to life. In Frances and Bobbi's world, a person's intellect, wit and brilliant conversation are prized above almost everything.
Emotional intelligence is another thing altogether though and I found it interesting to see how the characters navigated – some with great difficulty – their emotional lives and responses personally and in relationship to each other. Sally Rooney explores all of this with great skill and insight.
As the title suggests, this is a book of conversations, about everything from the big things – politics, Marxism, wealth, career and aspirations – through to the inane and smallest of details. My favourite conversations though were the ones in which Frances, Bobbi, Melissa and Nick talk to each other. I could listen to their clever banter forever. The dialogue and writing is just Next Level. It's really hard to believe that this is Sally Rooney's debut novel.
This is a thoroughly original book in that sense for me and one I found incredibly easy and fascinating to read.
VERDICT: *****
You can buy it here.
6. Today Will Be Different by Maria Semple
Fans of Semple's fabulous Where'd You Go Bernadette will be thrilled to hear that her latest novel, Today Will Be Different, is every bit as good, if not better than Bernadette.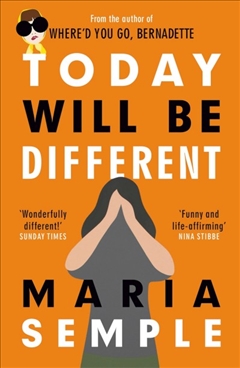 Eleanor Flood lives in Seattle with her husband Joe and son Timby but Eleanor's also in Struggle Town. She's in a rut, spending her days in yoga clothes without going to yoga – something some of us might relate to – and one day, she decides Today Will Be Different, and despite a promising start, everything unravels from there.
Semple's writing is so funny, sharp and easy to read, I thoroughly enjoy everything she writes. It starts stronger than it finishes but this is still a great holiday book if you're looking for something a step up from the usual chick lit offerings.
VERDICT: ***
You can buy the book here.
7. The Power by Naomi Alderman
The Power came so highly recommended which is always a good thing and a bad thing.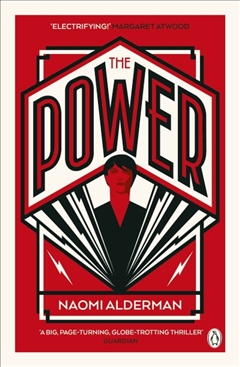 It's good to know you're spending your time reading something worthwhile and "important". It's bad though, when it doesn't click or you don't really enjoy it, or like me, you know it's important but it doesn't mean it's enjoyable or easy going.
When The Power begins, girls all around the world discover that they have The Power – an electric current that runs through them – which they can use to physically injure and kill other people and therefore exert power and control over them. How that plays out over time amongst the five lead characters is interesting but by the end, the world is ruled by women (this isn't a spoiler by the way – you know that from the start).
There is no doubt that The Power is an excellent and well written book with some big ideas, and like Margaret Atwood's novels, offers a very relevant and pertinent political commentary on contemporary gender politics and the nature of power.
But I'm sad to say I didn't love it or find it easy to read.
I've pondered why I didn't love this book anywhere near as much as some and I think it boils down to this: I would really like to think that if women had The Power, we would wield it much, much differently to men. In the future set out in The Power, women behave as men have, and that really depressed me.
The alternate view is that by flipping the current world view, The Power illustrates brilliantly how ridiculous and nonsensical existing gender stereotypes and power structures are by showing how different things would be if the current situation were reversed.
I think I'm in the minority though, so I'd encourage you to read it and form your own view. On that basis alone, I think it'd make an excellent choice for book clubs.
VERDICT: ***
You can buy it here.
Movies
It's official – I have seen All The Movies.
Most recently, I took the kids to see The Greatest Showman and Jumanji.
The Greatest Showman – a musical – was very entertaining and easy to watch and I thought Hugh Jackman and Michelle Williams were both excellent. The soundtrack is awesome too.
I'm still not sure how I feel about the way the "unique" people were portrayed though and the glossy representation of the actual P.T. Barnum – if you're pondering the same, you might like to read this thought provoking article by Carly Findlay.
Jumanji was surprisingly entertaining and very funny too – Jack Black and The Rock were both terrific.
I also adored Paddington 2 which was absolutely DIVINE. I thought it was as good, if not better, than the original and Hugh Grant is fantastic as the villain.  It really is delightful and I'd heartily recommend it.
I was less excited about Star Wars – The Last Jedi. I'm a big Star Wars fan and I really wanted to love this but didn't. I found it too long, predictable and uneven. Ray is a great character but she spent most of the film with the tortured Luke Skywalker, who is one of the least interesting characters going around. The action scenes are all terrific though as was Princess Leia. I'm a big fan of Ben Solo/Kai La Ren too.
In terms of the more "grown up" films, I've seen some great movies.
I found Just to be Sure, a French romantic comedy with all the awkwardness, quirkiness and heartfelt ordinariness I love about French cinema, to be entertaining and funny. It wasn't quite at the same heights as some of my French faves but very enjoyable and entertaining all the same.
I also really loved The Post starring Meryl Streep and Tom Hanks. Set in the '60s, The Post examines the  relationship between the Nixon White House and the press as well as the challenges facing women managing businesses. I think both are conversations we still need to have in these diabolical Trump times, particularly the role and importance of freedom of the press.
I also saw the black comedy Three Bill Boards Outside Ebbing, Missouri which was vintage Frances McDormand. If you like your narratives linear and tied neatly up in a bow, this might not be the film for you, but if you love black humour, open endings, odd characters and don't mind A LOT of language, you'll love this.  I'm a huge fan of Frances McDormand, whose character in this reminded me of a small town, impoverished version of Olive Kitteridge – a favourite book of mine, and whose namesake she played in the TV series adaptation. I also thought Sam Rockwell, who plays small town cop Jason Dixon, and Woody Harrelson as the Sheriff were both terrific.
I also really enjoyed the new Netflix film, Our Souls At Night, the adaptation of the book reviewed above. Robert Redford and Jane Fonda are both perfect in this simple but heart warming film.
TV Series
As we were away on holidays or watching tennis, I've hardly watched any TV series. I did watch – and love – Season 2 of The Crown though which I thought was even better than the first season. Just brilliant and I'd highly recommend it.
I also finally caught up on Season 3 of Outlander, which was very good. Next on my list is The Sinner.
Further Reading & Ideas
To read my 'best of' posts for last year, head to:
Wondering what my faves were last year and the year before?
Check out My Favourite Books of 2016 and My Favourite Books of 2015.
Just looking for an easy, entertaining or page turning holiday read?
I've listed Ten Great Holiday reads in this post and more recently, More Great Holiday Reads.
Thinking about starting a book club?
You totally should – check out my How To Guide here.
This post contains affiliate links. You don't pay any extra and I earn a small commission. Read more in my Disclosure Policy here. 
So over to you – what have you been watching and reading lately? We'd love to hear!